Finding ways to make your dorm room cozy is an essential part of surviving in a whole new place. Here are the best ideas to make any dorm feel like home!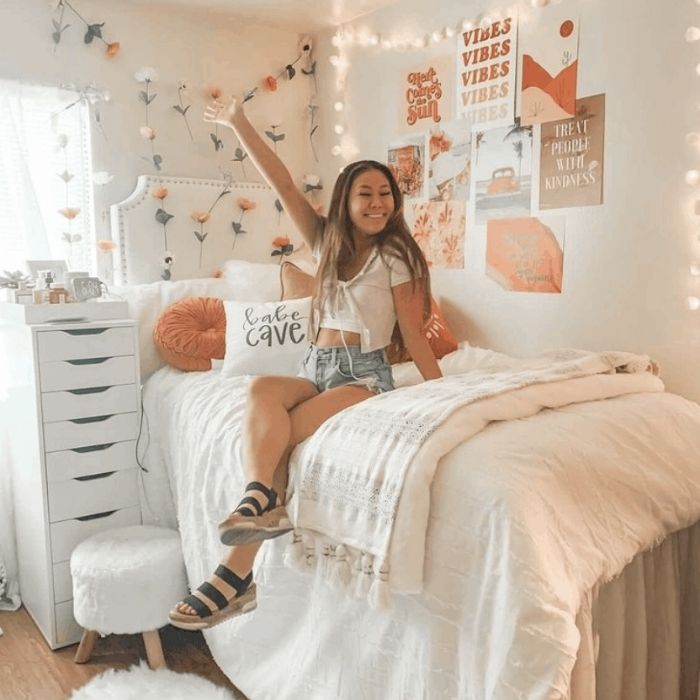 Going away for college to live in dorms is definitely not easy. You miss the place back home, and everything that was with it.
Adjusting into a dorm room can be tough and hard to get used to. But since you are going to be spending a lot of your time in your dorm, it's key to create a space you'll gladly crash into at the end of the day!
So to help you ease into your dorm, I have found all the best ways to make your dorm room cozy this year that you'll absolutely love and want to recreate!
Keep on scrolling for all the best and the coziest dorm room ideas. By the end of this post, you will know exactly how to incorporate the famous saying "dorm sweet dorm" for your own dorm. 😉
BEST WAYS TO MAKE YOUR DORM ROOM COZY
1. Hang Photos Of Your Loved Ones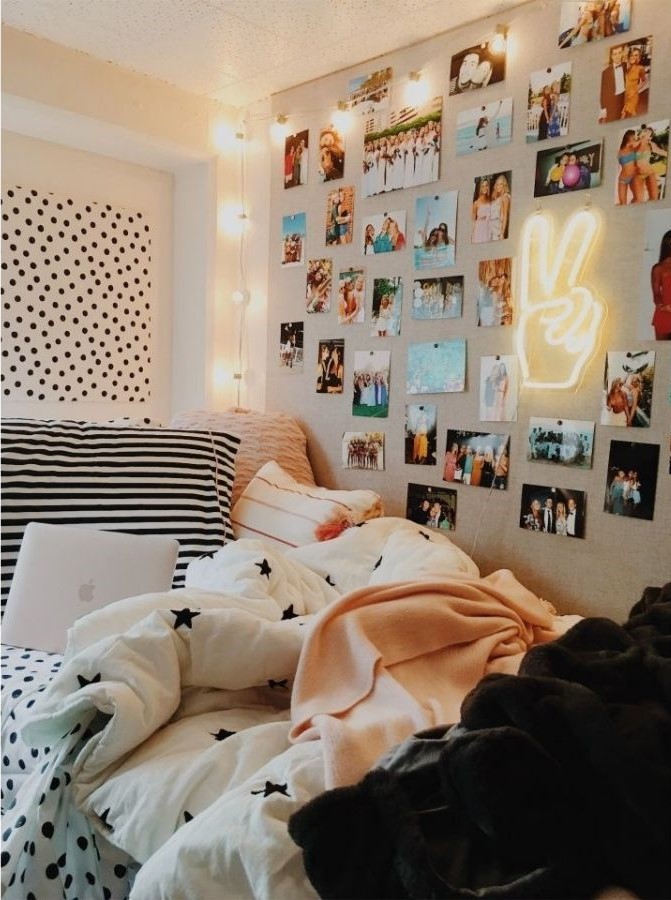 Rcereate this dorm room idea:
One of the best ways to make your dorm room cozy and make it feel homey is to have something that reminds you of your loved ones. It will make the process of being in a whole new place so much easier!
Pictures are the best because not only do you get to decorate the blank wall space the dorms come with, but also it's a fun way to remember all the fun times you had with your friends and family!
2. Add Plants For Greenery
Recreate this cozy dorm:
Plants instantly brighten up any space and make it look fresh and homey, so you can't go wrong with this option for your dorm room!
If you're like me and just cannot take care of plants that well, don't worry! You can find tons of fake plants that actually give the look of a real one for a cheap price ;).
These fake succulents from Amazon are one of my favorites and they look so so cute anywhere you have them!
RELATED: 23 Cheap Dorm Decor Amazon Sells (That Actually Looks Expensive)
3. Create A Cozy Seating Area
Okay, if I had enough space in my dorm room, I would have totally created a cozy seating area like this! I just had a futon and storage under my lofted bed, but this looks so much more fun!
Having some sort of seating area in dorms is always a great option, especially when friends are over to avoid anyone sitting on the floor.
I would definitely recommend styling it with a throw blanket and pillows to give it a more homey look. I'm sure your friends would love to crash here from time to time 😜.
4. Additional Lightning
Recreate this cozy dorm:
When we are talking about ways to make your dorm cozy, we obviously cannot forget string lights! They are perfect in every way and create a comfy and soothing ambiance in any place.
Plus, it's nice to have additional mood lighting since lights in dorms are the absolute worst. You can clip these onto your favorite polaroids and you will love the dreamy look it'll bring to your place at night, highly recommend!
5. Add A Headboard
Recreate this dorm:
A headboard will enhance your bed and make it seem way more put together. Having a cozy dorm is all about utilizing your space and adding elements to make it comfortable and homey.
Dormify has some of the cutest headboards to fit any style you're going for, but if you're on a budget, Amazon and Wayfair have got your back with all the best affordable prices!
6. Get An Essential Oil Diffuser
I'm about to put you on a major dorm hack! Getting an essential oil diffuser will make a hugeeee difference in your dorm. Since burning candles is not an option, it can be hard to bring in the same calming vibes, but with a diffuser, it's totally possible!
I loved a diffuser in my dorm all year long and honestly cannot recommend it enough. Your place will be filled with all the best soothing scents and it will be the best smelling room in the hall! You have to give it a try!
7. Decorate Your Walls
There's nothing worse than boring, dull dorm walls that look like something from the 1960s. Decorating your wall space is key to incorporating cozy vibes in your dorm!
Now, when it comes to wall decor, there are TONS of fun options to choose from! Photo collages are hugeee in 2023. You can either buy them or make your own depending on your aesthetic!
If you love a little boho texture in your dorm, there is nothing better than these stunning macrame wall hangings! They are a simple but super cute wall decor everyone loves to decorate with!
RELATED: 17 Trendy Dorm Room Wall Decor Ideas That Seriously Look Pinterest Worthy
8. Make Your Bed Comfy With Pillows
Recreate this dorm room idea:
Because you'll be spending most of your time in your bed, make sure it's as comfy as possible! Decorating with lots of pillows is one way to do that!
For pillows, I usually recommend 2-3 on the bed but honestly… you can never have too many 😉. They really make your bed look and feel cozy and homey, so you can't go wrong with this idea!
9. Get a Rug
Rugs are the best way to cover up the ugly tiles and bring the look of the room together. You can get any rug you want but this faux fur one is insanely soft and you will love the feeling of this first thing in the morning!
Also, it acts as a super cute decor too!
10. Lofted Bed With Cozy Space Underneath
This lofted bed space is heaven!! Doesn't it look like the place you would love to snuggle into after a long day?
A lot of times people struggle with decorating the space underneath, so this is a perfect inspiration if your dorm bed is lofted.
With just a futon and string lights all around, you'll create a space where you can read, write, or just binge-watch Netflix when bored!
11. Get a Starlight Projector for Dreamy Vibes
If you love dreamy vibes in your space, you will LOVE a starlight projector! It's one of the best inventions for turning any bland room into a whole comfy vibe!
This starlight project is gorgeous and has so many amazing features like; built-in bluetooth speaker, 24 different soothing colors, and a remote to control the lights however you want!
RELATED: 21 Genius Dorm Room Ideas For The BEST Dorm On Campus
12. Coordinate With Your Roommate
Like I said before, the key to making your dorm cozy is to work on making everything align together somehow.
You'll find coordinating with your roommate so fun! It can either be in bedding, a headboard, or even a color scheme! You'll see just how neat and put together your dorm will look after doing so.
I knew friends who did this with their roommate and their dorm room turned out looking awesome!
13. Mix Warm Tone Elements With White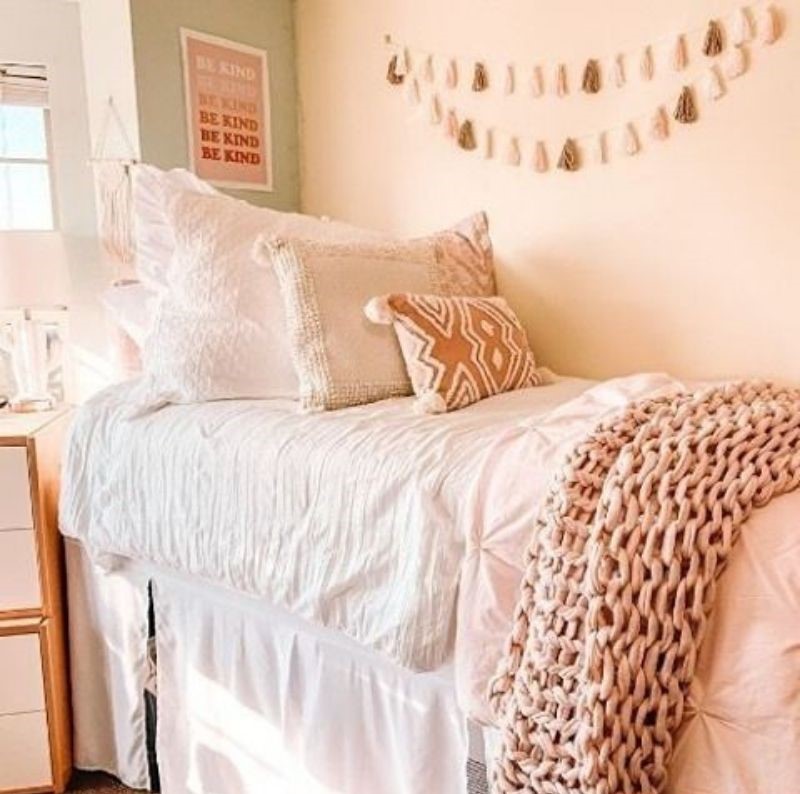 Doesn't this dorm room look bright and cozy? Mixing warm colors with white is one of the most popular color schemes of 2023! I love how simple yet put together the space looks. And the matching wall decor just amps it up!
14. Get a Comfy Blanket
Can't forget the comfiest blanket to get the coziest dorm room! They are a total must, especially when dorms get cold during the winter, you'll love the feeling of being able to bundle up into a warm, fuzzy blanket!
This throw blanket is honestly the best out there. It's super soft, will wrap you up just right, and has over 13,700 trusted reviews on Amazon to back me up on this 😉.
15. Make Your Dorm Room Pinterest Perfect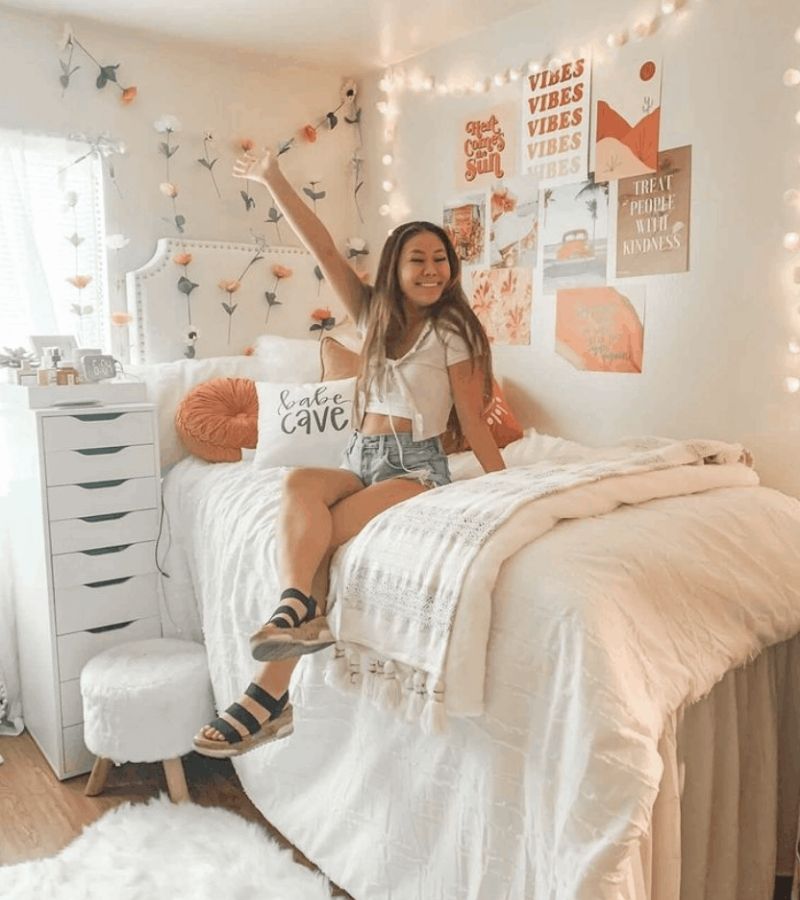 There are so many creative ways to decorate dorm rooms this year, the options are endless! Whatever dorm room idea you choose to go with, just make sure you create a space you'll gladly love to come back to at the end of the day.
Pinterest has tons of dorm room ideas girls and guys can get inspiration from and this is just one of them! I love how she has added the perfect amount of decor to make it look cozy and comfy without going too overboard. It looks trendy too!
---
These were all the best ways to make your dorm room cozy.
Related Posts You May Like:
---