In need of summer nail designs? Here are all the super cute short summer nails 2023 that will make it look like you're doing the absolute most!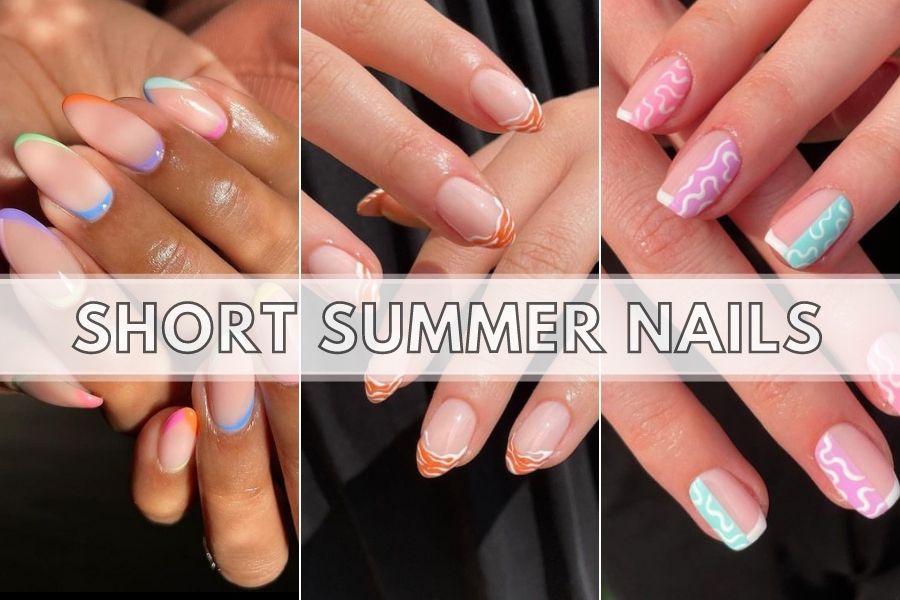 Now that it's finally getting warmer outside, it's time to spice up your mani with all the trendy and jaw-dropping looks that will have you staring at your nails for hours and hours. I mean, what's summer if not for its daring nail arts, right?
So, a little bit of glam for summer is absolutely necessary (and your nails deserve all the love). If you are keeping your mani short for the season, I have got you covered with some gorgeous nail designs that you can still rock and look actually goood with.
From funky trends, and edgy prints to 90's dreamy flairs, and beachy waves, I can guarantee you, these short summer nails will match whatever vibe you're going with this season!
SHORT SUMMER NAILS 2023
1. Short Summer French
How freaking cute is this nail art? I love the two-shade French mani, it makes for such a vibrant yet simple and chic look!
2. Short Summer Waves
These cute summer nails are giving me all the good vibes for the season. Just draw colorful wavy lines on your nails and you'll be good to go!
3. Creamsicle Nails
Want the feeling of fresh summer? These orange and yellow abstracts are just what you need. The white outlines just complete the whole look!
4. Rainbow Tips & Cuffs
Rainbow colors definitely belong to summer nails. You can totally slay this style with just a flick of bright colors around the tips and cuticle! This nail design is so simple yet so elegant, I love it.
5. Green Squiggles
How cute is this design for short summer nails? Draw doodles on your nails over a lighter green shade and you'll be ready to welcome summer with a gorgeous, trendy look right on your hands!
6. Summer Swirls
Swirls are back and they are better than ever. I mean, isn't this nail art just absolutely stunning?! Create a variety of bright pink and yellow wavy lines around the tips for a hot summer look!
7. Summer French Abstracts
If vibrant colors and cool arts are your thing, this summer nail art is literally calling for you. I love the idea of mix n match French nails for summer, it's so fun and cute!
8. Little Lemons
These little lemons are super cute! If you want to keep it lowkey this summer, paint your cuticles yellow for a classy fresh look!
9. Rainbow Cuts
More pretty rainbow-inspired nails because they literally never disappoint! This is such a fun look that you can do on your natural nails in just a few minutes.
10. Summer French Slits
Who said you can't rock a subtle French manicure on short nails? Take it to the next level by adding a red color and bringing it all the way to the middle!
11. Funky Waves
Okay, how gorgeous is this? This whole combo is such a vibe. It's seriously one of the best short nail designs I've ever seen and I would get this look in a heartbeat, no questions asked!
12. Flower Power
Something tells me these are the exact nails you would need to get to be vacation-ready, and I couldn't agree more!
Nothing beats flower nails during nice, warm weather while sipping on your favorite cocktail on the beach. 😉
13. Summer Weather
Summer nails bring out the best color combos out there and this one will prep you for all the sunny days ahead! I'm obsessed.
14. Vibrant Abstracts
Get artsy with your nails and build a true summer aesthetic that everyone will die to give you compliments for. 😉
15. A Pink Moment
If this isn't the best summer nail design for short nails, then I don't know what is. A pop of pink on your nails never goes out of style and this nail art is just too cute to not steal!
16. White Daises
If you want to keep it subtle this year, try these big bold flowers on a soft white base for a perfect chic summer mani!
17. Zebra Print
These zebra print nails are stunninggg! This proves that you don't need long nails to rock a creative design.
18. Cherry Print Nails
Hop on the trend and get with these red cherry French nails for a fun change!
19. Fresh Flowers
Like I said before, the feeling of fresh flowers on your nails is truly amazing. Steal this simple yet gorgeous look inspired by summer colors this year!
20. Lilac Waves
Wavy designs on short nails are starting to become my obsession. I mean seriously, you just can't go wrong with it!
Purple is THE summer color this year and these funky waves speak for themselves.
21. Short Smiley Nails
For adorable short summer nails, add cute little smiley faces everywhere over a nude base!
22. Barbie Chrome
Ok, I'm convinced these groovy hot pink nails will be THE summer nails this year.
23. Butterfly Nails
It's butterfly season and these dainty butterflies are here to steal the show!
24. Fruity Nails
Fruity nails = summer nails. These are soo adorable and would look super cute on short nails! You have got to them once this summer!
25. Short Summer Skies
These fluffy clouds are soo cute and precious! And the best part is that they're super easy to do at home. Paint a light purple French mani and draw clouds with a thin brush for this fresh take on short summer nails!
26. Monochrome Nails
If you want to keep it classy and cool, try these black and white printed tips for a summer nail design!
27. Cocktail Tips
The color orange screams summer in the best way possible and this double gradient French look is absolutely fabulous. You've got to try this.
28. Teal and Pink
Holy cow. This is so creative. I mean, the color combination is to die for, don't you think?!
29. Electric Pink Nails
Nothing beats hot pink nails and these electric ones will surely slay the game in the sunny weather!
30. Blue Swirls
Like I said before, swirls are everything this summer. If you were looking for a sign to get them, here it is!
31. Summer Abstract
Abstract nails are HUGE in summer and you can be as creative as you want. This summer set is unreal and I'm seriously obsessed with those checkerboard tips!
32. Cow Print Nails
Cow print nails are undoubtedly the cutest and coolest design trend! Here is a look for perfect short nails that will last you the entire season.
33. 3D Flowers
When I tell you you'll absolutely love 3d nail arts for the warmer days, I mean it. These colorful 3d flowers are soo freaking pretty just because of how fun and bright they are like summer florals!
34. White Snake Nails
Spice it up and make your nails look extra cute with this sick design. These short summer nails are a definite steal for the hot summer!
35. Swirls & Orbs
Oh wow. It can't get better than this. All you need is white swirls and a colorful ombre effect in the center. I'm seriously in awe of this beauty!
36. Half Swirls & Half Tips
So cute. I think half-tips with the different color half-swirls really speak for themselves here. This is a nail design you just cannot go wrong with!
37. Gold & Lilac
Omg, these are soo classy and gorgeous! Take your nails to the next level by adding a hint of gold with any summer color around the tips.
These are the cutest short summer nails to spice up your feed this season!
---
More Nail Designs Posts:
---