Are you looking for some good and cute spring nails? You are in the right place! Here are all the best inspirations you'll need this year.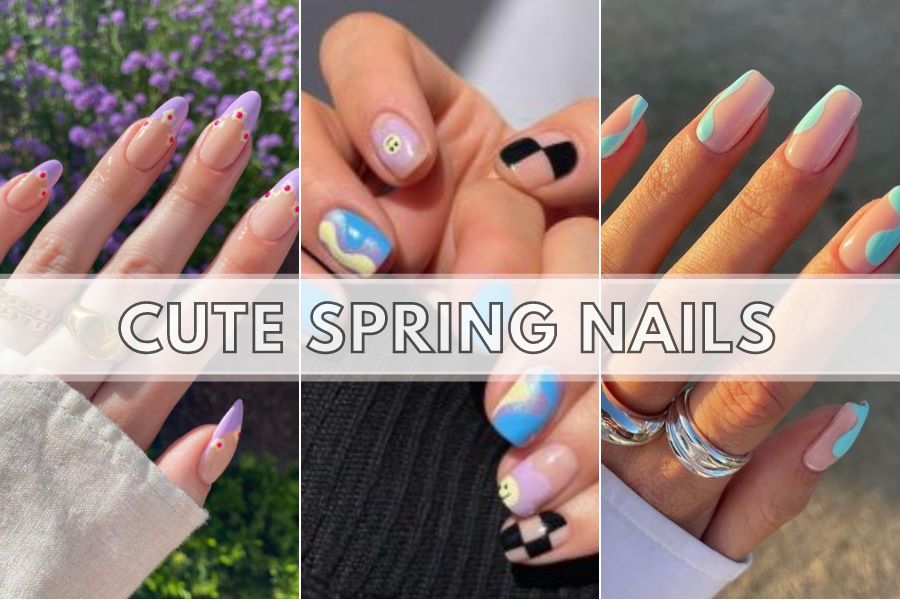 Spring is in full swing this year which means you are probably thinking of getting something more fresh and cheery to match the season.
If that is true, you don't have to look any further for manicure ideas because I've scoured Instagram for the best and latest spring nail trends of 2023.
No matter if you are looking for short spring nails this year, gel designs, or simple ideas you can rock any day, these cute spring nails are the ones you can guarantee you'll want to try for the season!
CUTE SPRING NAILS 2023
1. Checkered Florals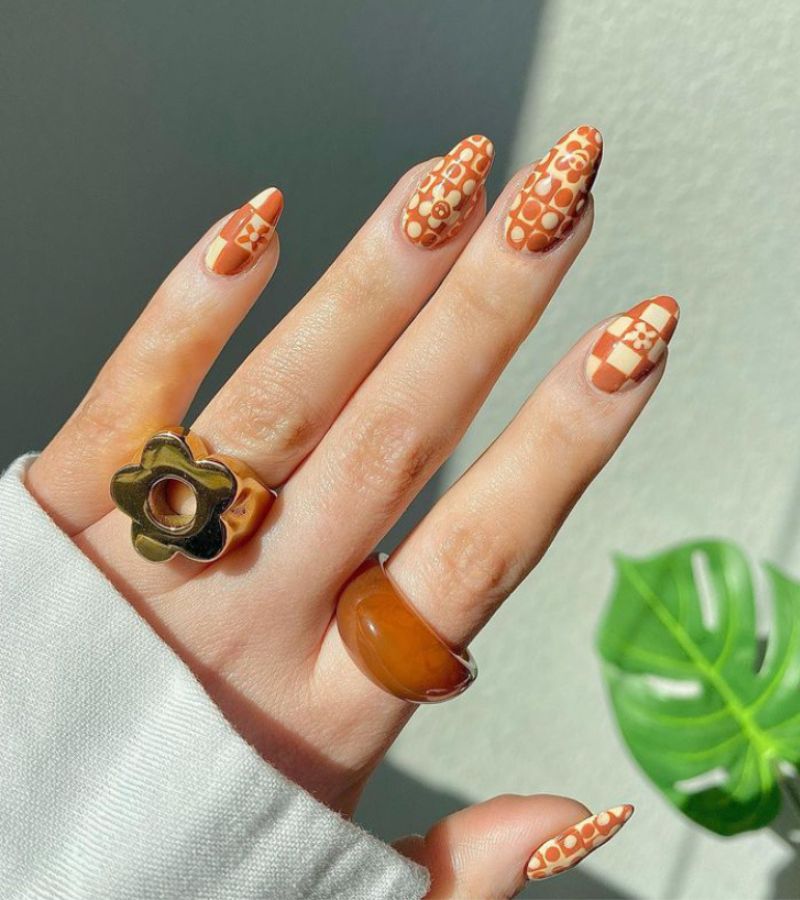 I will never get tired of checkered nails. They are the definition of "It" nails and these floral checkered ones scream spring in the best way possible!
You'll love these trippy and funky nails that will be all the talk this season!
2. Pastel Swirls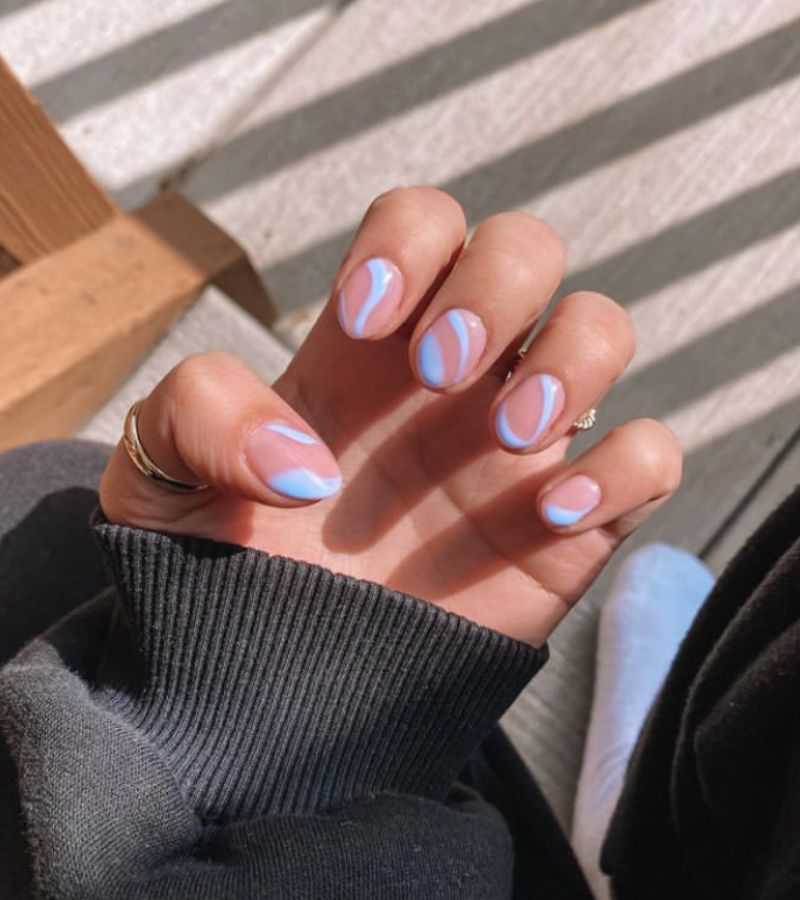 Swirls are one of the most popular trends and are guaranteed to be a hit in 2023. You can go so many ways with a swirl design and this one is just perfect and easy to do!
3. Spring Nail Tones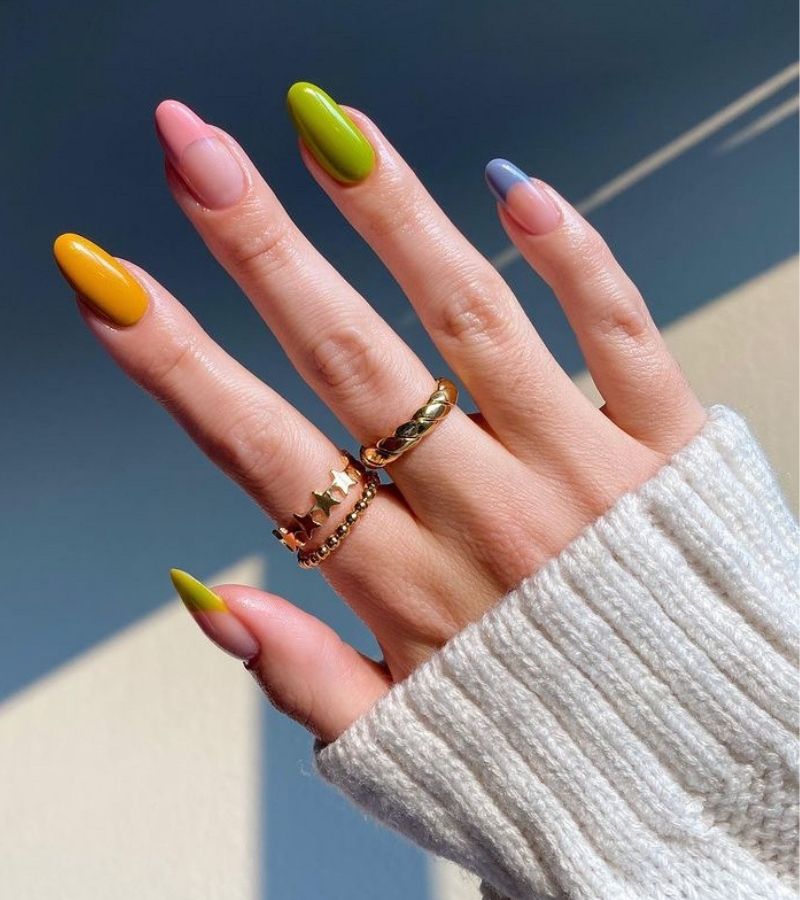 I don't know about you, but I'm all for pastel spring nails and this is such a creative take on them.
Paint your index and ring finger full and give the rest of your nails a French manicure to create a subtle look you can definitely rock all throughout the season!
4. Pink Sparkles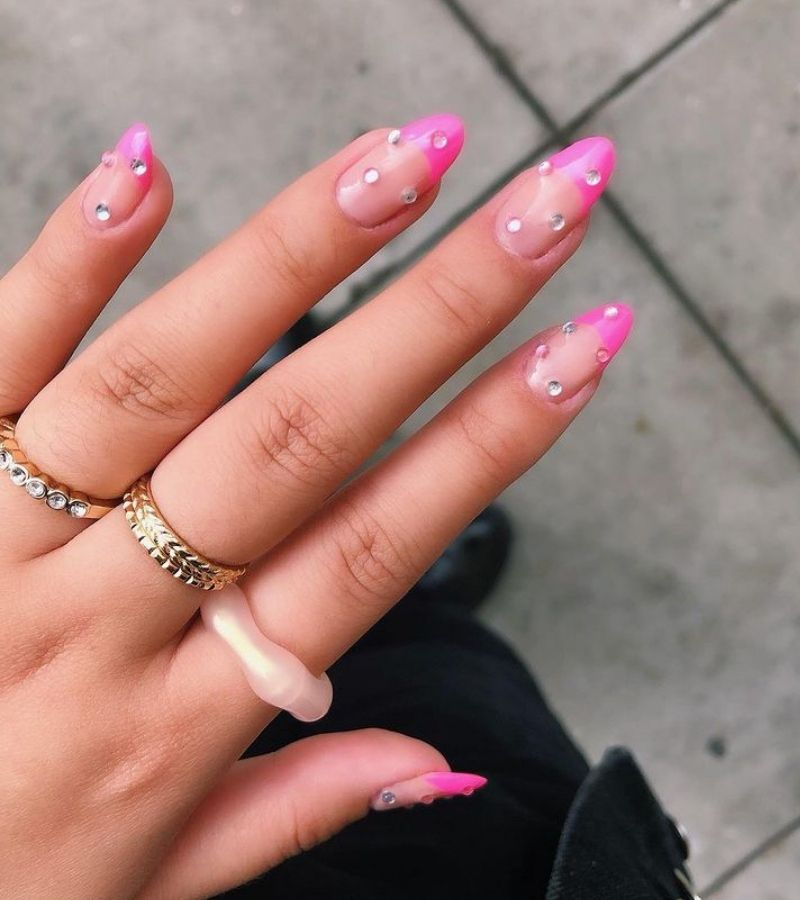 This cute pink French manicure is perfect for any occasion but what makes it even better are the little rhinestones to go with it!
I think it totally takes the manicure out of the park and gives it the sparkle that looks so adorable.
5. Daisy Dreams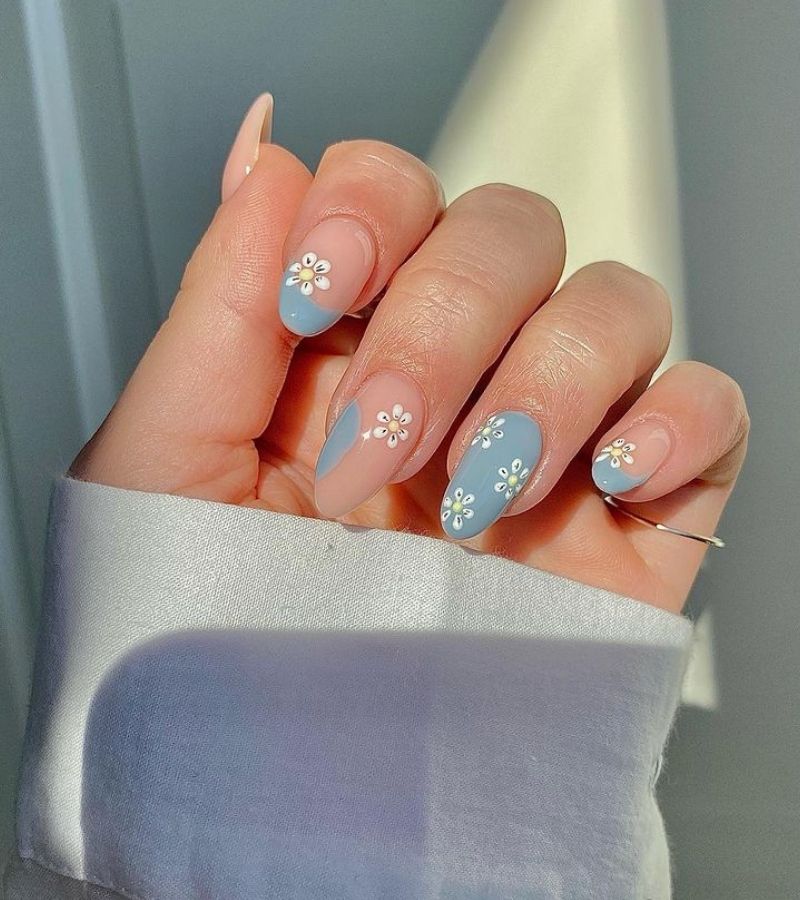 How cute are these spring nails? It's no secret that spring is all about flowers so it's definitely worth incorporating them into your nail designs like this! This idea is simple, cute and one you cannot go wrong with!
6. Floral Frenchies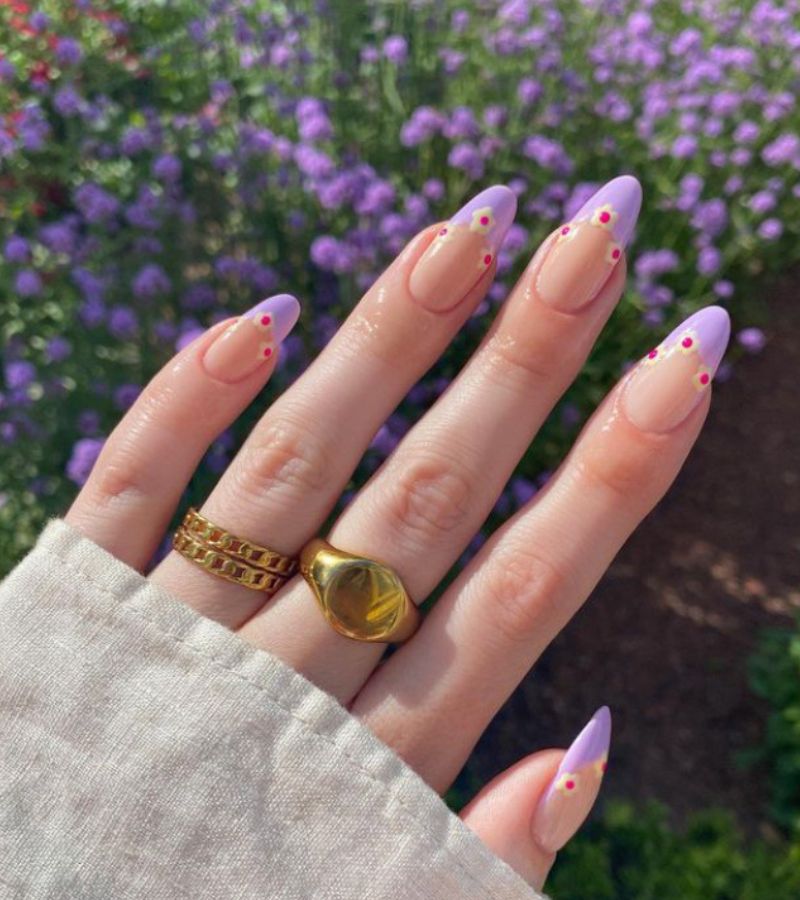 Let's admit it, nothing beats a classic French manicure. Give your own springy twist to them by adding little daises around the tips that'll look super simple yet so chick for the season!
RELATED POSTS:
7. Gold Foil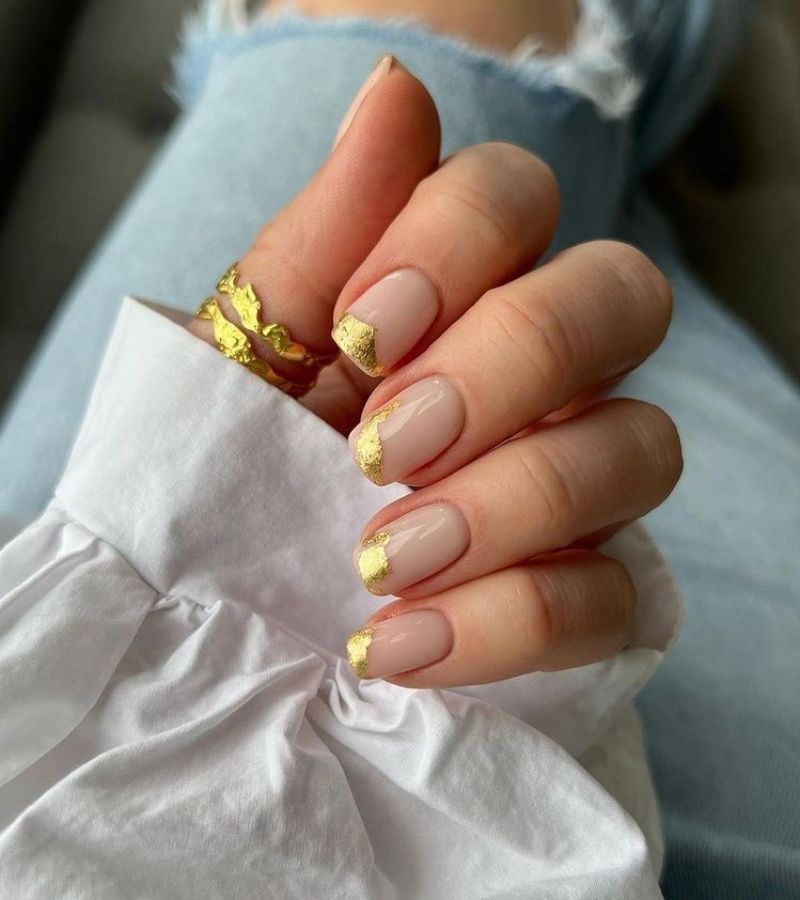 These gold beauties look absolutely stunning and will definitely be the highlight of the season.
If you are looking to switch up from the usual spring colors for your mani, this splash of gold on the tips with a nude base will give your nails the perfect glow!
8. Curvy Daises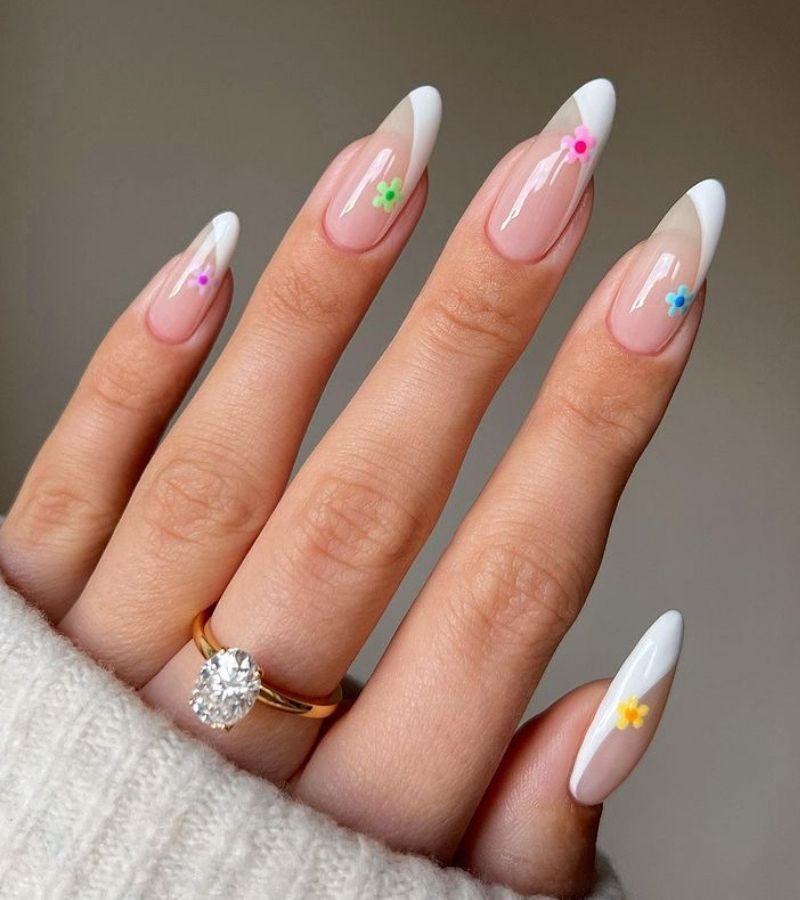 Love the idea of a French manicure but want something more fun and subtle? Try this half-cut French with colorful daisy stickers on each nail.
It's cute and super simple to recreate at home without much effort from your side, so really it's a win-win!
9. Bluebird Nails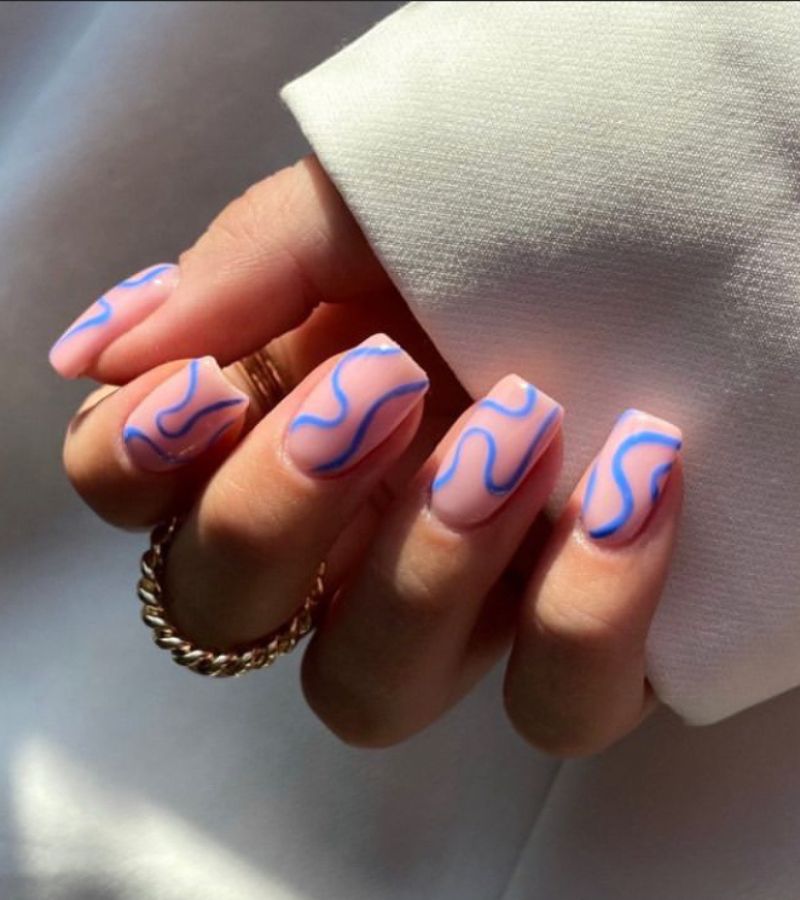 Ok, how cool are these cute and funky nails? I want them on me right now!!!
10. Smiley Peaches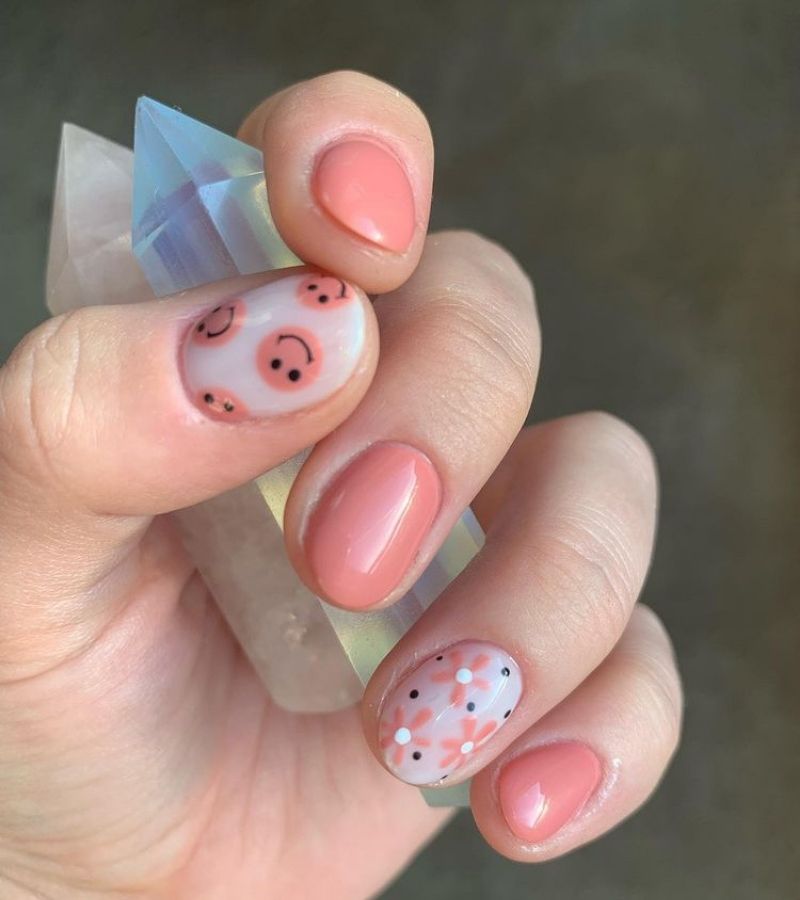 These soft peachy nails remind me of the summertime beaches and sunsets I am high-key obsessed with them.
If you are going for simple short spring nails this year, this cute design is the one you should 100% go for!
11. Fern Spring Nails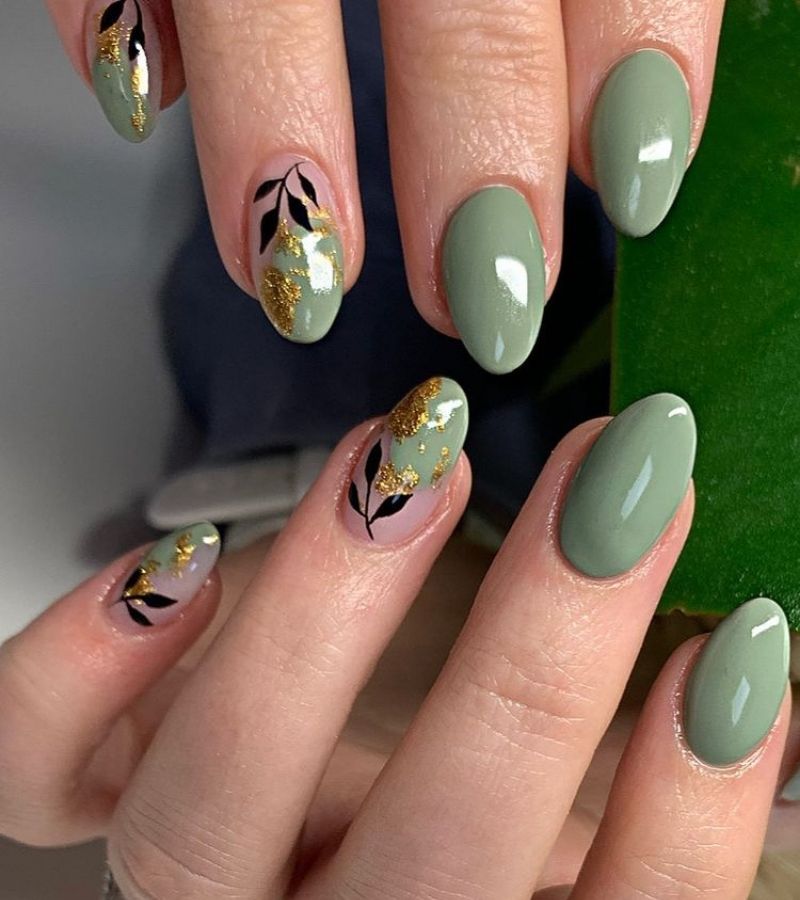 These fern spring nails are everything!! Just a coat of sage green with black leaves will leave you with a feeling of fresh spring right on your nails!
12. Pastel Abstracts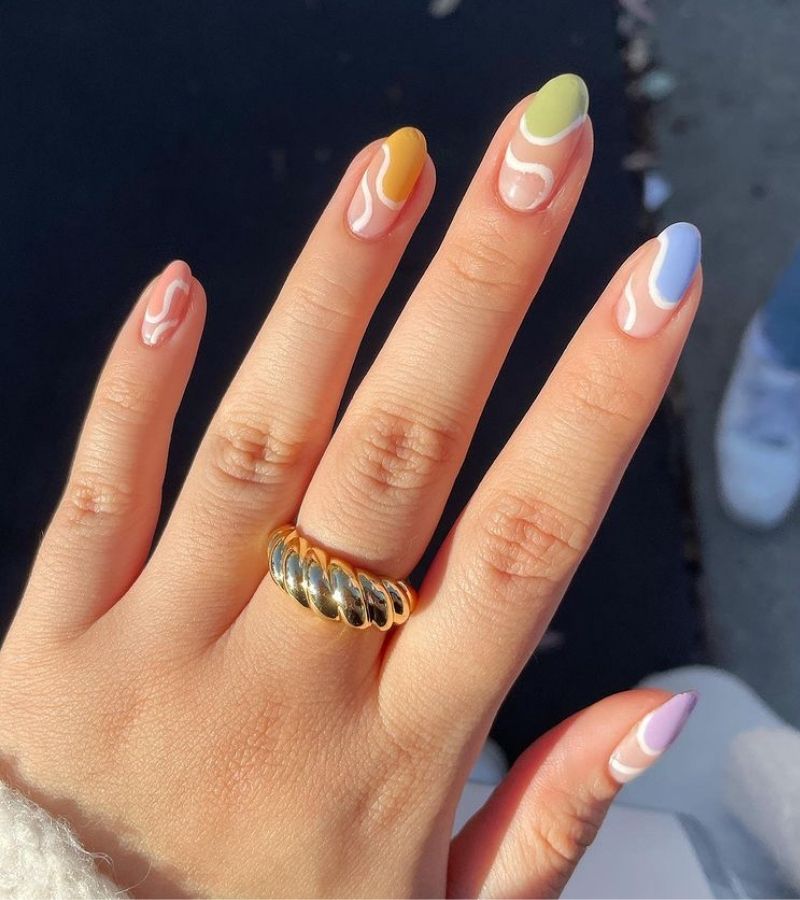 Abstract nail arts are taking over my Instagram feed lately and this is the perfect time to go all out and get creative using a variety of spring nail polish colors!
13. Easter Eggs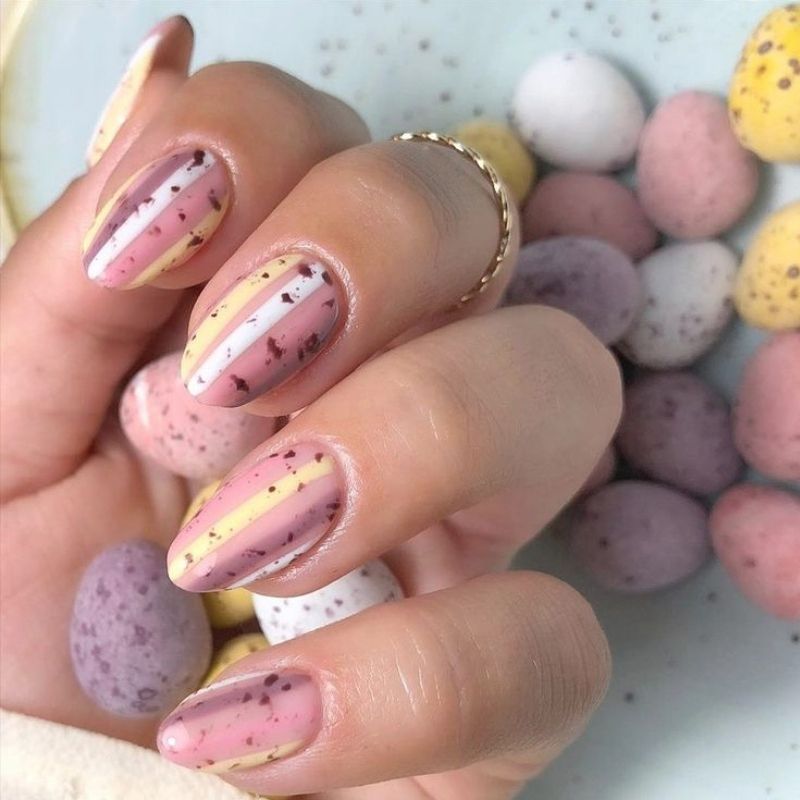 Okay, these easter egg nails are legit the cutest thing ever. You can easily achieve this look by creating tiny black specks over the mani with a thin brush.
These would be perfect to wear to an Easter brunch or even a hunt!
14. Cotton Candy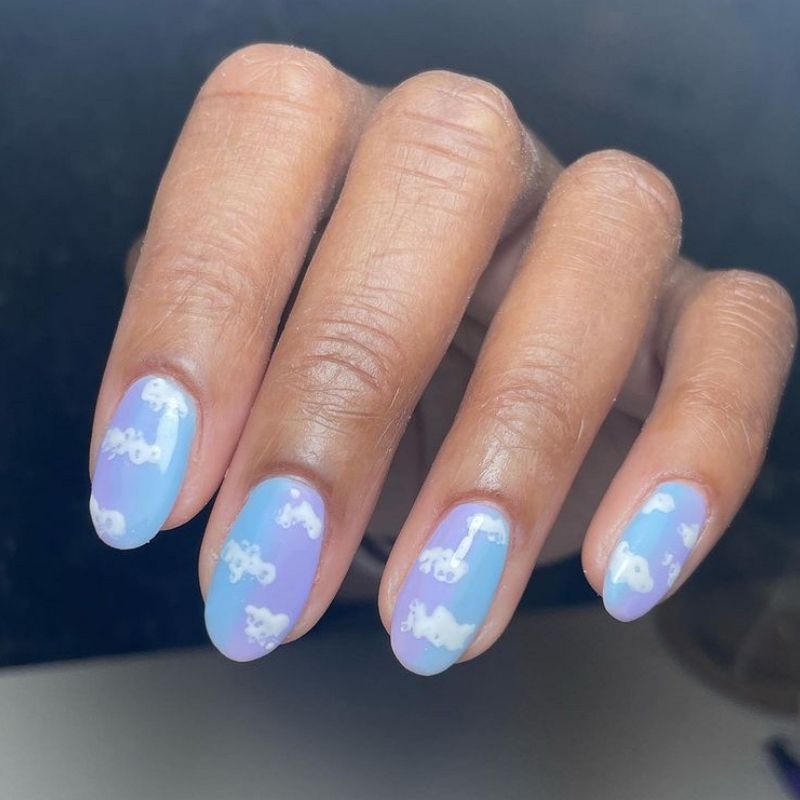 Cotton candy nails are arguably one of the cute spring nails 2023 that you just cannot resist.
I have seen a ton of these designs on my feed and love every mix of fun colors. You can't go wrong with them!
15. Cherry Tips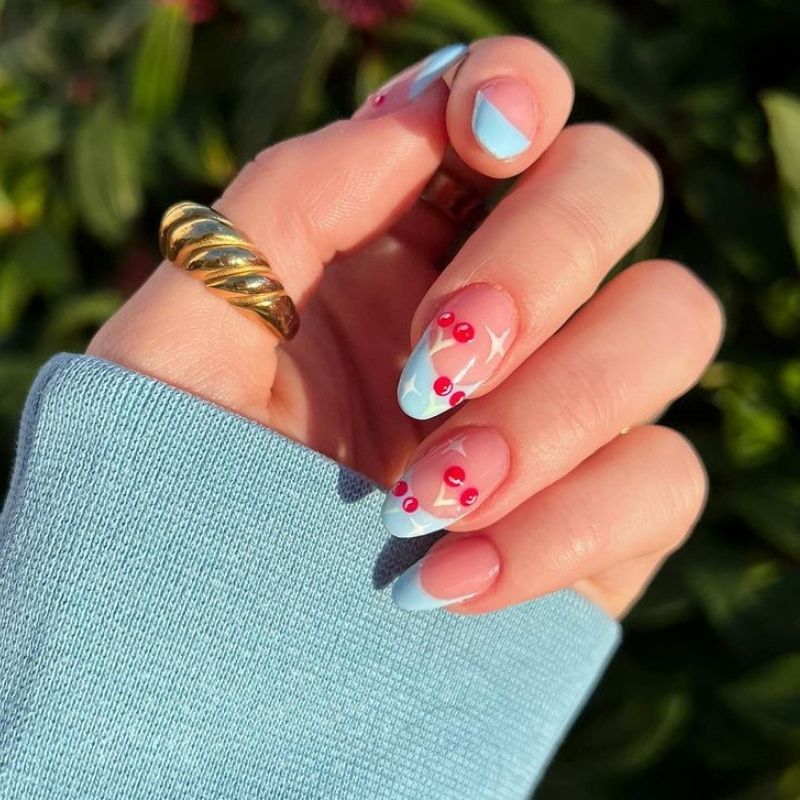 I simply cannot over this nail art. I mean, look at how good the cherry tips are!
This is another fun spin on the usual French mani. Now, you can add your own twist with bright colors and cherries!
16. Spring Ombre Nails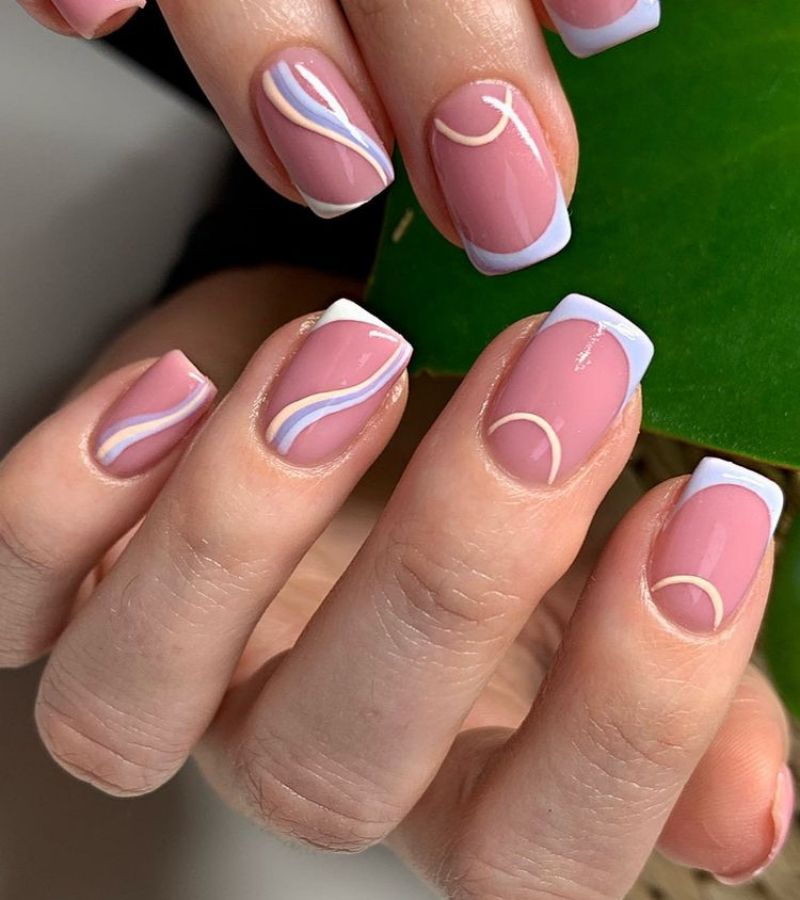 Here is a set of ombre nails that will look good on literally every type of nail! Spice up a simple pink base by drawing wavy lines and French tips for a subtle yet classy look.
17. Funky Florals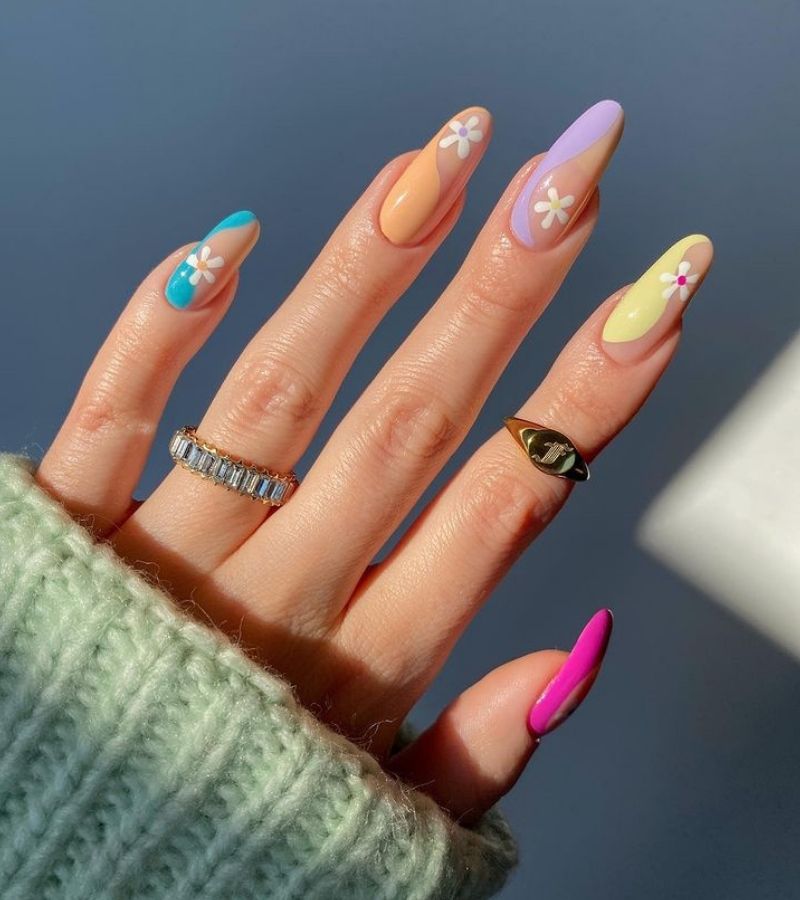 This fun floral look is such a hot take on simple spring nails and I probably wouldn't think twice before getting them!
They look amazing and give off the happy gloomy vibes that match the season perfectly.
18. Spring Limes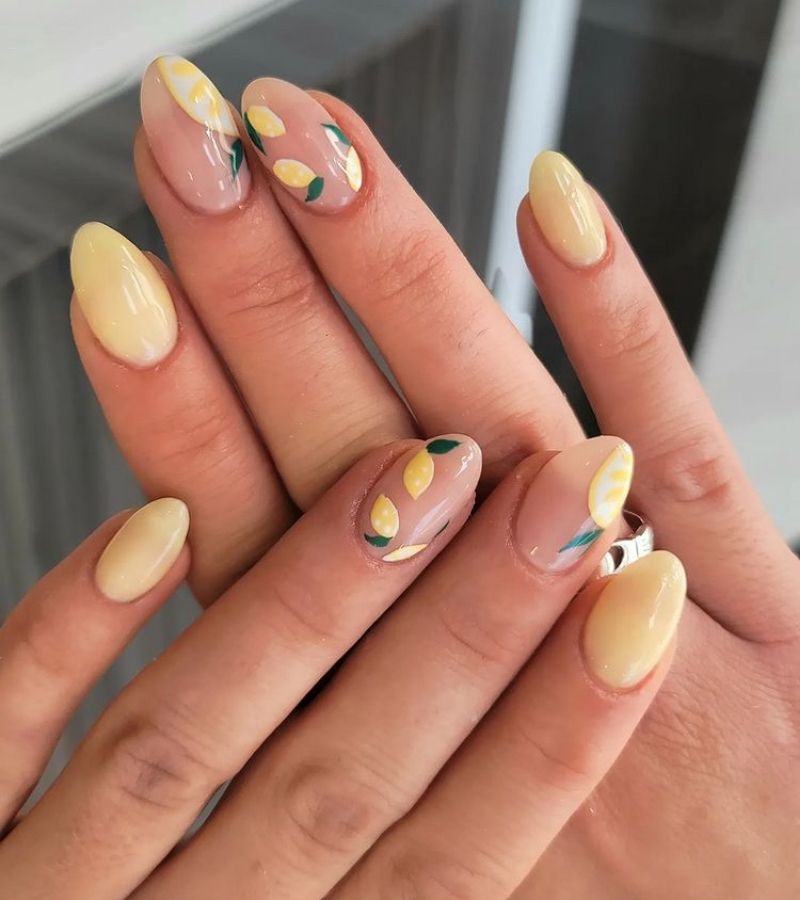 When life gives you lemons, you turn them into nail art as cute as this ;). But, seriously this is such a great design, and the color is reminding me of all the bright summer nails that will be trending very soon!
19. Blue Waves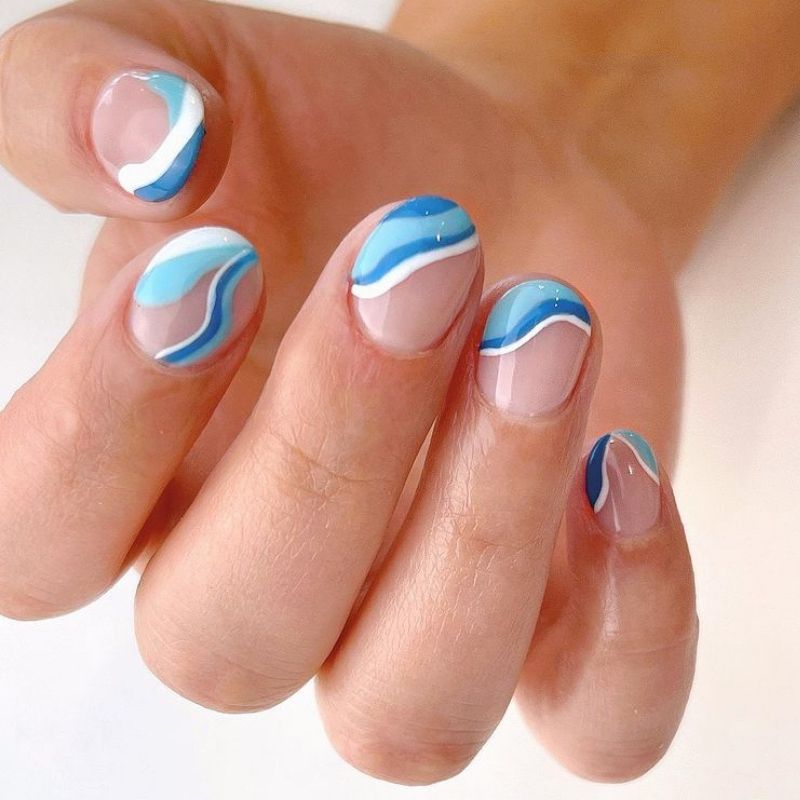 These funky blue waves are a hot trend this year and they're here to stay! Take a spin on your nails and add multiple shades of blue in waves this way for a stylish effect.
20. Spring Leaves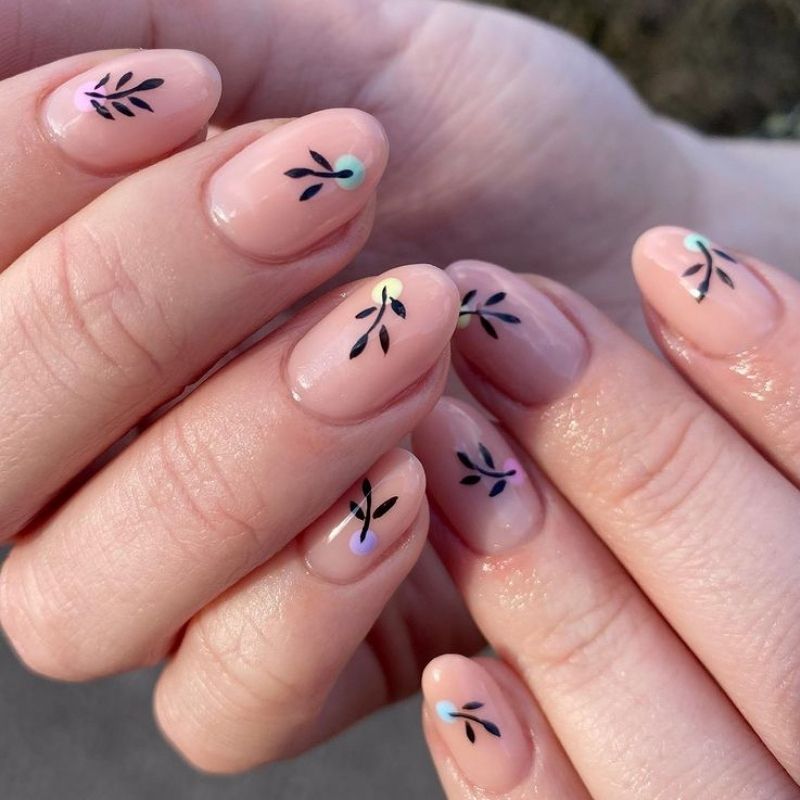 How freaking adorable are these spring leaves? There's nothing like taking a walk in the park and seeing all the fresh leaves. Get these beauties on your nails with a nude base for extra effect!
21. Floral Abstract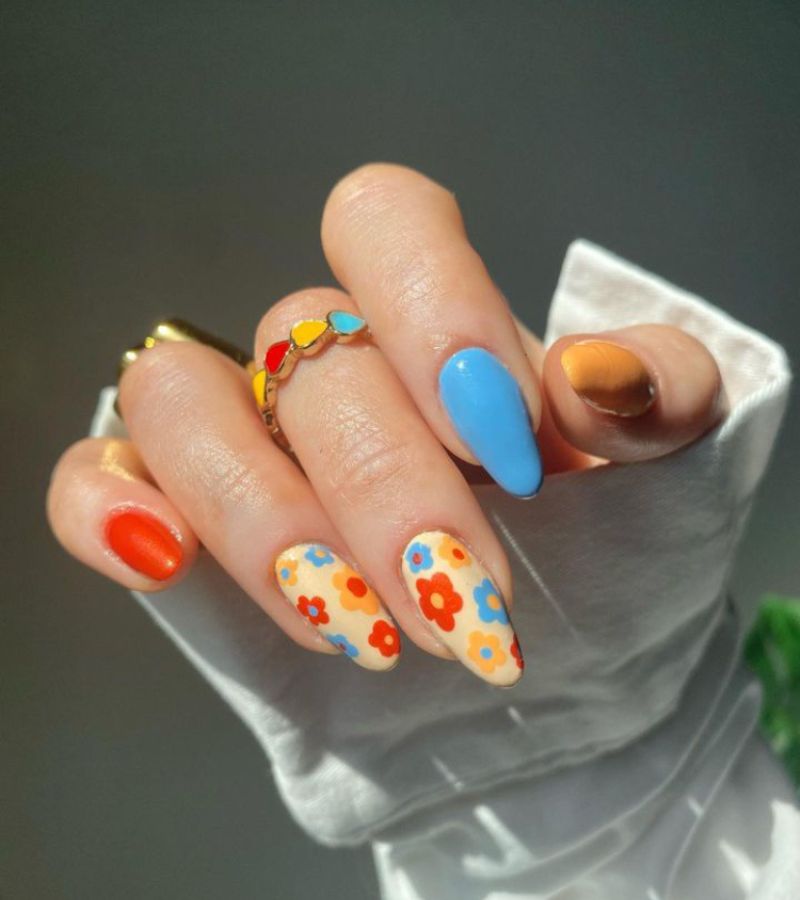 You just can't get enough of abstract nail art. The color combo on this is seriously insane and worth the steal! Just in time for the spring/summer season.
22. White Stripes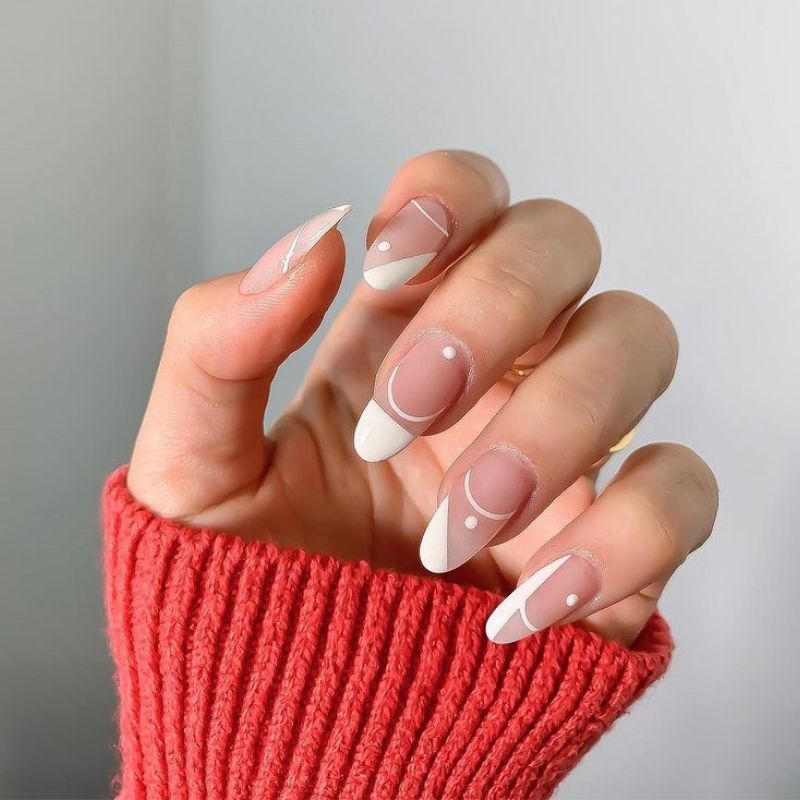 This nail art not only looks so classy and modern but you can easily do this at home as well!
Just add simple white arches and stripes on each nail to create a beautiful effect that will last you all throughout spring and summer.
23. Colorful Rainbow Abstracts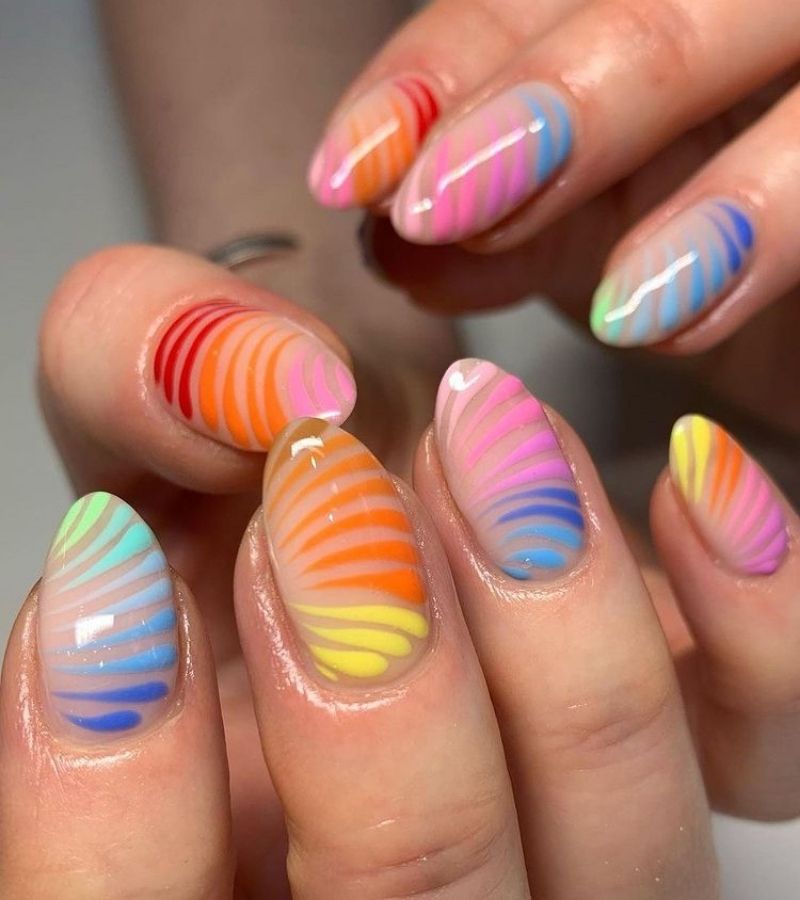 Wow! I'm in awe of this amazing mix of fun colors to create abstract art like this. Told ya abstract nails never disappoint!
If you are looking to get something fun and funky with short nails, you have got to get your hands on these!
24. Nude Pink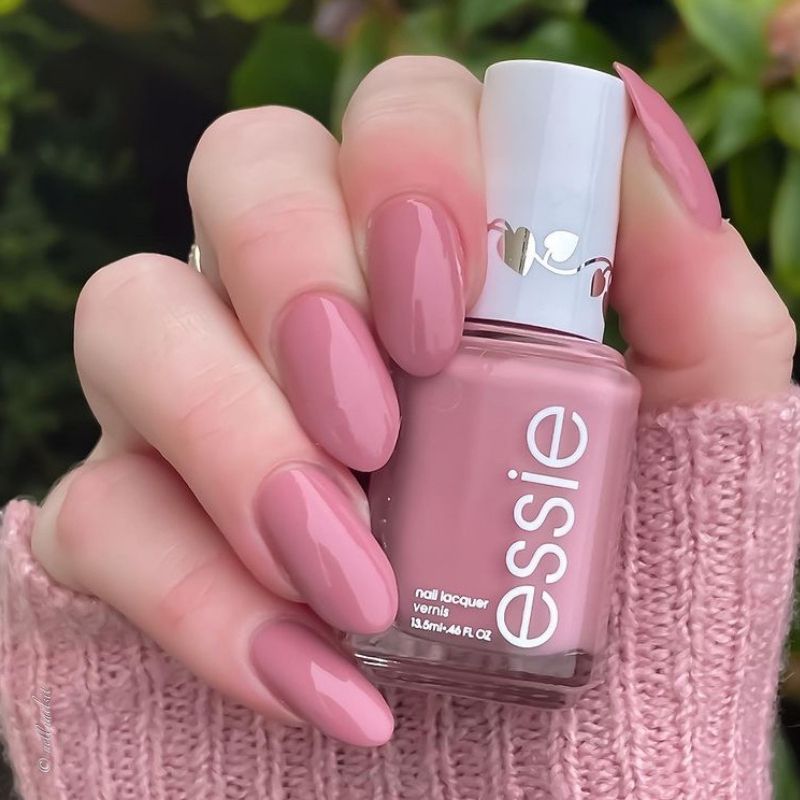 Something about getting plain full nails always looks bold. And this nude pink color is something you can totally rock for Spring!
It looks so simple yet so so pretty. It has got to be another one of the best spring nail designs out there.
25. Spring Flowers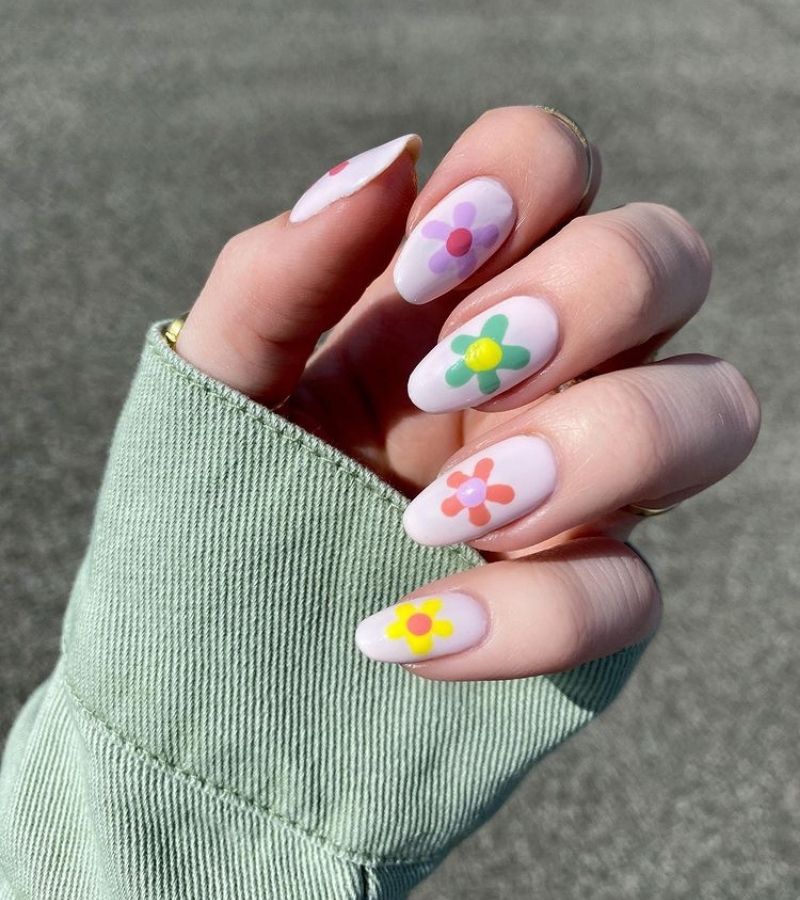 Spring automatically means flowers and this nail art gives off nothing but the best vibes! Draw colorful flowers on a white base for each nail to achieve this cute look that everyone will love.
26. Dalmatia Nails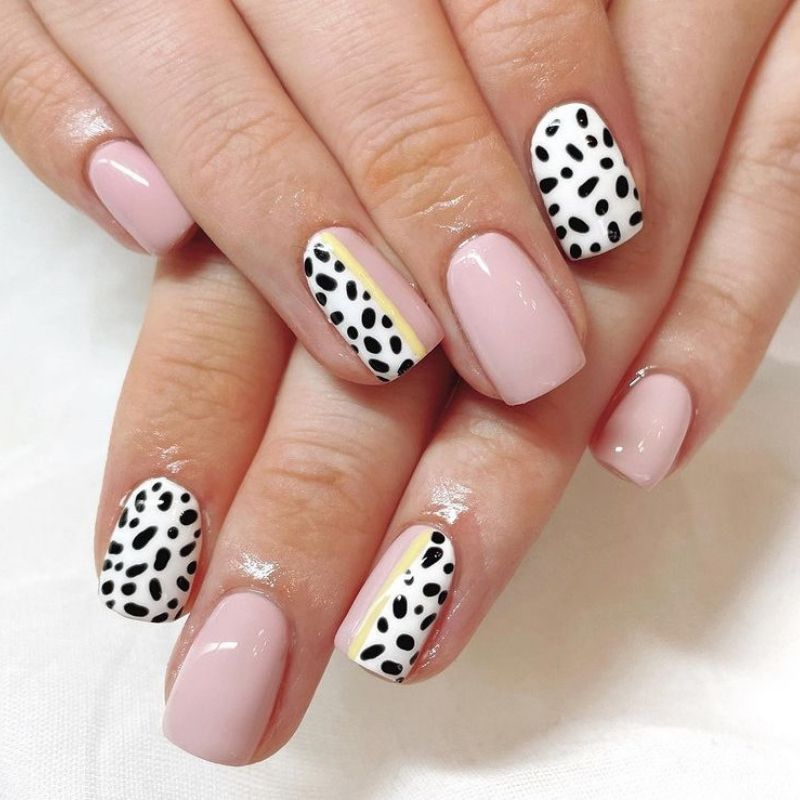 Who would've thought Dalmatia nails will ever be in style? Combine it with one of your favorite pastel colors and viola! You get the best kind of spring nails that are trendy and cute!
27. Spring Garden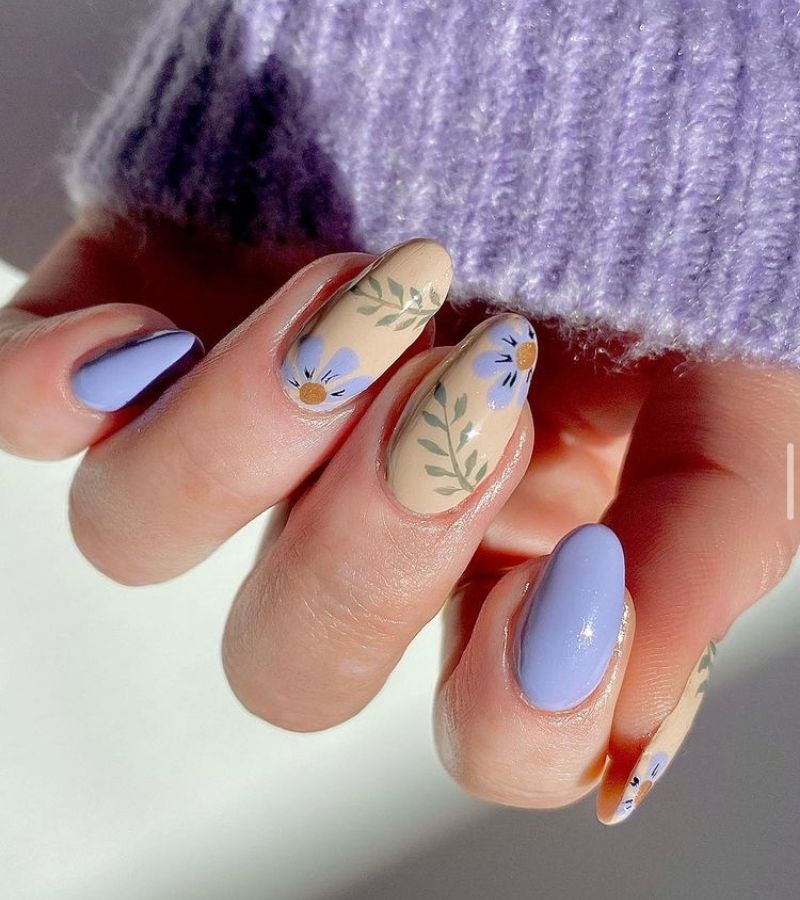 This nail art looks so mesmerizing to the eyes. I love the choice of colors that go really well together. If you love all things spring and flowers and leaves, you should definitely get these cute spring nails!
28. Pink Abstract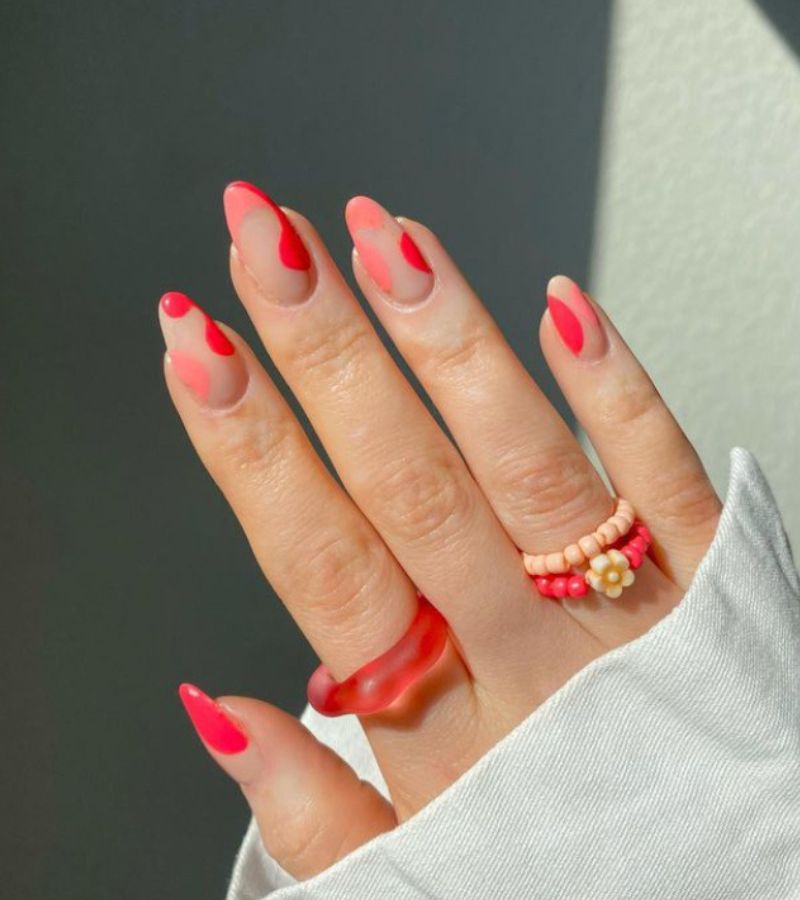 29. Blue Sunshines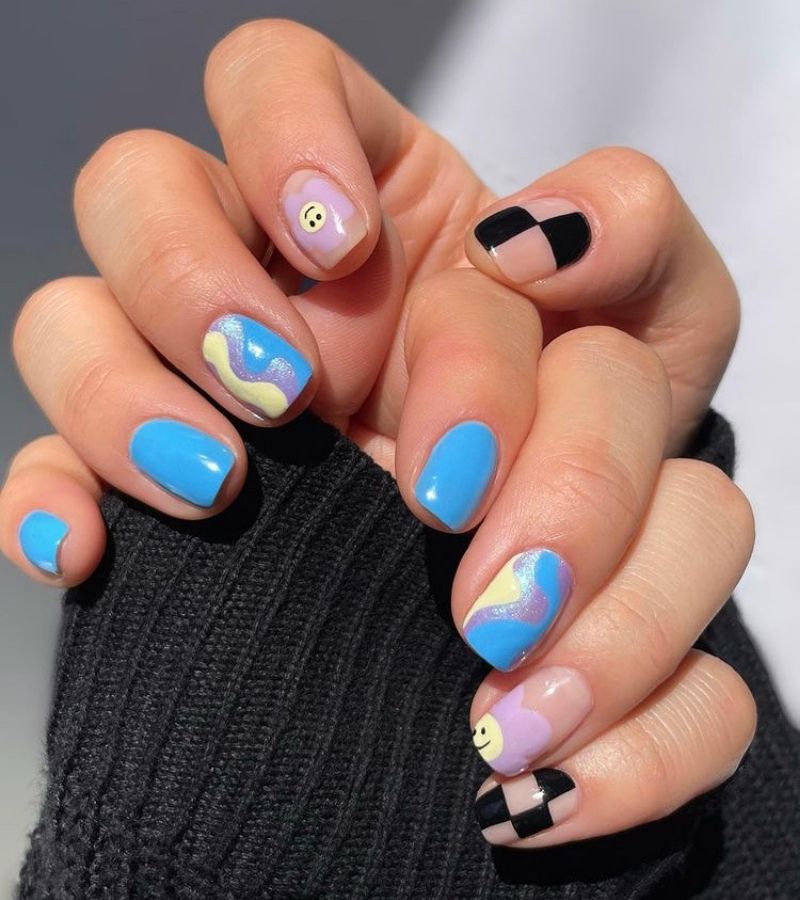 Who else can't wait for the warmer weather to take over? Bring the feeling of sunshine to your fingertips with these blue beauties to show just how excited and ready you are!
30. Spring Nails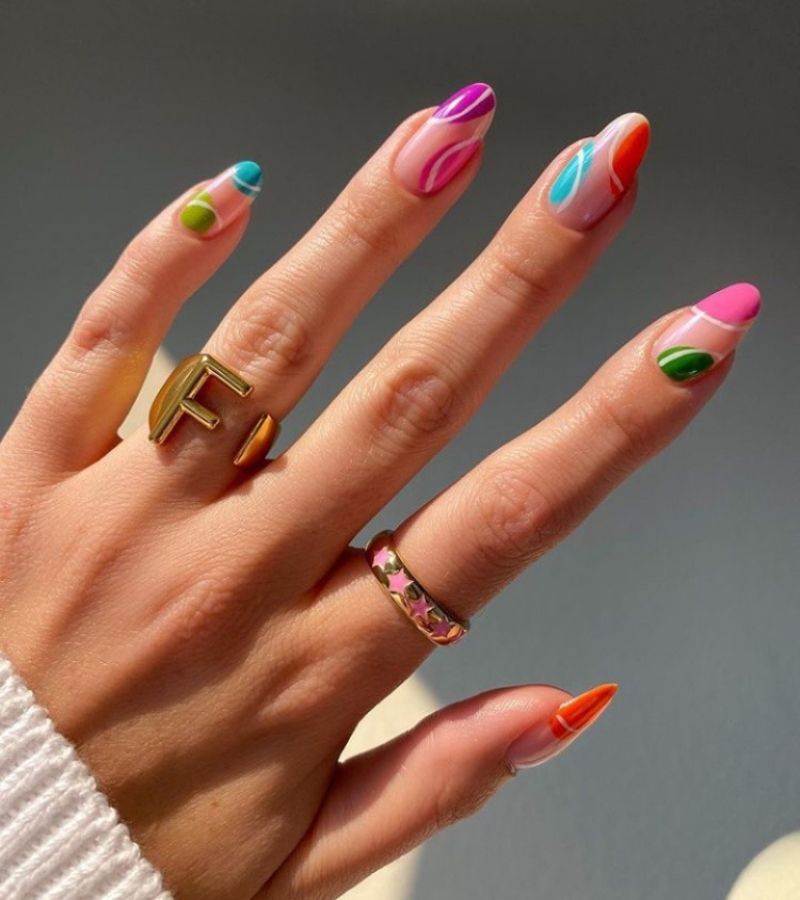 Another one of the spring nail designs that shows a unique twist on abstract art! If you can't already tell, abstract nails are winning in 2023 so definitely let this design be an inspiration at least once!
31. Flower Power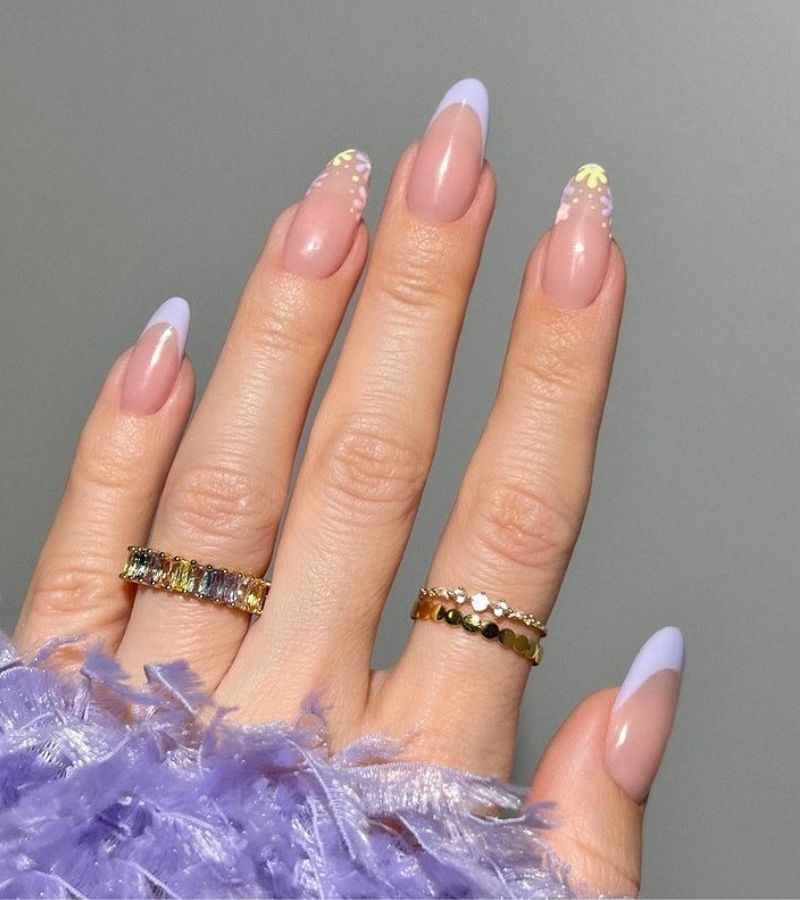 Okay, this is so cute. This take on the usual French tips with flowers and pastel purple is adorable and fits perfectly. You have got to give this a try this Spring!
32. Cute Blue Daisies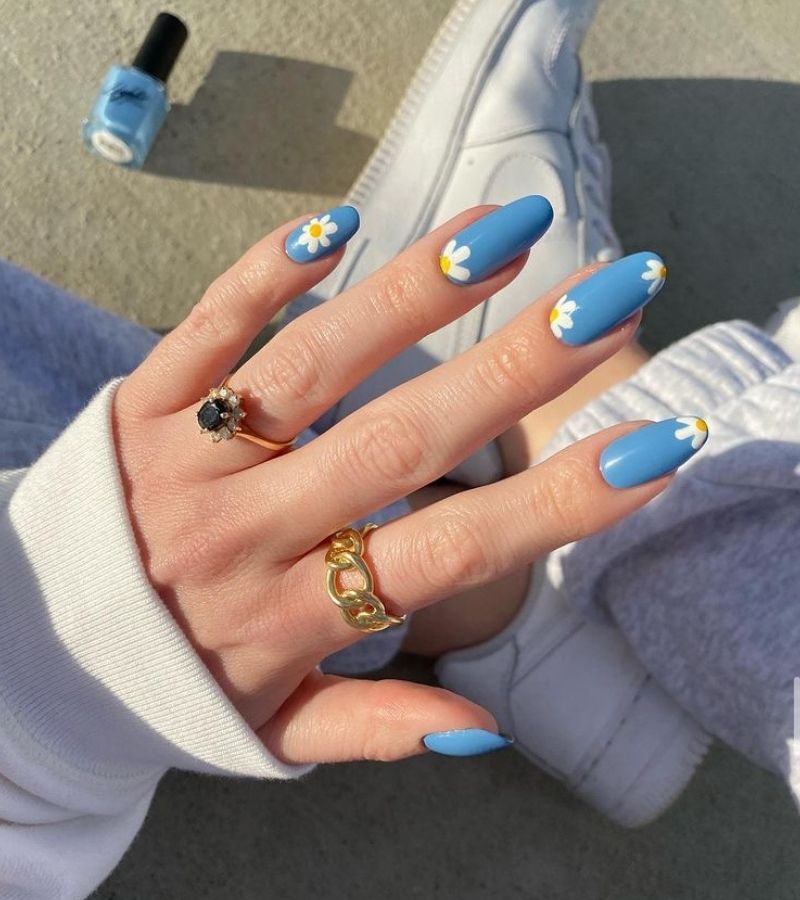 It's not cute spring nails if there aren't any daisies to go with them. This nail art is soo pretty and I can totally see myself getting it for Spring this year!
33. Classic Frenchies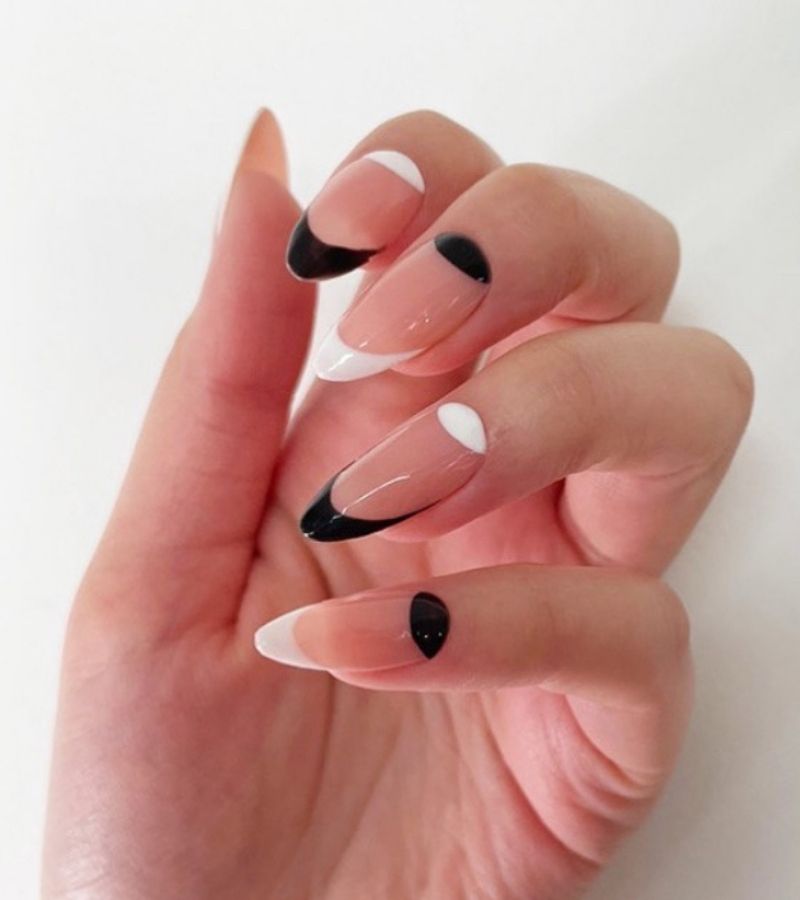 Black and white never looked this good together. Paint your tips and the edges of your cuticle for a soft yet classy look that will go with any and every outfit this season!
34. Wavy Nudes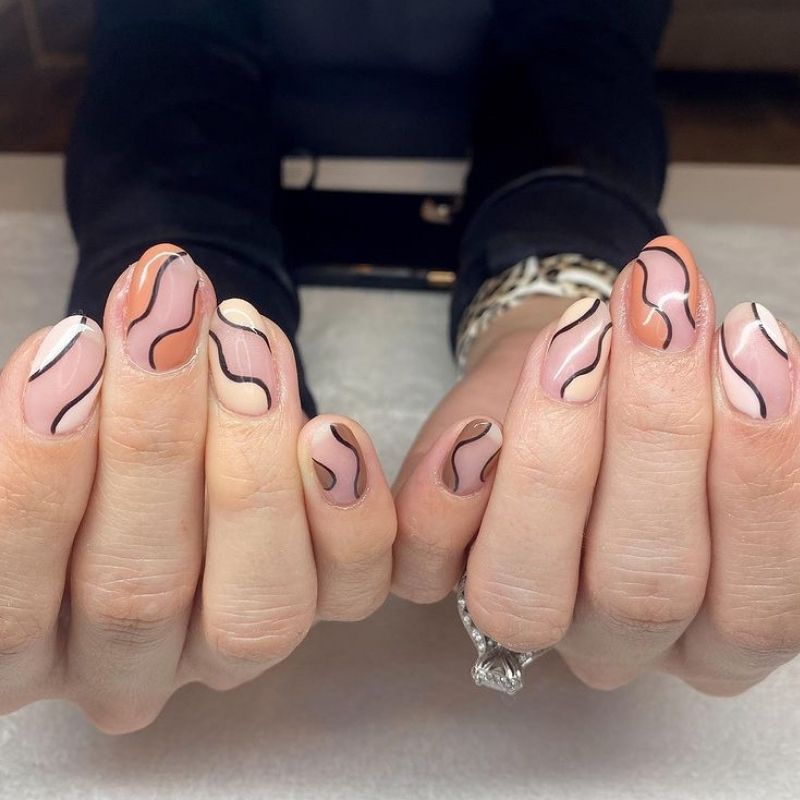 A nude look will always remain a classic. Take your nail art to a whole new level with these trendy waves that will look amazing on short nails!
35. Subtle Blue Waves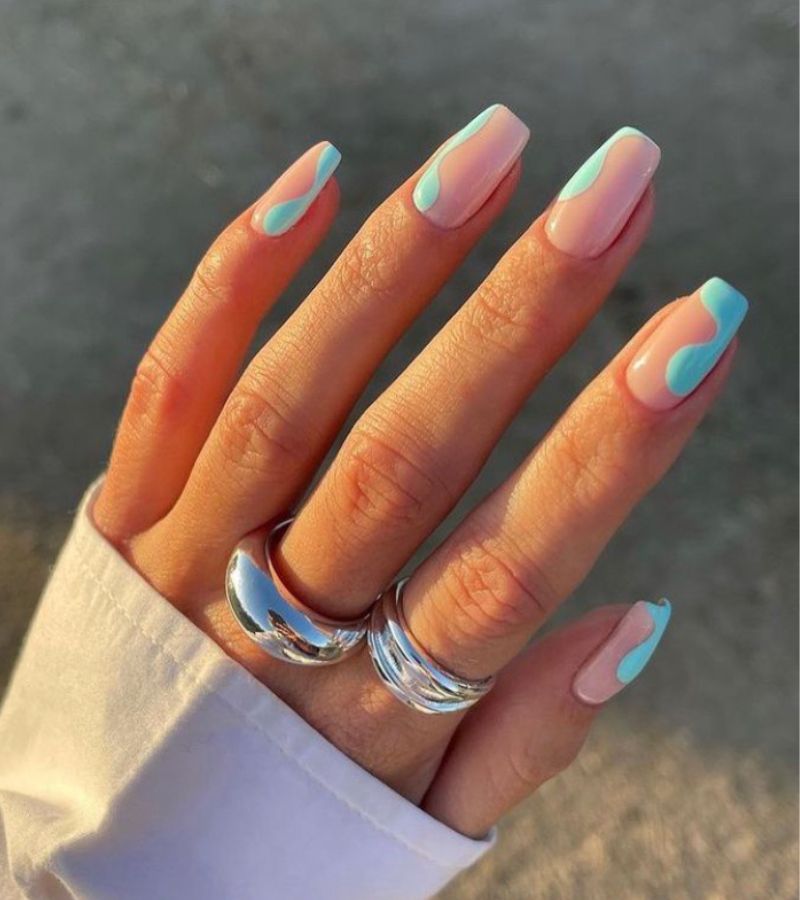 Going for a soft glam this Spring? These blue waves around the edges are one of the easiest designs you can do at home!
36. Chic Rose Quartz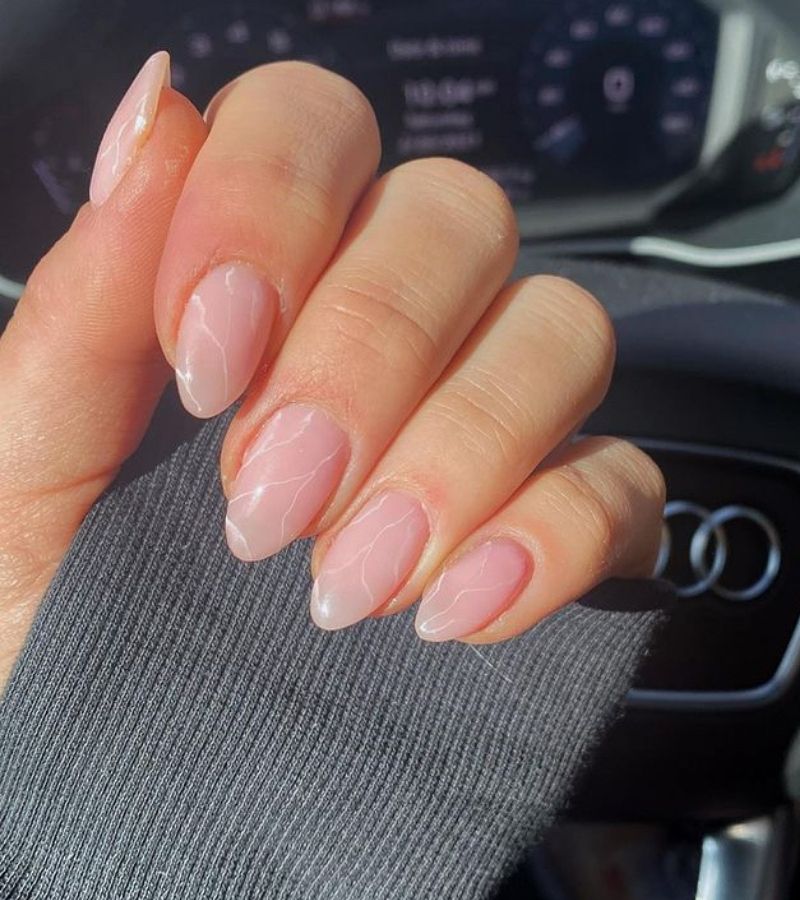 Can it get any better than this? There's nothing like soft pink nail art that looks this pretty when the sun hits.
This nail design is gorgeous in its own unique way and something I can 100% guarantee you'll get compliments for!
37. Brown Sparkles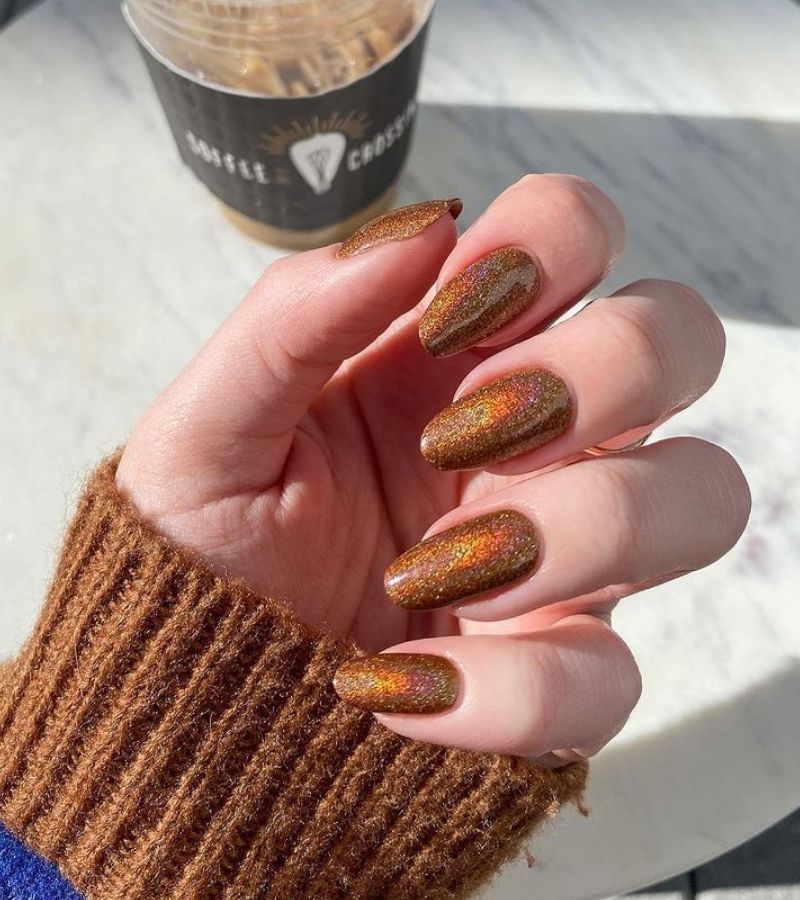 If you don't like the usual pastel spring nail colors and want something different, this dark brown color with a bit of sparkle is all you need.
Even better if you match your nails with your favorite coffee order for the season! LOVE that idea.
38. Black And Purple Floral Tips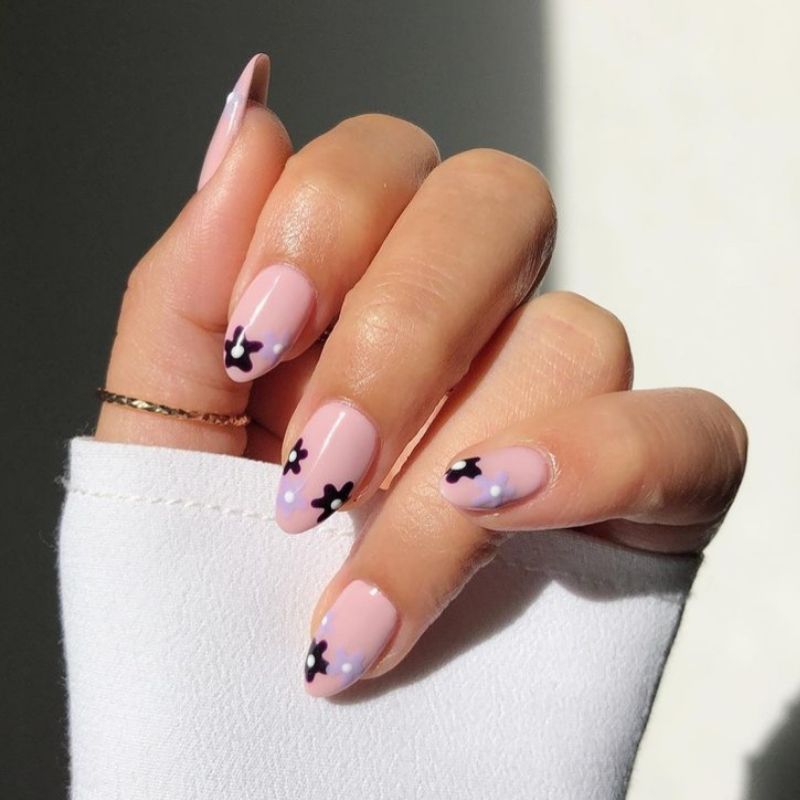 She's cute, she's pretty and it's no secret that floral tips are here to stay. Plus, the best part is they're super easy to recreate.
Get creative and choose from a variety of colors to bring the spring flowers right to your fingertips this way!
39. Simple Spring Flowers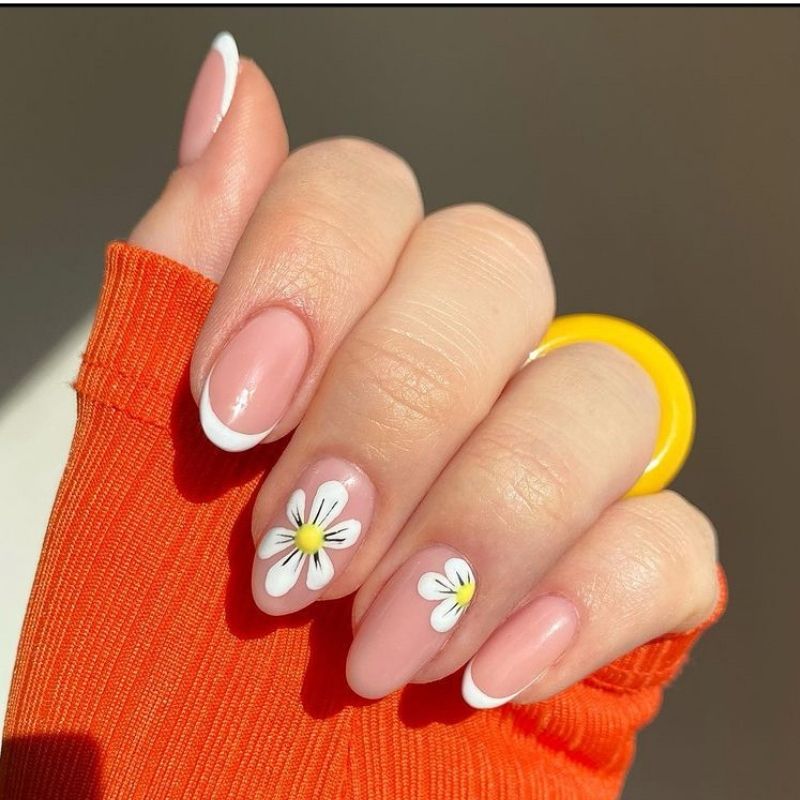 This simple spring nail design is soo cute!! A pink nude base with white tips and flowers will give you a simple look that still gives off the feeling of spring in the air.
40. Spring Party Mani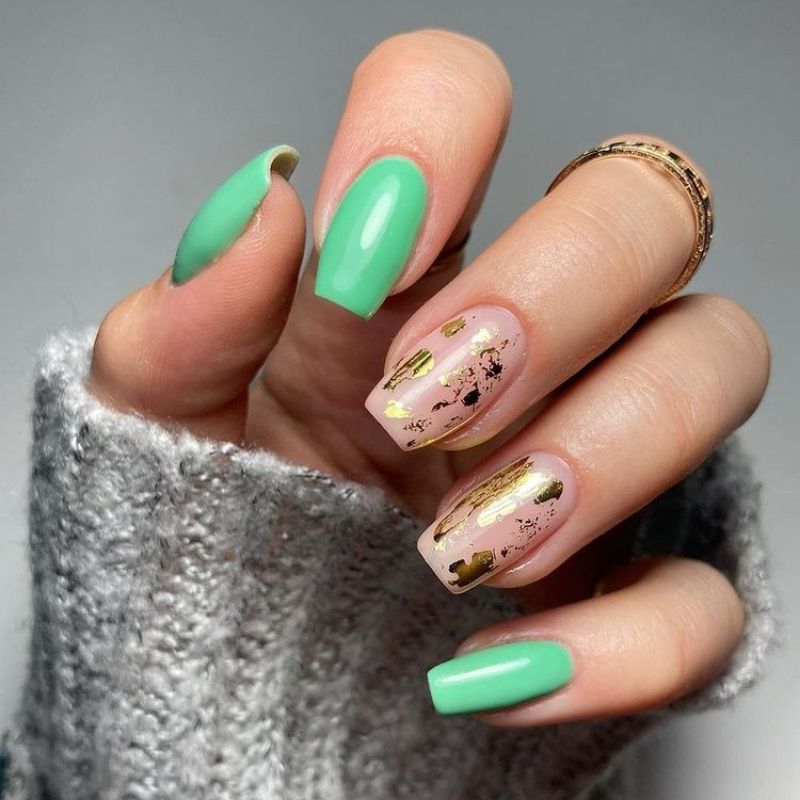 Spring is the perfect time for all the fun parties. Spice up a simple pastel green mani with gold foils to steal the show with this gorgeous look!
41. Cute Florals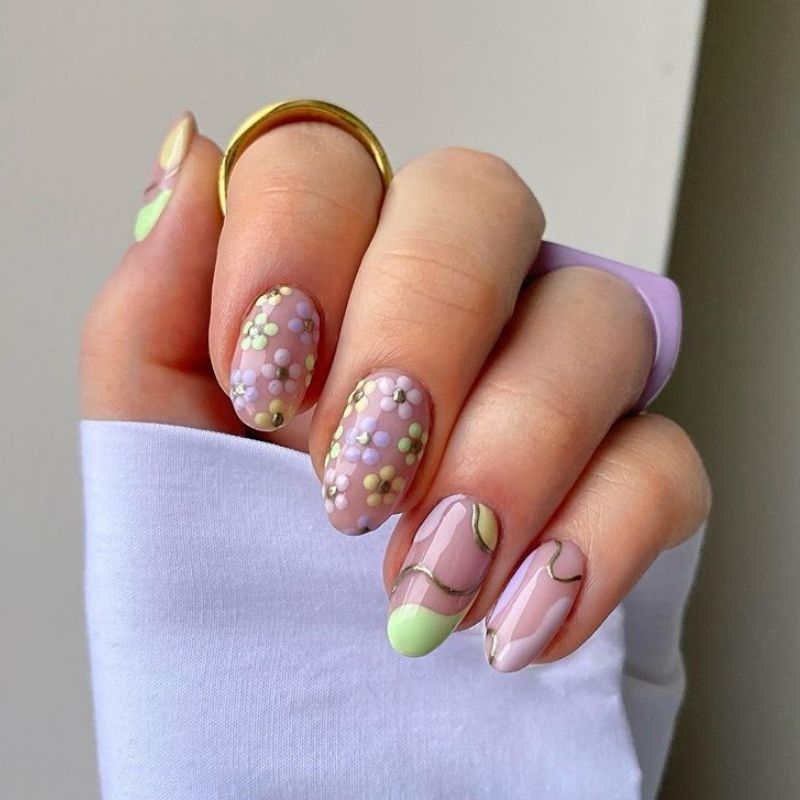 How adorable is this? It's giving all the springy vibes I could ever want in my nails and I'm obsessed with it. Another short spring nails to die for!
42. Spring Tortoise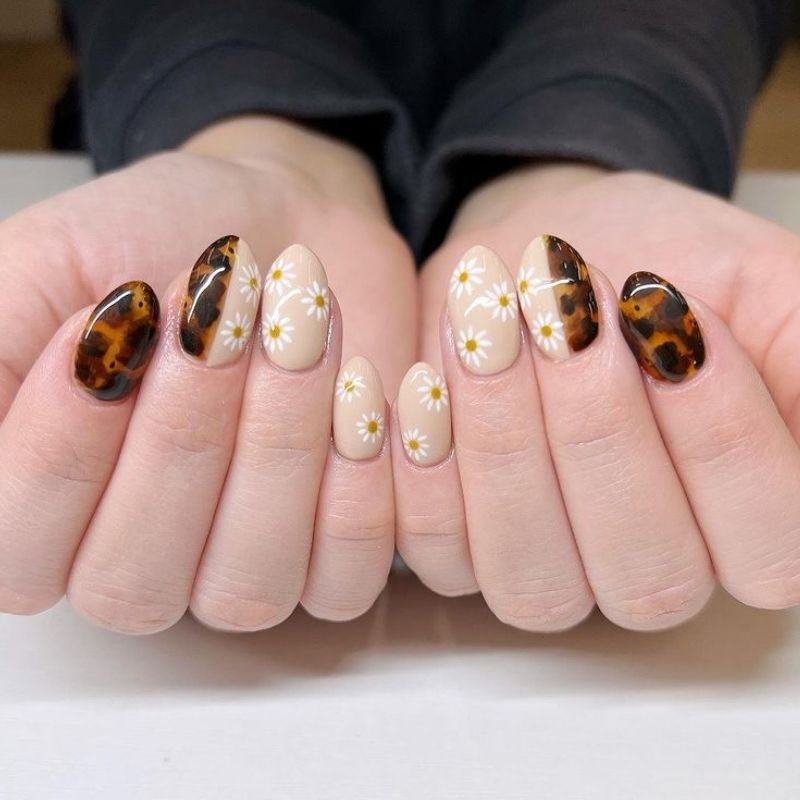 Love spring but want to get something different and unique this time? Here is a tortoise design that you will definitely want to copy! It looks so simple yet elegant and I'm in love with it.
43. Cute Spring Nails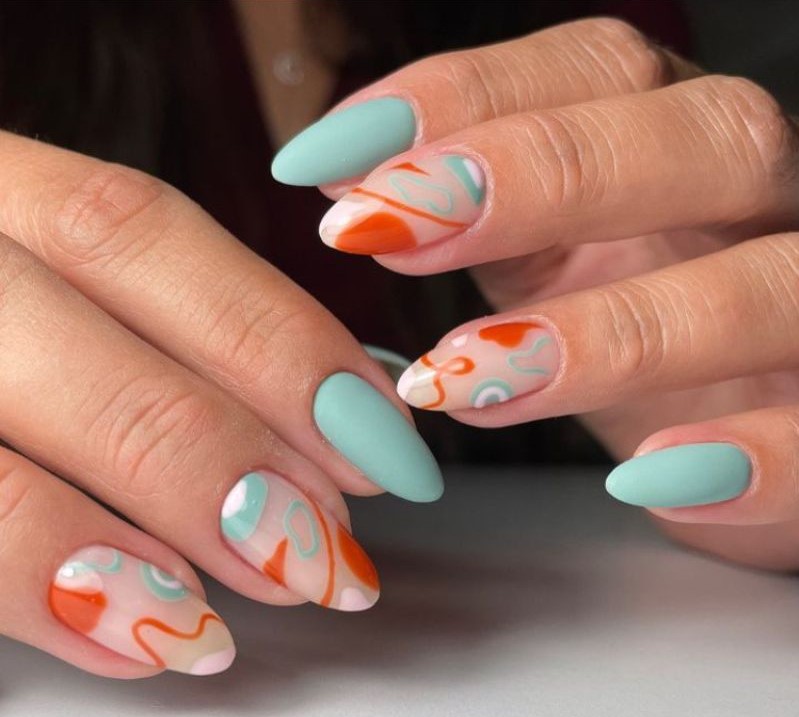 44. Pastel Green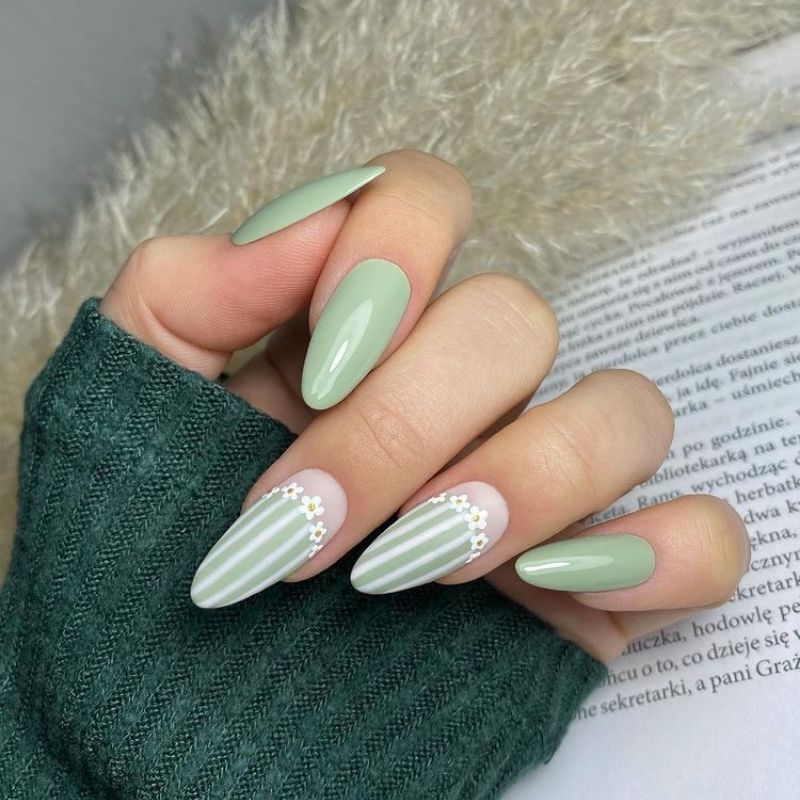 A simple coat of pastel green would have looked too simple but they have taken this nail art to a whole another level by adding the dashed lines and flowers at the end. You seriously can't go wrong with the details, it's absolutely gorgeous!
45. Colorful Double French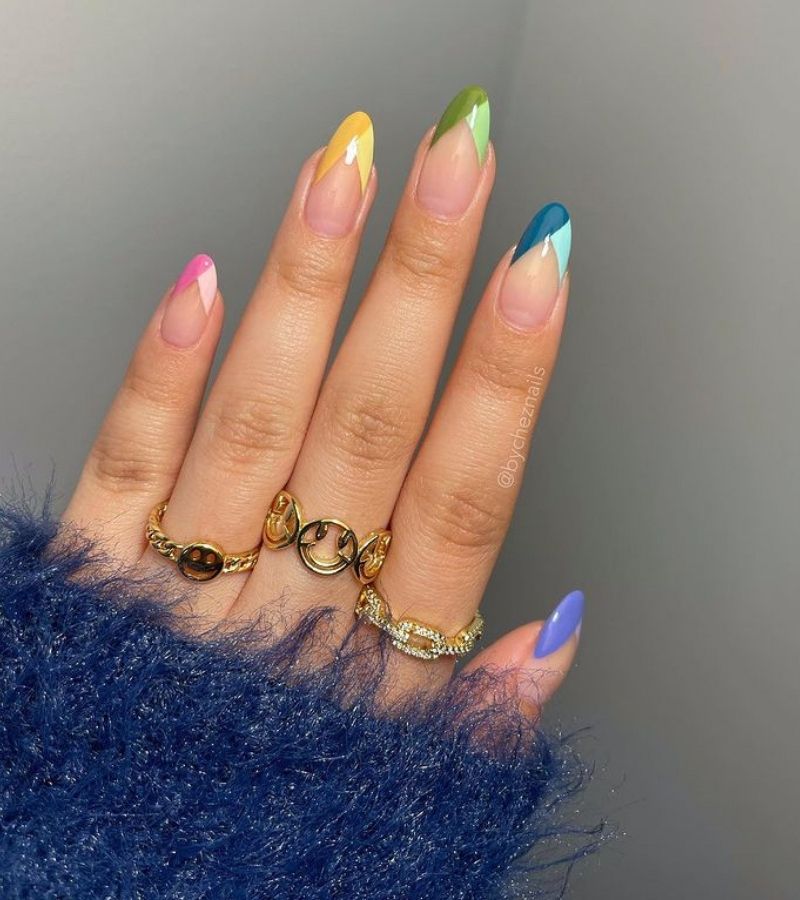 How freaking perfect is this? It's such a creative to use a bunch of different colors!
Try choosing two complimentary spring colors for each tip and glide them in opposite ways to achieve this look.
46. Butterfly Nails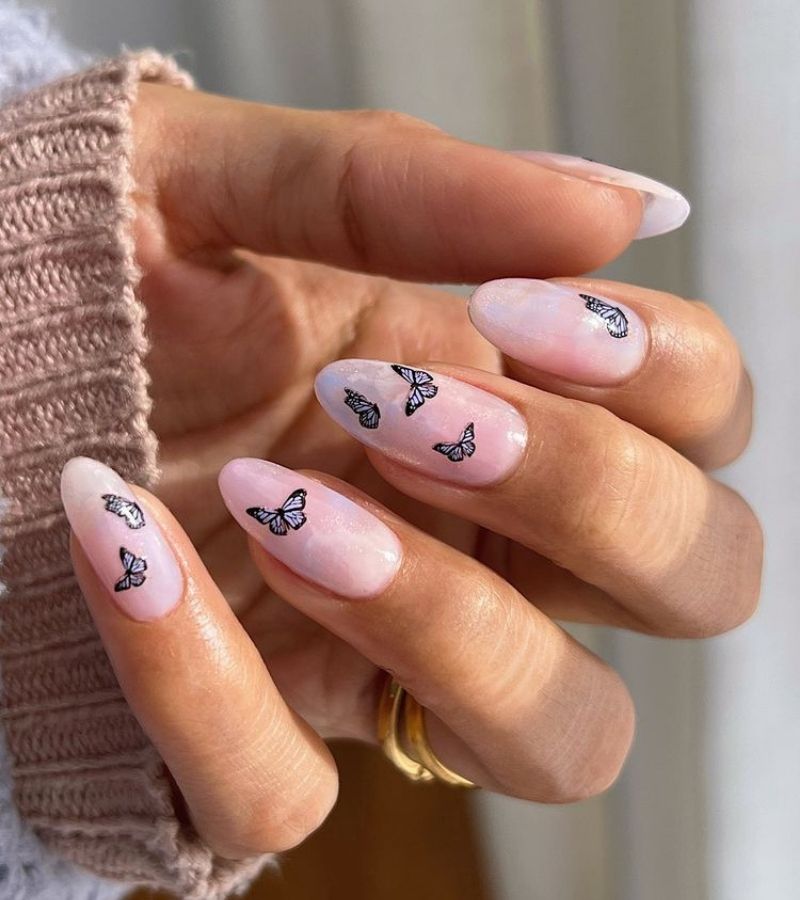 Who doesn't love butterflies? This nail design is soo pretty and cute, it will last you the entirety of summer as well! All you need is a pink coat and butterfly stickers for this!
47. Springtime Plaid
I think we can all agree that picnic vibes during springtime are seriously unmatched.
If you love the feeling of the picnic as much as the next person, draw grid lines across your nails using trending pastel colors to be a spring picnic ready any day!
---
These were all the cute spring nails 2023 that you should definitely give a try.
Related Nail Design Posts:
---