These chic and gorgeous nails for Christmas 2023 will instantly get you into the mood for the holiday season!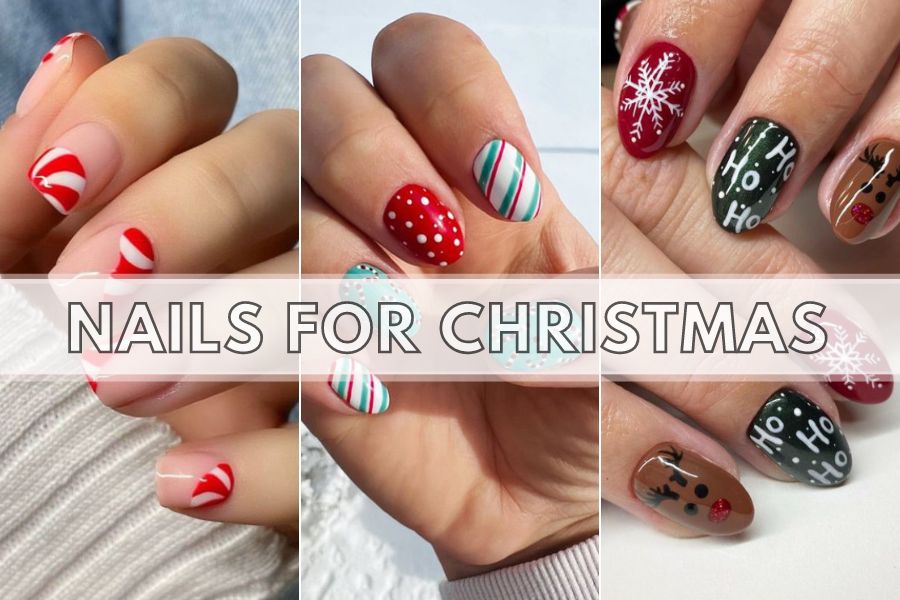 It's Christmastime, the holiday bells have rung, Mariah Carey is in full spirit. And to top it all off fresh manicures have started to trend everywhere on Instagram which only calls for cute Christmas nail art and designs.
Now, if you're stuck on whether to go for the festive red and white this year, or stick to something simple yet fancy, this list of great options has it all. I'm telling ya, nothing will get the holiday cheer going like these easy-to-do sparkly manicures!
From the classic candy canes and frosty tips to snowy swirls, you're bound to find something that catches your eye. Keep scrolling for some cute nails for Christmas 2023 that are sure to impress!
NAILS FOR CHRISTMAS 2023
1. Christmas Mani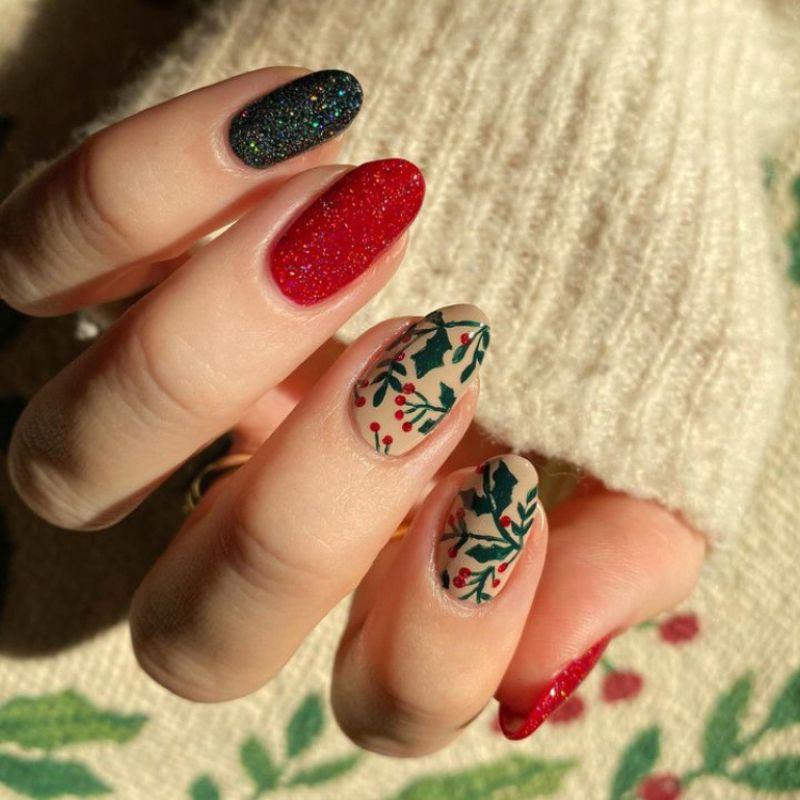 Red and green are the finest colors of holiday nails when paired like this. Not only does this color palette scream Christmas, but the two cute accent nails really takes it to the next level!
2. Candy Cane Swirls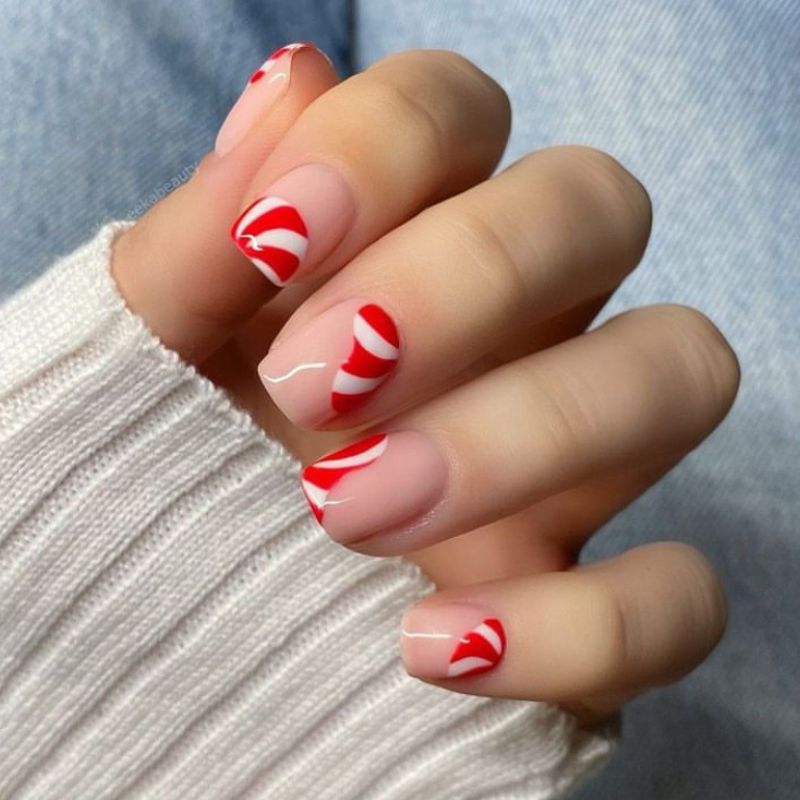 I didn't think it was possible to drool over a nail design, but here we are… This is such a fun holiday take on the traditional candy cane, and will look so dang cute on short nails!
3. Abstract Nails For Christmas
If you want to add a pop of color to your nails for Christmas, this funky nail design is for you!
Play around with designs and add polka dots, candy canes, and stripes on a bold solid color for an extra yet festive look.
4. Snowy Forest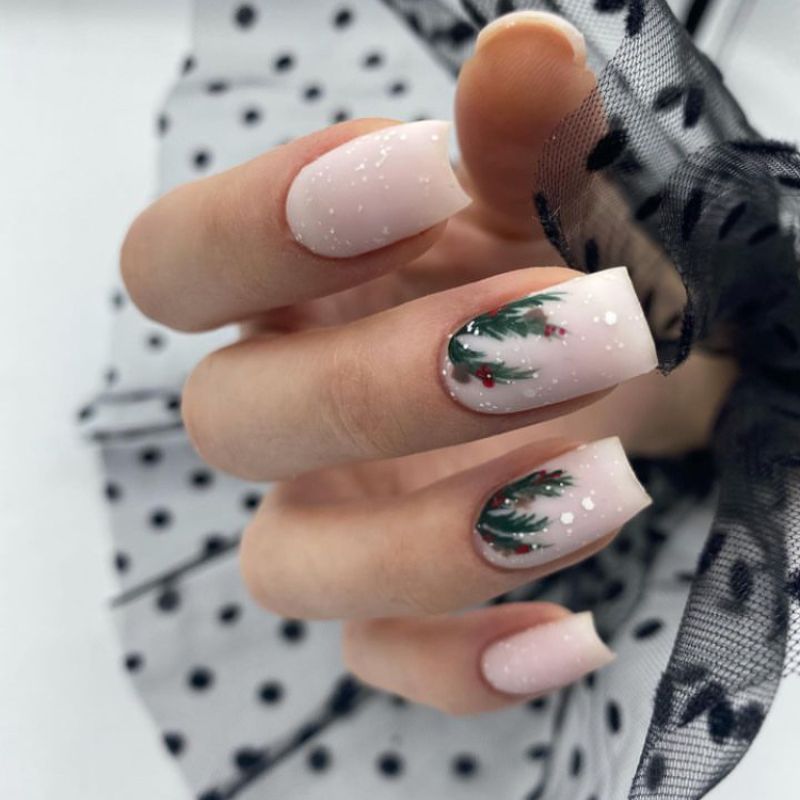 Create a snowy wonderland right onto your nails with a white base and a few dots. This nail art is unique in its own way and the holly design is just adorable, I'm in love!
5. Sparkly Reindeer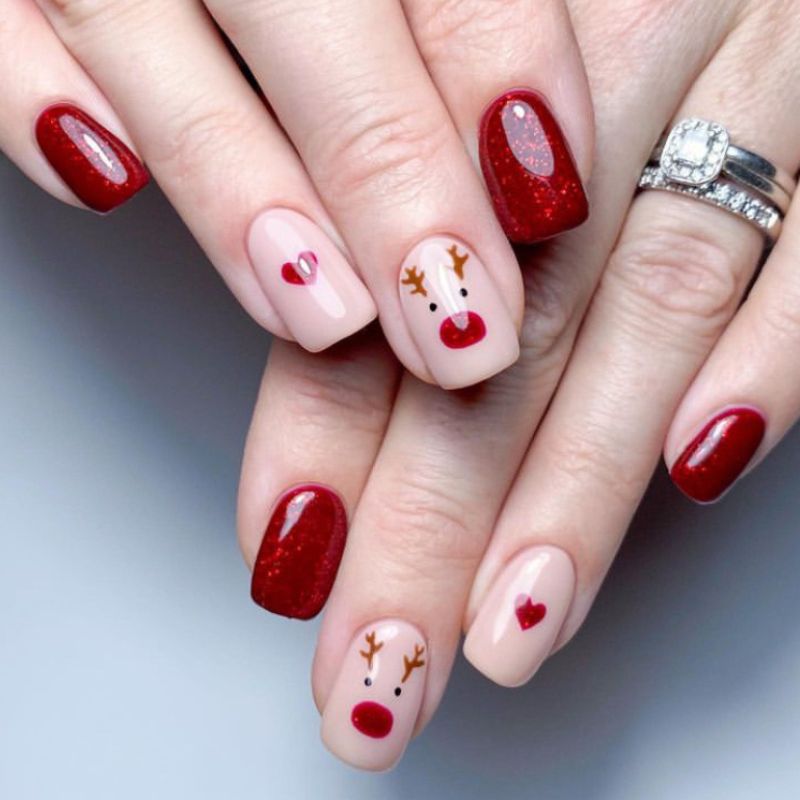 Accent nails are clearly the star of the show here. If you want to amp up the classic red, adding a sparkly red with these cute reindeer drawings is the way to go!
6. Short Frenchies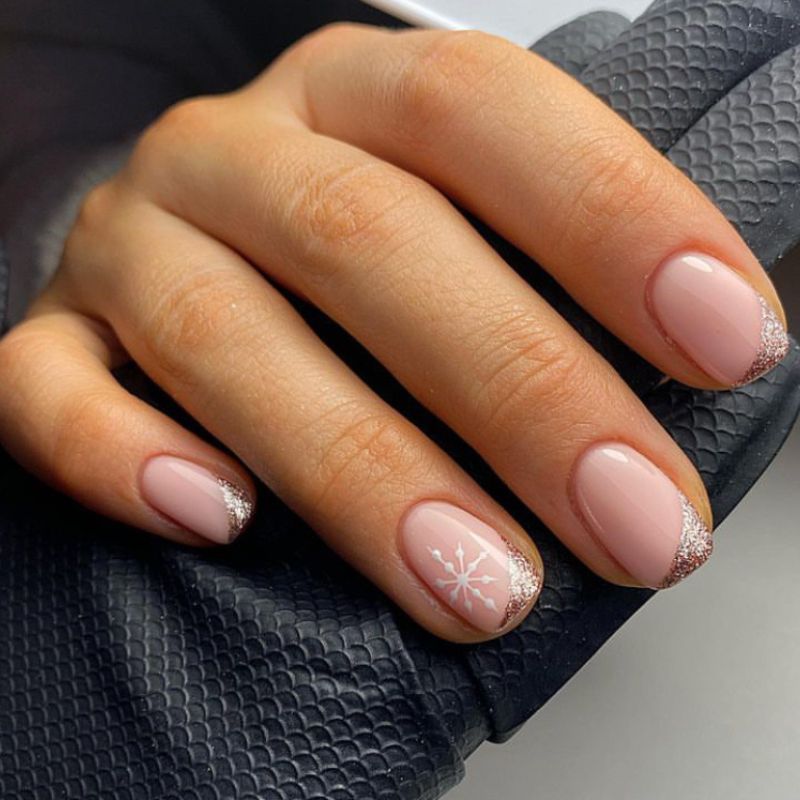 Whoever said you can't do French on short nails? Create a diagonal look on the tips with sparkly silver and add a snowflake to be holiday-ready for both Christmas and New Year!
7. Candy Cane Frenchies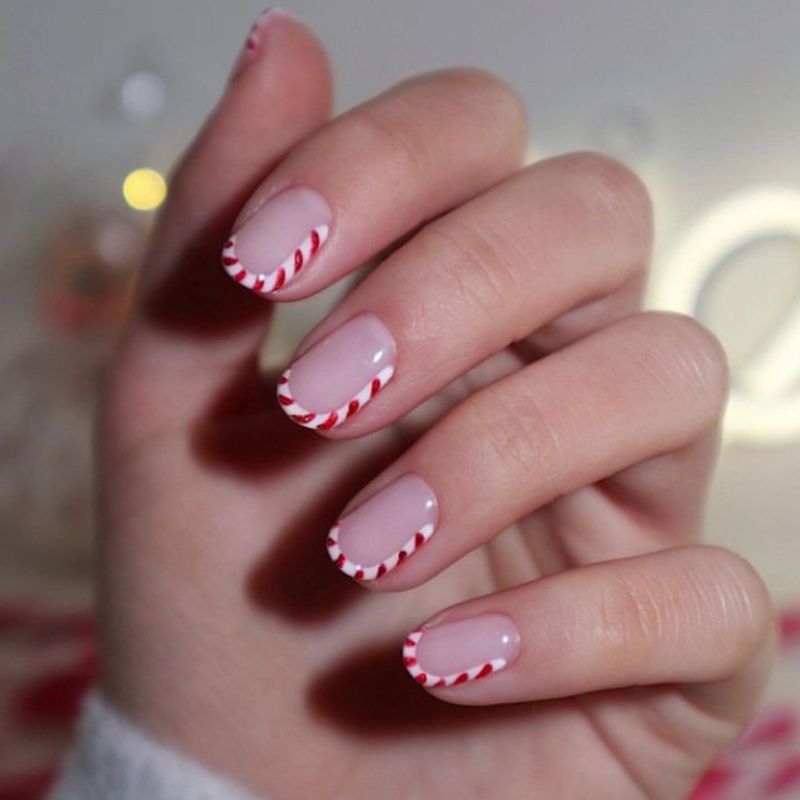 Candy cane nails are always top-tier but this new take on French tips is blowing my mind right now. It's so trendy and festive, you just can't go wrong with these!
RELATED: 37 Sparkly Christmas Nail Arts You Wouldn't Be Able To Resist!
8. Reversible French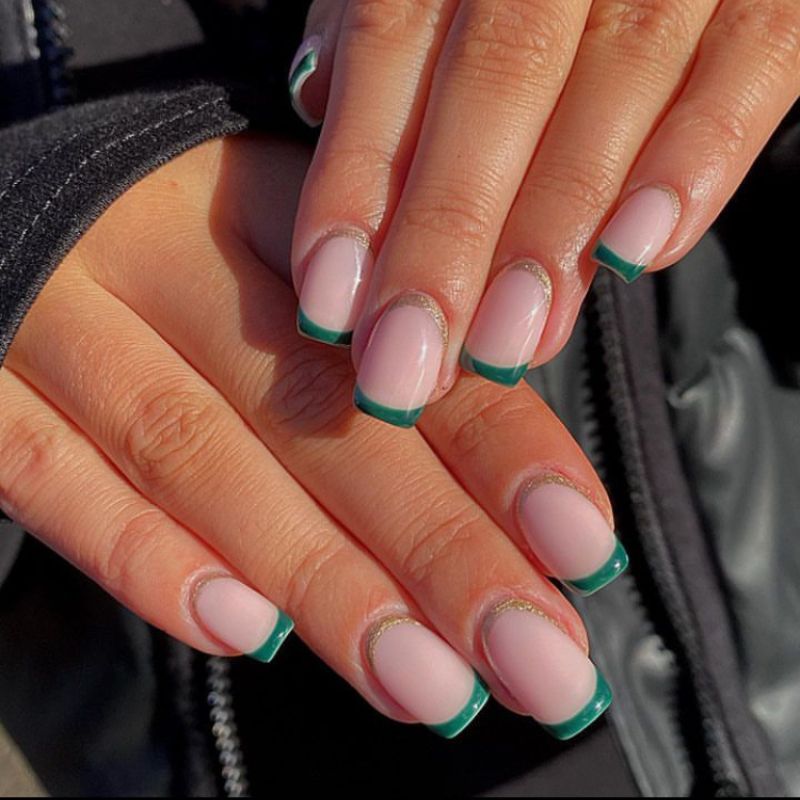 If you are not a fan of all the festive colors that trend every year, go for these reversible French with dark green and gold on the edges. 
It's super minimal but still perfect to wear for all holiday occasions!
9. White Snowflakes
Wow, these nails are so dainty and gorgeous. Anyone can vibe with these for Christmas because of how chic and beautiful they are!
10. Christmas Abstract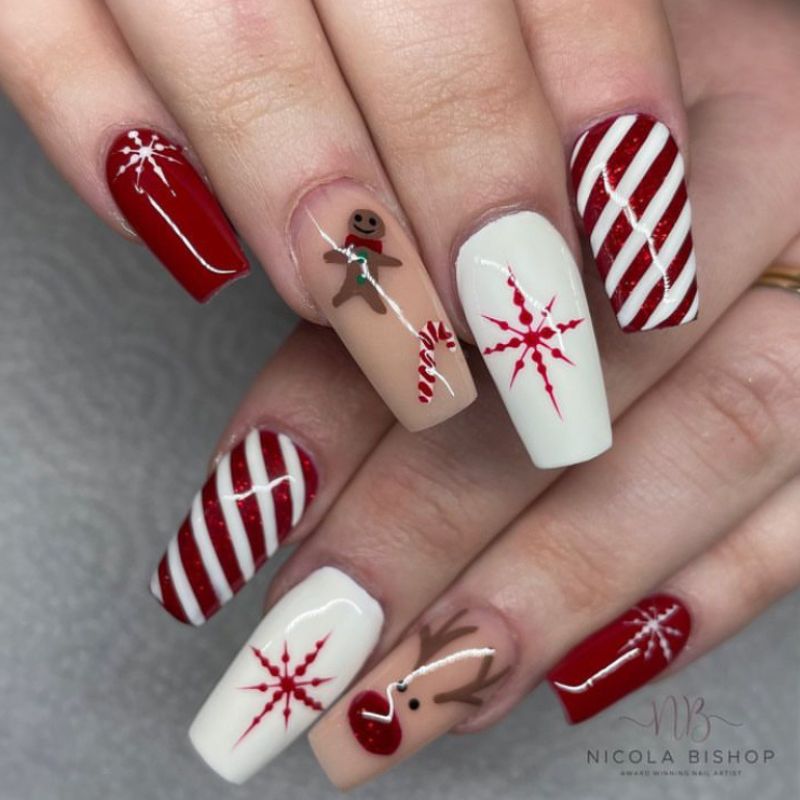 Can it get any better than this? Gingerbread, reindeer, snowflakes, candy cane, this beautiful nail art has it all!
11. Christmas Lights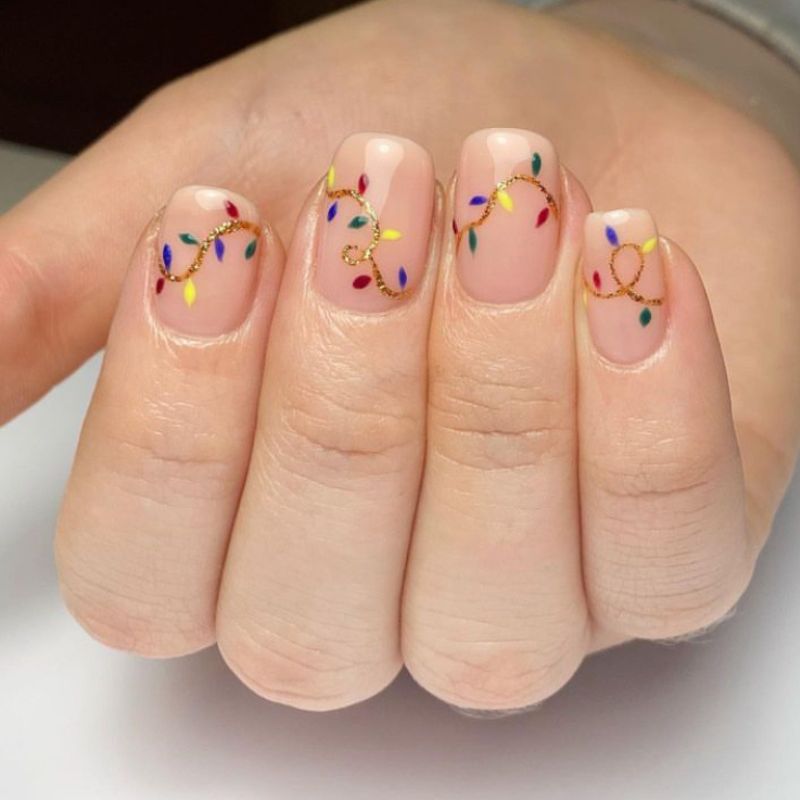 Okay, this idea is genius. Who would've thought about adding Christmas lights on their nails?!
Draw gold lines on a nude base and use colorful nail polish to create this epic effect that will be all the talk this season!
12. Snowy Swirls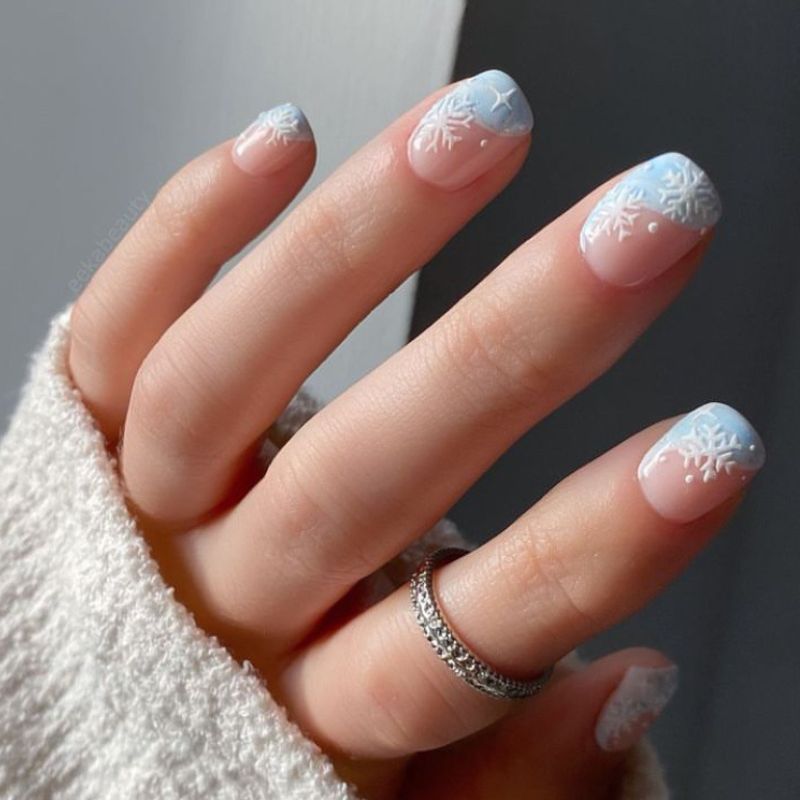 Serve winter vibes with this holiday-approved set that is irresistibly cute and so so pretty.
13. Red Swirls & Snowflakes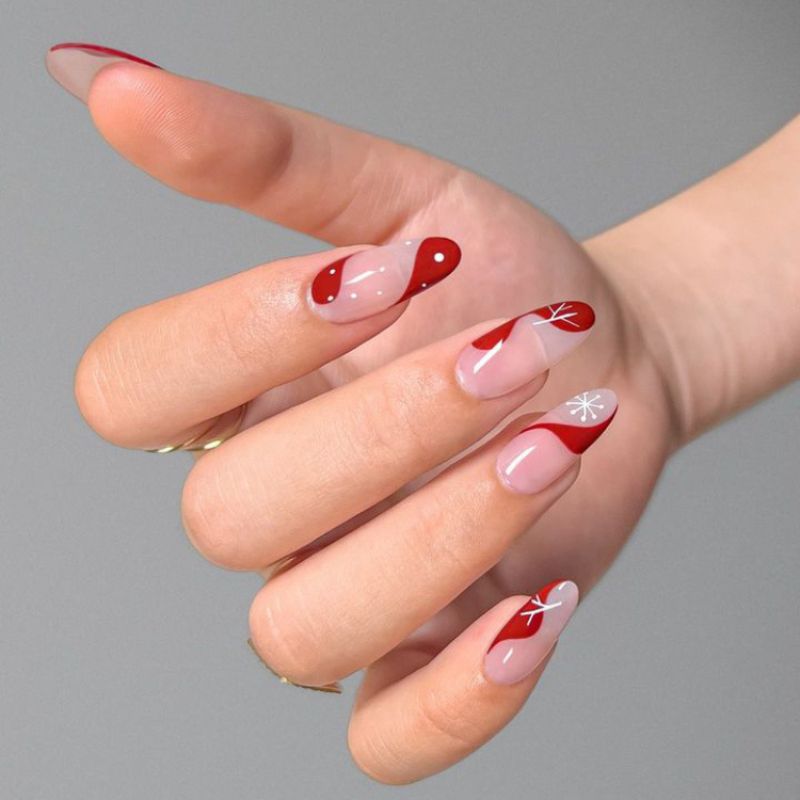 If you are looking for something modern and trendy, these red swirls with white snowflakes will definitely steal the show! You will totally obsess over how this will turn out.
14. Christmas Florals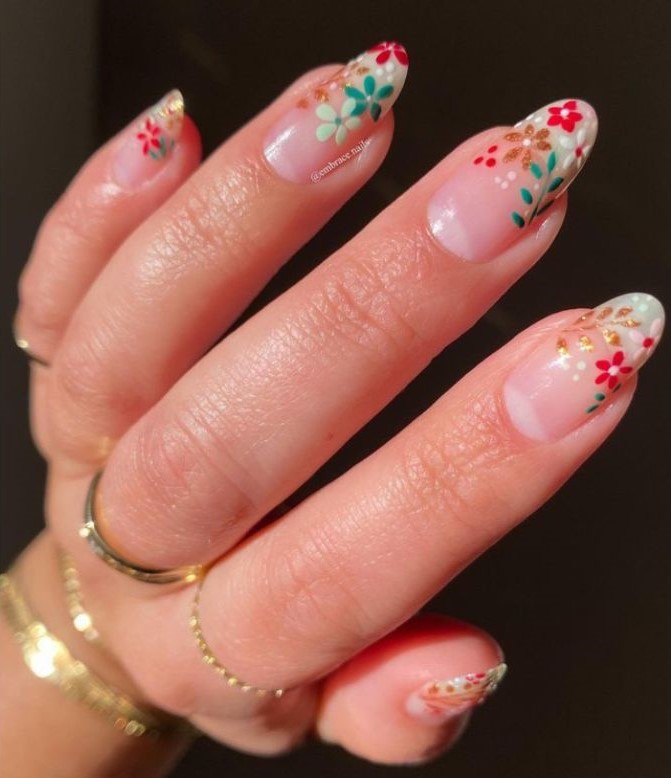 If you love floral design just as much as the next person, look no further because these gorgeous Christmas florals are everything you need!
Paint your tips with colorful flowers for a soft yet glam look.
15. Frosted Tips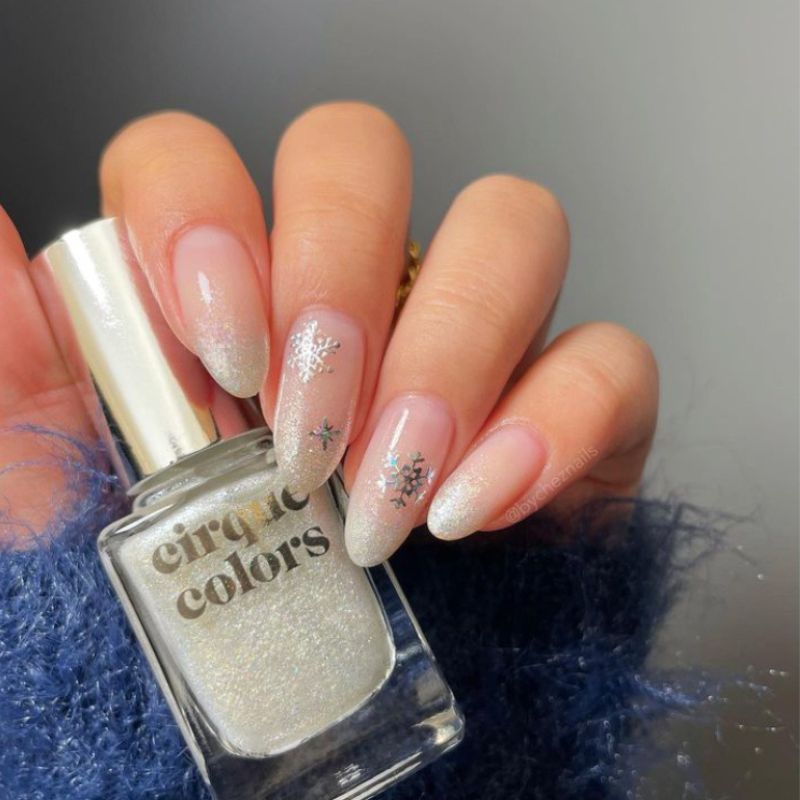 These frosted tips are equally extra yet subtle and I'm here for it! With just a sheer white polish, you can get this nail art done at home without much effort, so really it's a win-win!
16. Winter Sparkles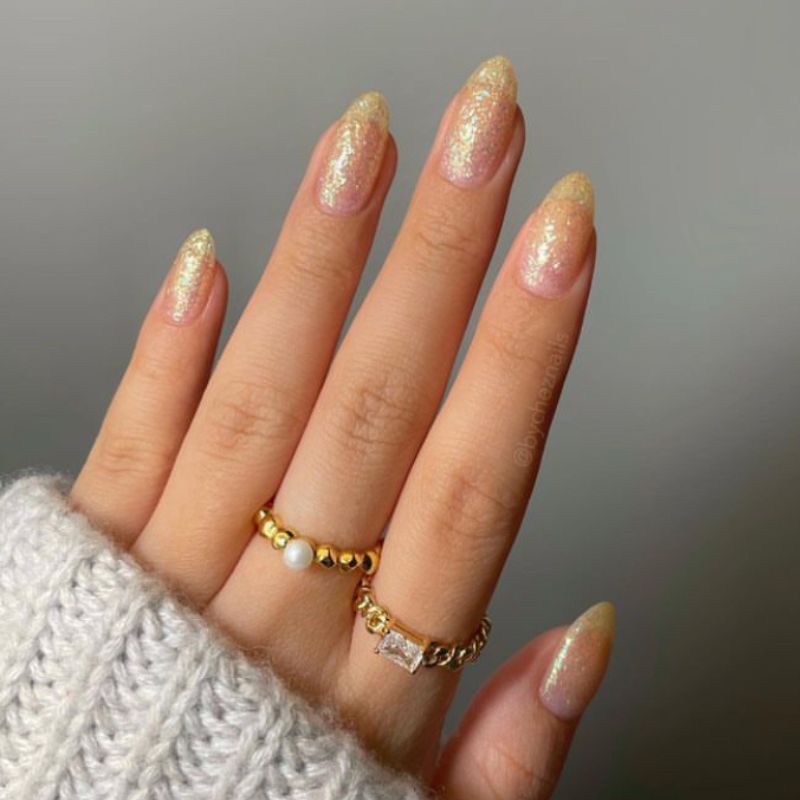 These gold sparkles look absolutely stunning and will definitely be the highlight of the winter season. If you are looking for something subtle, chic, and super glam, this splash of gold glitter will give your nails the perfect glow!
17. Festive Cheer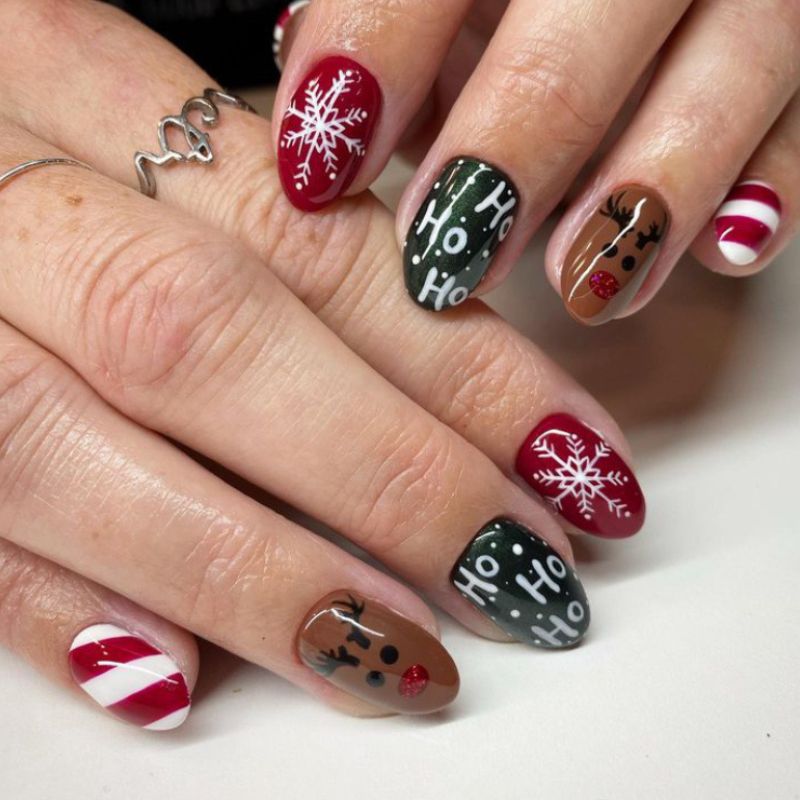 Wow. This might be the best Christmas nail design on this list. It seriously looks super elegant and has got all the components so right!
This gorgeous set of nails would look perfect while you're opening all the gifts you've passionately wanted for Christmas. 😉
18. Abstract Santa Hats
Abstract nails are all the rage right now and this idea of Santa hats is top-notch genius and deserves all the recognition!
I love these nails because you can slap these bad boys last minute and still go for something festive for the season.
19. Festive Dotticure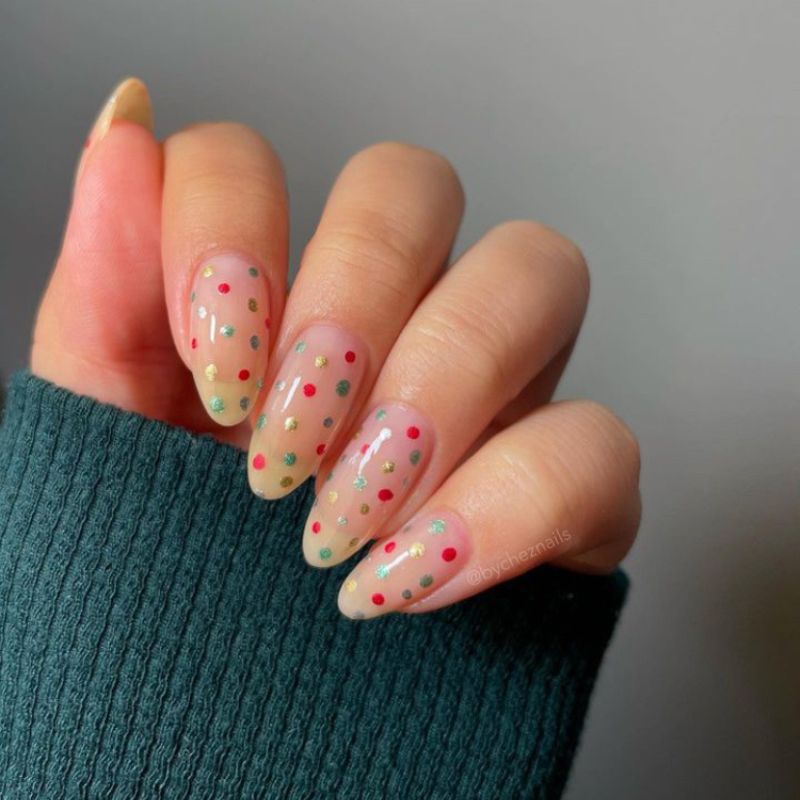 How cute and simple is this? Take this adorable design and put a trendy twist by using all the holiday colors in this dotticure manner. This is such a subtle yet fun way to celebrate the season!
RELATED: 20 Best Christmas Nail Colors That Will Get You Excited For The Season
20. White Christmas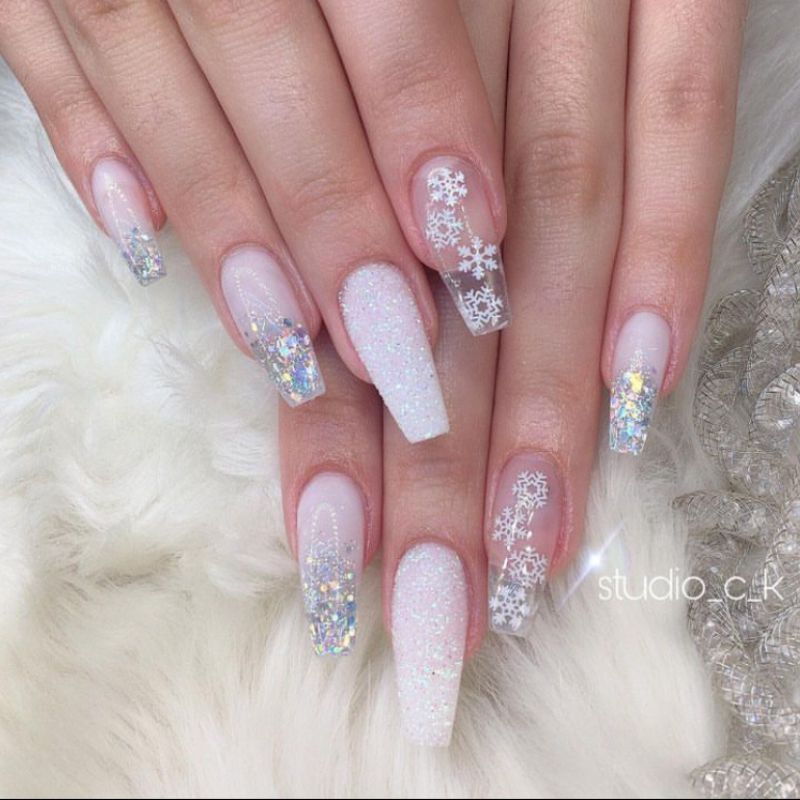 These chic nails are such a hot take on White Christmas and I probably wouldn't think twice before getting them. Definitely get these if that's your vibe!
21. Subtly Festive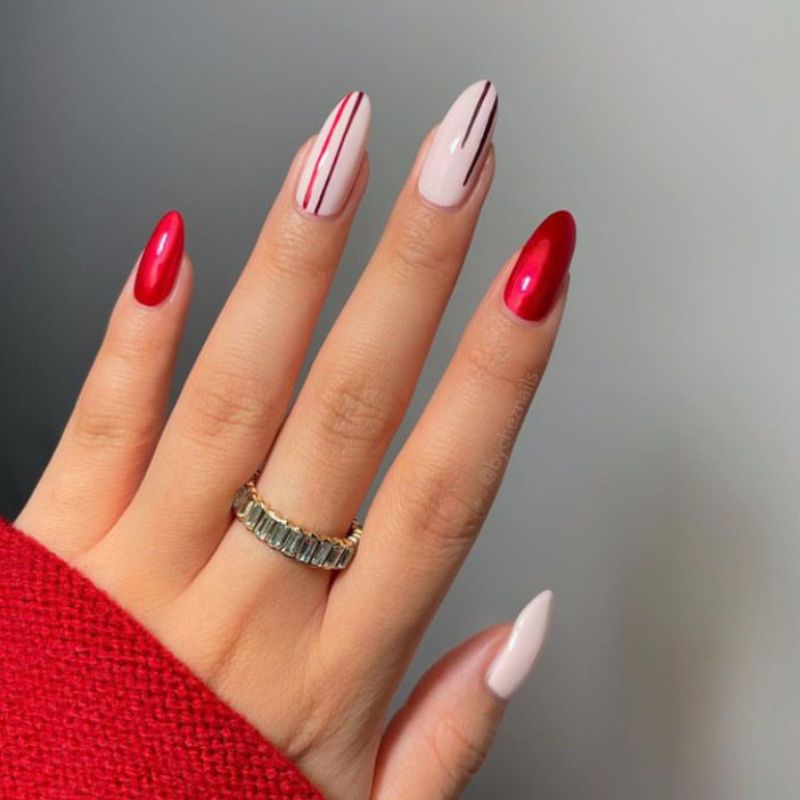 How freaking perfect is this? Spice up a simple red and white mani by drawing lines over the white for a classy look that will get you compliments!
22. Pink Rudolph
This pink nail art is so cute and precious! It's not your usual red which makes it even more perfect.
The metallic pink is such a hit this year but the cute little drawing of the Rudolph and gingerbread steals the show in this!
23. Snow Sparkle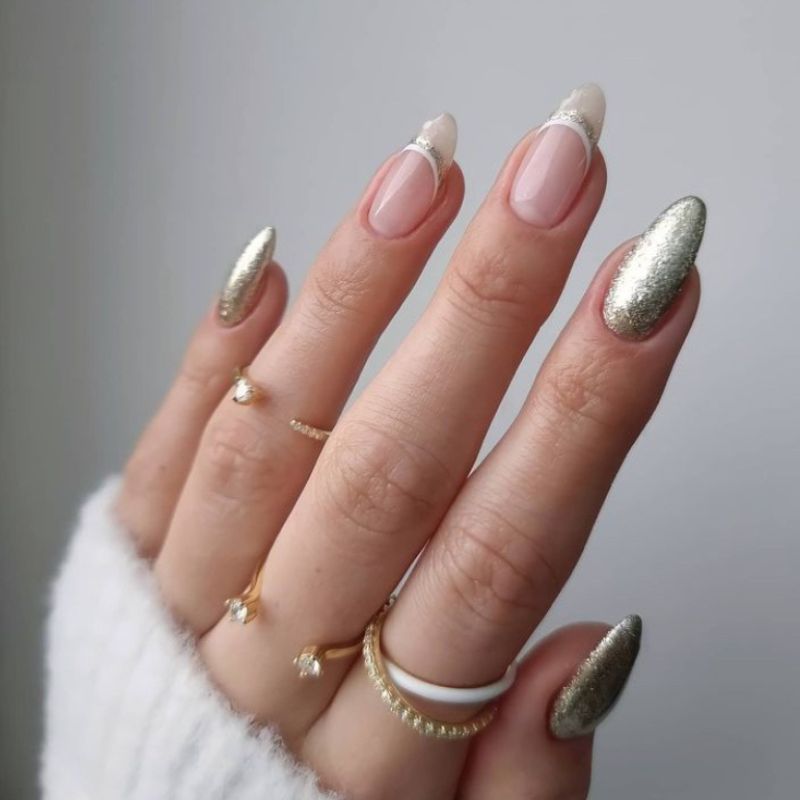 Let's admit it, it's not Christmas without all the sparkles and glitter, and this nail art is the perfect example!
Swipe on a coat of glittery gel silver with a cute French mani for nails that will take you from one party to another all day long.
RELATED: 37 Sparkly Christmas Nail Arts You Wouldn't Be Able To Resist!
24. Sparkling Base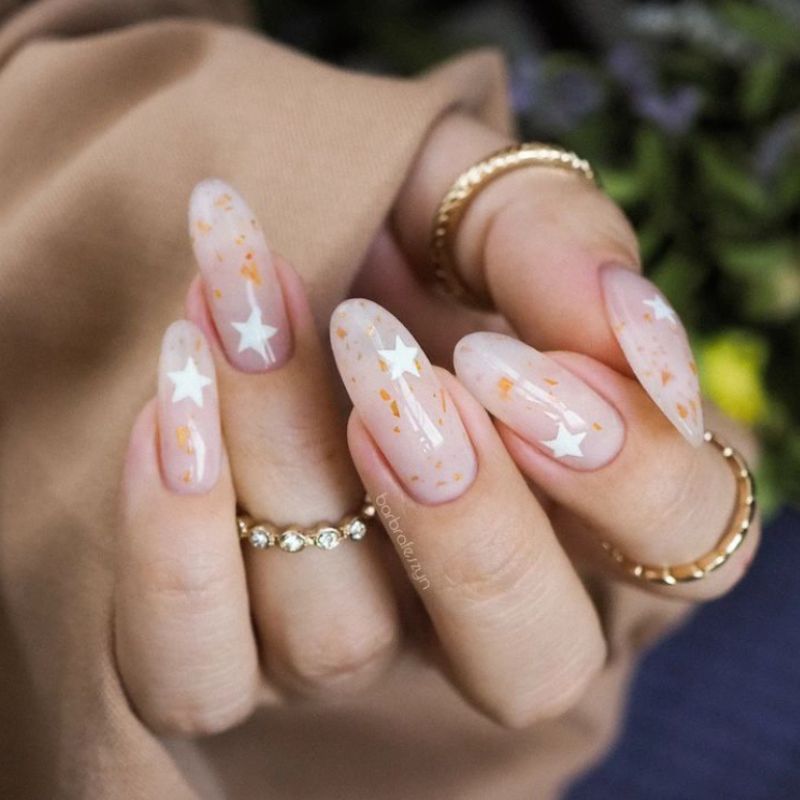 Swipe on a coat of clear nail polish and add glittery stars to give you the extra glow you'll absolutely love for your nails. These beauties will look so good and match perfectly with any of your winter outfits!
25. Candy Cane & Snowflakes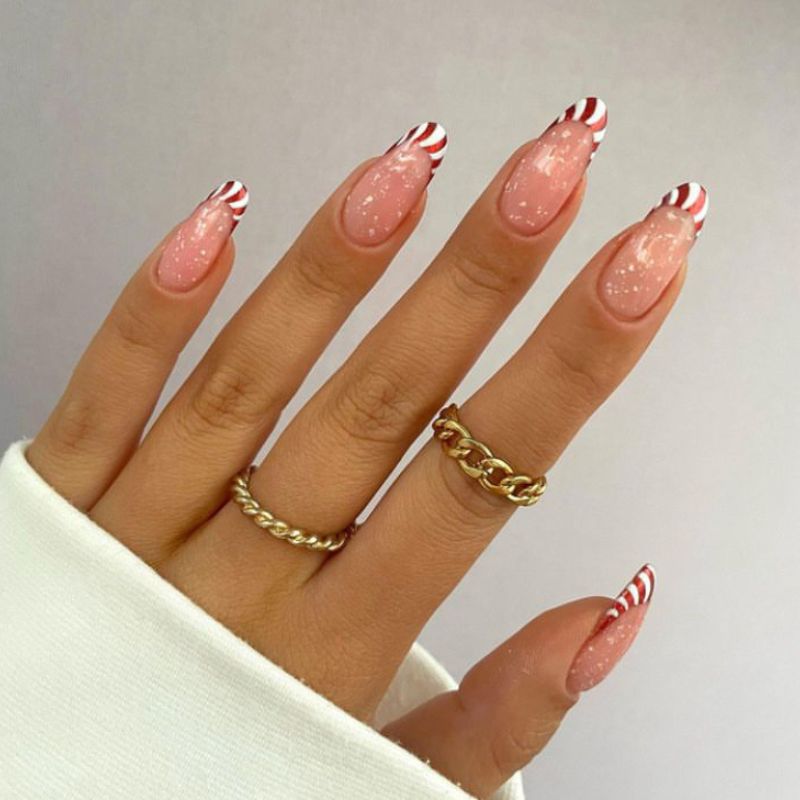 Another one of the candy cane nail designs that show such a unique twist! As if candy canes as a French mani weren't already enough, adding snowflakes in tiny white dots really gives shine to this whole look.
26. Red Gift Wrapping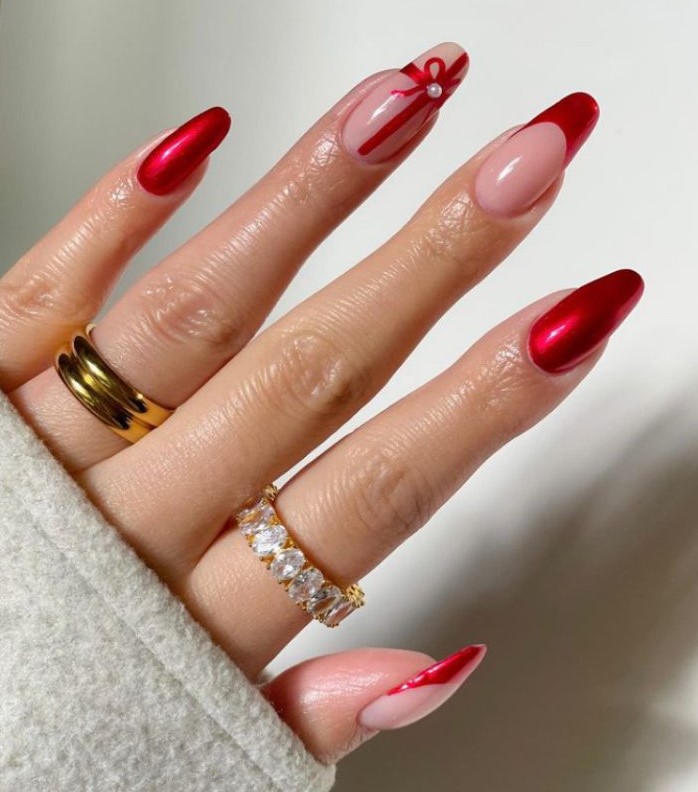 Red nails for the holiday never looked this good. Get creative and paint one of your nails exactly like the gift wrapper to show how excited and ready you are for the season! 
This nail design is gorgeous and something I can 100% guarantee you'll get compliments for.
27. Red & Green Party Nails
She's cute, she's pretty, and super festive. Bring the feeling of Christmas right on your nails with this combo and just the right amount of glitter to go with it!
---
These were all the best nails for Christmas 2023 that will get you into the holiday cheer.
More Nail Designs You May Like:
---