Looking for nail designs for Valentine's day? These cute and easy nail arts will get you date night ready instantly!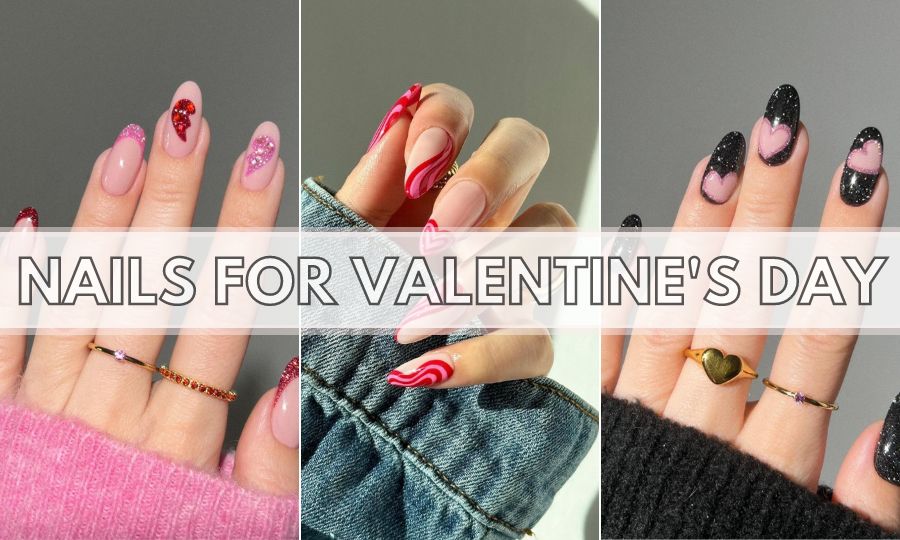 Nothing gets the love in the air going like Valentine's nails. I mean… they are a necessity if you want to absolutely slay that smoky dress, right? Right.
So whether your vibe for this year is sweet and simple, or something bold and trendy, we have included all the cutest and flirty manicures out there that will surely swoon anyone.
From the modern twists on the classic heart nails to romantic pink and white swirls, here are some of the sweetest nail designs for Valentine's Day that you'll definitely fall in love with!
NAIL DESIGNS FOR VALENTINE'S DAY
1. Baby Hearts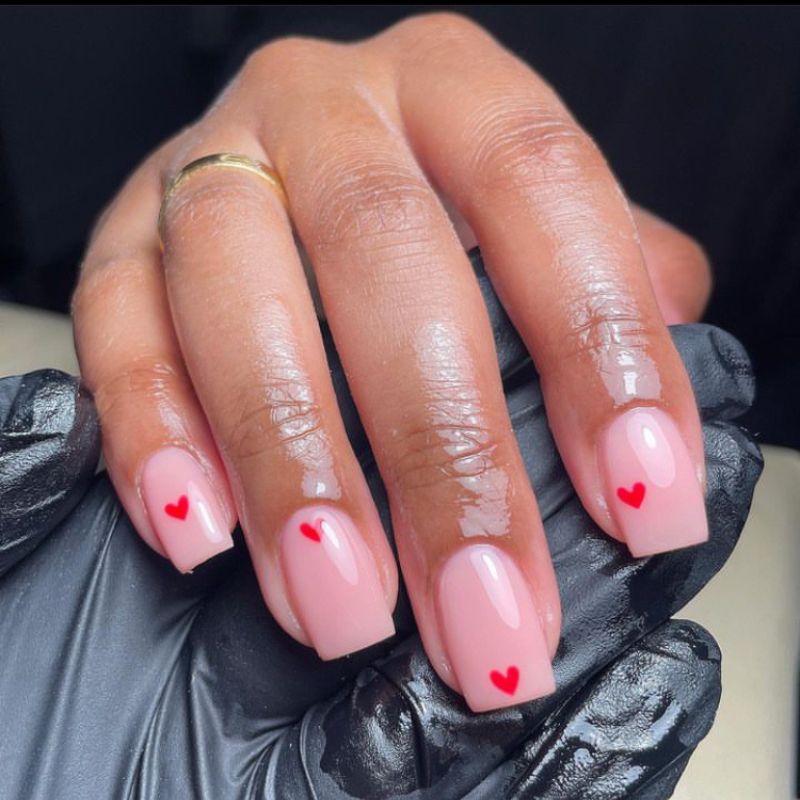 How adorable are these? A tiny red heart over a soft pink gives you such a soft yet subtle look for Valentine's Day. I'm in love!!
2. Mix n Match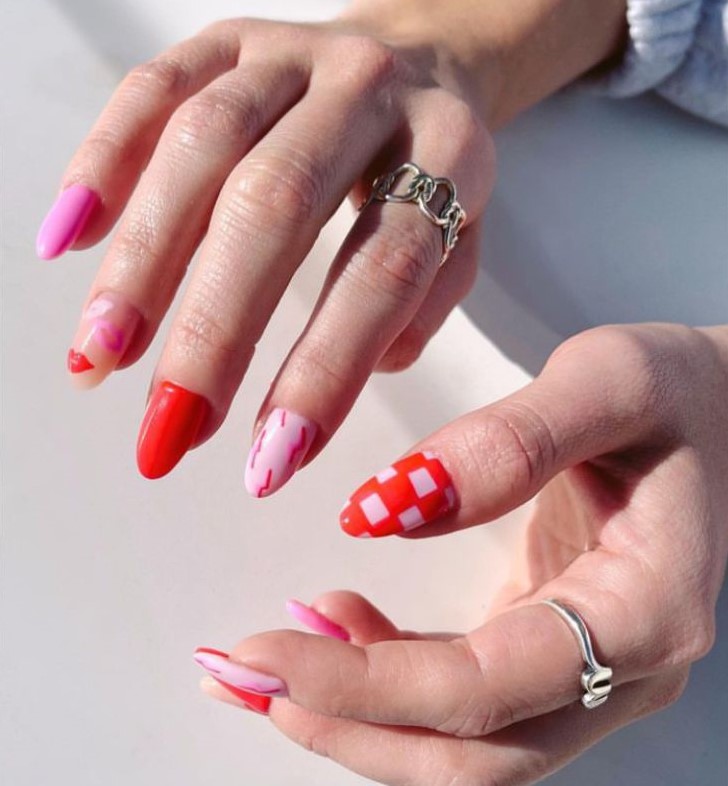 Mix n match nails are the besttt. Not only do you get to be creative and include a ton of different festive things, but they look so classy and gorgeous when paired up together!
3. Fruity Lips
These fruity lips are everything. This design for short nails is such a fun and flirty manicure but what takes it up the notch is the use of all the bright colors, you just can't go wrong with it!
4. Burnin' Love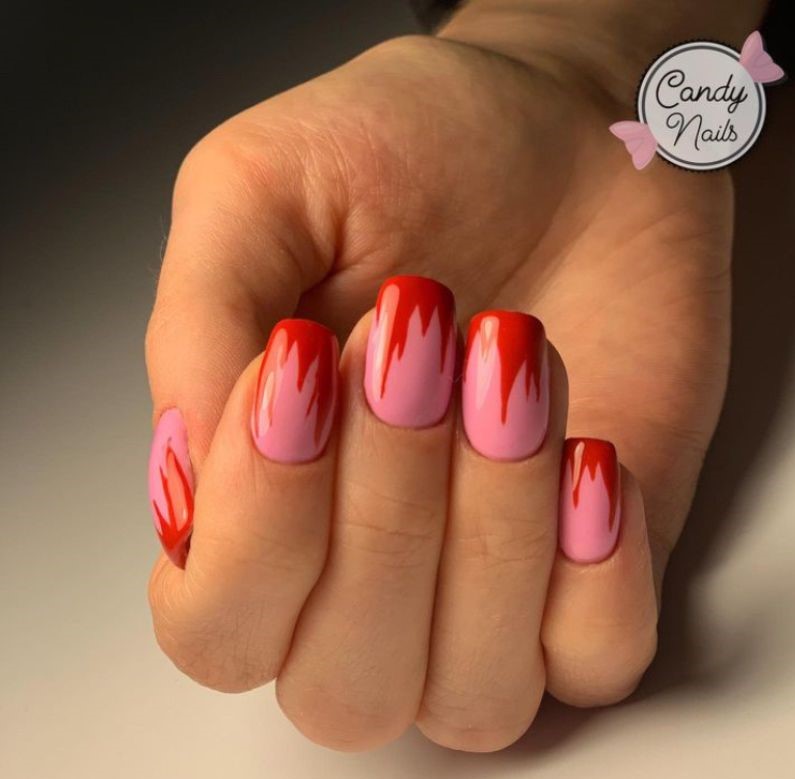 Honestly, we all need burning love in our life. This flaming nail design is a hot take for Valentine's Day and I probably wouldn't think twice before getting them!
5. Pink & White Waves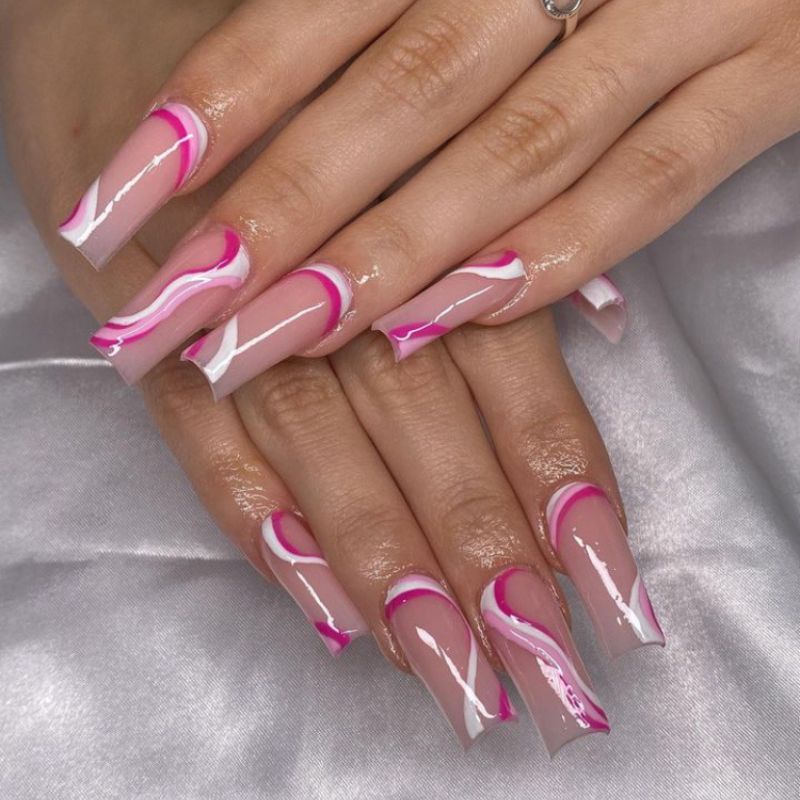 Can these nail designs for Valentine's Day get any better? Just draw wavy lines across your nails with pink and white and you'll be good to go! Super simple yet so cute.
6. Pink & Red Nails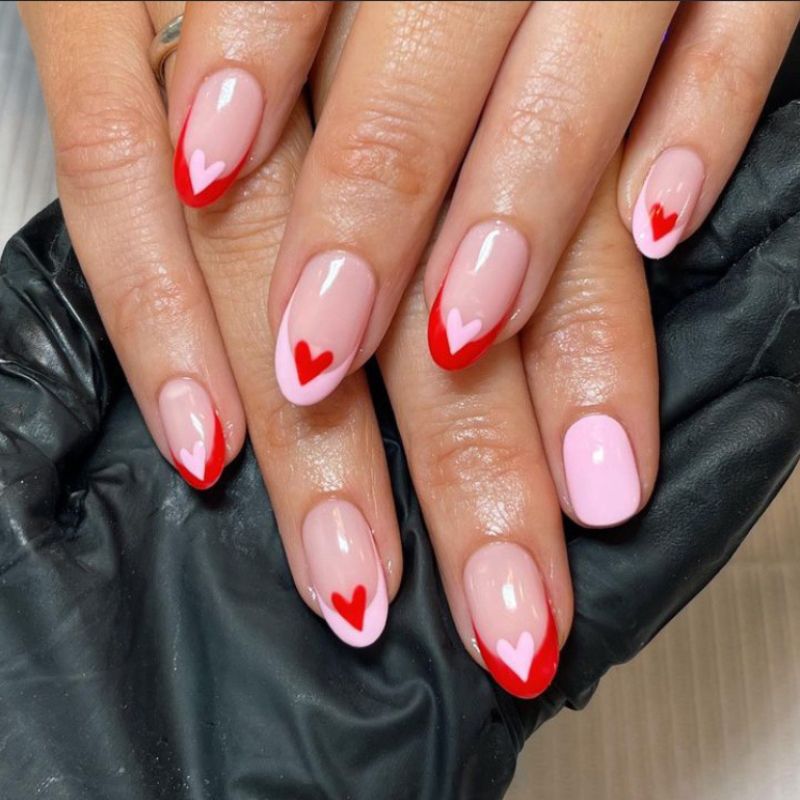 This french manicure with pink and red is a classic. Take it to the next level by adding a heart to each nail for a flattering look people wouldn't get enough of!
7. Valentine's Waves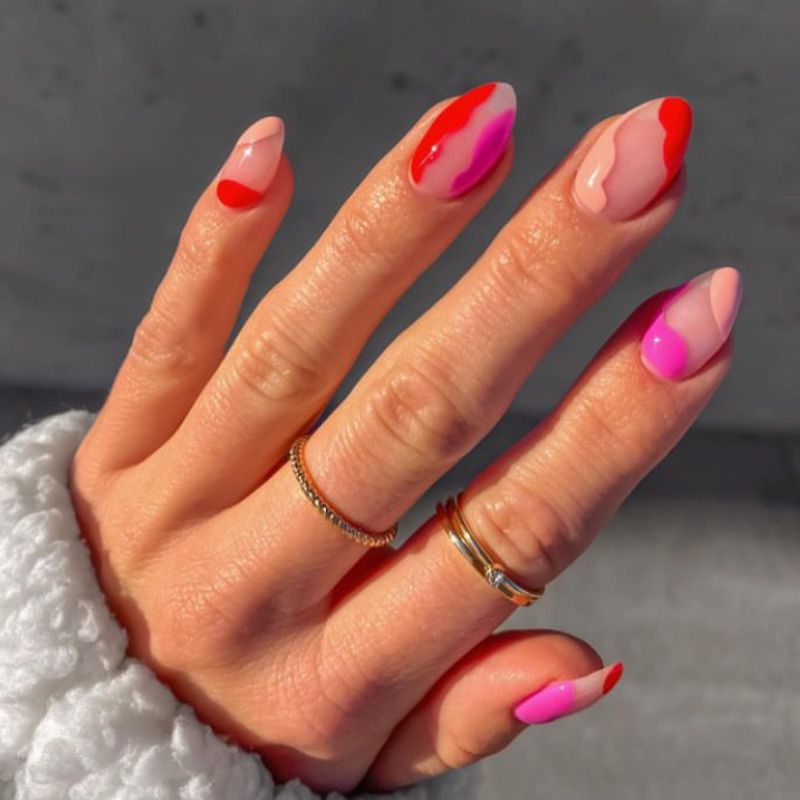 This nail design is gorgeous but the subtle wavy lines with red and pink shades along definitely make it trendy and cute!
8. Polka Dots With Tiny Hearts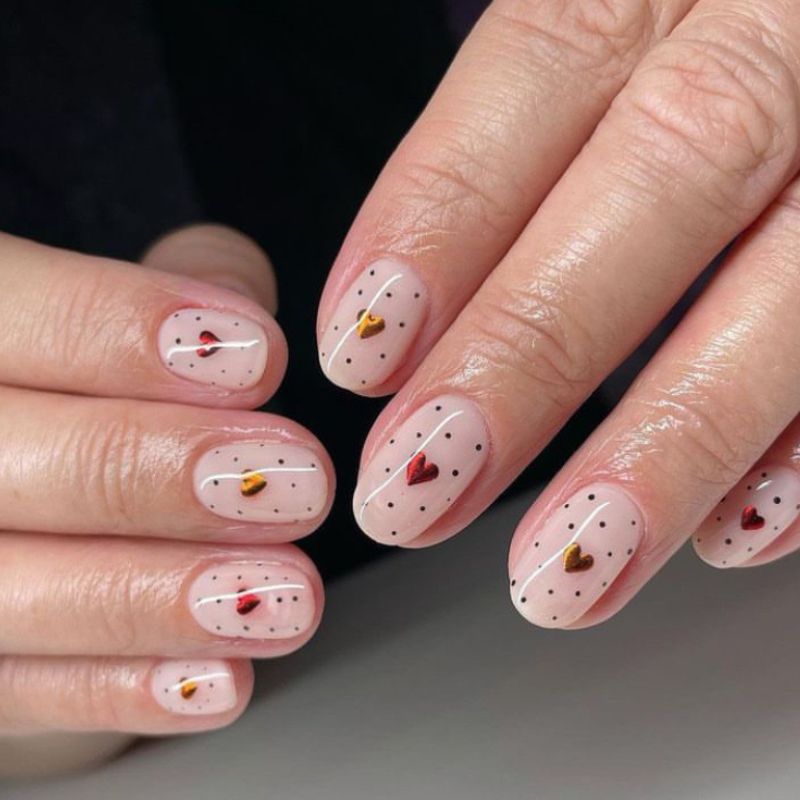 Okay, this is adorable. Not only is the combination of polka dots with tiny hearts genius, but this is such a fun look you can achieve on natural nails in just a few minutes!
9. Red Florals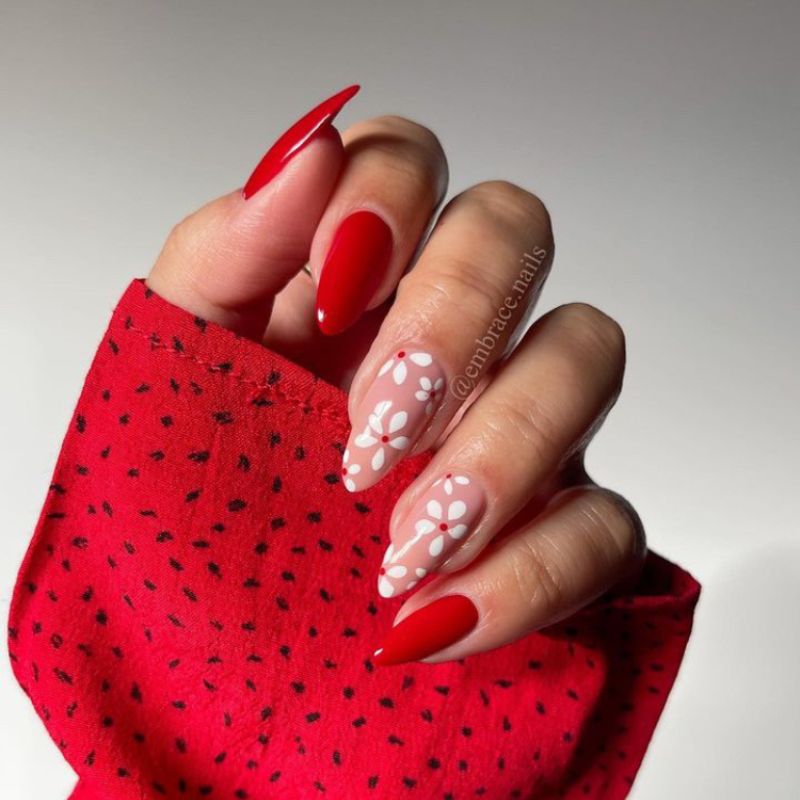 If you love floral design just as much as the next person, this nail art is for you. Draw little white daises and accent your nails with red for a chic nail design that will last you throughout spring!
RELATED: 45 Crazy Cute Spring Nails To Spice Up Your Feed This Season
10. Pink Gradient
These subtle hearts are soo cute and precious. If you are looking for something minimal, this nail design with multiple hues of pink is everything you need.
You will be totally obsessed with how it'll turn out!
11. Heart Tips
Something about these classic french hearts is top-tier and will never get old. Get the love going by painting your tips with a heart design that will be all the talk this festive holiday!
12. Valentine's Flame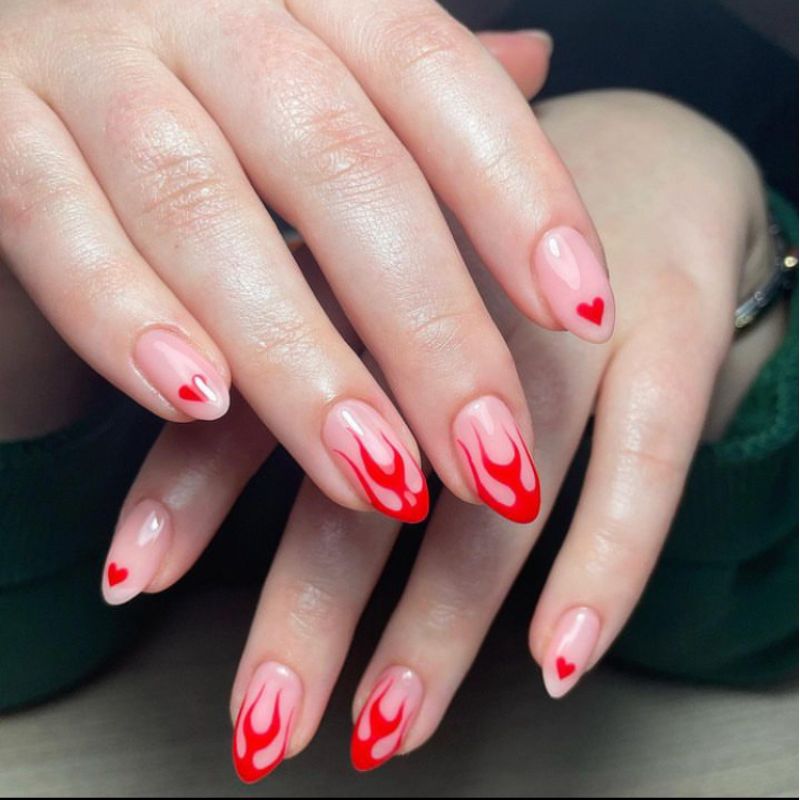 These smoky red flames are all the rage right now and seriously don't disappoint. It's one of the best Valentine's Day nails I've ever seen and I would get this look in a heartbeat, no questions asked!
13. Pink Waves
Spice up a simple nude base with a funky bright pink for a fresh look that'll last you for months!
14. Love Letter
Oh my! Nails that look like love letters are so intriguing. It's a design you need to show your nail artist ASAP.
15. Black Beauty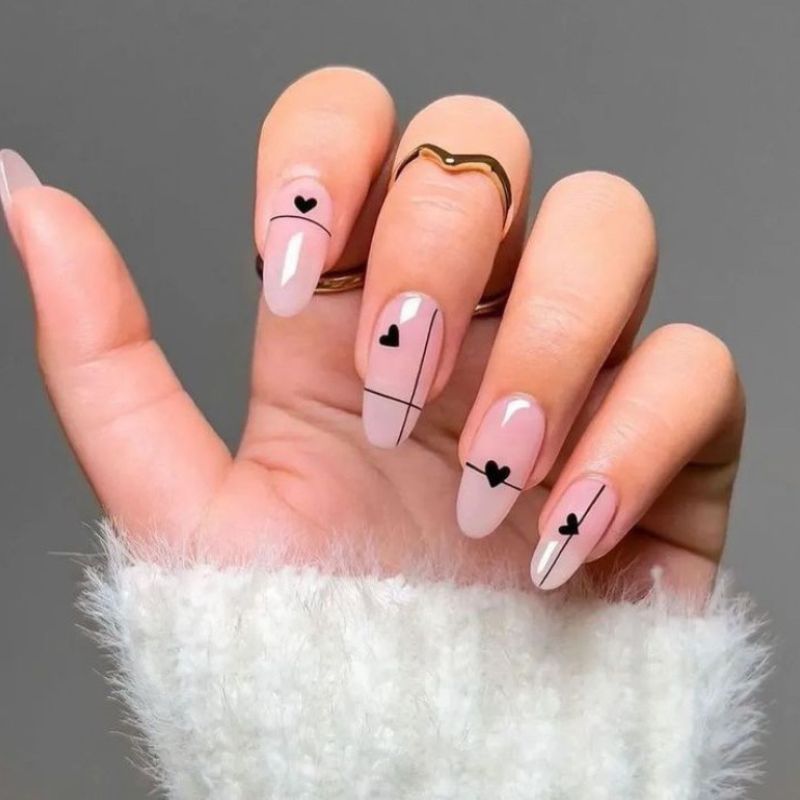 This set of nails is perfect for people who love simple and elegant designs.
Crisp and thin black lines on nude will help you achieve a clean and lovely look for Valentine's Day that you'll absolutely LOVE!
16. Retro Love
Retro nails are such a hot trend this year and people can't seem to get enough of them. This pretty design is seriously nail goals and will get you a ton of compliments.
17. Comme Des Garcons Nails
I'm in love with these Comme Des Garcons nail designs. The iconic heart logo is so stylish and unique.
If you've never tried these before, now is the perfect opportunity to do so! I promise you'll obsess over them.
18. Gold Sparkles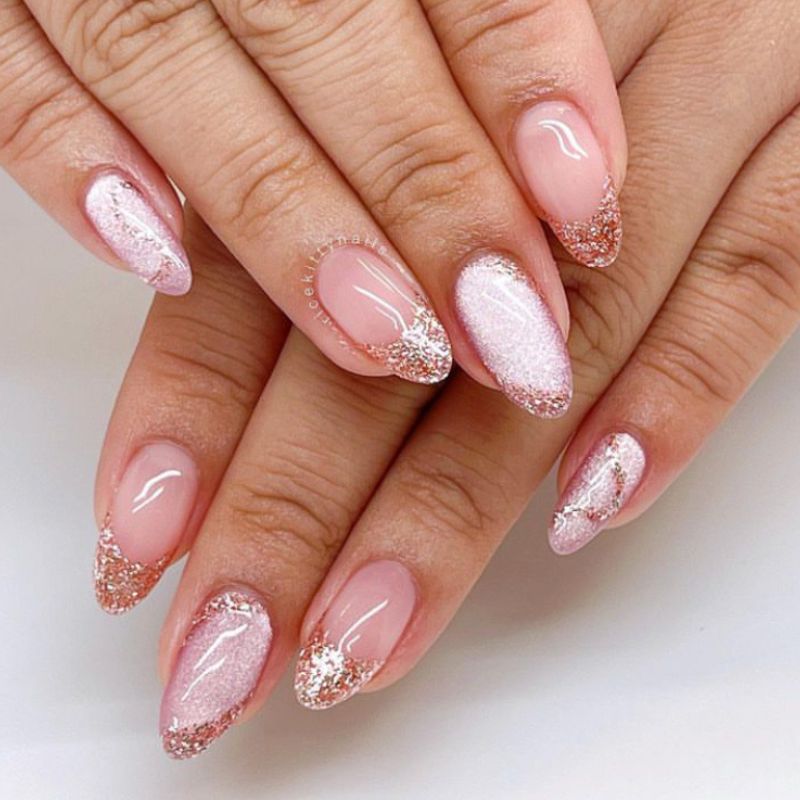 These hints of gold sparkles look absolutely stunning and will definitely steal the show.
If you are looking for something subtle, chic, and super glam, a splash of gold glitter will get you in the spirit for the holiday!
19. Queen Of Hearts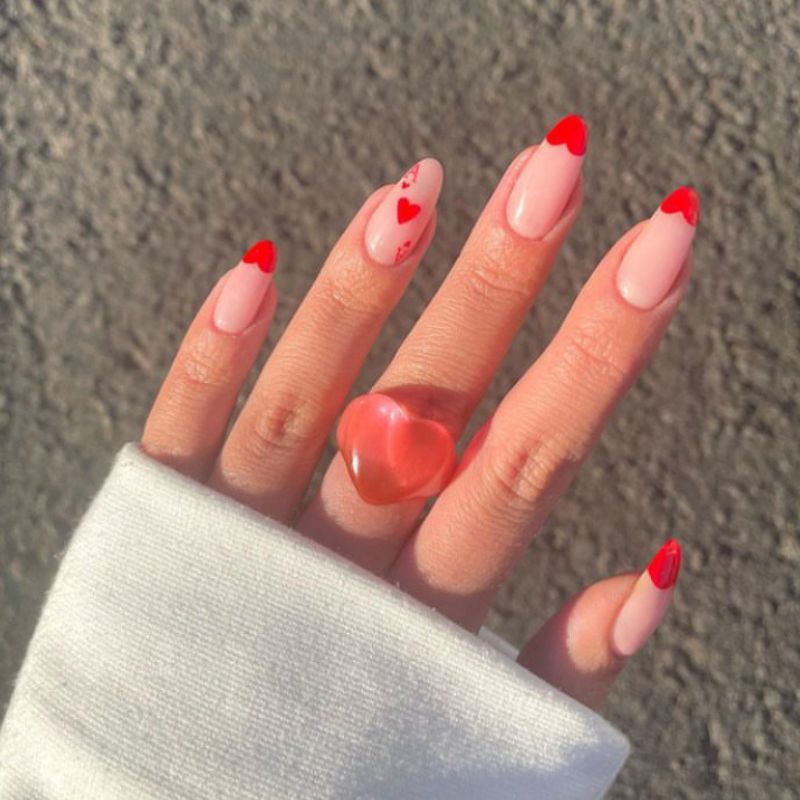 How freaking perfect is this? This whole combo is such a vibe. Anyone can absolutely slay these for Valentine's Day!
20. Groovy Nails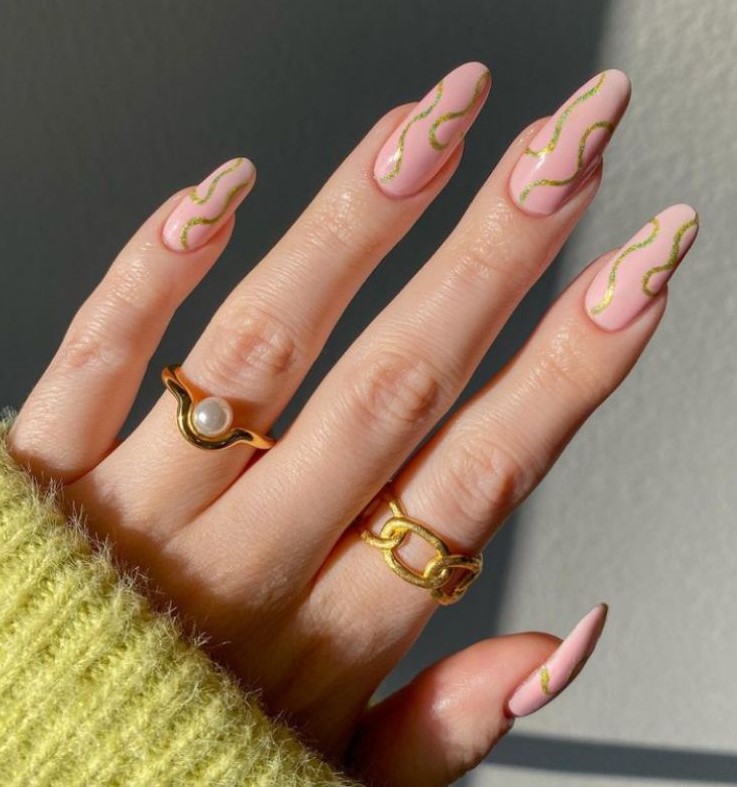 Something about these nails is giving me all the good happy vibes and I'm here for it.
With just a coat of nude pink and glittery green on top, this is one of the easiest nail designs for Valentine's Day you can do at home!
21. Pearls On White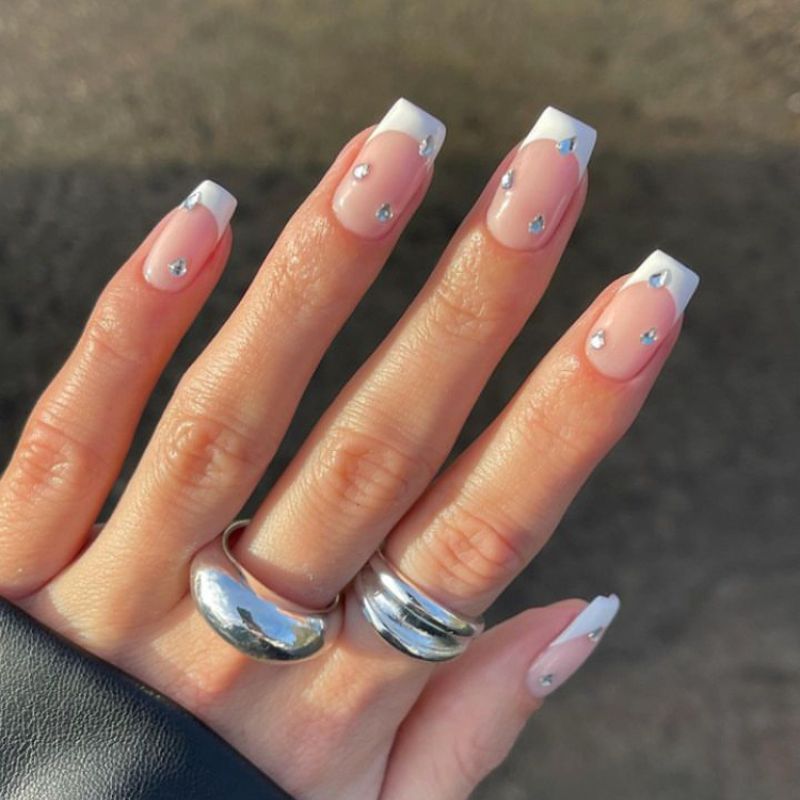 Here is another super cute nail design that shows how beads make anything look good. Take a spin at a classic French mani and add pearls on top for a soft romantic effect!
22. Split Nails With Hearts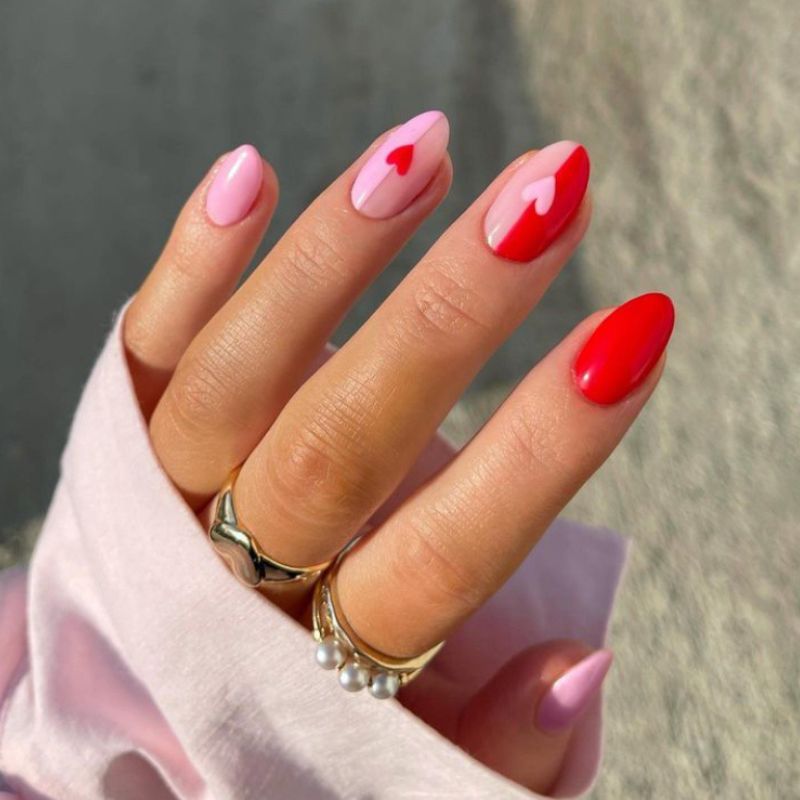 How cute. I think the two half-nails with a slit of heart in between really speak for themselves here. This is a nail design you just cannot go wrong with!
23. Dainty Heart Tips
If you are an anti-red and pink kind of person, try these dainty heart tips that are soo dang cute.
And the best part is that you can do this with a stamping plate at home. It feels super lowkey for Valentine's Day but is still very effective!
24. You're So Golden
The sheer glow of this nail art is truly amazing. The idea of mixing gold with white was like a match made in heaven! If you are going for a simple sweet long-lasting nail design, you've got to give this a try.
25. Fluttering Hearts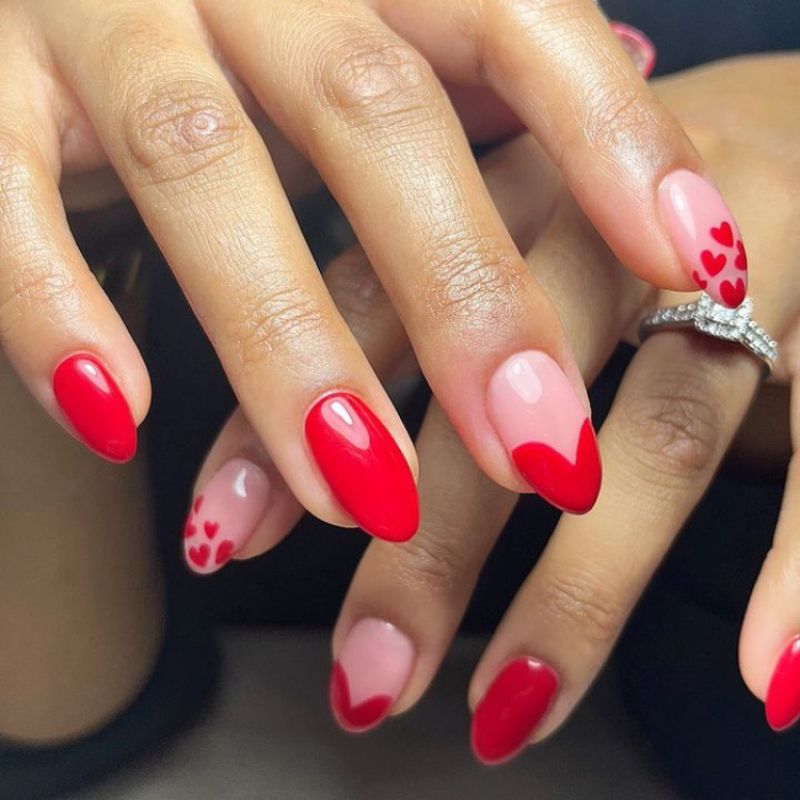 She's cute, she's pretty, and will leave you feeling all the love this season!
26. Pink Streaks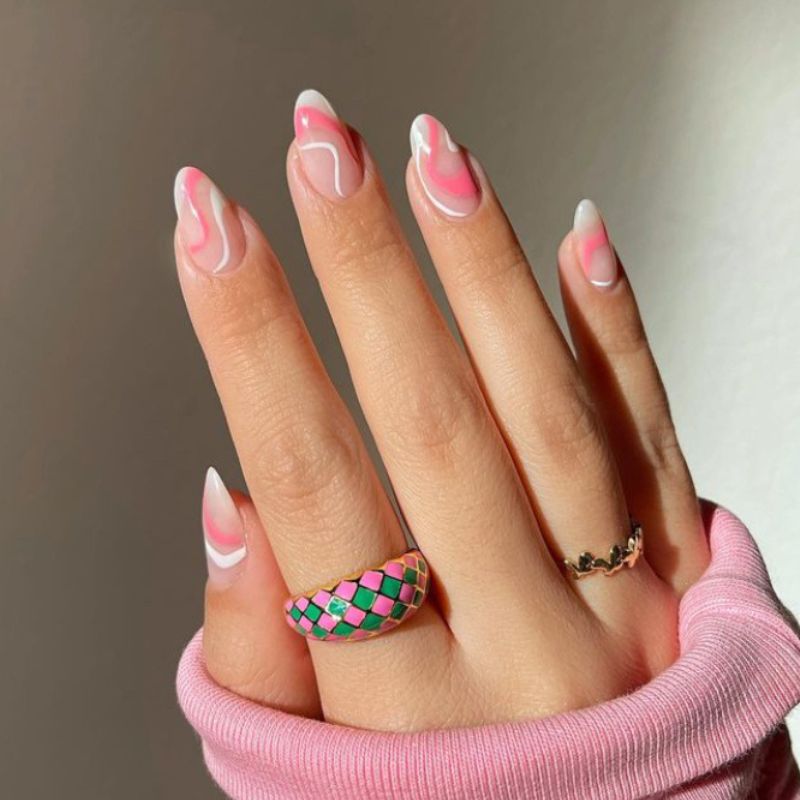 I think we can all agree pink and white together is always a hit. This nail art is so so pretty and would be super cute to do with your friends for Galentine's Day!
RELATED: 18+ Sweetest Galentine's Day Ideas To Celebrate The Love With Friends
27. Sexy Glimmer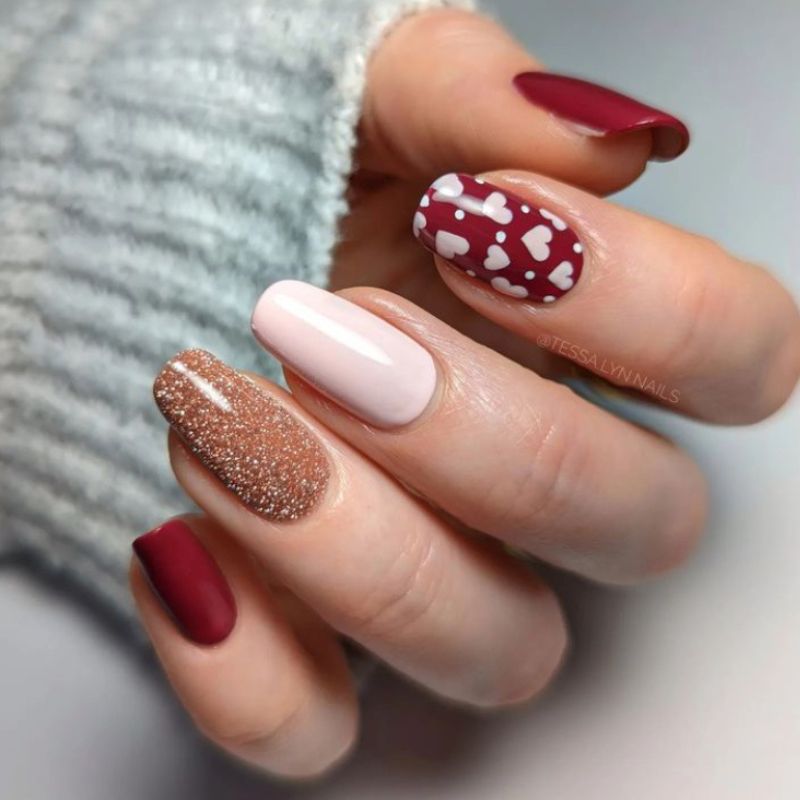 Get creative and try this deep maroon with reflective glitter nail polish that will be all the talk this season!
28. Reflective Hearts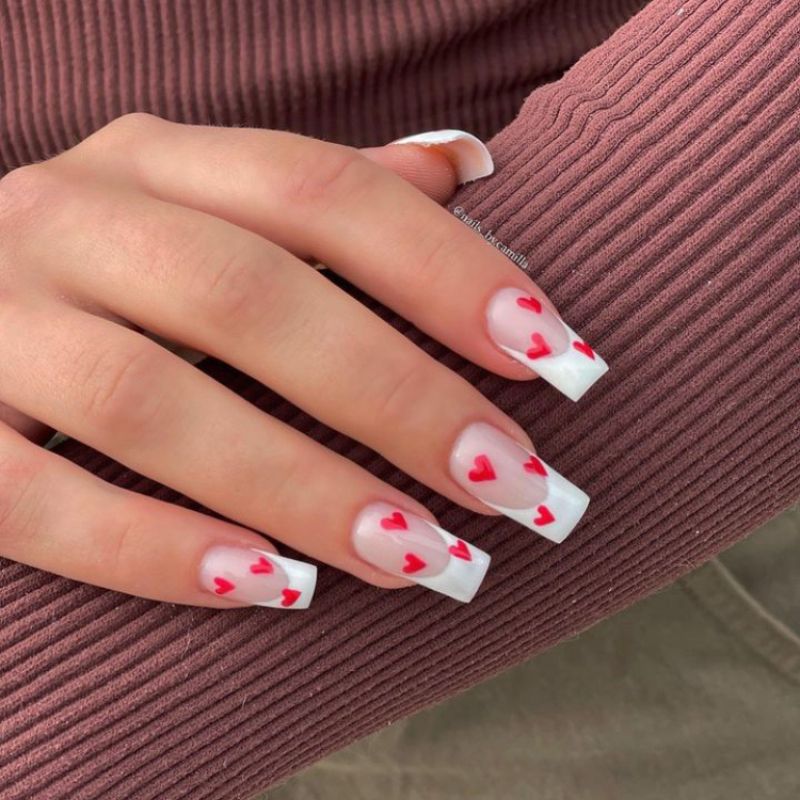 I've seen this specific design countless times and each one of them is too good! It's super easy and looks perfect while you're holding all the chocolates and bouquets. 😉
29. XO Nails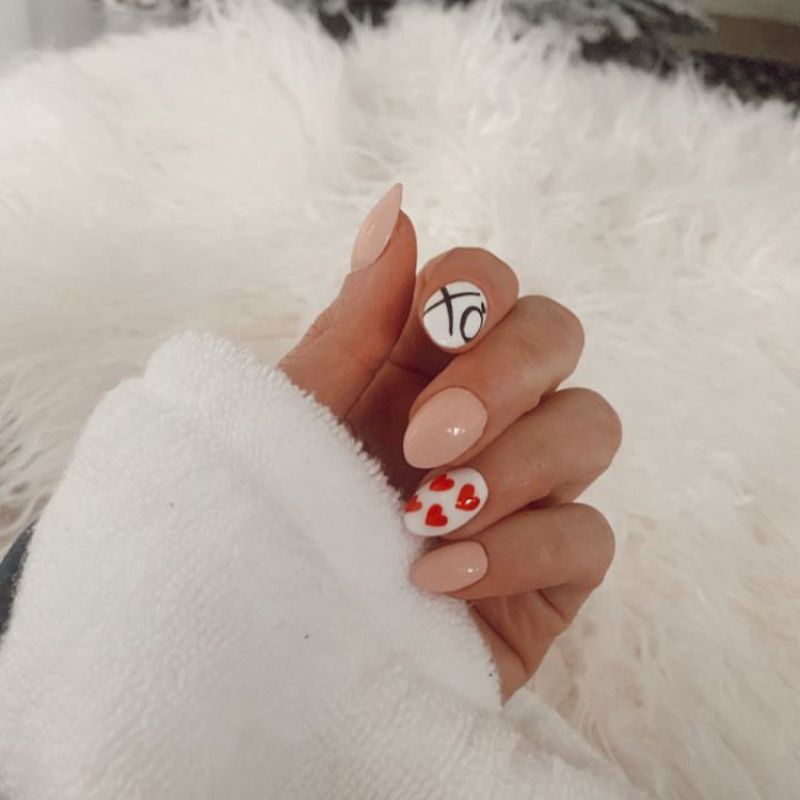 Of course this list of nail designs for Valentine's Day includes XO nails. They're just so pretty and what makes this even better is the use of nude colors!
30. Colorful Tips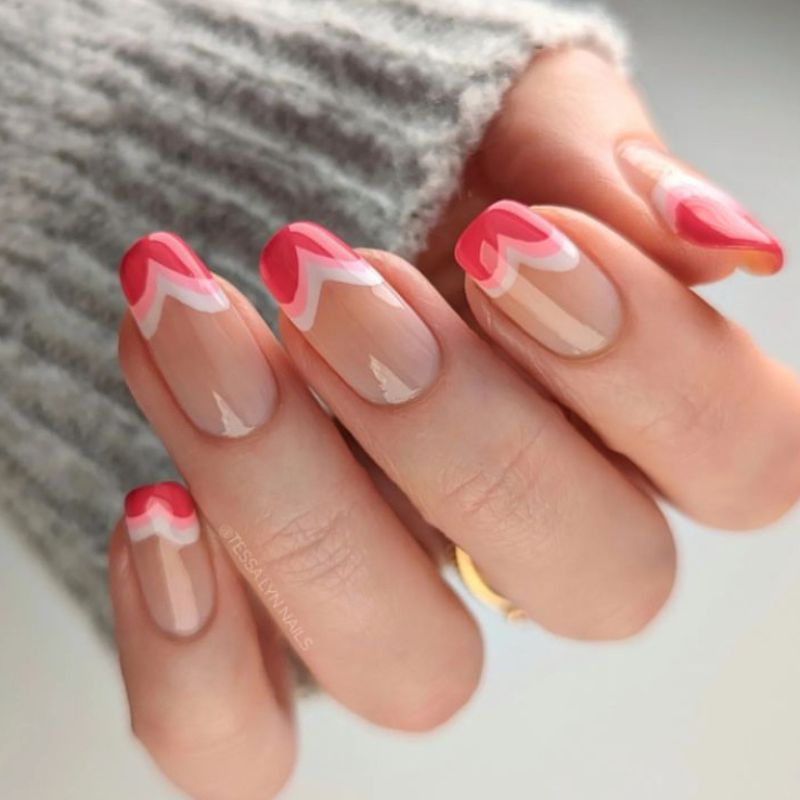 If you want to try something different from the usual red heart tips, go for these irresistibly cute colorful tips. They are just as cool and will get you in the spirit of Valentine's Day right away!
31. Lovely Nude
Love nude nails so much but want to spice it up a bit? Here is just the design inspiration you need. The cheetah print and the leopard heart totally steal the show in this!
---
These were all the nail designs for Valentine's Day you'll want to recreate.
Related Nail Design Posts:
---