Are you looking for the perfect mani for your getaway this summer? These beach vacation nails are seriously bomb and just the inspiration you need!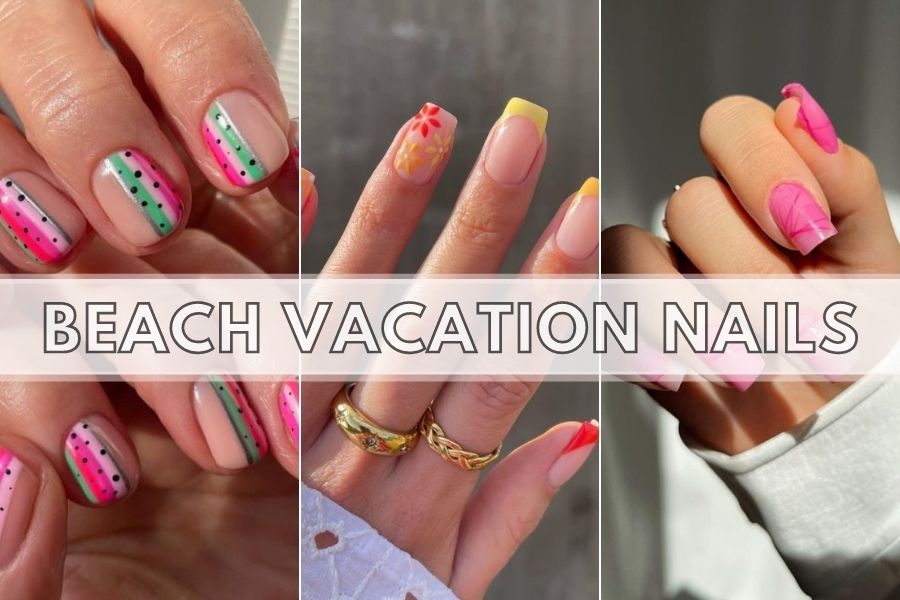 Summertime = vacation mode. I don't make the rules. That's just how it goes. Of course, that also means painting your nails with all the beach-ready mani that will have you extra excited about your summer holiday!
If you're trying to find the perfect set of vacation nails that will take your mani from boring and basic to something fun and cool for the summer, I've got a ton of ideas for you.
These are the best nails for a beach vacation that are actually trendy, and gorgeous, and will pair perfectly with all your favorite summer activities! Keep scrolling for jaw-dropping ideas you'll definitely want to recreate.
BEACH VACATION NAILS
1. Beachy Vibes
If you're ready to hit the beach on the day the sun hits, here is the cutest abstract blue nail art you need!
2. French Ocean Tips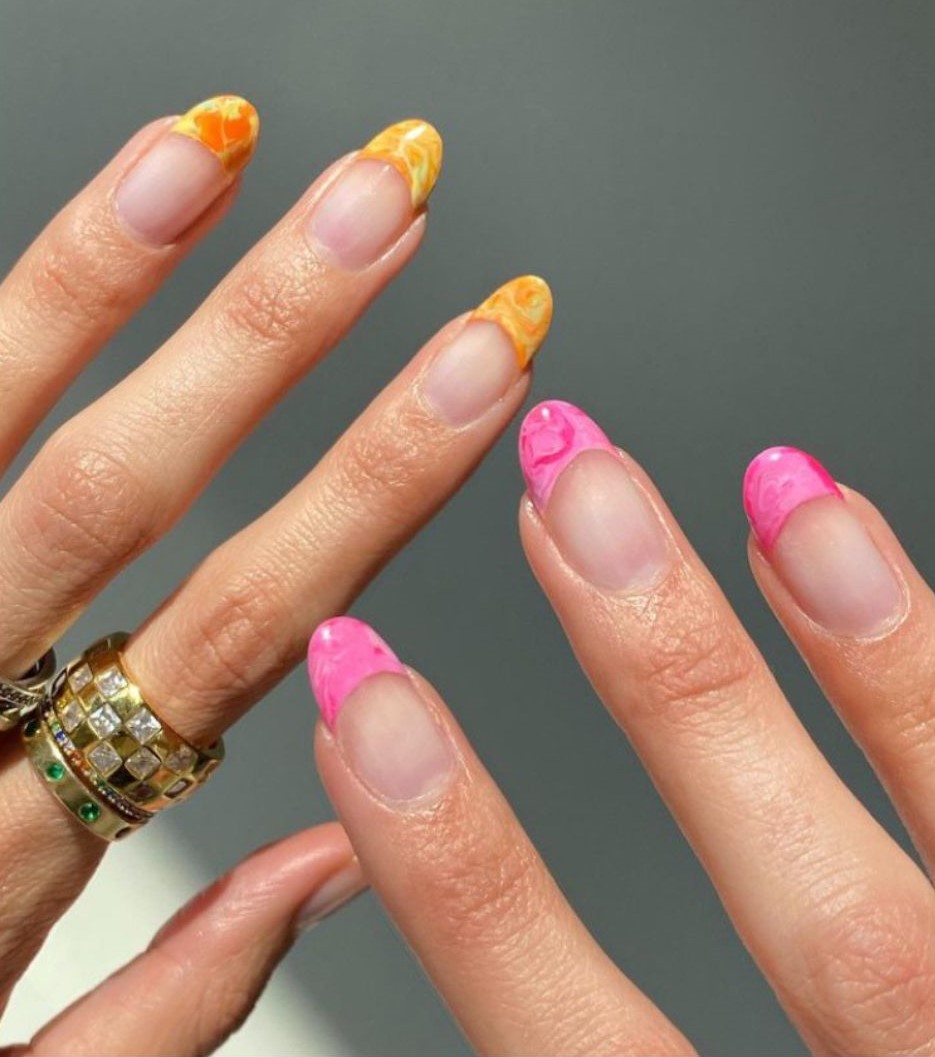 How stunning are these summer beach nails? This is such a cool twist on the traditional french manicure for the season and I'm loving it!
Pink and orange are one of the hottest summer colors and this is a nail art you can bet will you get you tons of compliments on your vacation!
3. Beach Vacation Waves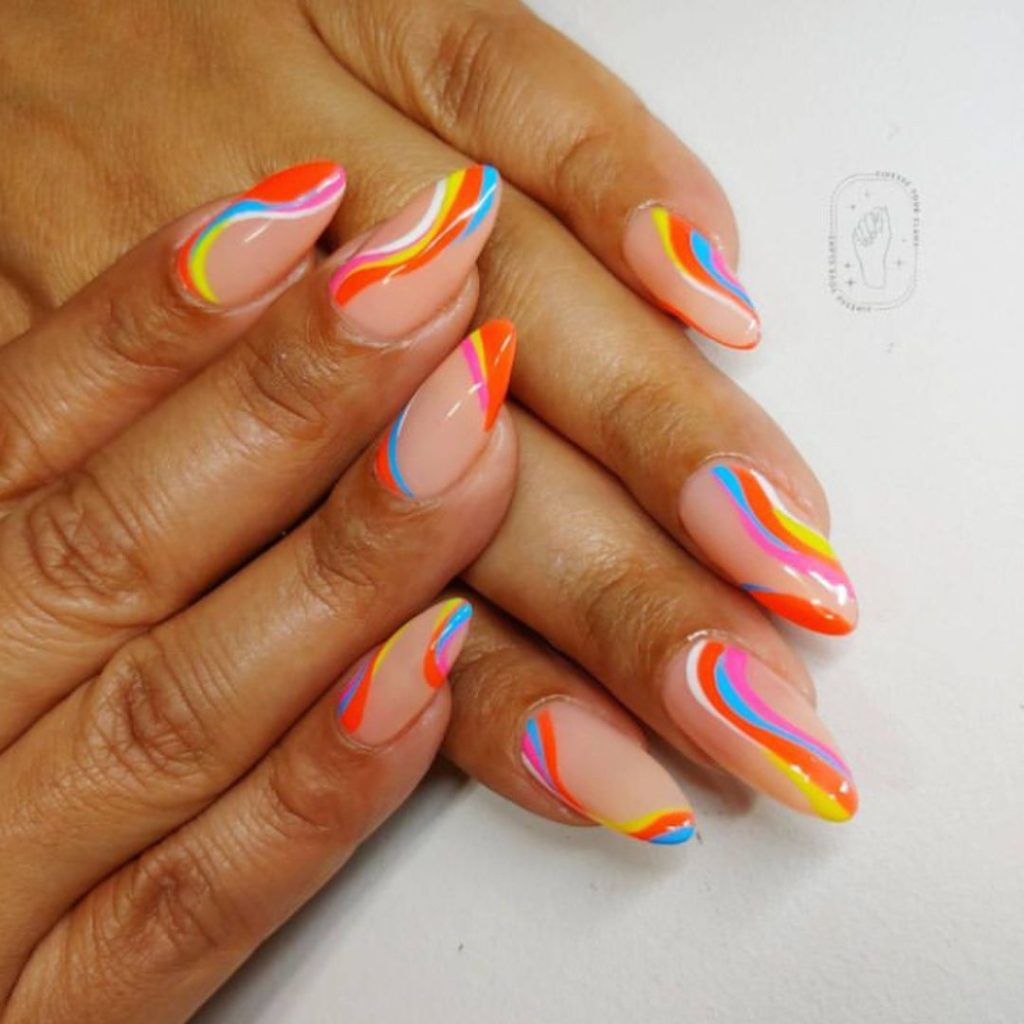 These colorful waves are everything! Talk about a conversation starter.
4. Malibu Vibes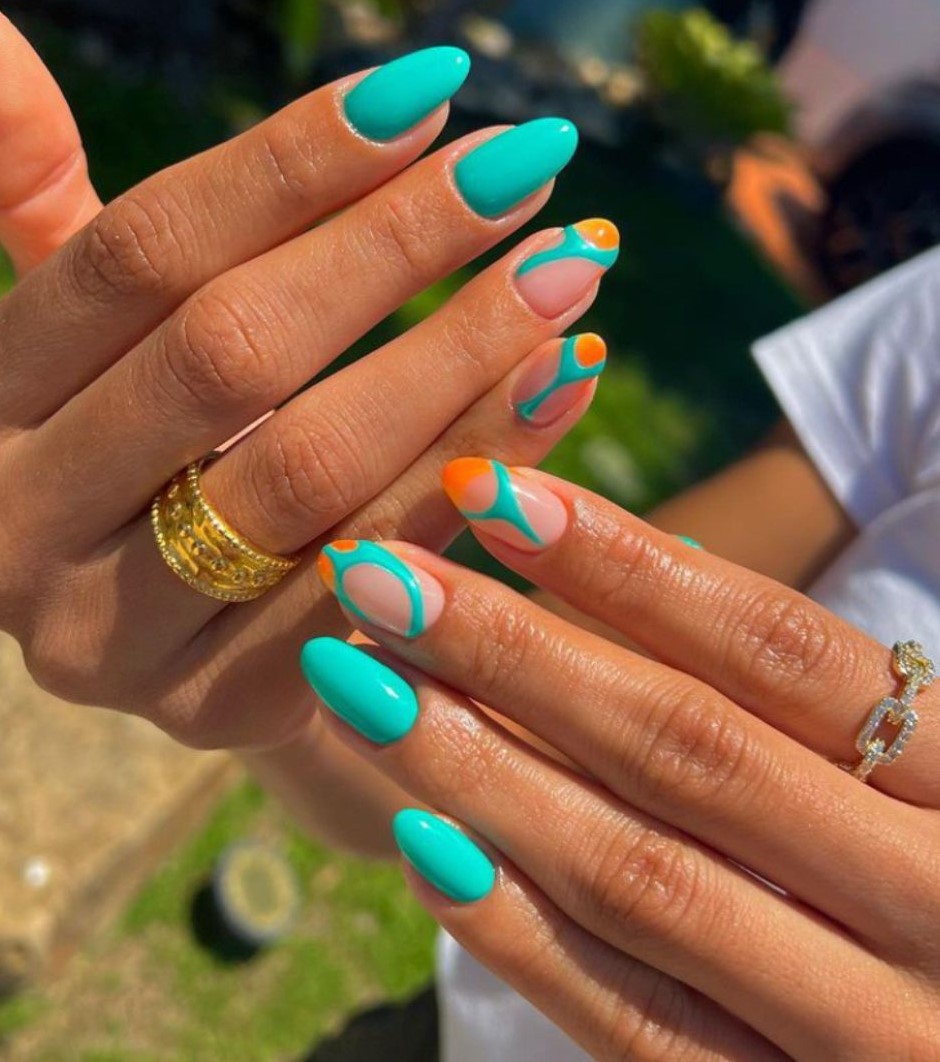 Turquoise nails for the summer will be the death of me. The subtle orange on the tips is the perfect touch and takes it to the next level!
5. Short Pink Nails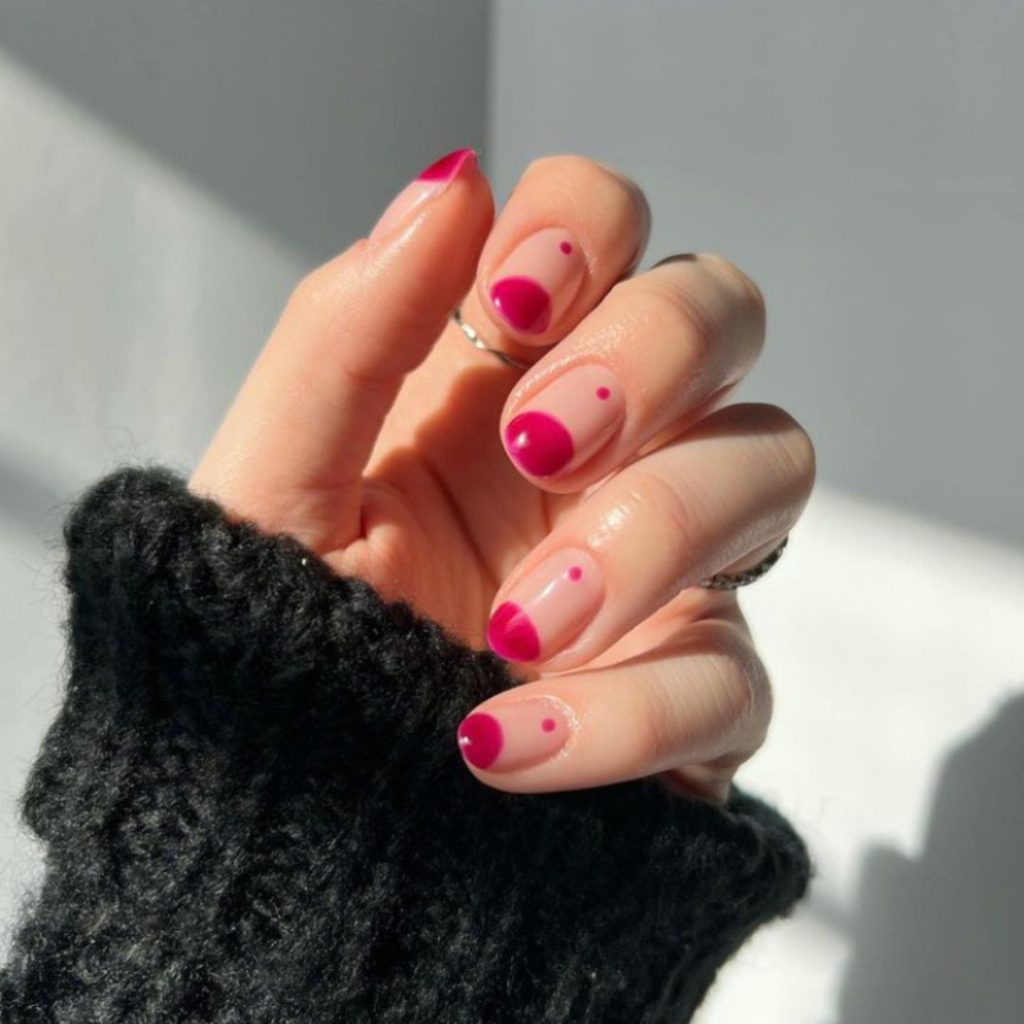 How freaking adorable are these?! These beach vacation nails are so simple yet sophisticated. I'm obsessed!
6. Blue Touch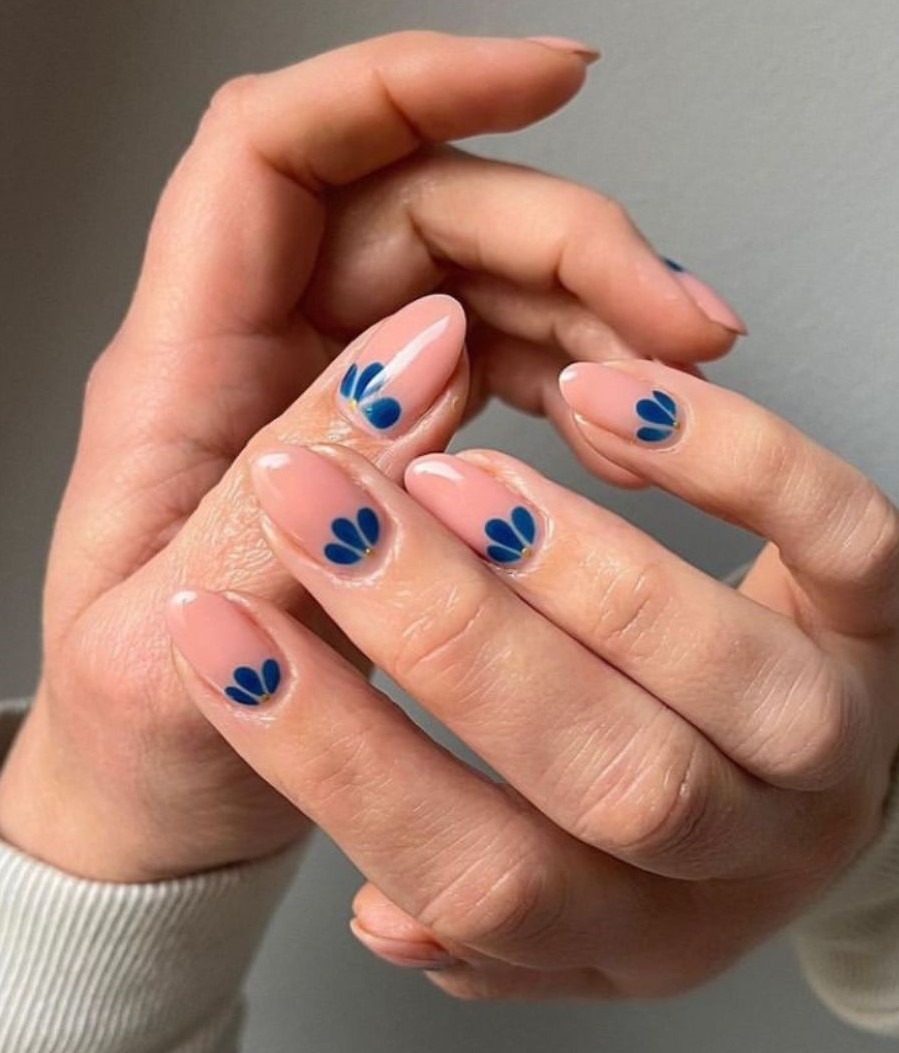 If this isn't the perfect low-key summer nail design, then I don't know what is. The gorgeous floral detail is incredible.
7. Rainbow Abstract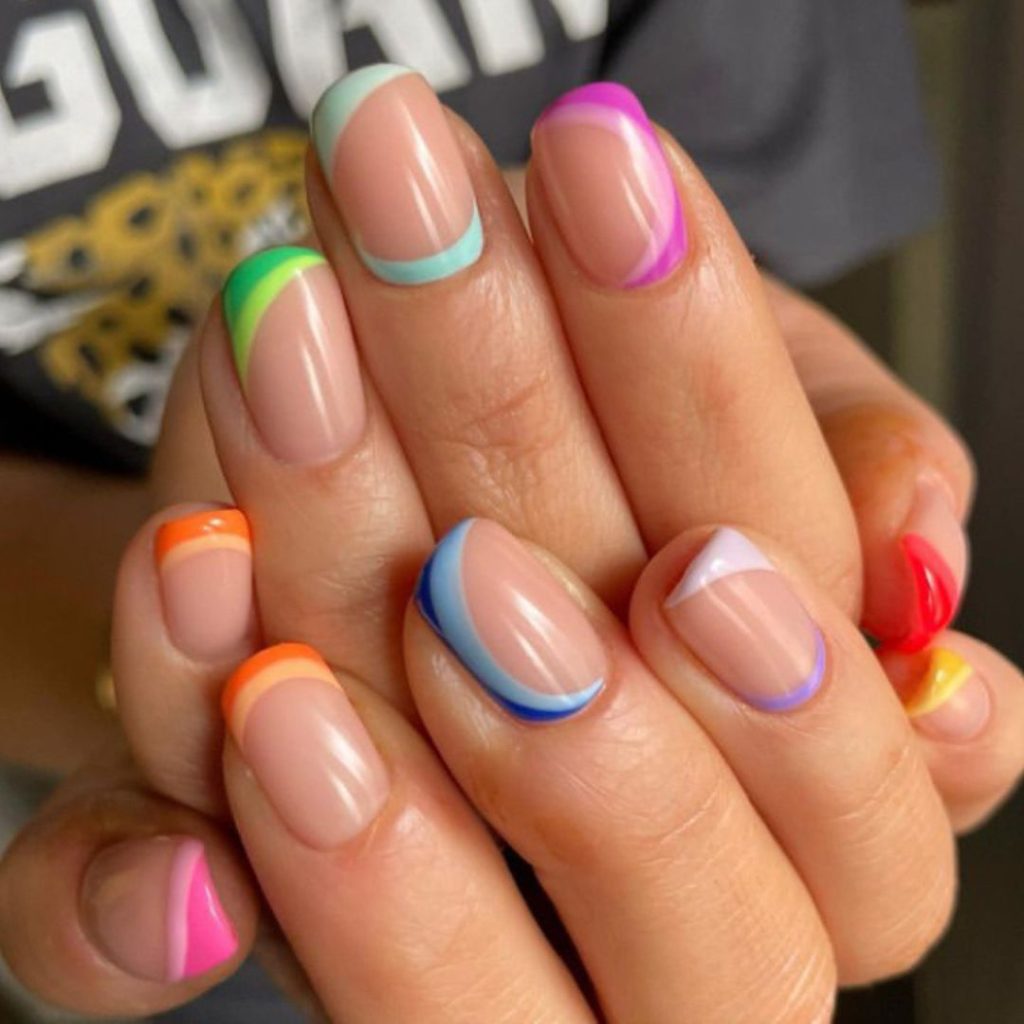 Rainbow nails are top-tier summer nail designs that never go out of style. Try a spectrum of hues around the tips for a fashionable vacation mani.
8. Peachy French Tips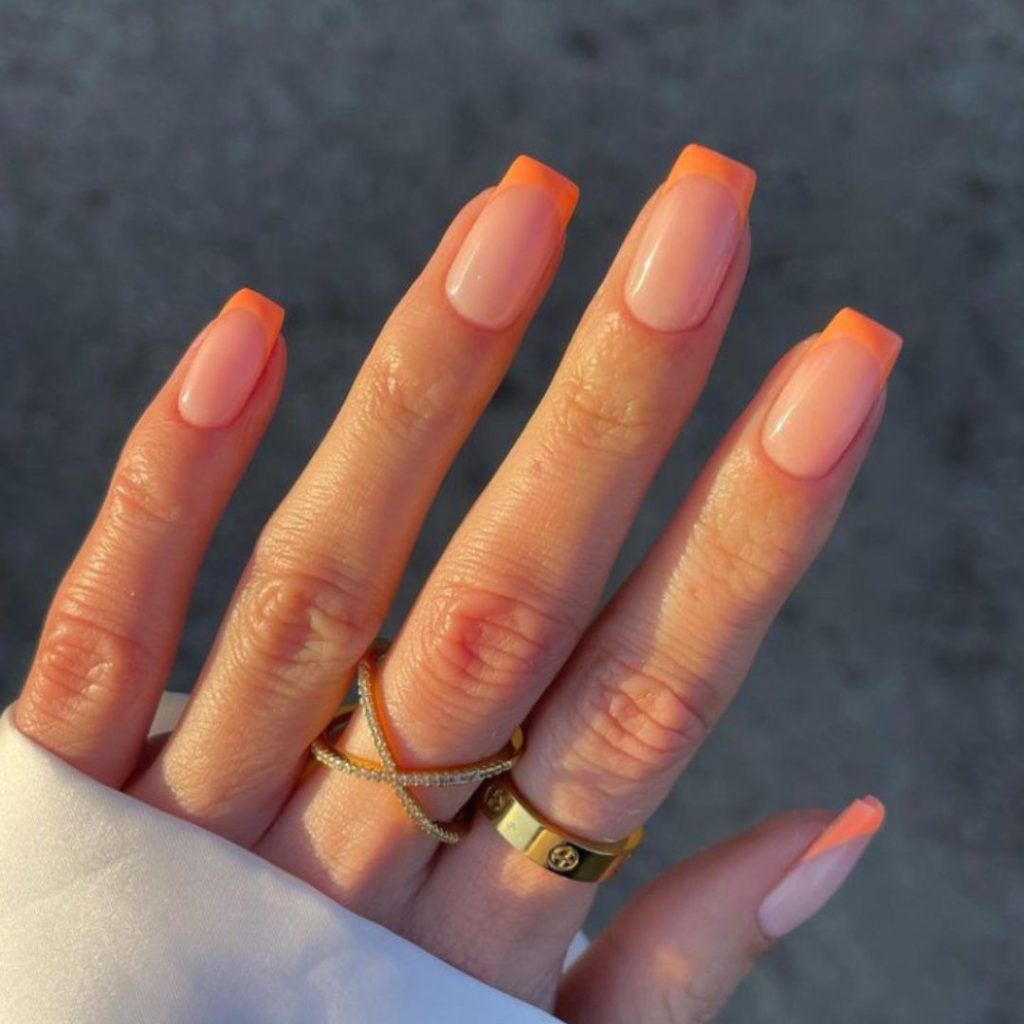 Orange perfection in nails. The peach color reminds me of summer coming soon and all the good things!
9. Evil Eye Nails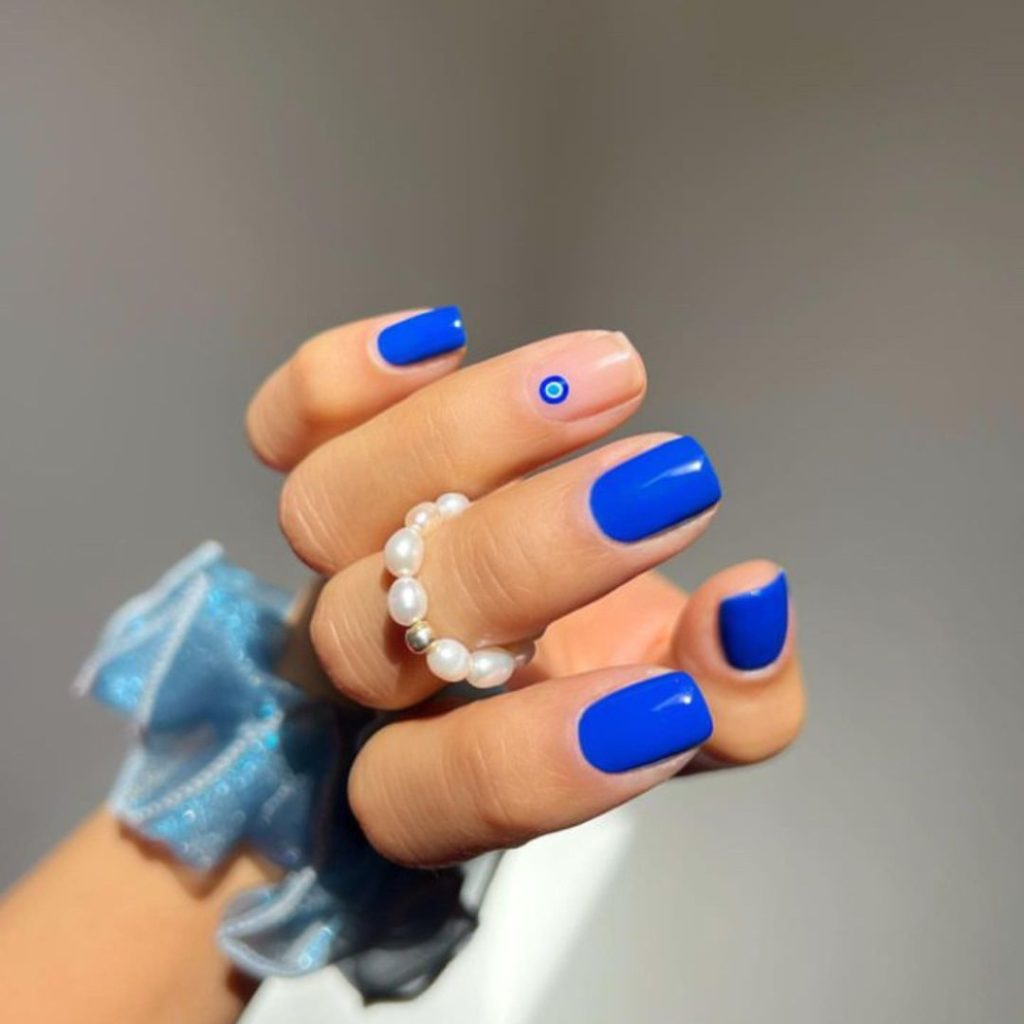 10. Ocean Waves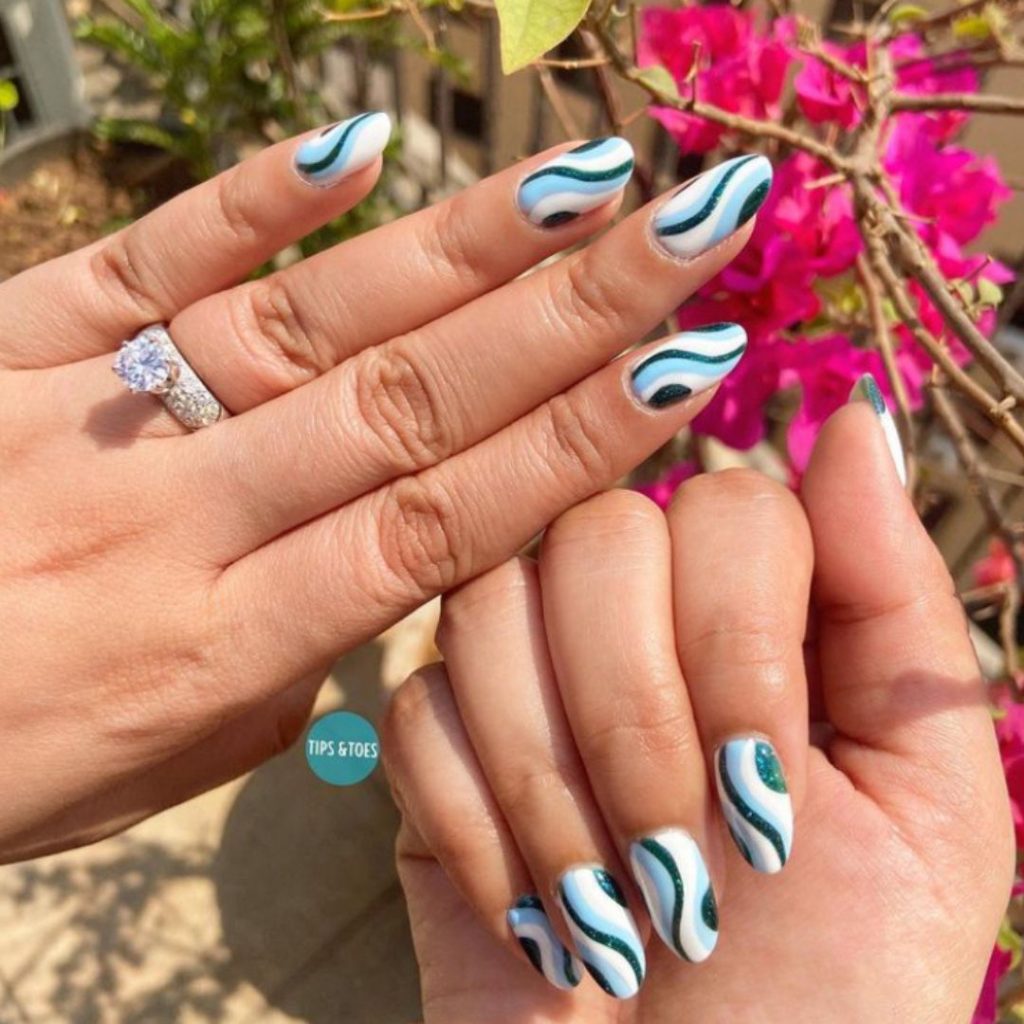 These beach vacation nails will take you to a fun summer all season long!
11. Beach Summer Florals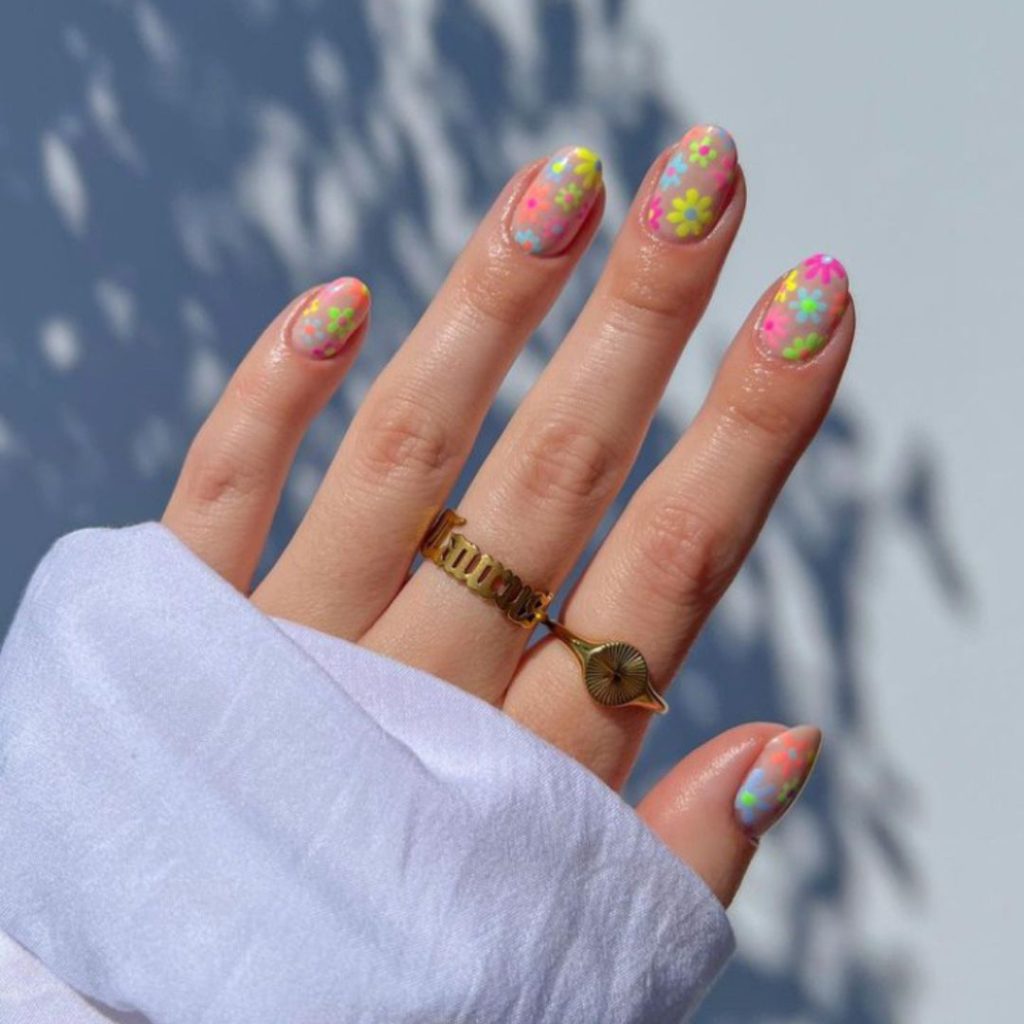 For a cute floral look, go for these fun summer neon flowers that are all the craze right now.
12. Blue Swirls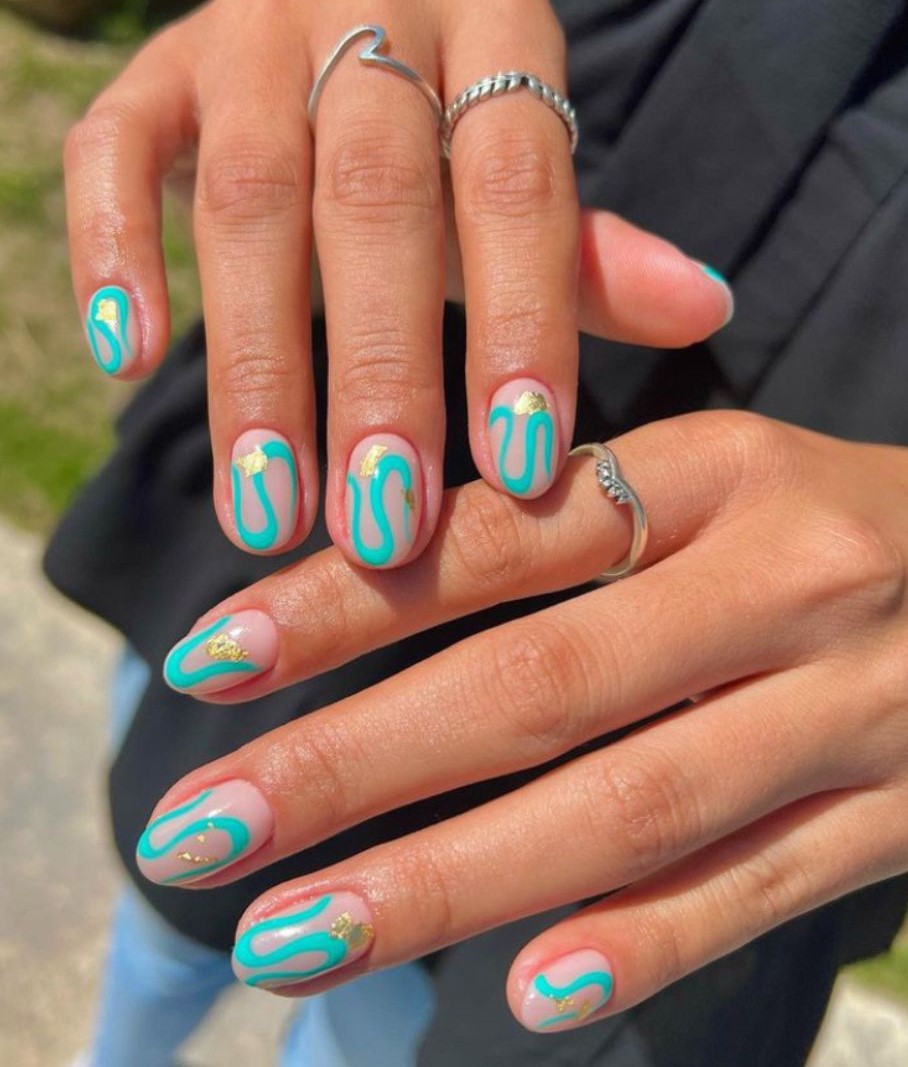 Swirls are a trendy summer nail design, and these bright blue ones are soo cute. The gold foil is subtle but completes the whole look!
13. Green Madness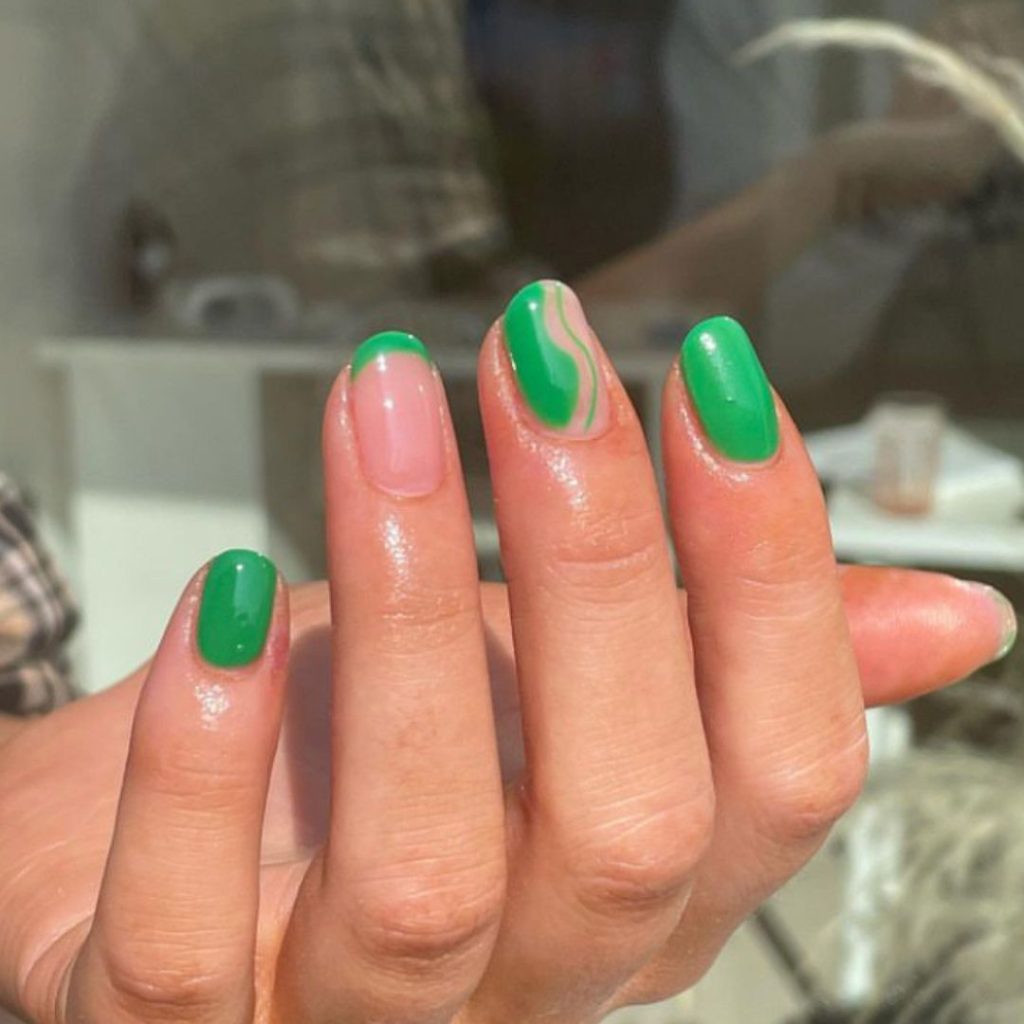 14. Daylight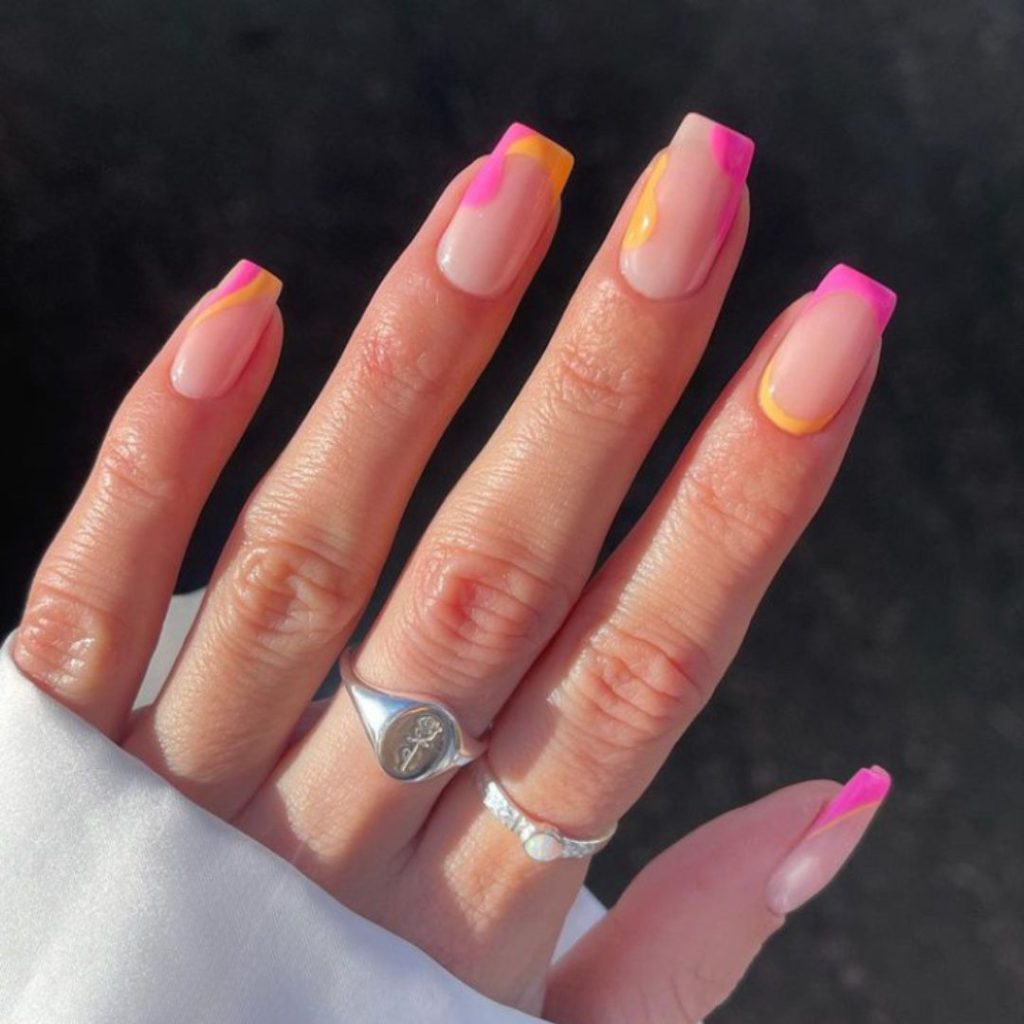 This color combo screams ready for summer in the best way possible and I couldn't agree more. Totally bringing this inspo with me to the nail salon.
15. Acidic French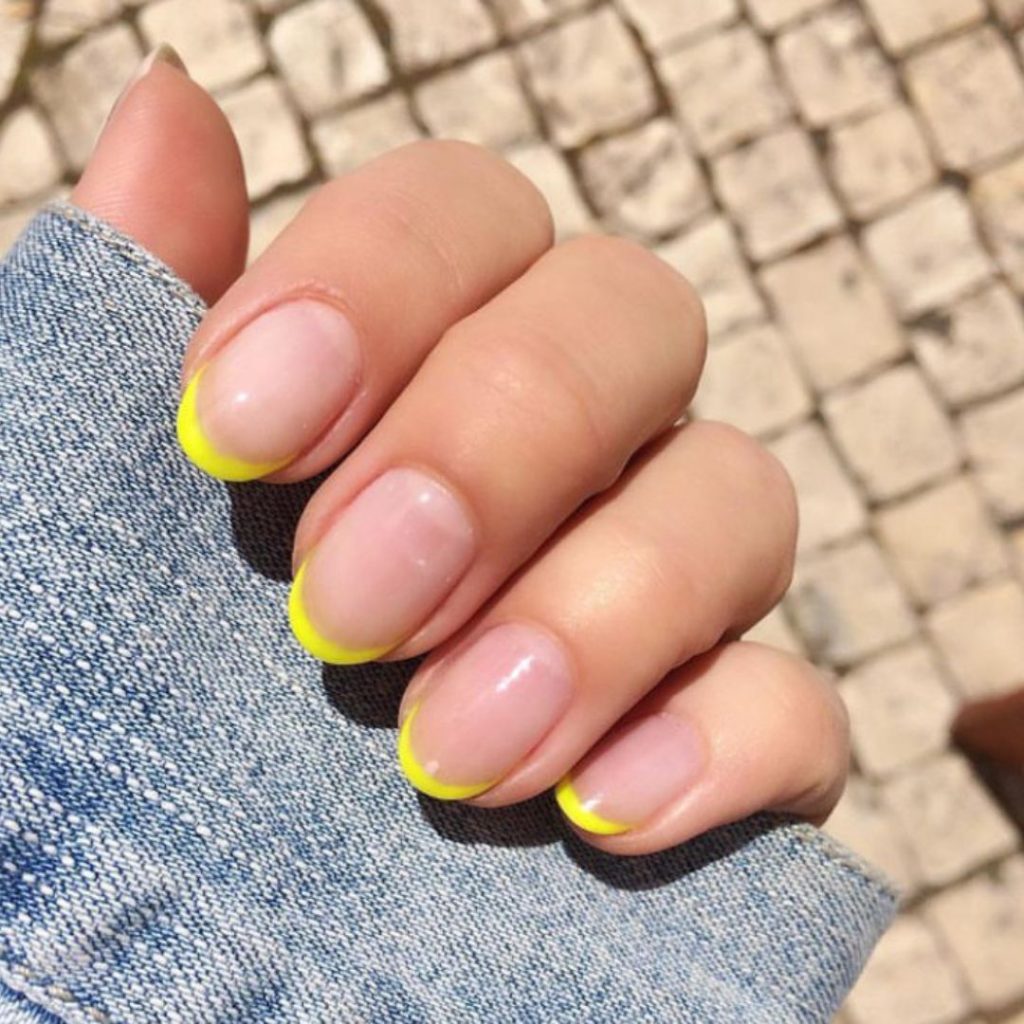 Keep it simple yet still cool and trendy with this yellow lime french manicure.
RELATED POSTS
16. Wavy Checkered Nails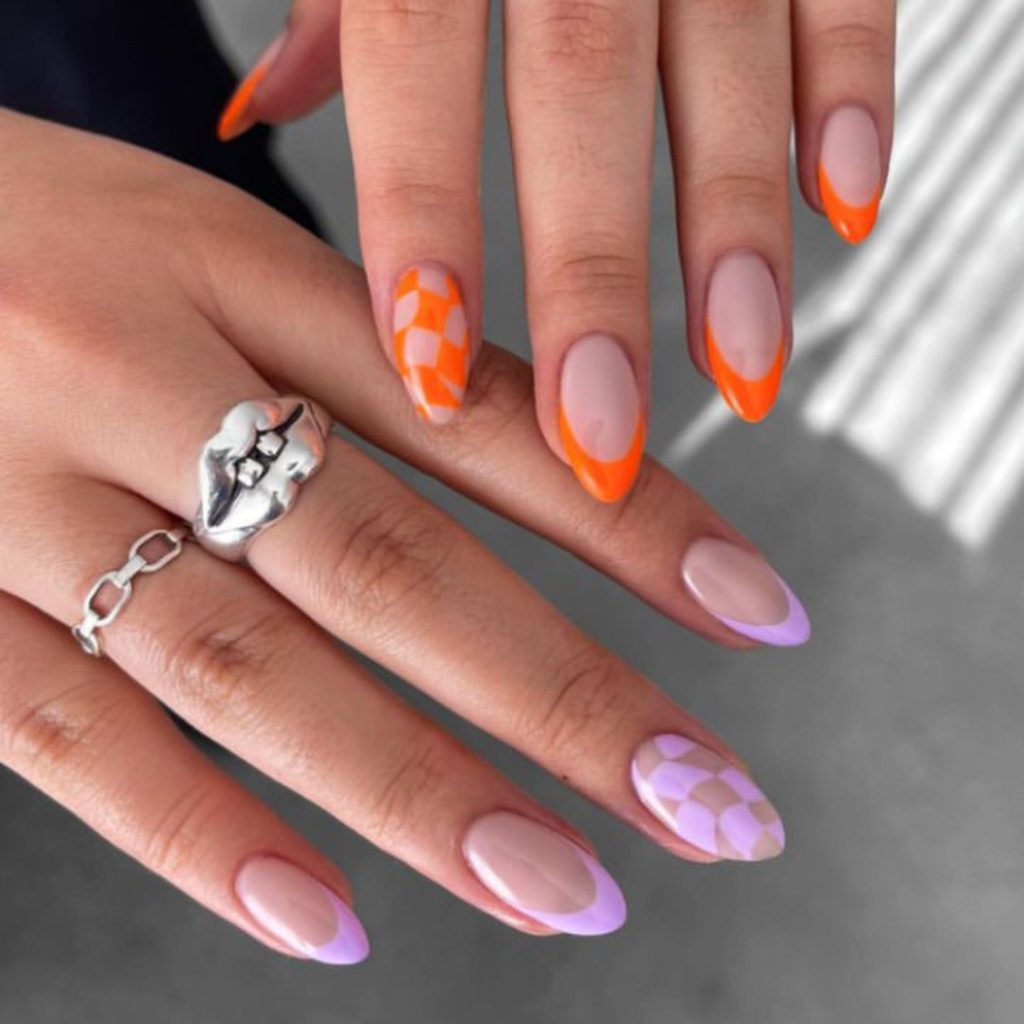 It seriously can't get any better than this. Summer season calls for checkered nails and these are too cute to resist!
17. Pretty Floral Tips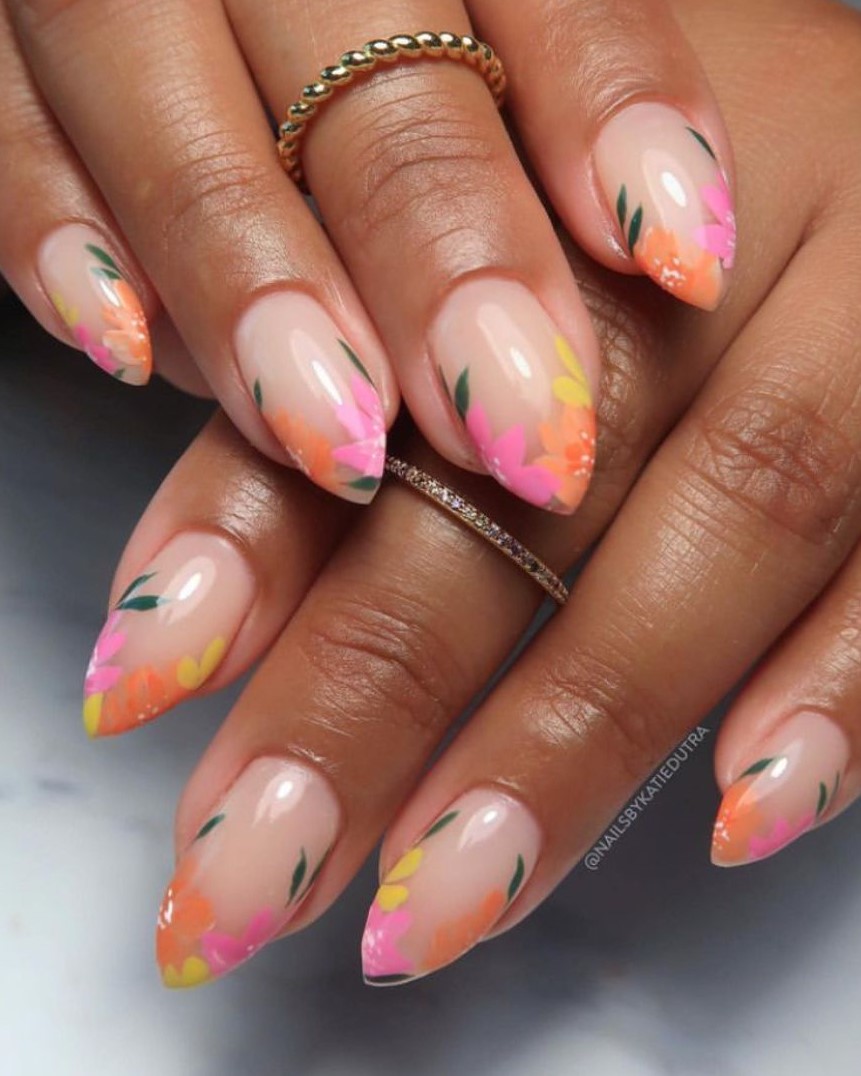 For some reason, I can imagine getting these vacation nails for a tropical island. Try a floral look with leaves for a nail design you can rock for spring and summer.
18. Skittle Mani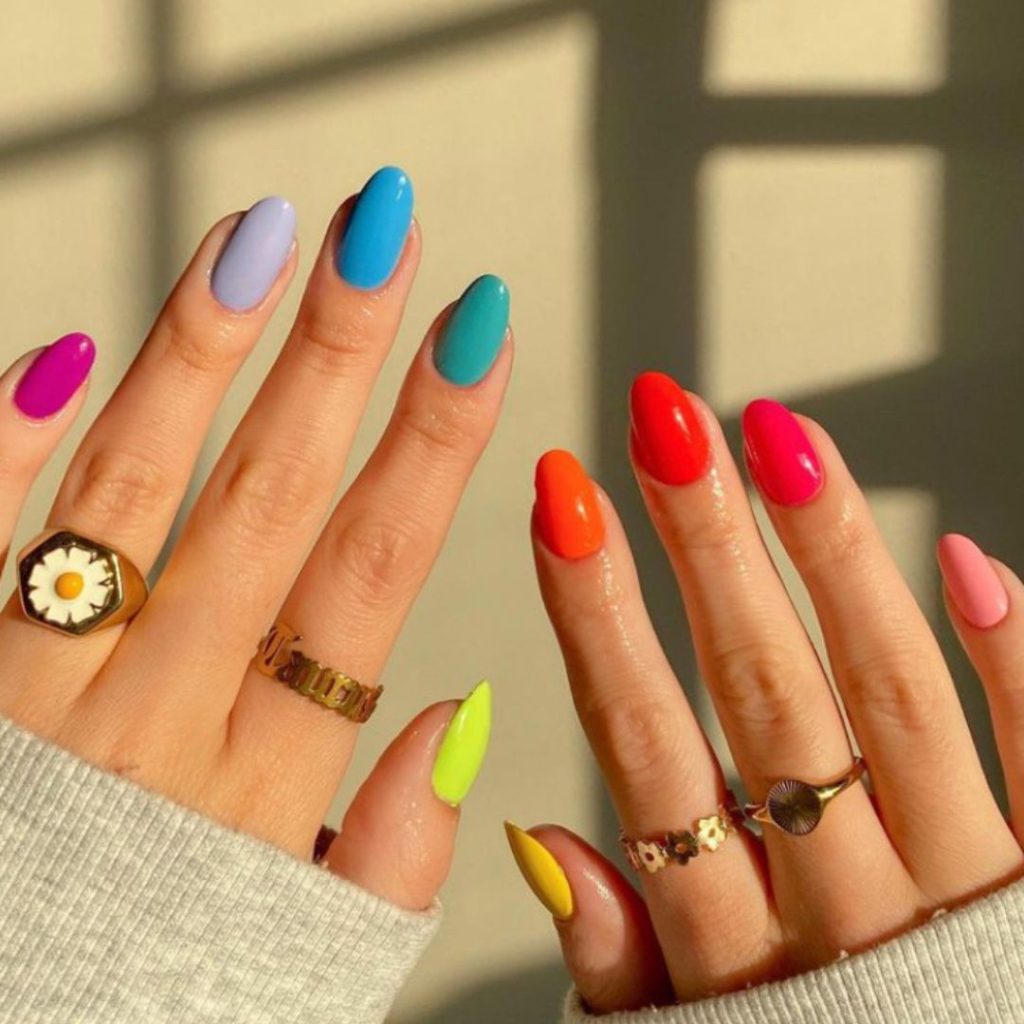 What is summer if not filled with bright colors? This incredible nail art will gleam under the sun and is soo easy to do at home!
19. Jungle Tips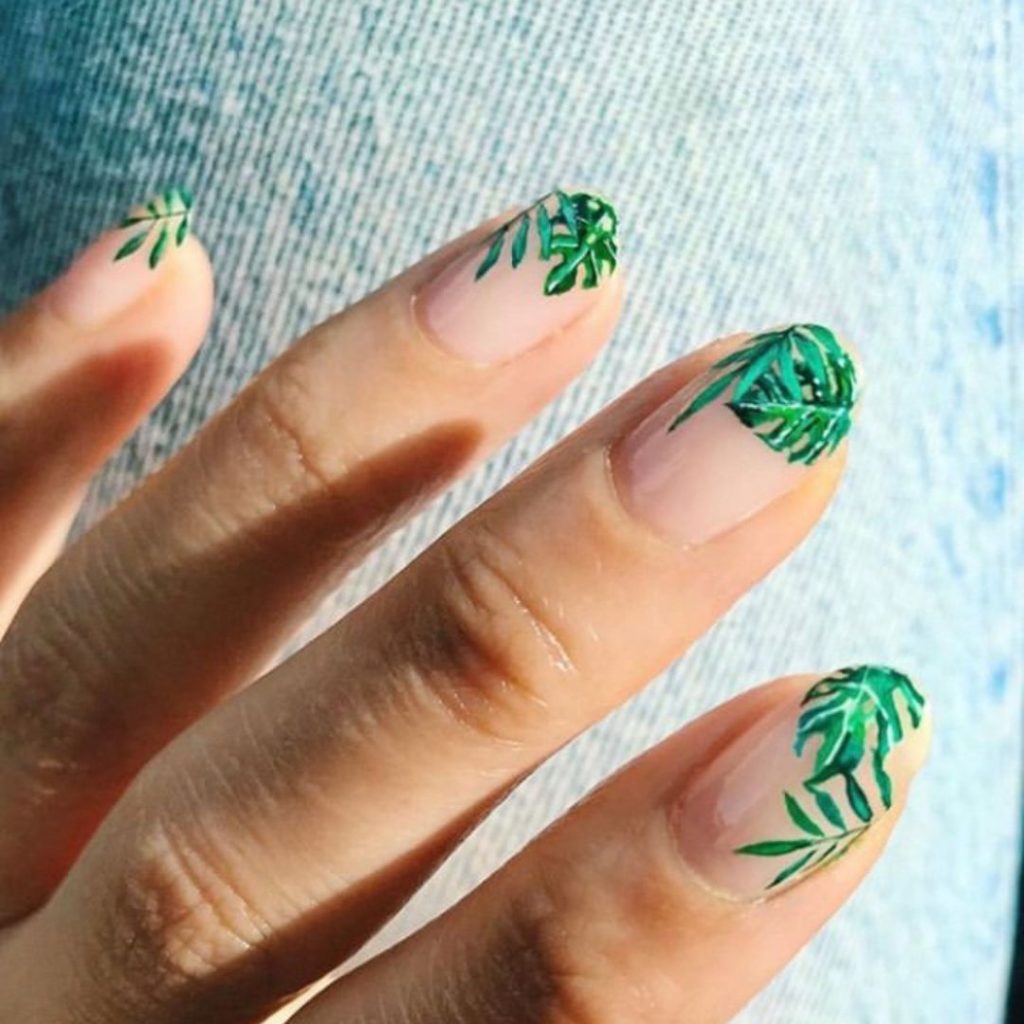 Take a fresh spin on your nails and try these mint leave-inspired tips.
This is a different take than the usual summer beach nails, but is something that is bound to take you on a vacation mode!
20. Funky Waves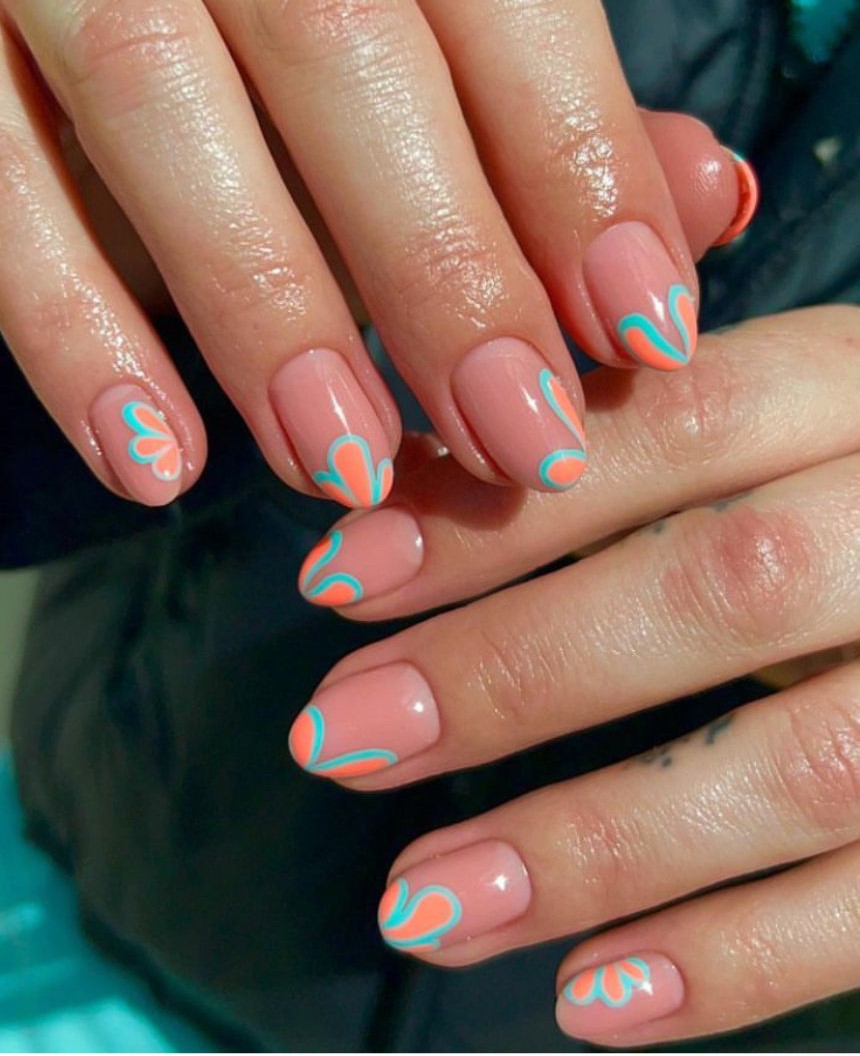 How cute! This proves you don't need long nails to slay an abstract summer nail design!
21. Flower Power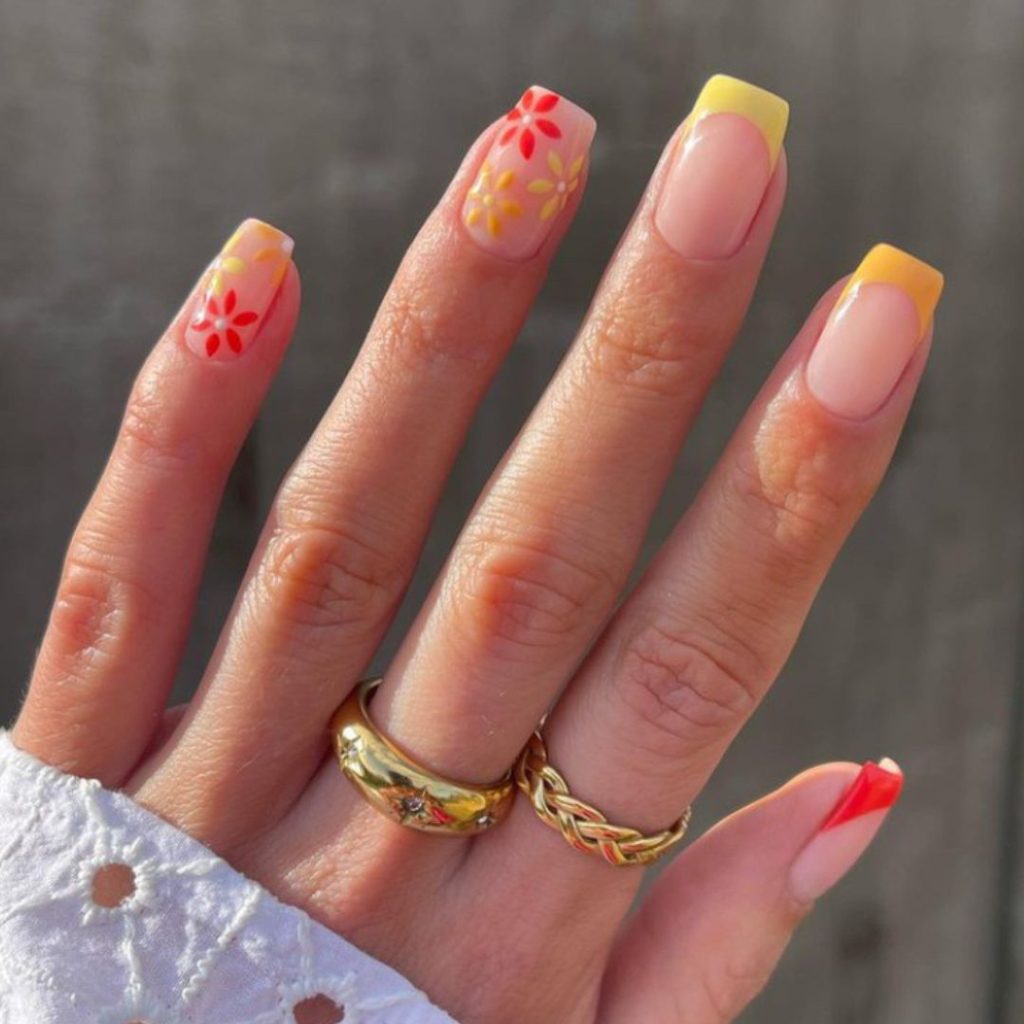 22. Vacay Mani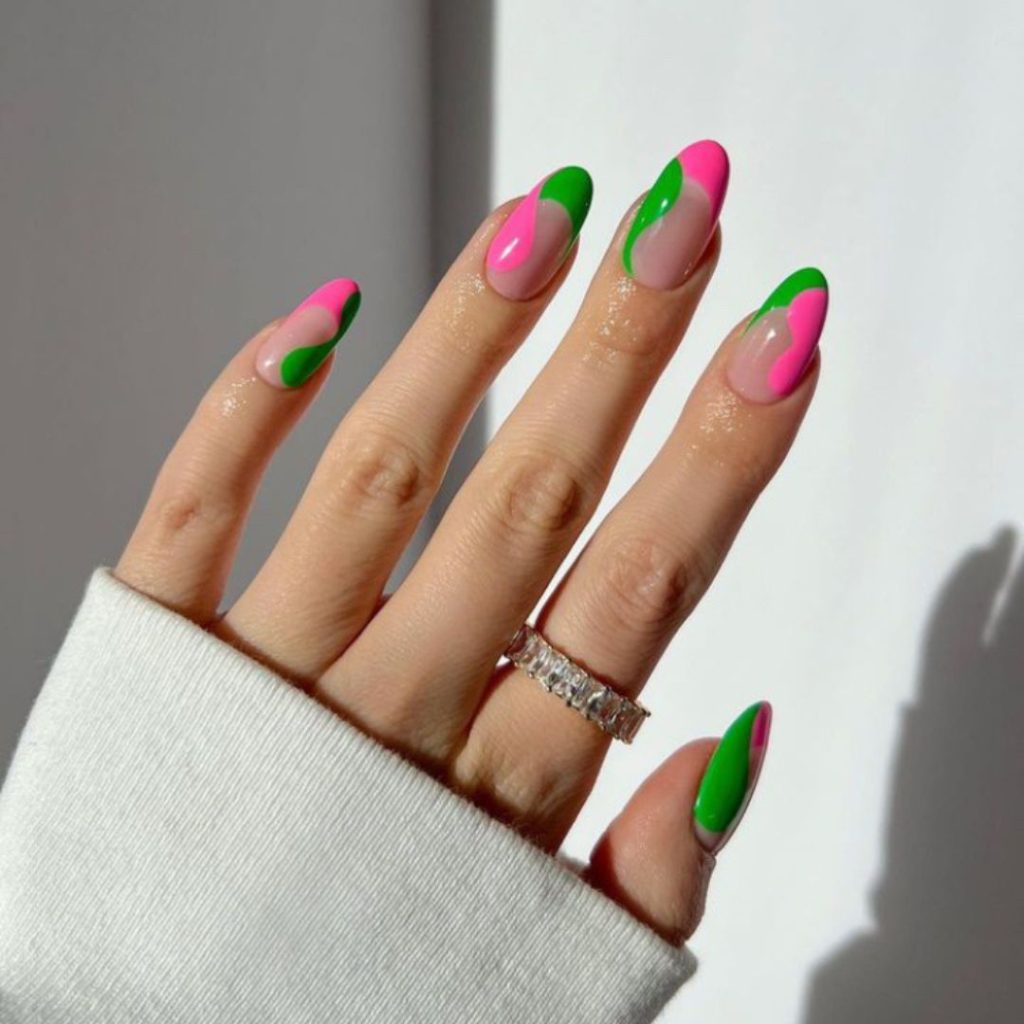 Here's your chance to get into full vacation mode and enjoy the season's best vibes. The vibrant color dou really speaks for itself here, huh?
23. Bubblegum Nails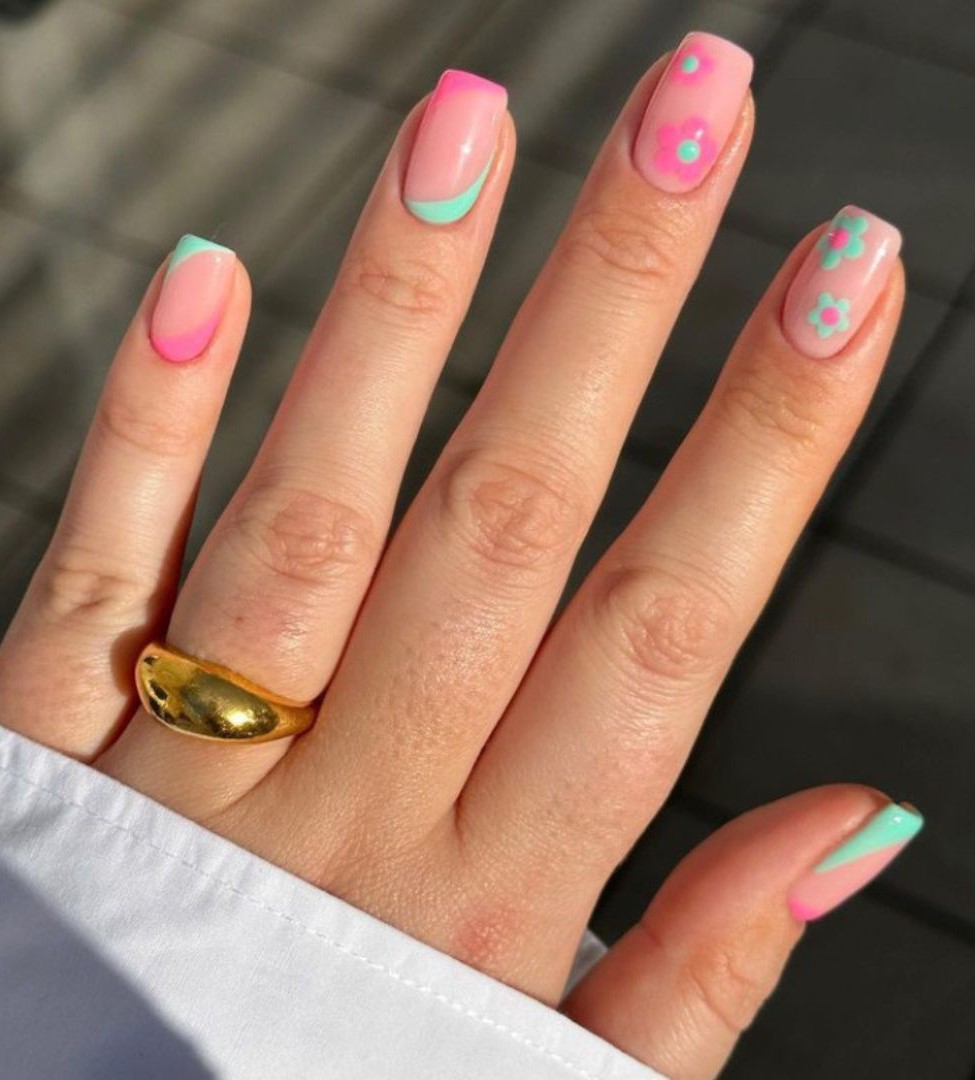 24. Ocean Blue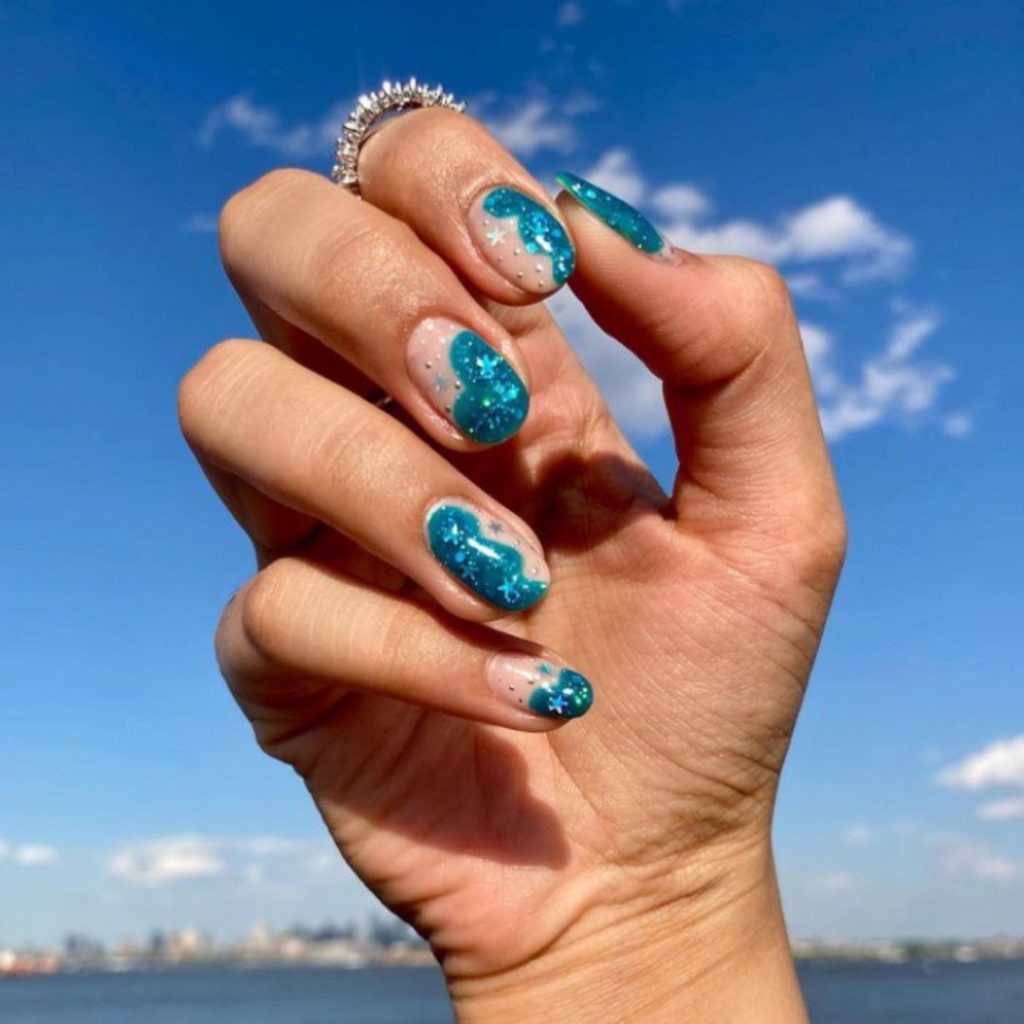 Another ocean blue nail art that you need to try! Paint the corners blue and leave negative space to give them a statement!
25. Vacation Nails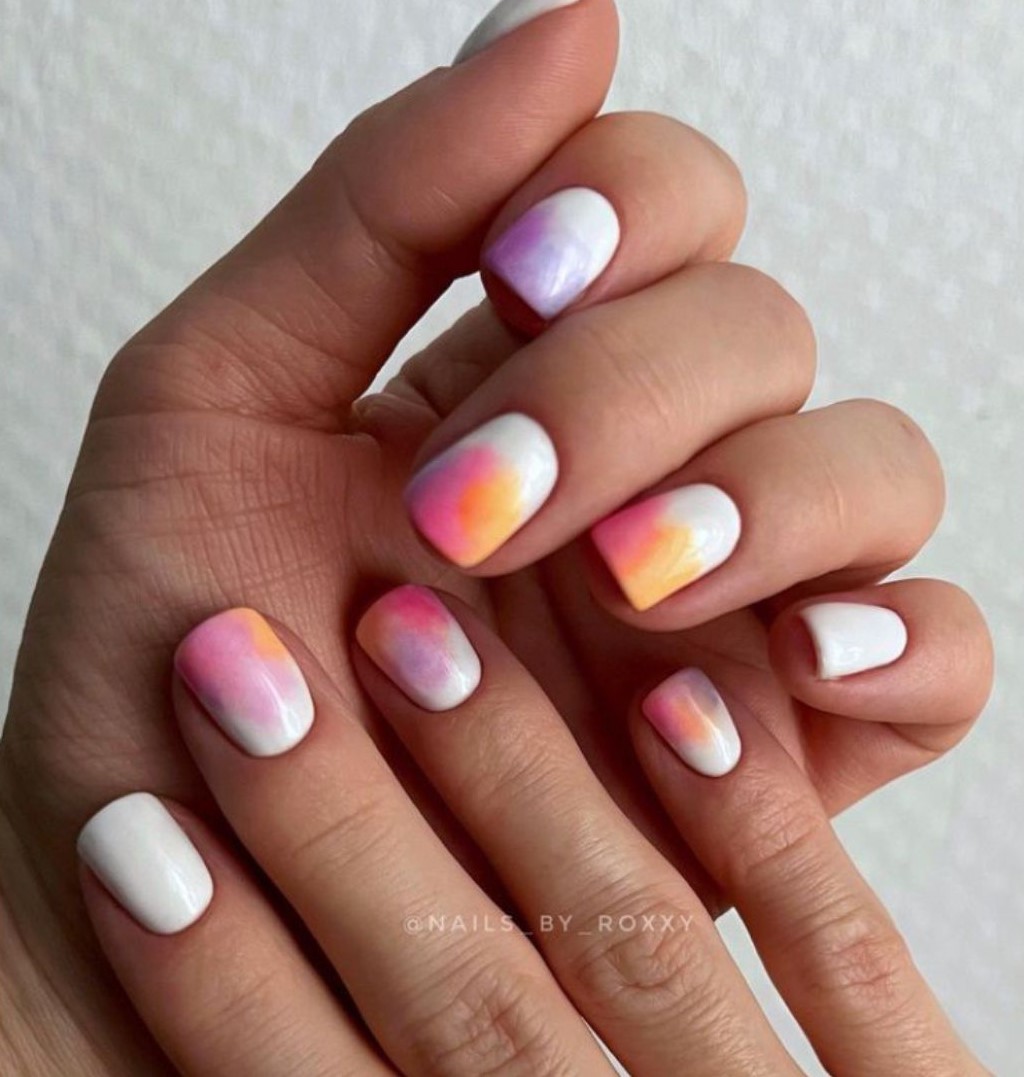 26. Sunshine White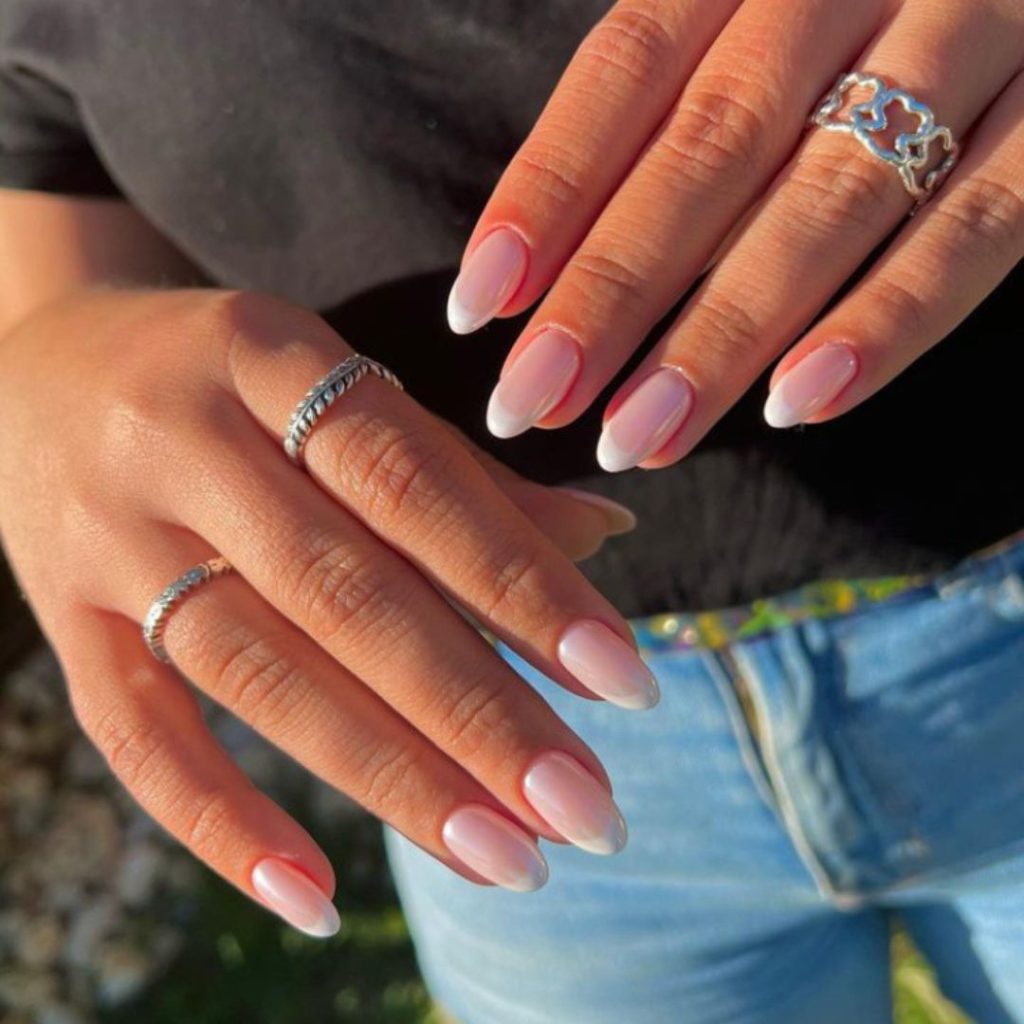 These white nails are so chic and cute. If you want to keep the design minimalist this summer, try these white tips on a nude base.
27. Blue Florals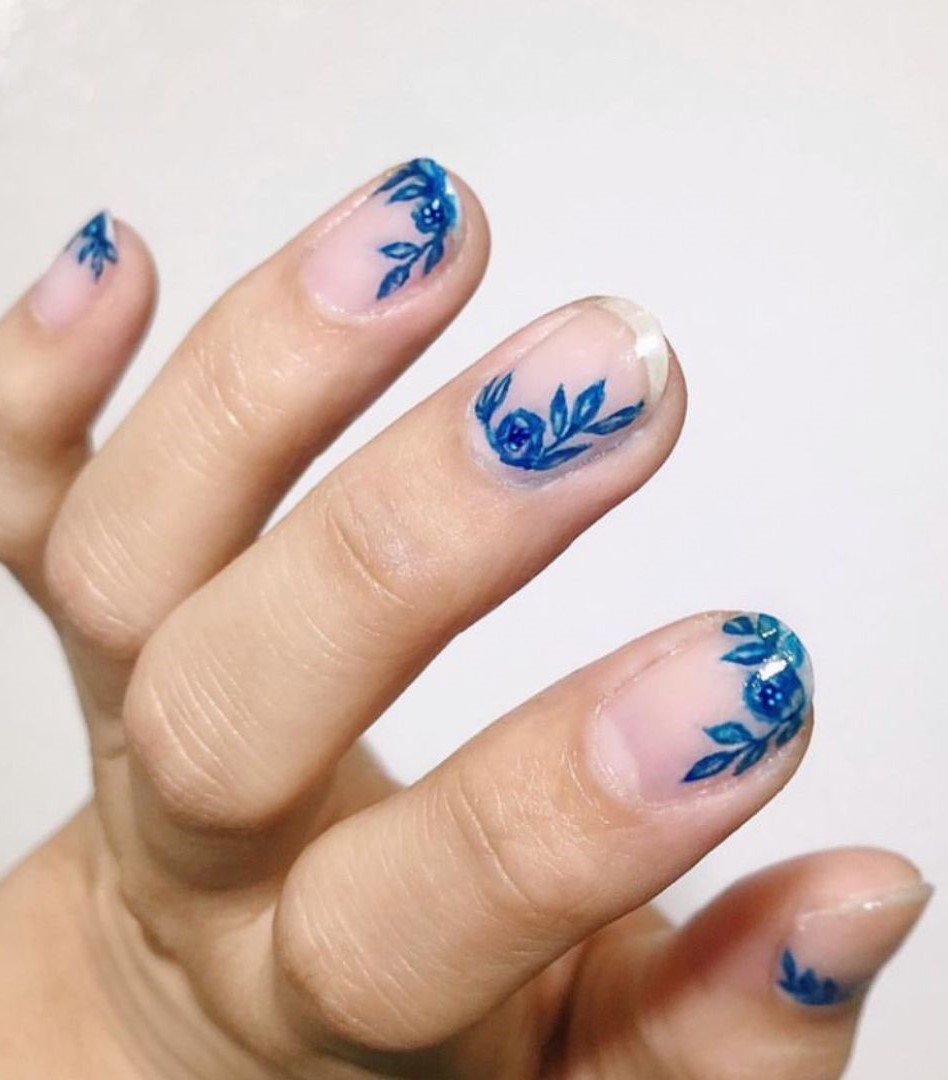 28. Hot Pink Tips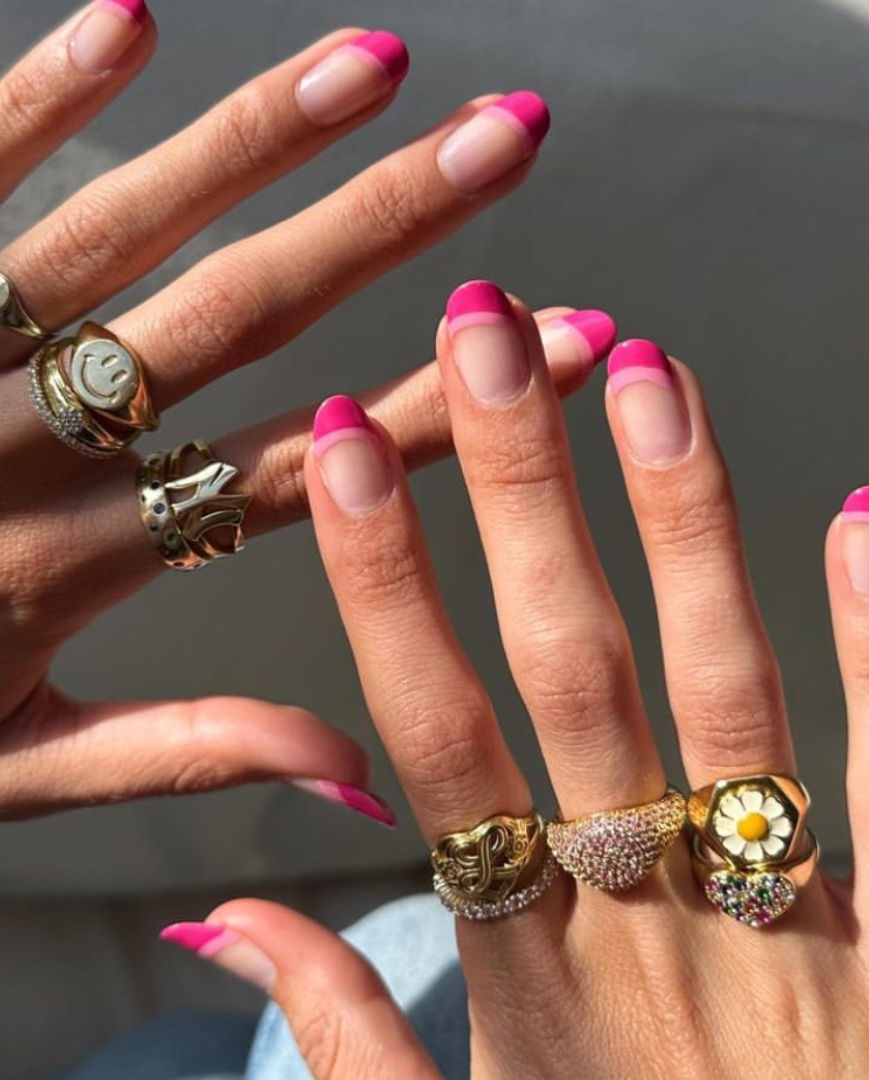 Hot pink is the trendiest color of summer this year. Hop on the train and paint the tips with the dreamiest pink combo everyone will be asking for!
29. Peachy Orange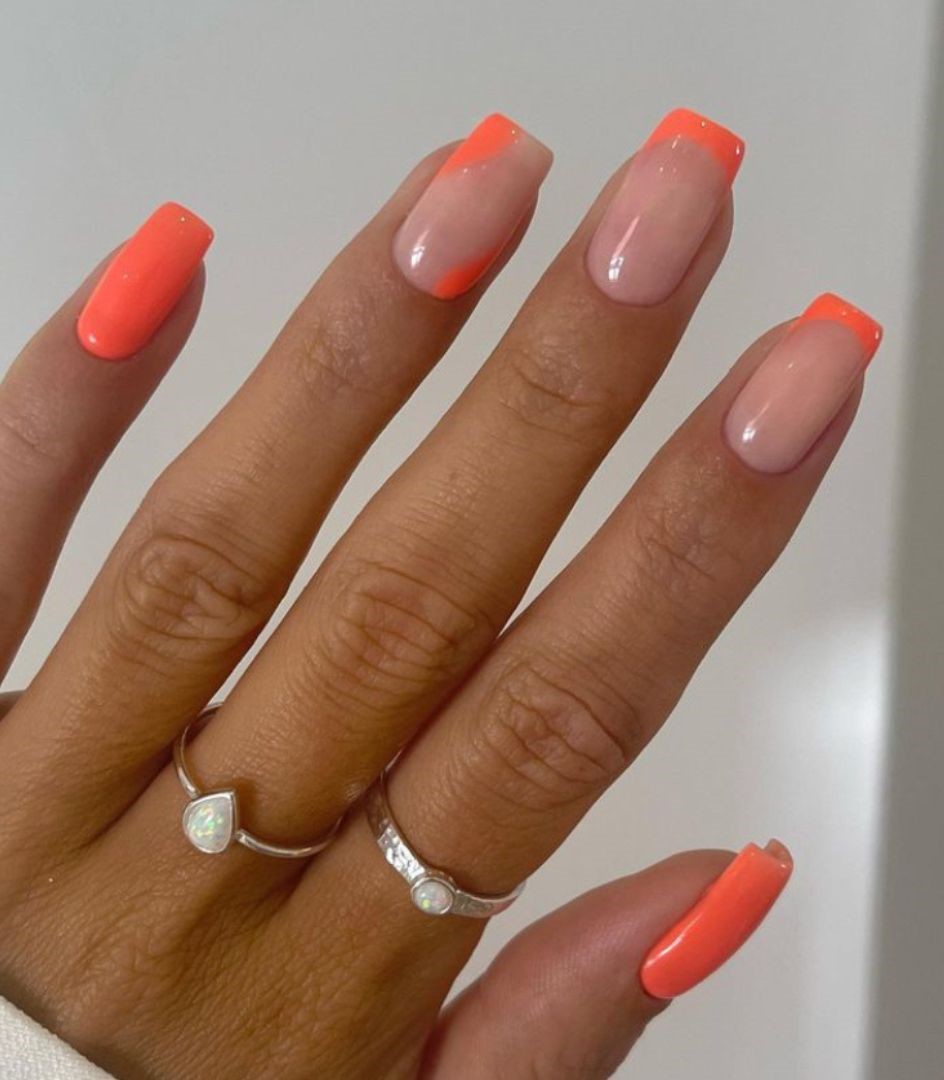 How stunning would these peachy orange nails look with a floral dress this summer? You've gotta try these at least once!
30. Ocean Waves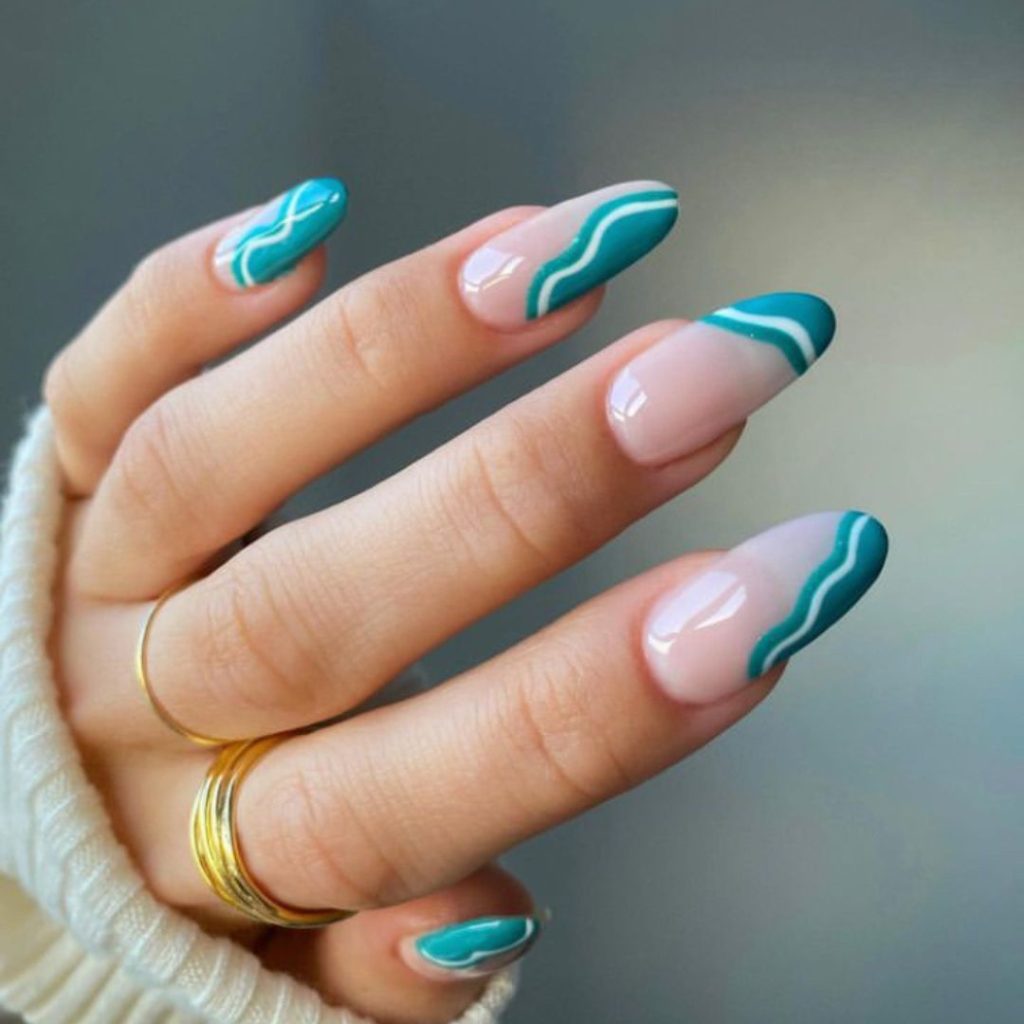 Just a touch of blue and white on the nails will have you taking trips down the beach every day! I mean, that's the whole point, right? 😉
31. Vacation Abstract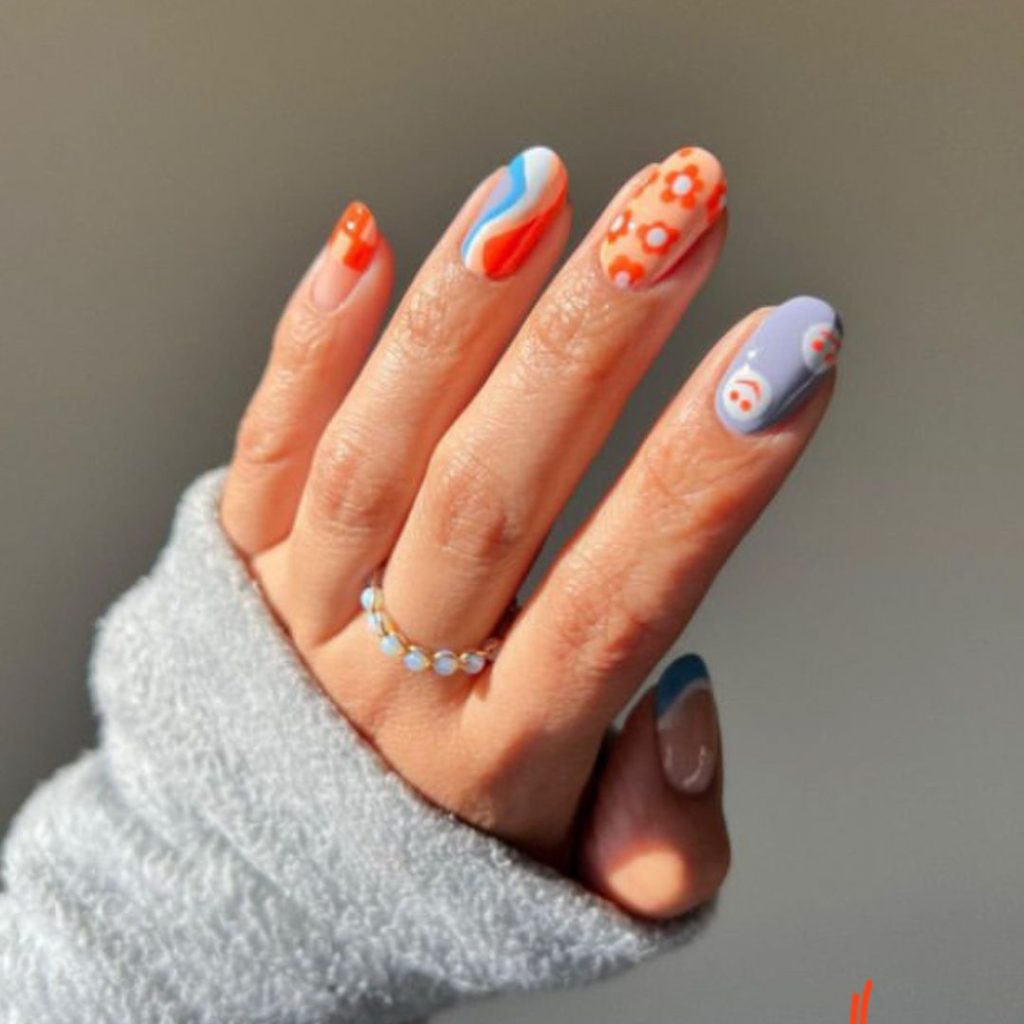 While we are on the topic of vacation, these abstract nails will gleam beautifully anywhere you plan on taking a trip this summer!
32. Waterlemon Sugar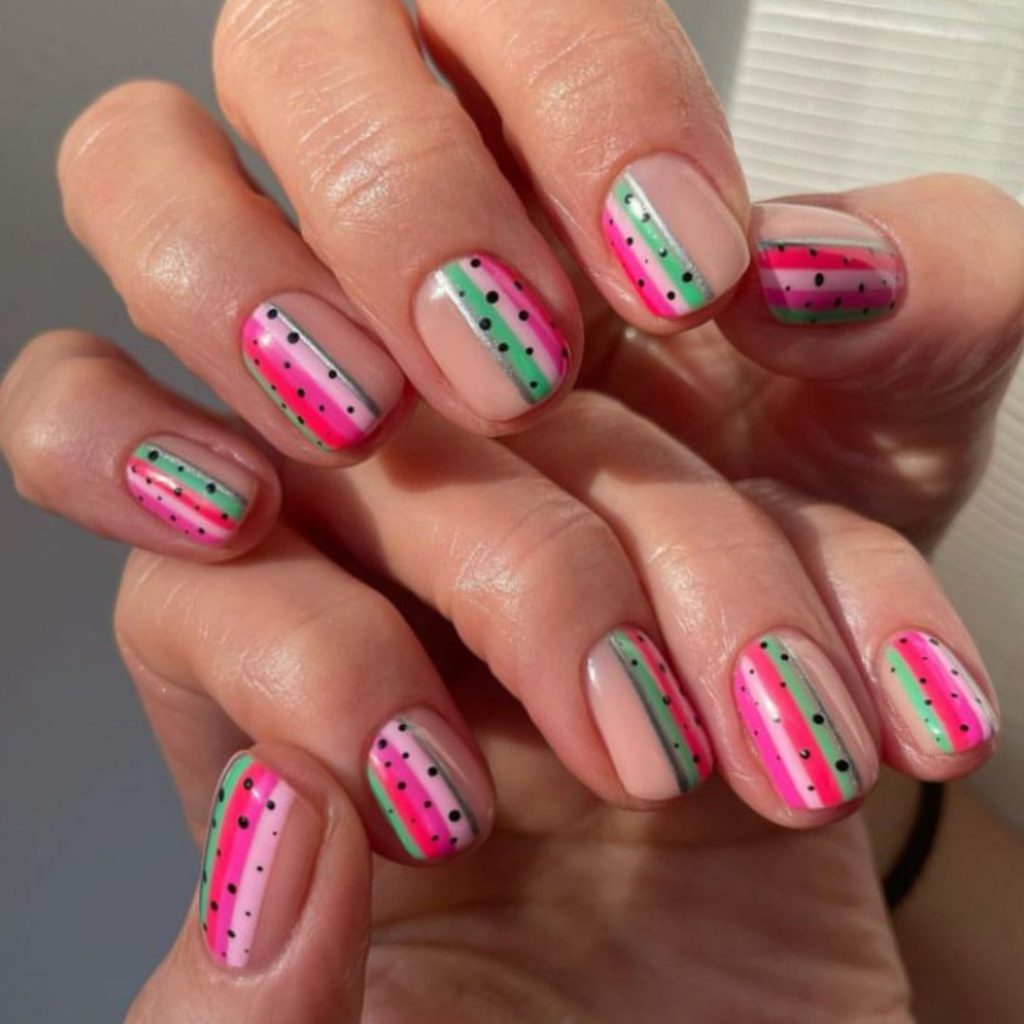 Take inspiration from your favorite summer fruit to get these watermelon nails! Easy, peasy right? 😉
33. Magical Island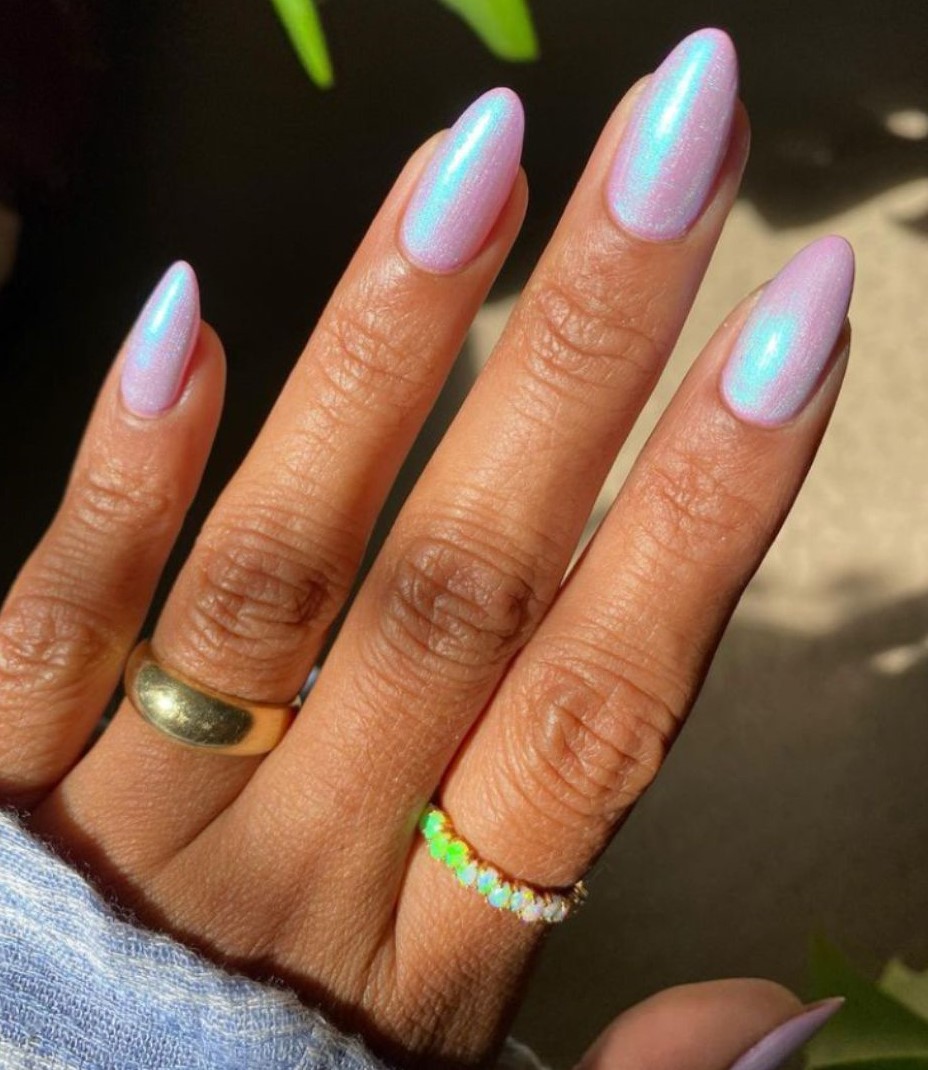 Oh my. These nails are absolute perfection. For that extra glow and flicker, you simply need these statement nails like right now. Seriously.
34. Glitzy Pink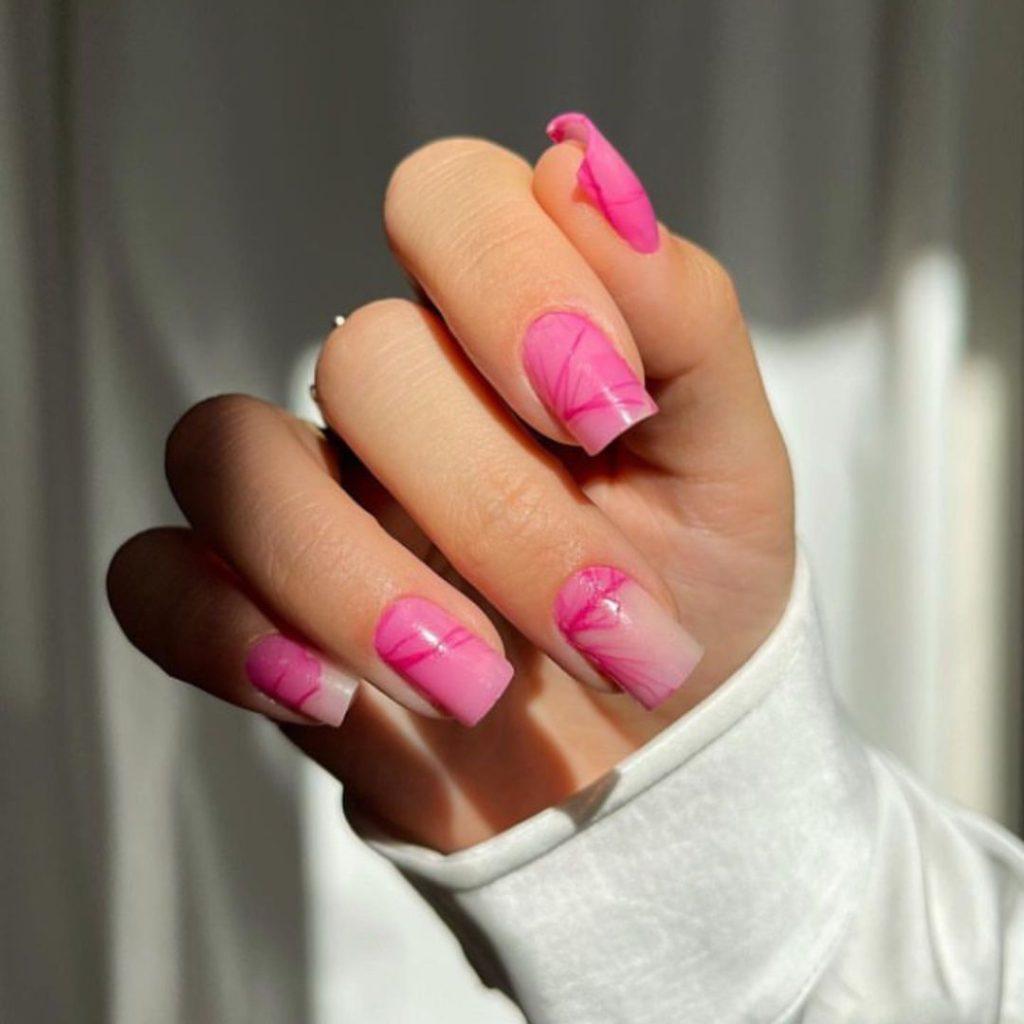 I mean, can you ever get enough of pink nails? Nope! This cute summer nail design is so flattering, I'm here for it!
35. Turquoise Nails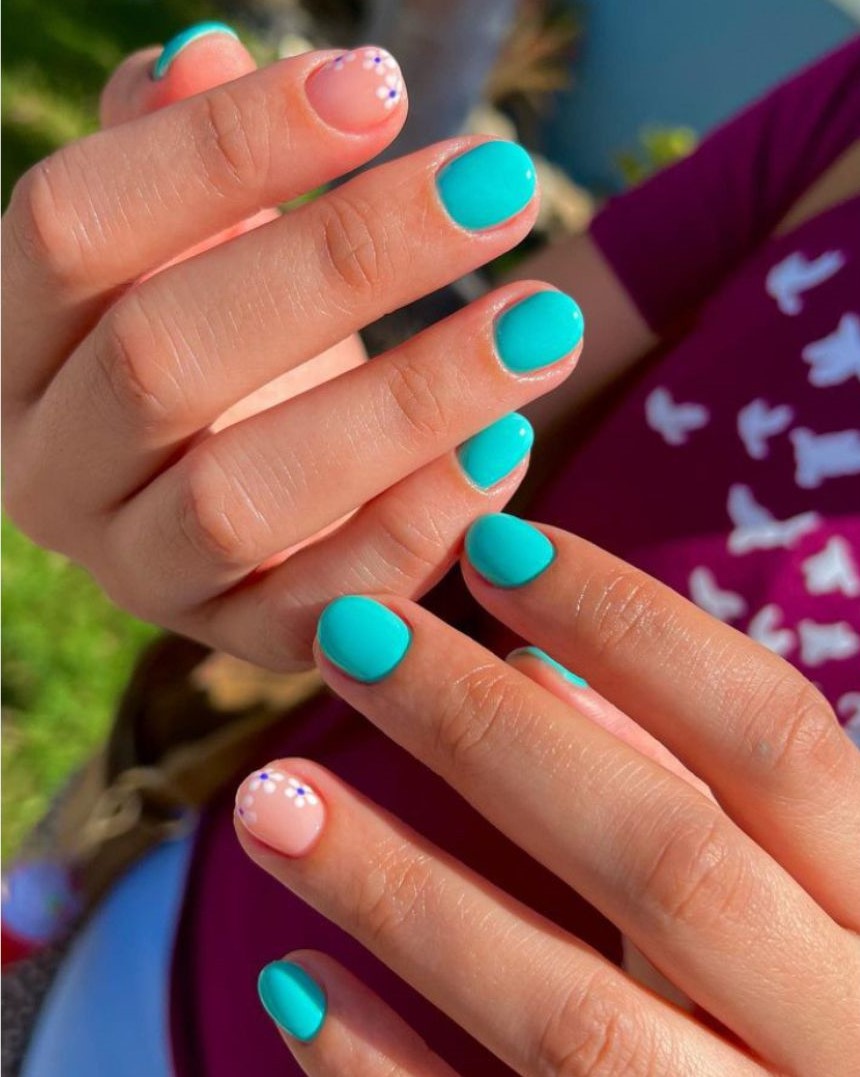 Want to keep your mani short but still want to stay in the trend? These turquoise cuties with a subtle floral have your back.
36. Colorful Swirls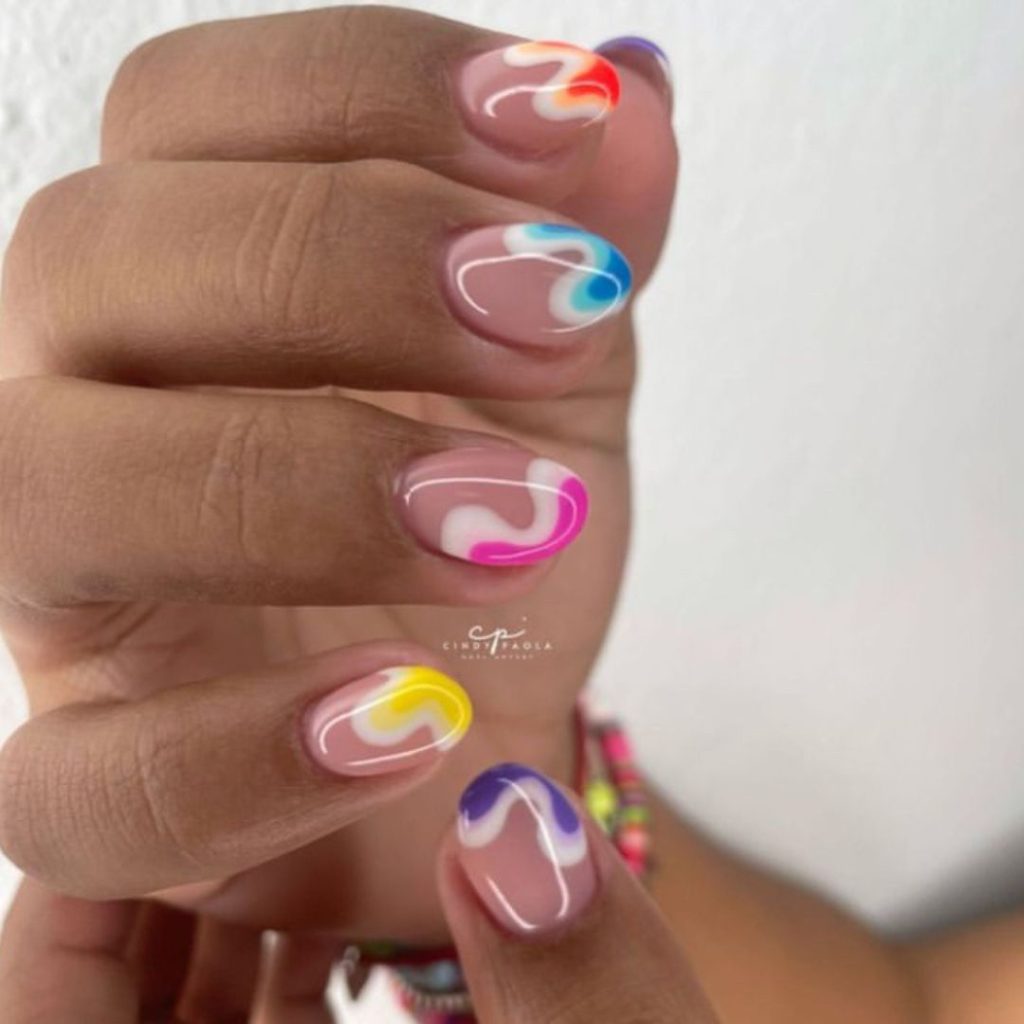 And if you're looking for a unique and creative nail design for your next getaway, these colorful swirls are HUGE right now. The mix of white on each nail gives it an even more fun and bold look!
37. Chic Barbie
Nothing like a pretty floral look in soft pink. This nail design is perfect for all the chic Barbie girly gals out there!
38. Summer Sparkle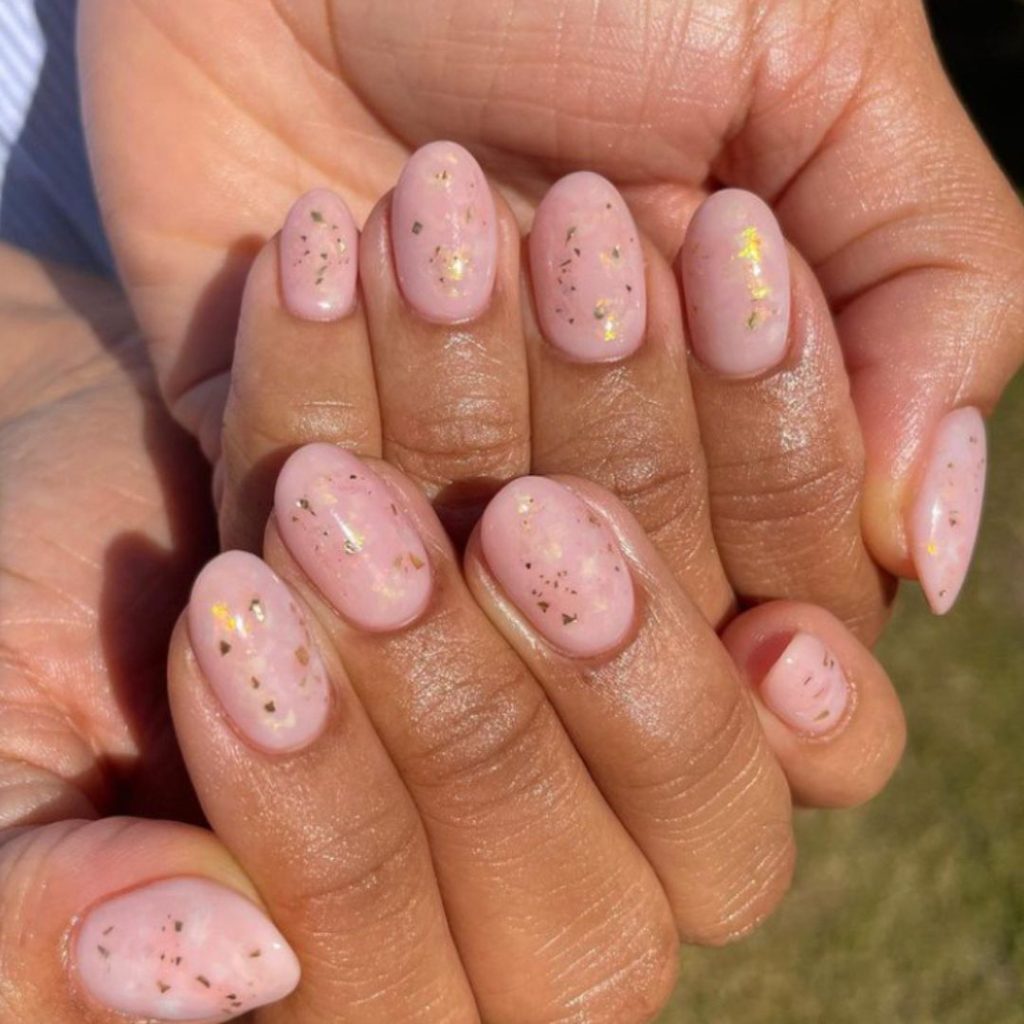 39. Blue Streaks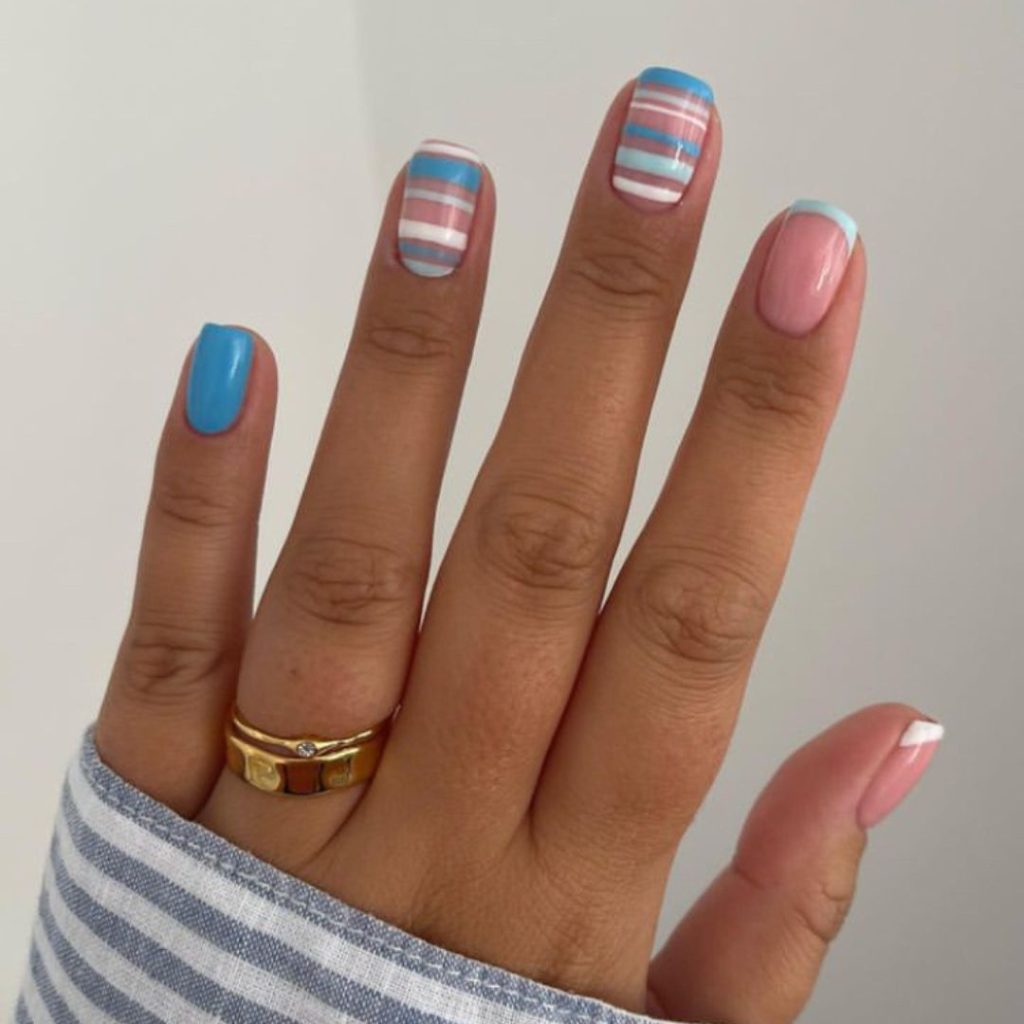 For all the girls who like to keep their mani as minimal as possible, here is a blue streak nail design that will remind you of all things ocean and beach.
40. Mandarin Orange
You can never go wrong with bright nails during the summer. This is such a cheerful manicure and totally gives the "let's go on an adventure" vibes!
41. Cherry Pink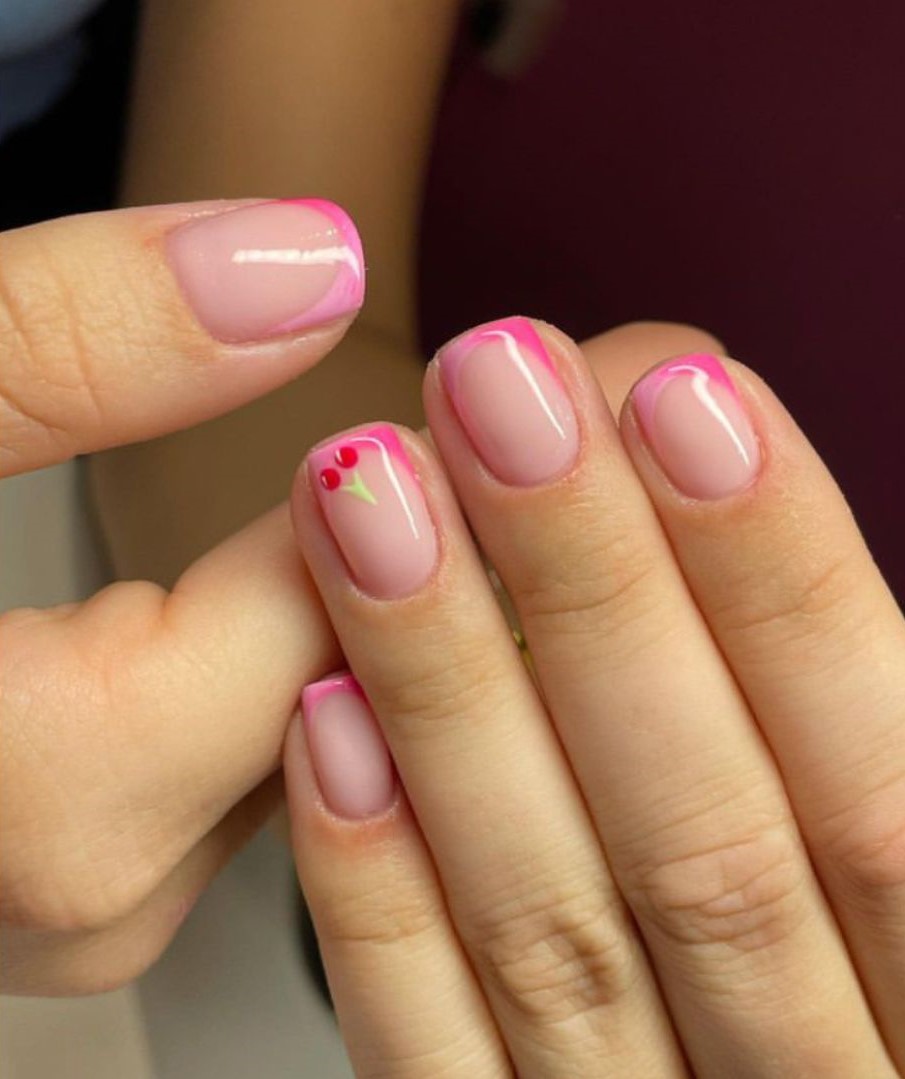 42. Beach Holiday Nails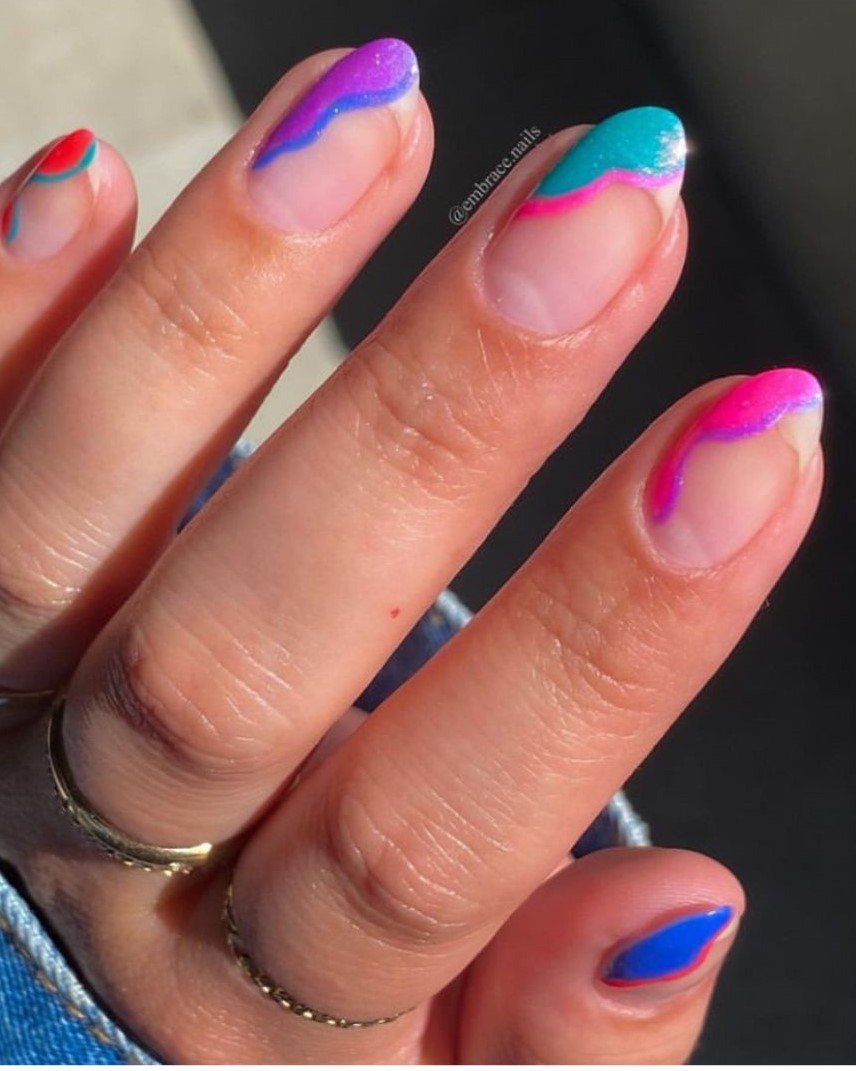 Okay, I think we can all agree this is the perfect summer vacation nails inspo pic. I'm saving it for my next manicure because I know they will just hit differently this time of the year!
43. Hawaii Nails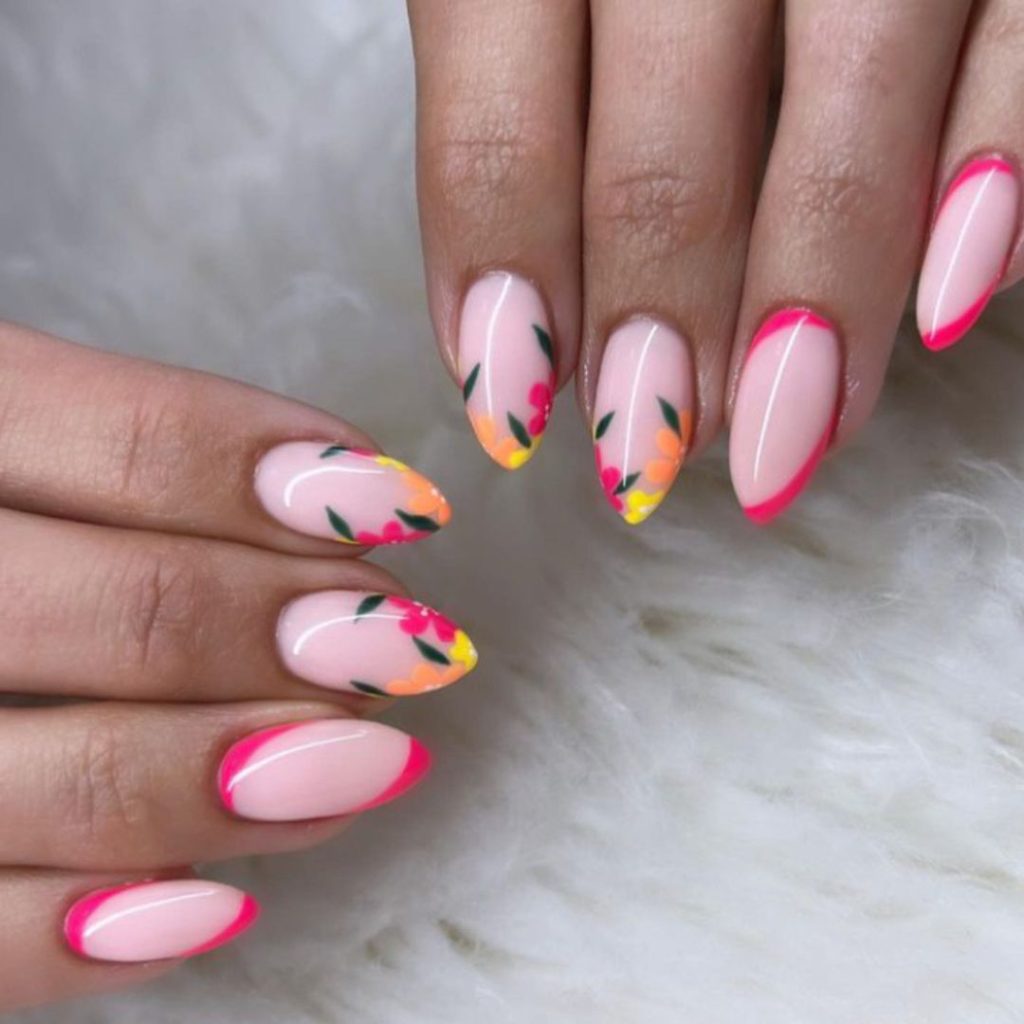 44. Sunset Vibe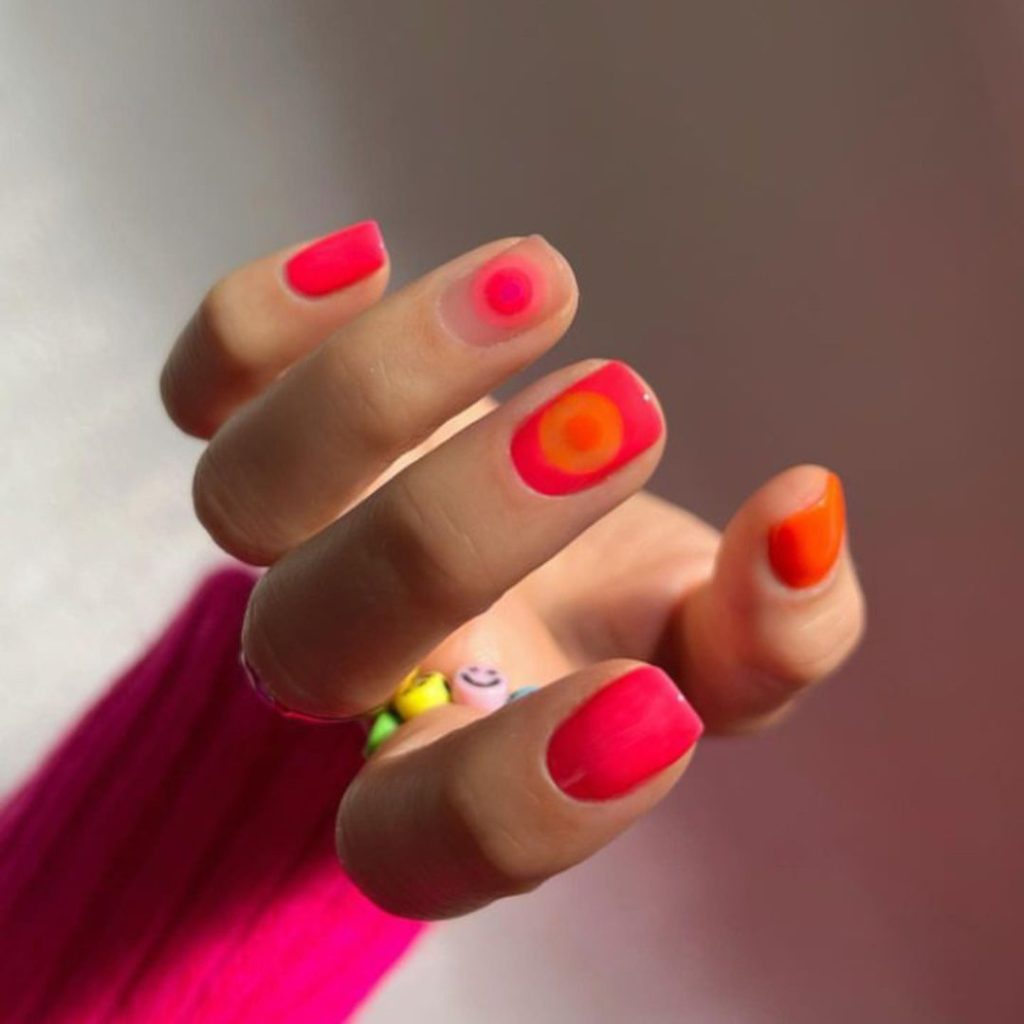 Want to truly capture the beauty of the sunset on your nails? Take inspiration from this vacation nail design for a fun and bright nails that'll swoon you away.
45. Lil Daises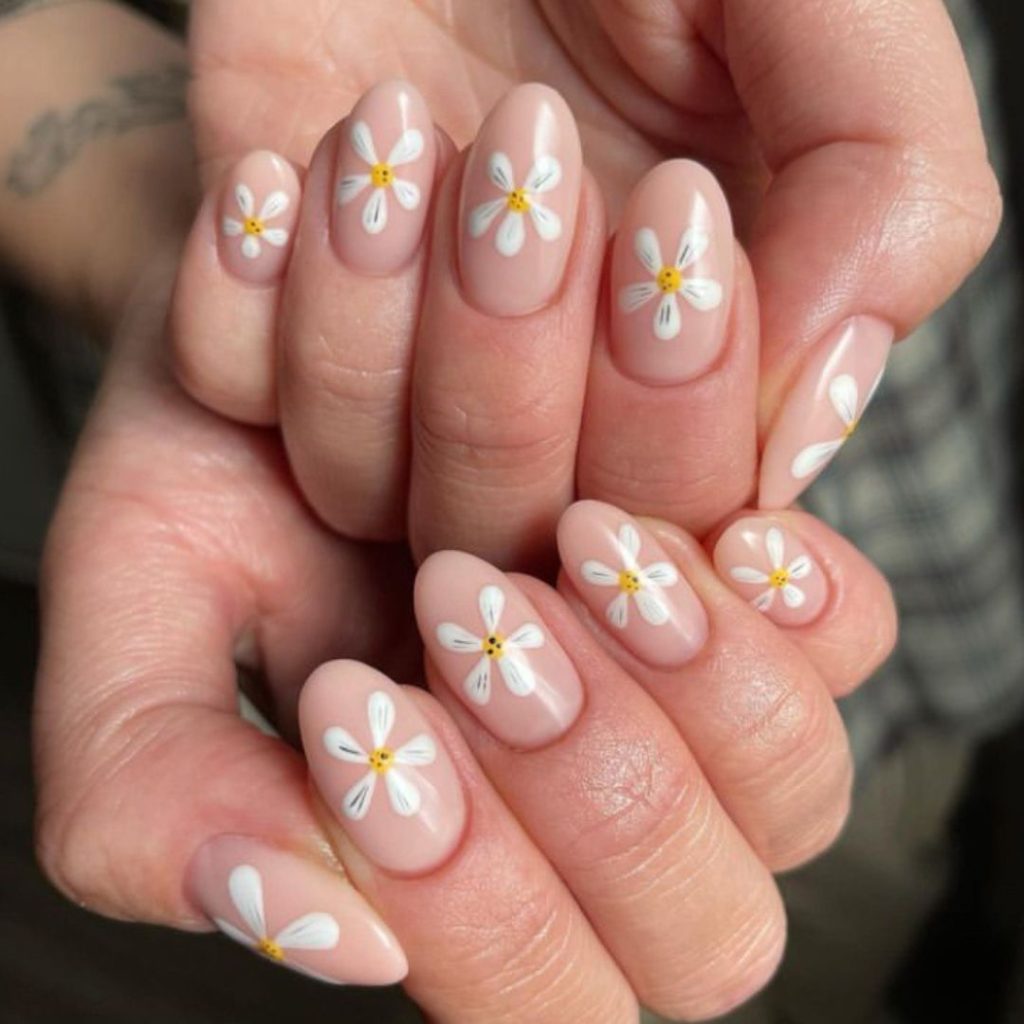 Love floral so much? How about big daises on a soft nude? Oh, you're gonna absolutely kill this look for the summer!
46. Jade Green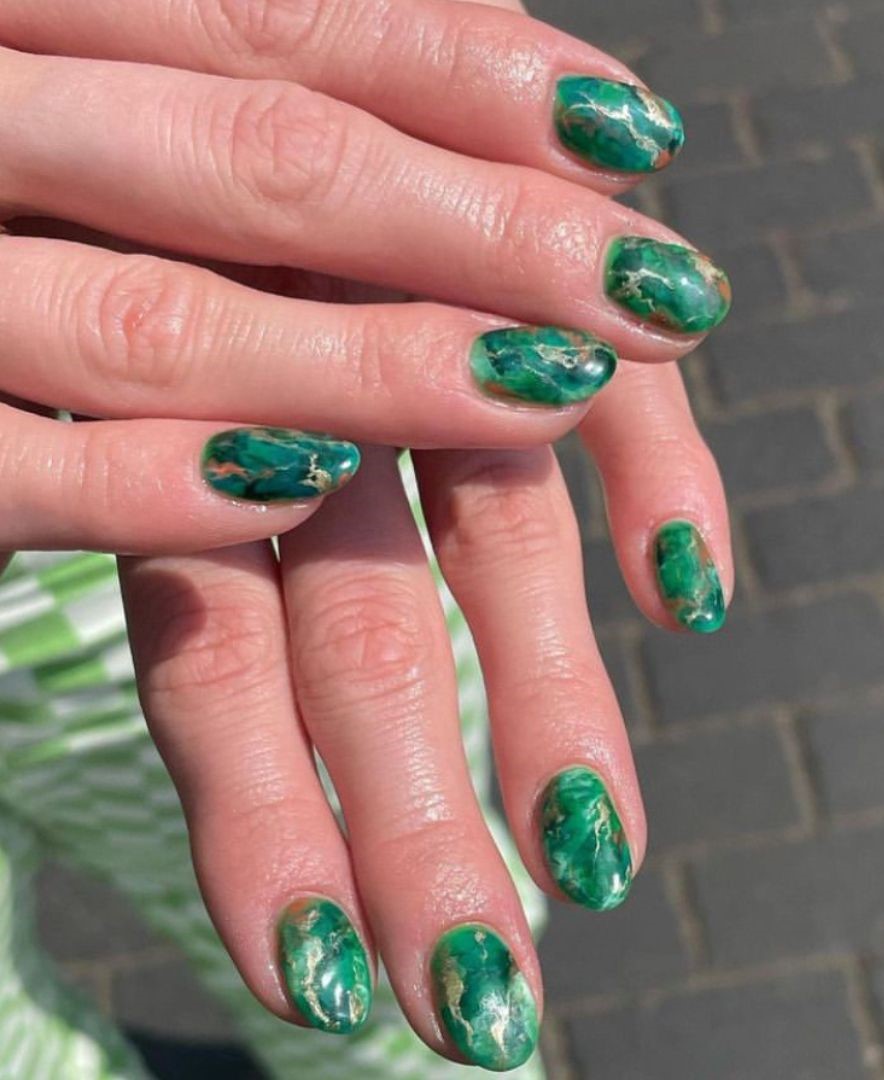 If you really want to commit to a nail art for a while, here is a badass jade green nail design that will take you from summer to autumn!
47. Heatwave Nails
48. Pool Daze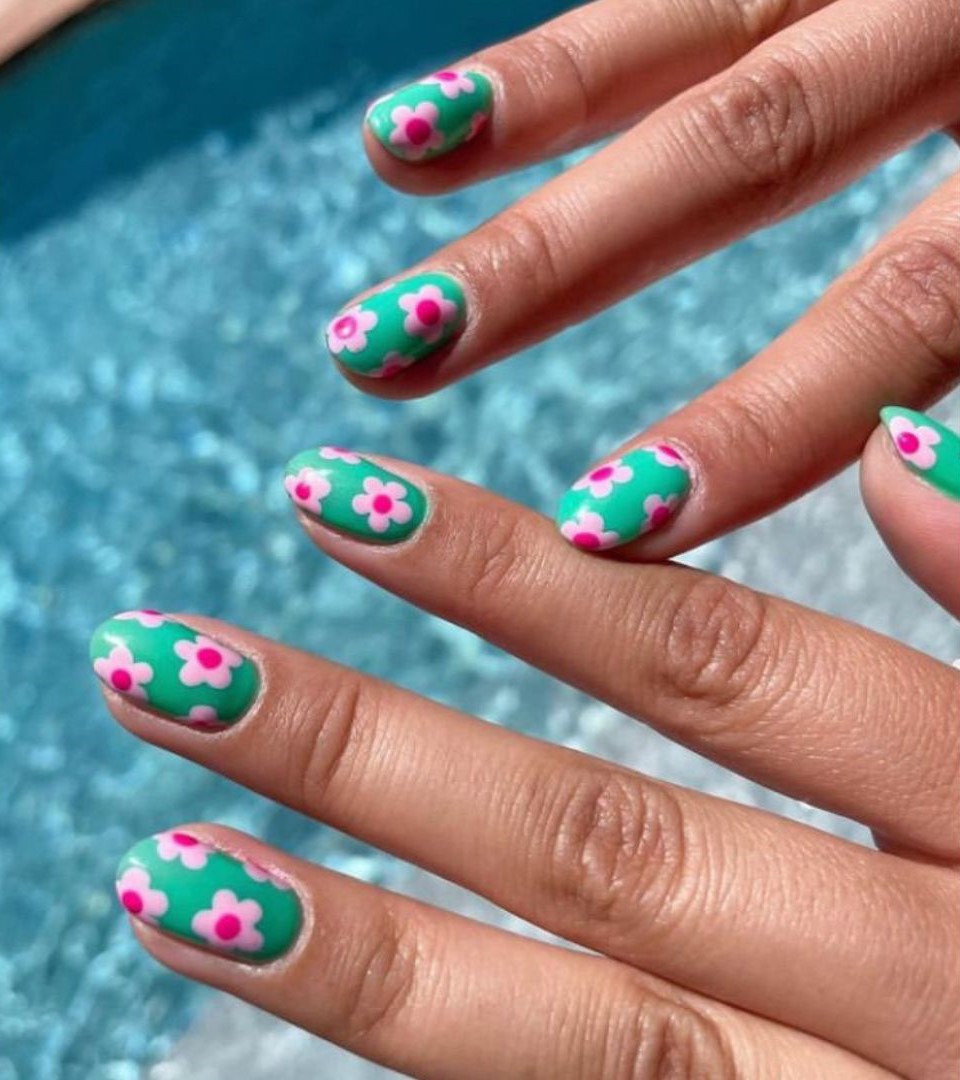 These beach nails make me want to take a dive into the water and soak in all the summer bliss.
49. Peachy Florals
50. Blue Water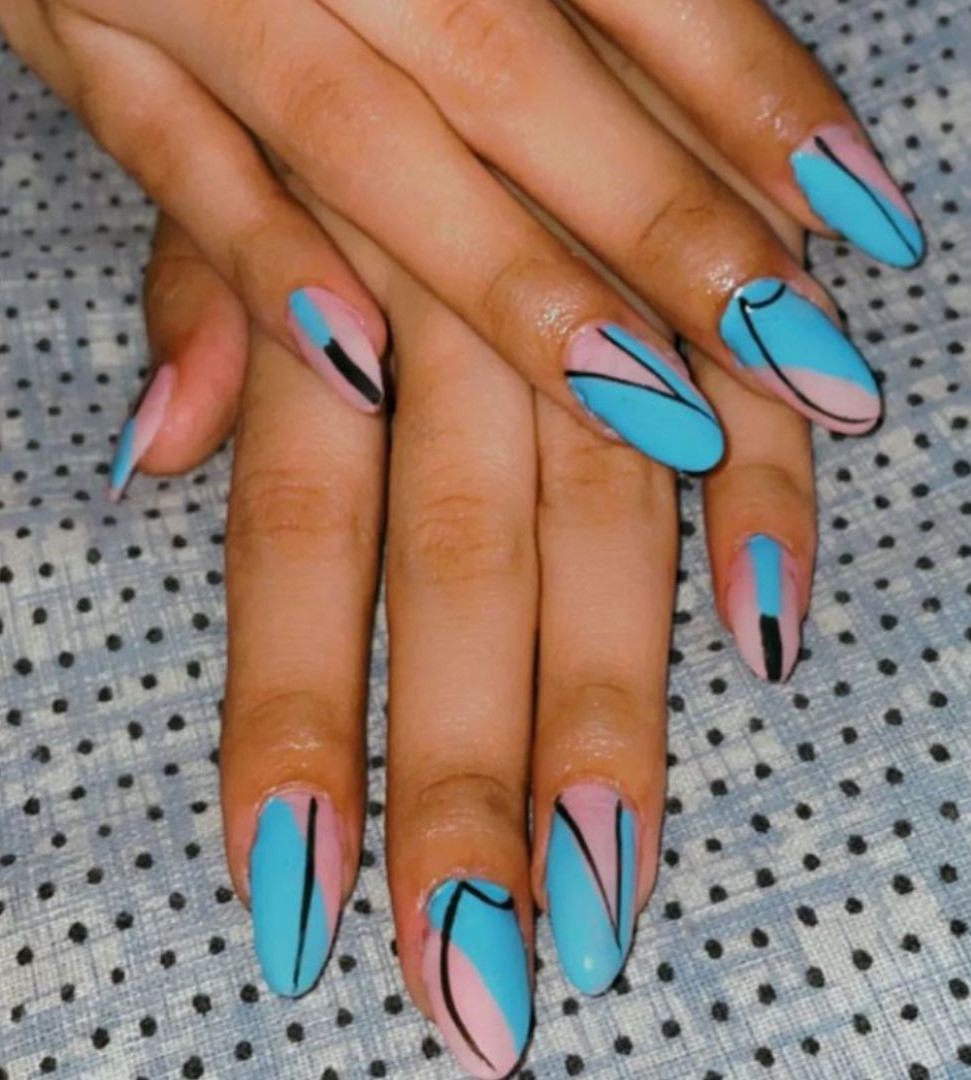 51. Tropical Nails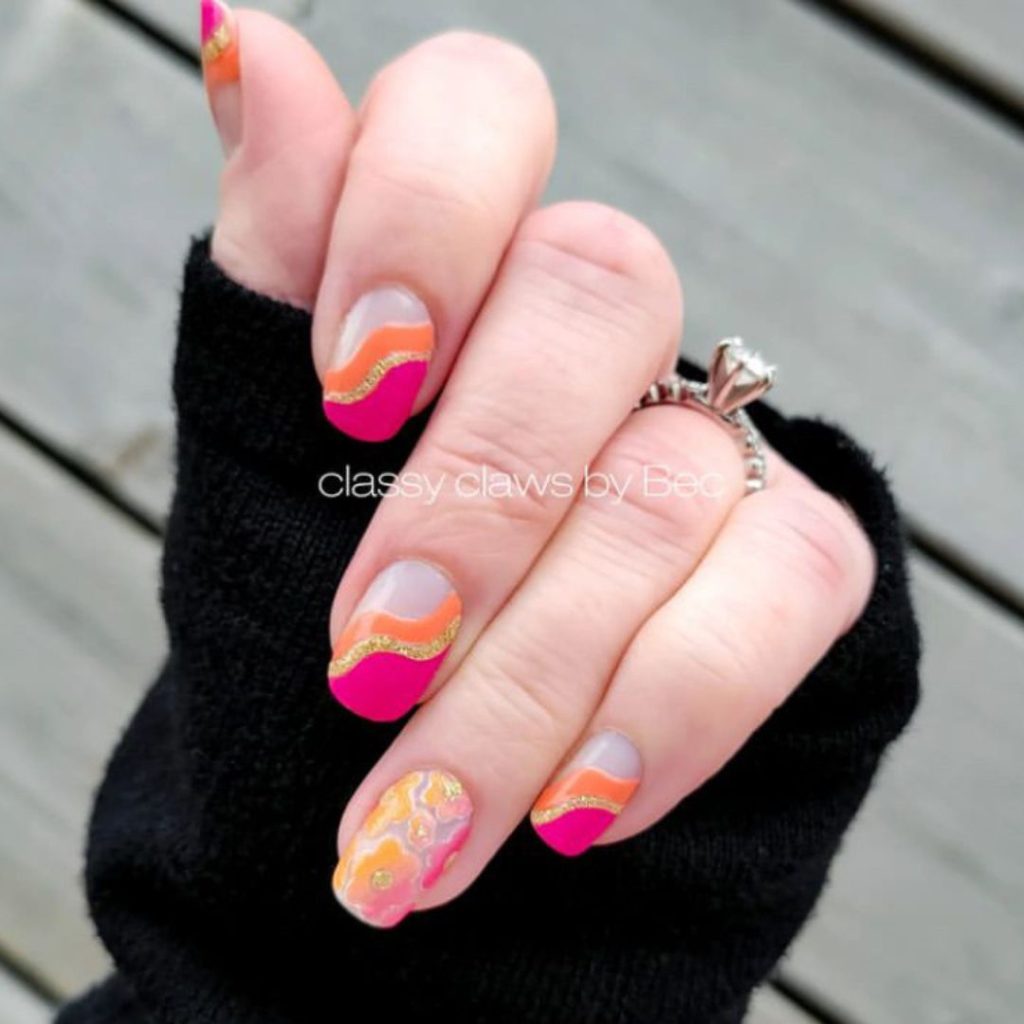 Nothing looks as good as the fresh lemonade on a new man for the summer. Don't you think?
52. Summer Look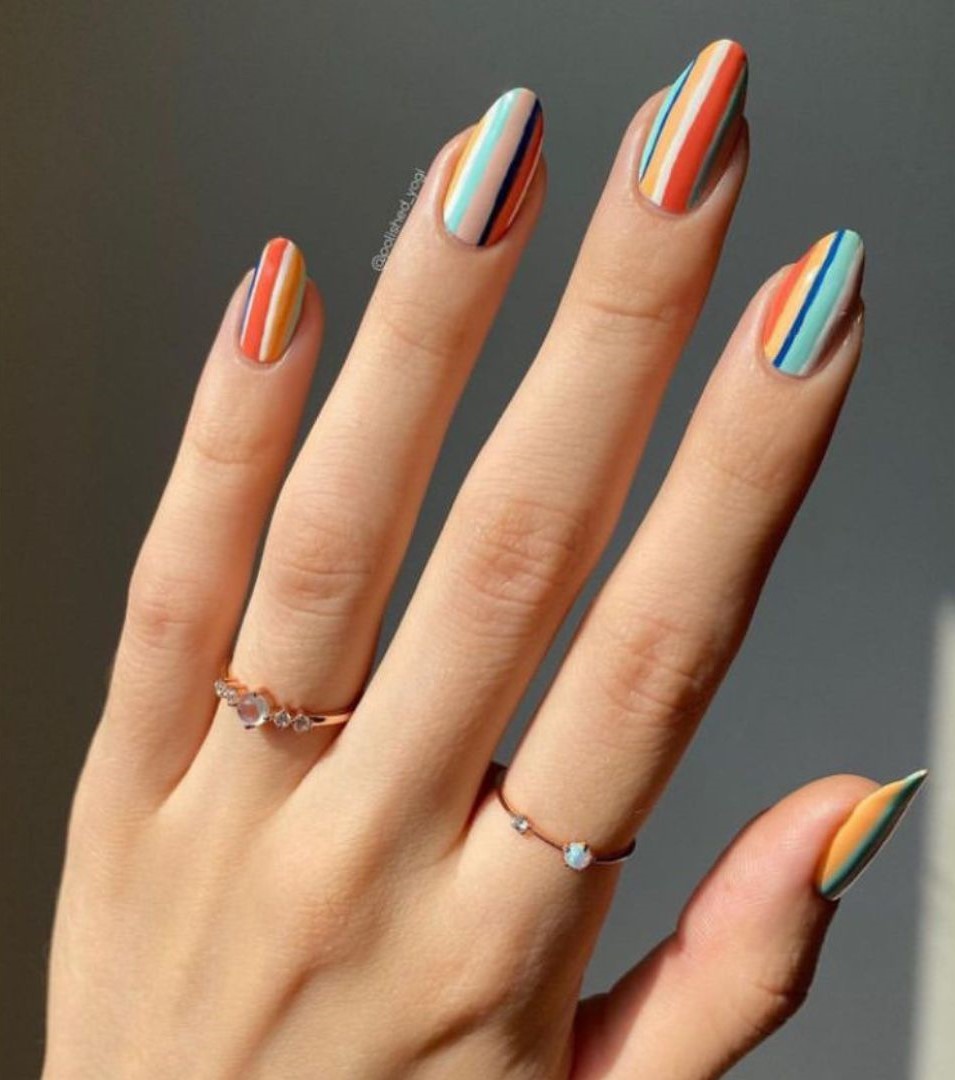 These are the best beach vacation nails 2023 that will take your holiday to the next level.
---
---