If you can't figure out what to get your man this Valentine, here are some of the most popular and unique Valentine's Day gifts for boyfriend he'll definitely fall in love with!
When Valentine's Day comes around, it can be SO hard to find a gift for your guy that is super thoughtful and shows just how much you care, but at the same time in a "non-cheesy" way. And we can all agree that is not the kind of headache we want, right? Right.
Well, to help you solve the gift-giving problem for the special day, I have listed 34 of the most popular, thoughtful, and even last-minute Valentine's Day gifts for him that any guy will look at and say "this is the coolest present everrr!"
So, no matter if it's your first Valentine's together or you're going on the third year, there is a gift in here that any guy will absolutely love.
From luxury presents to spoil him with, to low-cost gifts that are all the rage, these best and unique Valentine's Day gifts for boyfriend are guaranteed to impress!
UNIQUE VALENTINE'S DAY GIFTS FOR BOYFRIEND
1. Personalized Dock Station
Honestly, I think we can all agree any guy can benefit from this useful gift. This dock station has a ton of space to make sure all his things are kept in place and are super organized.
Plus, there's an option to customize it with his initials or name, so for just $35 this is a unique gift for him you can bet he'll love and use all the time!
2. Fossil Watch
Buying a watch for your boyfriend is always a fool-proof gift he will appreciate, no matter the occasion. There are a ton of places you can get fancy watches from, but I absolutely love Fossil because they have the best watches for men.
You can always count on them and they even allow you to engrave any watch free of cost. The best part? This watch is usually $130, but is on sale for $84 right now! It really can't get any better than this!
3. Lululemon Shorts
Lululemon literally never disappoints. Every guy I know is *obsessed* with these shorts. So you can't go wrong with getting him these new, lightweight, and much better shorts that have all the comfort he's looking for!
I'll admit they are pricey, but if you get one for him I'm telling ya, he'll basically be living in them!
4. Portable Mini Projector
Take his movie-night to the next level with this mini easy-to-use projector!
He can connect it to any device and display full-screen movies/tv shows on a blank wall. You just gave him the best gift ever and date night just got better!
5. Custom Vinyl Print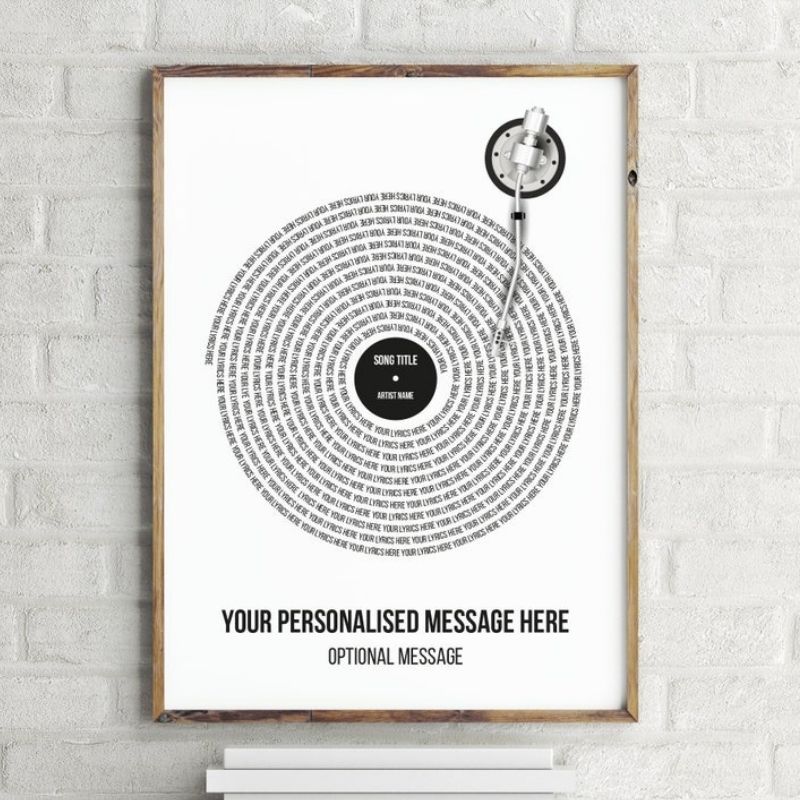 Looking for a simple sweet and romantic gift for him? This stunning custom vinyl print with a song close to you both is a lowkey and non-cheesy Valentine's Day gift for him that he will surely appreciate!
6. Ugg Slippers
Ugg slippers are a no-brainer. If he doesn't already have them, it's high time you introduce him to these amazing slippers that give the best level of comfort.
It's a perfect, luxurious gift that falls under the $100 budget, so you can buy this for him no matter how long you've been dating while also giving him something that feels expensive!
7. Personalized Pocket Knife
What is all the hype with guys and pocket knives? What do they even use it for? I don't know, but what I do know is that this is the best gift you can get for him.
Inscribe a personal message on this pocket knife and he will keep it with him forever!
8. Nike Hoodie
You seriously can't go wrong with buying a Nike hoodie for your boyfriend. Everything about their hoodie is great and something every guy wants.
This highly-rated Nike hoodie is a classic staple for his closet and will match any outfit. These are actually selling out super fast so I would highly recommend getting one for him ASAP!
9. Fire TV Stick
This fire tv stick is amazing and cannot be a better Valentine's Day gift. You can plug this device into your tv and watch an endless amount of tv shows and movies together anytime you want!
It's easy to set up and small enough to take anywhere with you so can always enjoy a perfect date with this.
RELATED: 25 Cheap Valentine's Day Gifts That Are Perfect To Give Your Loved Ones
10. Long Distance Touch Bracelet Set
If you and your boyfriend are in a long-distance relationship, this long-distance touch bracelet is the gift you should definitely buy for Valentine's Day!
Whenever you're thinking about him just touch the bracelet and the other one will light up and vibrate to let him know.
The bracelet is simple and cute and proves you can send each other love long-distance through a connected device. How cute!!
11. Engraved Leather Wallet
Let's admit it, he's been using the same old wallet that's almost falling apart, so it's time to get him a new one. This leather wallet has raving reviews on Etsy and is honestly the best!
Not only does it have a super sleek quality but you can also customize it with his initials on the front. For the low price, this is a gift he will be using for years to come!
12. Water Bottle With Storage
Ok, how cool is this? If your boyfriend is a gym freak this insulated water bottle is like two gifts in one! He can carry his drink in this bottle while also storing anything from AirPods, keys, and cards at the back.
On top of all that, it will keep his drinks ice-cold for 24 hours and hot for 14. Tell me if this isn't the coolest thing ever! You can 100% guarantee he will put this to good use.
13. Jerky Hearts
When I was searching for unique Valentine's Day gifts for boyfriend, I came across these jerky hearts and I think this can be such a great gift for any guy!
Skip the box of heart chocolates this year and just get him these beef jerkies in a heart-shaped box that tastes wayyy better and feeds off his obsession with meat.
14. Manscaped Grooming Kit
Ok, this made me laugh. Can there be a better time to get him this than on Valentine's Day? I think it will be so fun to gift this set to him as a joke and who knows.. he might even end up using it. 😜
This grooming kit comes with an electric trimmer, disposable shaving mats, spray toner, and a deodorant – it's the perfect Valentine's gift set for him!
15. Luxury Perfume
A luxury cologne is the perfect Valentine's Day gift for him you can never go wrong with. Plus, a cologne is something he always wants but never goes out and gets for himself, so it's the best time to spoil him with some really good branded perfume!
16. Sexy Truth Or Dare
Want to spice up your date nights? This sexy truth-or-dare game includes over 100 prompts that will add a fun spark to your relationship!
This is such a great gift when you want to know your partner on a deeper level. You both can have so much fun with this!
17. Portable Fire Pit Bowl
With this portable campfire, all he has to do is spark a flame with a match and enjoy up to three hours of burn time anywhere he wants!
18. Scratch Off World Map
If your boyfriend is a travel enthusiast, he will LOVE this gift. This scratch poster will not only allow him to show off all the places he's been to, but it also acts as such a cool decor for his place.
Also, with the help of this map, he can plan new destinations for both of you to visit together ;).
19. Skincare Set
Every guy deserves to be spoiled. Pamper your boyfriend this Valentine's Day by getting him this amazing shower set that will be perfect for his skin.
Necessaire has the best skin care products that suit every skin type, so you can always trust them. He might never go out and buy this for himself, so do him a favor and set him on the right track with this!
20. Custom Photo Keychain
Something about giving a personalized keychain to your loved ones can never be topped by anything better. This gift is a cute, romantic, and non-cheesy Valentine's Day gift for him he actually won't be embarrassed about!
You can personalize this keychain with both your initials and even a photo of your choice inside, so he can always have a sweet reminder of the two of you with this!
21. Custom Football Book
I know almost every boyfriend is a HUGE football fan, so here is a swoon-worthy Valentine's Day gift for him that will feed all of his years of obsession.
This custom football book includes everything he needs to know about his favorite NFL team I know he will be super excited to read about.
22. Vintage Speaker
This speaker has that vintage look that everyone has been SO obsessed with lately. It produces amazing sound quality, and connects to Spotify, Youtube, etc., which makes it worth its price!
23. Robe
Your boyfriend deserves to feel expensive. Give him the gift of ultimate relaxation through this super plush bathrobe that has been a cult favorite for years.
This classic robe is made with Turkish cotton and is functional for everyday wear with two deep pockets in front and a cozy shawl collar.
He'll be wrapped in this all through the morning to the night just because of how soft it is!
24. Grilled Personal Pizza Maker
Okay, WOW. If you are looking for unique Valentine's Day gifts for boyfriend, this is a gift you absolutely can't go wrong with. Who wouldn't enjoy having their own personal pizza maker that will help them whip out the best, crust-worthy pizza anytime they crave it?
This is such a fun and original gift for any guy, even those who say they "don't need anything". You just know he will be fascinated by this!
RELATED: 28 Cheap Galentine's Day Gifts That Are Adorably Cute To Give Your Gifts
25. Massage Gun
For all the guys out there that constantly complain about how sore their muscles are from a long day of work or school, gift them this muscle massager gun that will bring them instant relief and cure all of their sore muscles!
This muscle massager gun also comes with 10 different massage heads that work wonders in soothing every part of the body. It's the perfect gift for him he can take to the gym or even at work!
26. Sill Plant
Guys appreciate flowers and plants too, right? He may never say it but deep down you know he will love this gift. And the idea of giving your partner a cute pot on Valentine's Day that they can nourish forever just seems like the perfect gift.
The Sill has such a great collection of aesthetically pleasing pots that actually look good when displayed, so you can choose from a variety of them!
27. Noise-Cancelling Headphones
Anything with wires is just not it anymore. So, if your boyfriend is a fitness fanatic, get him these noise-canceling headphones that he can wear to the gym or during his morning runs.
He can also pick up calls with these or use them for gaming so they're perfect for literally any guy!
28. Cut To Size Reversible Belt
A nice belt is something every guy should have for any occasion but giving just a simple belt as a gift can be pretty basic and boring.
This reversible belt from Coach is the best out there and comes packed in this amazing Coach gift box that he will surely be impressed with and absolutely love.
Now you can ensure he has a nice dress belt in his wardrobe while also giving him something that feels luxurious!
29. Adventure Essential Survival Kit
This "flashlight" actually comes with all the essential safety supplies inside like the first aid kit, compass, wire saw, and waterproof matches, so he never had to worry about packing anything!
This is the perfect, handy gift for the adventurous guy to keep in his car at all times. It's compact, sleek, and super helpful!
30. Book A Couples Massage
If you want to do something special with your boyfriend together on Valentine's Day, how about booking a couples massage for the two of you?
This can be a great surprise for him since he might have never thought of doing something like this for himself in the first place. It's a sweet, thoughtful gift he will definitely appreciate doing with you!
31. Water-Repellent Puffer Jacket
A stylish puffer jacket can be such a great gift for your boyfriend especially if you live somewhere cold. Plus, this is something that you can totally steal from him later on 😉.
H&M always has the best clothing for guys and he will love this jacket because it will keep him warm and comfy for the weather, while also being a classic for everyday streetwear!
32. Weighted Blanket
Weighted blankets are SO heavily raved about for reducing stress and getting better sleep which we can agree almost any guy can benefit from after a long day.
Some people even say this blanket feels like a big warm hug and I can think of no better gift to give your boyfriend this Valentine's Day.
33. AirPod Case
If he got AirPods for Christmas then add up to that gift and make his babies feel more secure and protected by getting him a leather AirPod case!
If you want to go the extra mile and make sure he never loses them, you can emboss his initials on this case for an extra $12. Either way, this is a great gift he'll use all the time!
RELATED: The 18 DIY Valentine's Day Gift Basket Ideas For Him That Are Literally Made Out Of Love
34. Personalized Weekender Bag
Chances are he's been using his old bag for the gym, traveling, and weekend trips. This Valentine's Day surprise him with a stylish and spacious duffel bag that he will be super excited about.
It comes with multiple pockets and is the perfect size for him to store all his travel essentials.
Plus, you can engrave this bag with his initials to make it something more special and personalized!
---
These were all the best and most unique Valentine's Day gifts for boyfriend that he will absolutely love and use all the time.
More Valentine's Day Gifts Posts:
---