These are the very best Galentine's Day ideas to celebrate your friendship with!
There's Valentine's Day where you spend the lovely holiday with your partner, and then there's a day before that called the ✨Galentine's Day✨ which is all about you and your best friends – aka the only day that matters. 😉
So, if you are here to make sure you get to experience the best of the best Feb 13th with all your girls together, look no further, because I have listed some of the impressive Galentine's Day ideas that will surely not disappoint!
Ahead, you'll find all sorts of cute decorations, party ideas, and charcuterie boards that will help you create a day worth remembering! You'll absolutely adore these ideas!
GALENTINE'S DAY IDEAS
1. Get Massive Balloons
Recreate this decor:
Massive balloons are an absolute must at any party no matter what, so if you haven't thought of having some at yours, here is your reminder!
These XOXO balloons are super cute and I love them. Not only do they make for great decoration, but they also come in handy for all those fun party pictures!
2. Make A Charcuterie Board
Charcuterie boards are SO fun to make with a group of people, so this is definitely something you can do with your friends together!! Since it's Galentine's Day, make a board filled with all the festive pink and red sweets.
Imagine how good this would look once everything comes together! I can think of so, so many delicious things to add to this.
3. Serve Drinks
Recreate this idea:
Pink drinks for Galentine's Day? Umm.. yes to this idea. There's nothing like sipping onto a good drink and having fun with friends.
This cranberry-cherry drink has been a huge hit for parties, so you can guarantee everyone will absolutely love it. Click on the pin for the recipe!
RELATED POSTS:
4. Have A Donut Bar
Recreate this idea:
Who doesn't like donuts?! Donut bars are that one thing that literally never disappoints because everyone loves them.
You can get a donut stand for just under $20 on Amazon, which is pretty inexpensive and easy to set up in my opinion. I would LOVE to have one of these at my party!
5. Create A Heart-Shaped Balloon Wall
Recreate this idea:
This balloon photo booth idea is genius!! The balloon wall looks so fun and festive, it's super easy to put together too! Just order some heart-shaped balloons and line them on an empty wall.
It's easy, cute and I just know this is one of the best Galentine's Day ideas that will bring out some fun insta photos!
6. Have Fun Waffles For Brunch Party
Recreate this idea:
Heart-shaped waffles are a necessity on Galentine's Day, okay? There's truly something special about having them at this time of the year. If you're planning for a cute brunch party with the girls, this is the best option to use!
7. Hang Paper Heart Garlands As Decoration
Recreate this idea:
Okay, this is such an easy DIY decor you can use at your party! It doesn't require much effort and is totally worth it!
Simply make paper hearts and hang them as garlands anywhere and you'll be having a cute space in no time! So simple yet so cute.
8. Make A Photo Booth
Recreate this photo booth:
Here is another idea for a photo booth that definitely deserves a spot on your feed! Hang a wide pink roll covering the stand with some statement balloons around (duh), and you'll have the very best photo booth to take all your pictures!
9. Do A Fun Activity Together
Recreate this idea:
Galentine's Day is all about coming together with your girls and having a great time. Whether it is just simply putting on face masks, or doing something fun, you can't deny it's not the best time you've spent!
The idea of painting together can be so fun, especially if it's outdoors! Everyone can bring out their artistic skills and roll with them. 😉
10. Hang Pink Tassel Garland
Recreate this decor: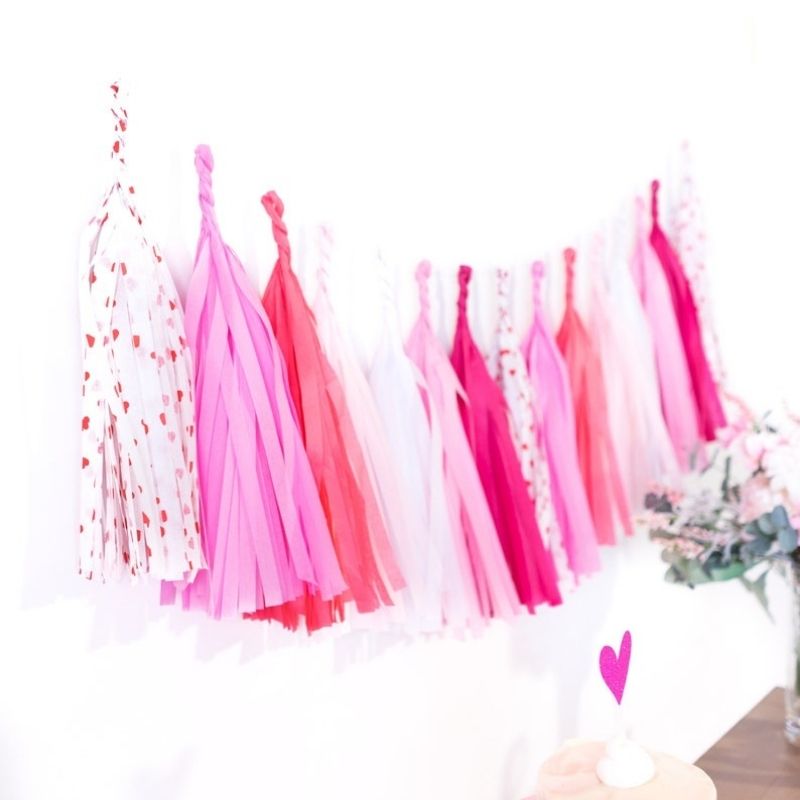 Tassels can easily be moved around anywhere and removed without any hassle, so it definitely makes them one of the best party decorations.
This pink tassel is a cute addition and you can have this around the dessert table or the photo booth. No matter where, you can always count on them to make for a great decoration piece!
11. Decorate Your Bar Cart
Recreate this decor:
How cute!! If you have a bar cart you want to decorate for Galentine's Day, here is just the inspo you need!
This bar cart is a true beauty and I'm obsessed with everything included. I have linked all the cute items above, but you can go for anything you like; from candles, drinks, and glasses to dessert, flowers, etc. A ton of great options!
---
These were the best Galentine's Day ideas to spend the best day with your friends.
More Valentine's Day Posts:
---