Looking for some creepy yet cute Halloween nails? You need to see these insanely easy Halloween nail designs that are sure to capture your attention.
Welcome to the greatest time of the year for nail art… SPOOKY SZN 👻. It's time to paint your fingernails all things scary and bloody to really set the mood.
Because what can be better than stunning nail art to top off the hottest Halloween costume that you're gonna slay this year?
If you're on the hunt for spooky yet devilishly cute Halloween nails, look no further because these easy Halloween nail arts will definitely make heads turn!
Keep scrolling for spooky spider webs, adorable ghost nails, pumpkin tips, bloody nails and SO much more.
Basically, creative DIY Halloween nail arts soo frightfully easy, you'll start celebrating Halloween a few days early!
CUTE HALLOWEEN NAILS
1. Comme Des Garcons Devil Horns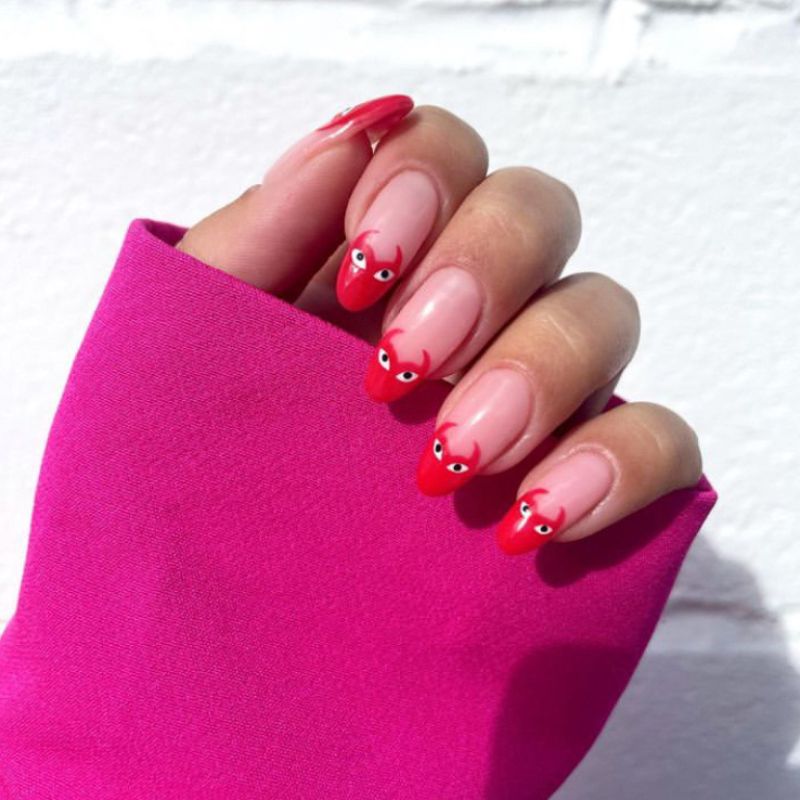 How cute are these little devil horns?! I'm in love with Comme Des Garcons' nail designs, but this Halloween twist on them is so cute and spooky!
2. Spooky French Tips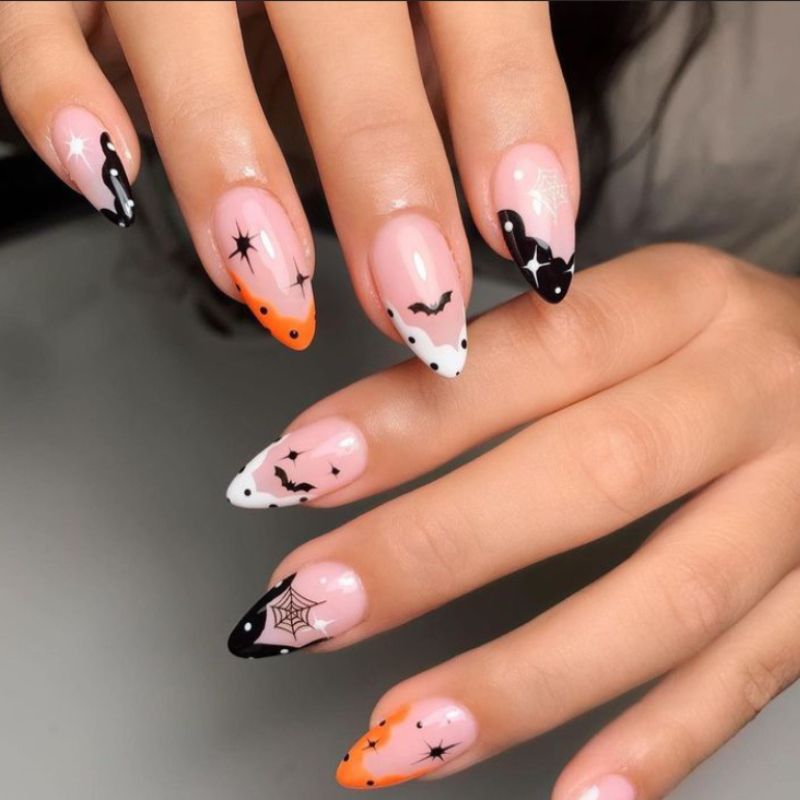 If you love a good French manicure, this nail design is for you. Try different Halloween accents on the tips for a versatile set that'll go with any costume!
3. Sparkly Spiderwebs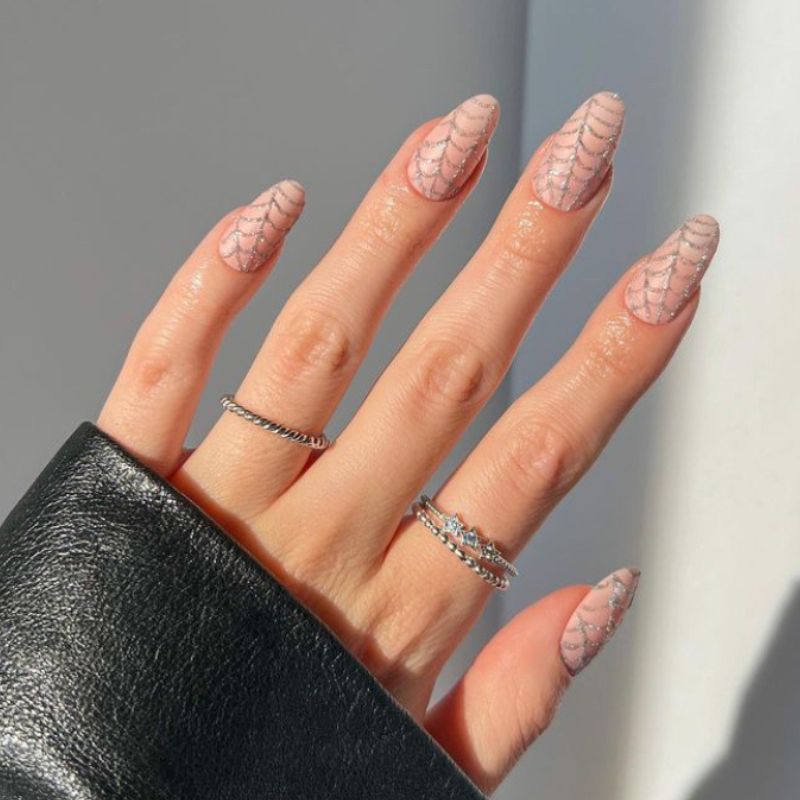 These are the Halloween nails Zendaya would wear to a Spider-man premiere! The reflective spiderwebs look so simple yet captivating, I'm obsessed.
4. Bloody Drips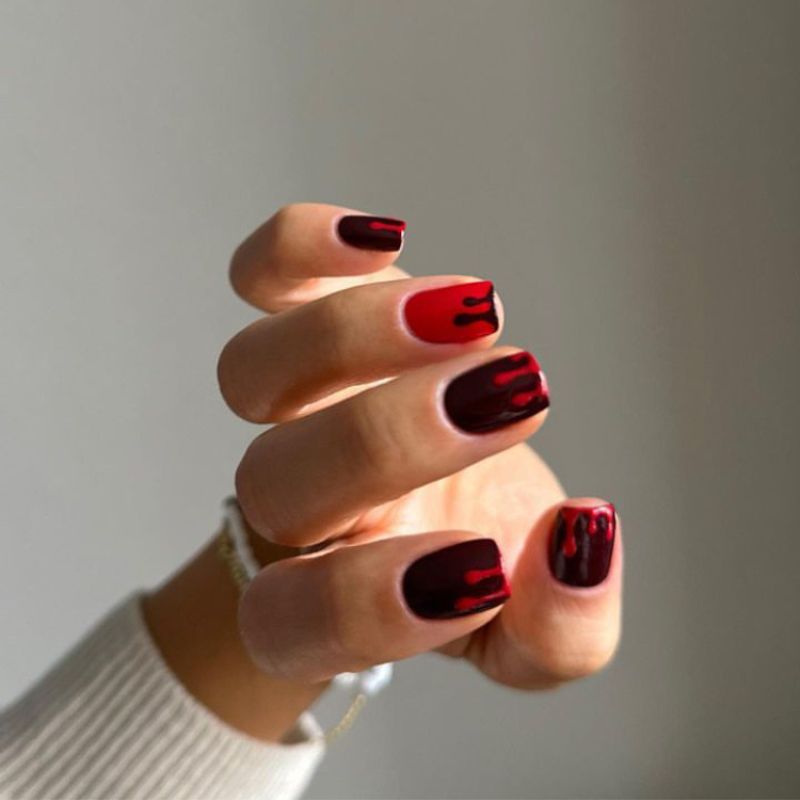 Nothing like bloody nails for Halloween to spook up the night. The blood drips from the fingertips actually look so real and freaky.
5. Cute Hallow Eves Nails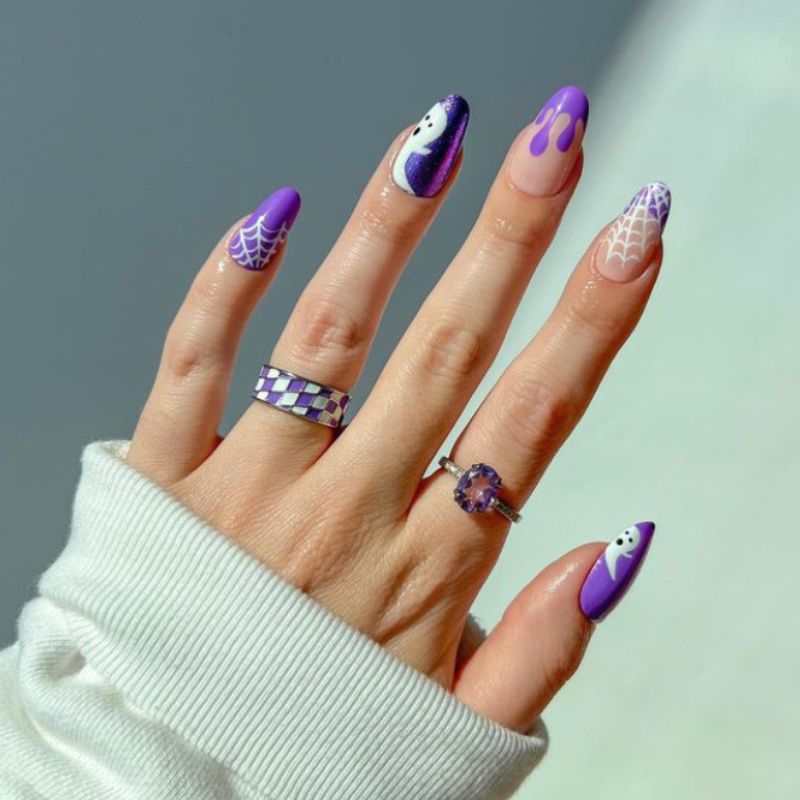 And if you're feeling a bit groovy this Halloween, here is the perfect nail art to recreate. These adorable Halloween accents are too cute to spook yet still promising for a fun night!
6. Scary Eyeballs
These scary eyeballs around the cuticles are soo creative. One of the easy Halloween nail designs that you can very easily DIY at home.
7. Spooky Halloween Nails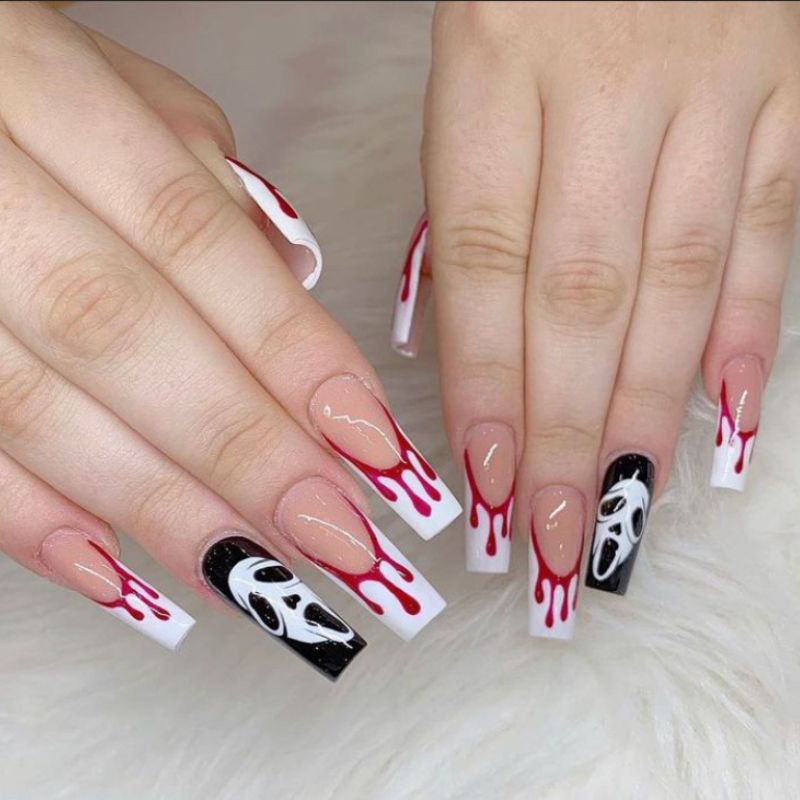 Another spooky Halloween nail art that is here to capture your attention. I love how bold and interesting this nail design is. 10/10 recommend!
8. Orange and Black Nails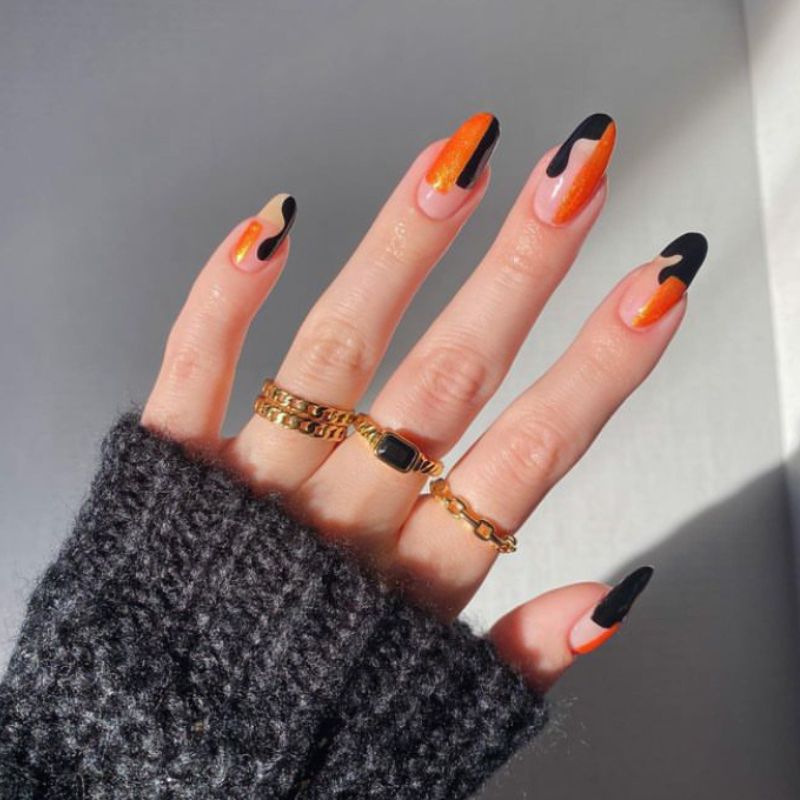 Black and orange nails for Halloween are a classic, but this abstract design is all the rage right now. It's screaming Halloween in the simplest way possible while also being super festive for the holiday!
9. Mix n Match Tips
Mix n match tips as fun Halloween nails? Oh yes! Look at these gorgeous beauties that are dying to be picked for the trick and treat season.
10. Cruella Nails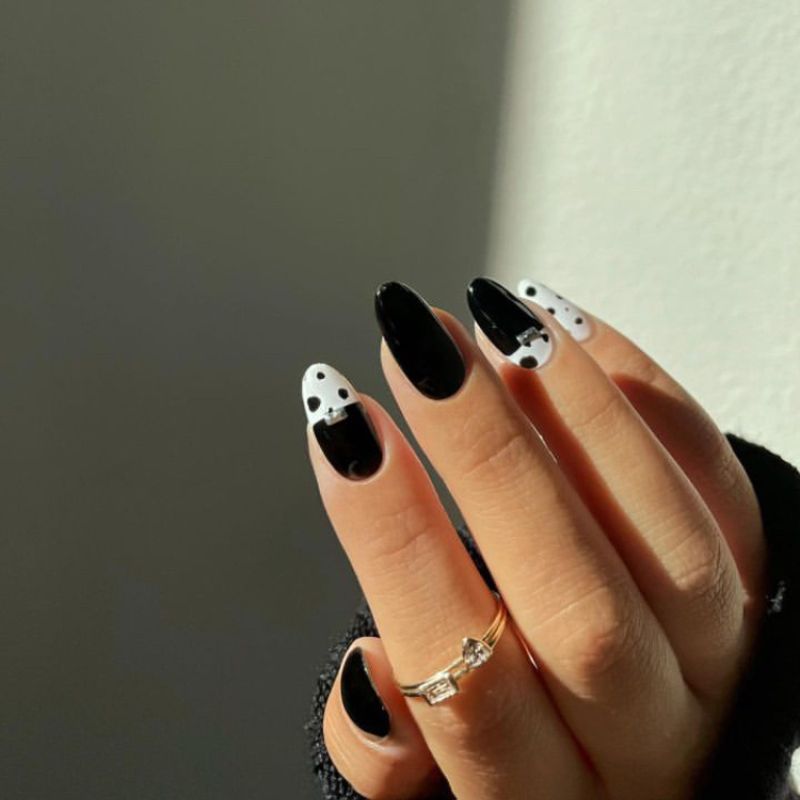 Oh my god, if you know Creulla, you know these nails are just as spooky as they are cute.
11. Spooky Black Flames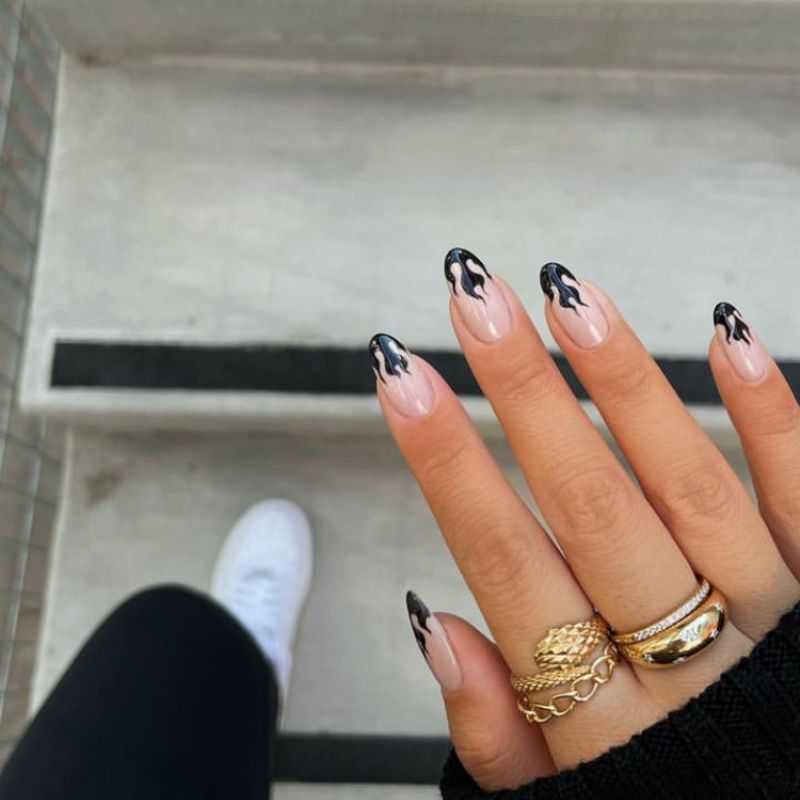 Spice up your Halloween nails with these hottest and most daring black flames that are sure to turn heads.
12. Adorable Ghost Nails
How freaking cute are these ghost nails? I seriously can't get over them. If this is what cute Halloween nails are gonna look like, I'm here for it.
13. Galaxy Nails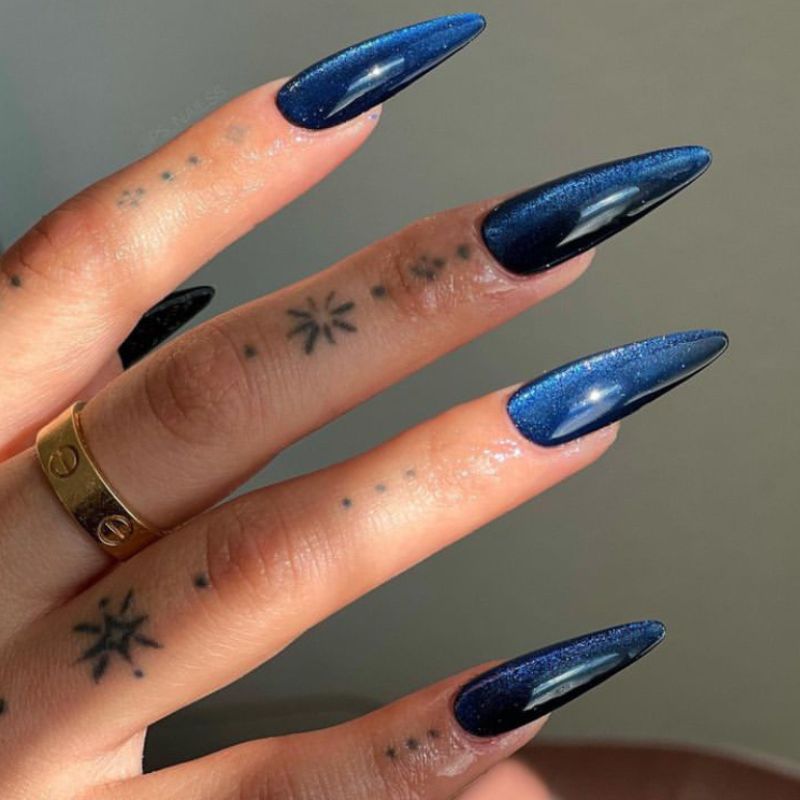 Not your usual Halloween nails, but the long almond shape is giving me evil witch vibes and I love it! So stunning and freaky.
14. Pumpkin Tips
Soo obsessed with these pink pumpkins for Halloween nail art inspo. I mean, seriously, you can't go wrong with these pumpkin tips. They're easy, vibrant, AND jaw-droppingly cute.
15. Cute Goth Nails
For all my goth queens, here are the most gorgeous nails to rock this season. Just look how they have a bit of everything but still nothing is too overpowering. LOVE it.
16. Disney Halloween Nails
Going on a fun trip to Disney this Halloween season? Here's the perfect nail design that's sure to swoon everyone! The detail on these cute spooky nails is so impressive, I want these on my hands. Like right now.
17. Frankenstein Stitches
Keep your nails minimal yet still Halloween-appropriate with these Frankenstein inspired stitches! I swear, babe, these look so elegant and spooky at the same time.
18. Black Eye Nails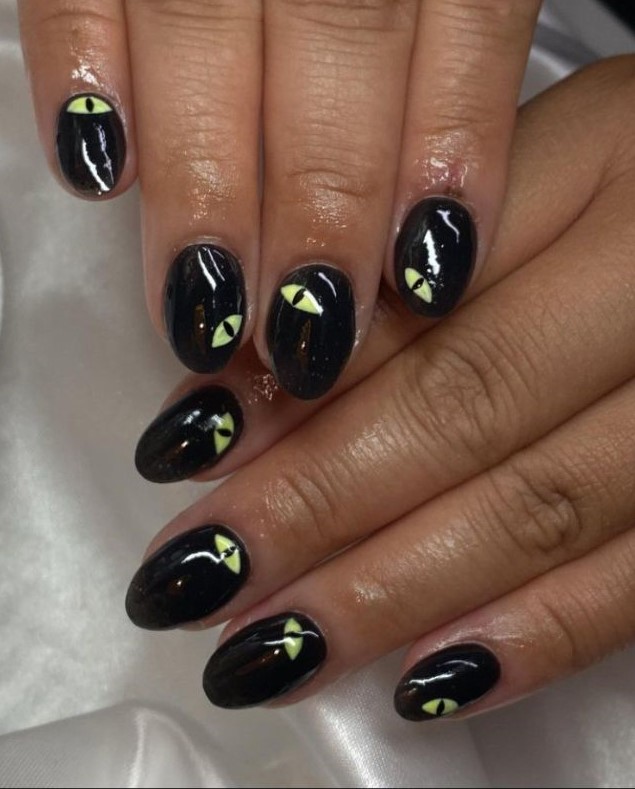 Give your black polish a creepy-cool update by adding eye doodles. It's a subtle hint of Halloween without being over the top.
19. Pink Spider Webs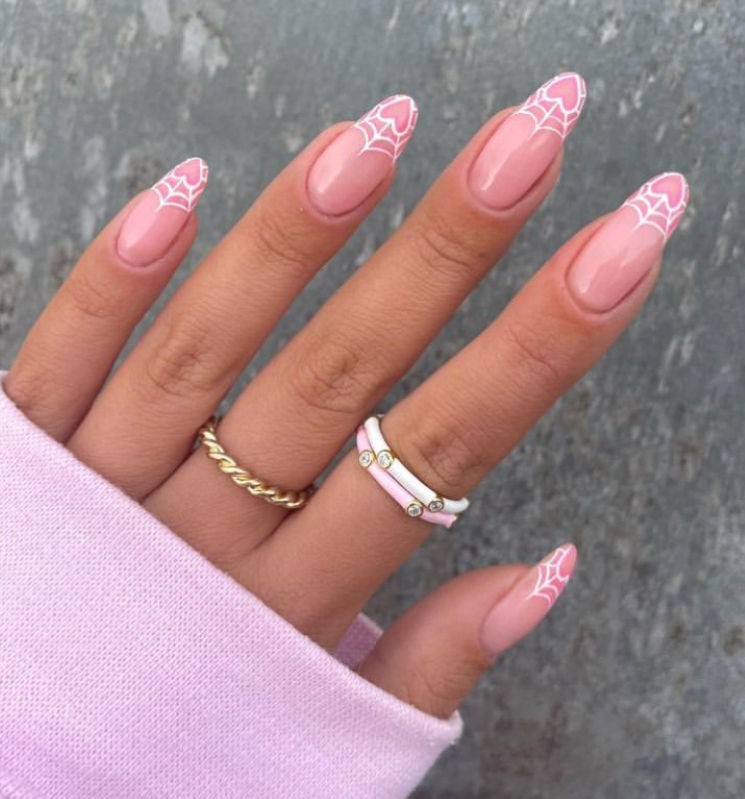 Girly vibes, but make it spooky. If you love pink nails, this nail art is everything you need. It's so chic and understated for the season.
20. Cute Halloween Nails
To really bring the Halloween abstracts to life, keep your nails bare for the full spooky effect.
21. Bat Frenchies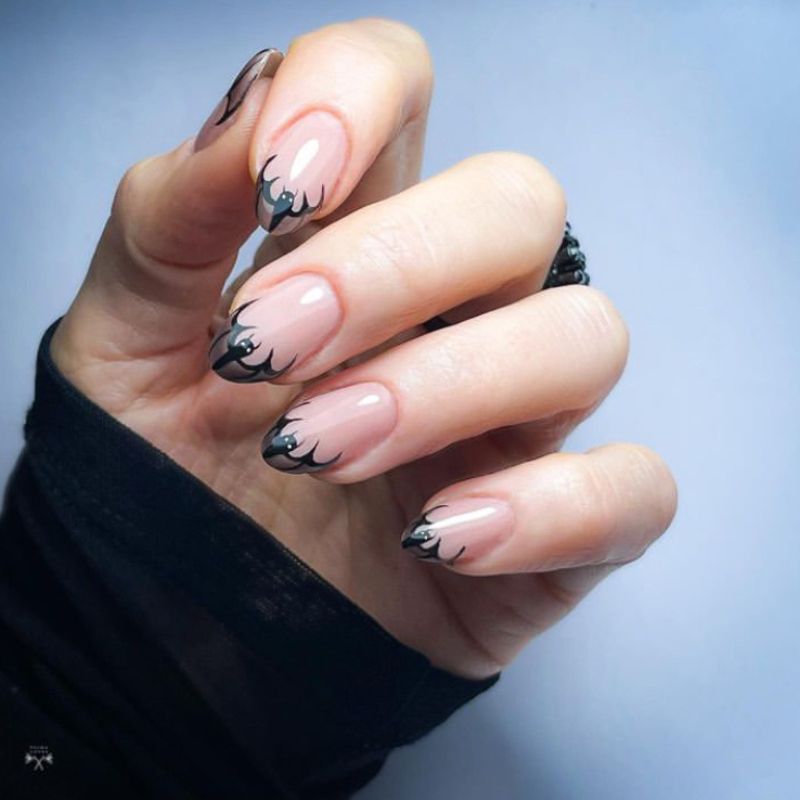 Wow. These have to be the best Halloween Frenchies I've ever seen. Who knew bat nails can be so creative?
22. Spooky Season Doodles
Not to be dramatic or anything, but I'm OBSESSED with these Halloween doodles. The super bright pumpkin and the eerie ghost stole my heart. So freakin' cute and spooky!
23. Glittery Green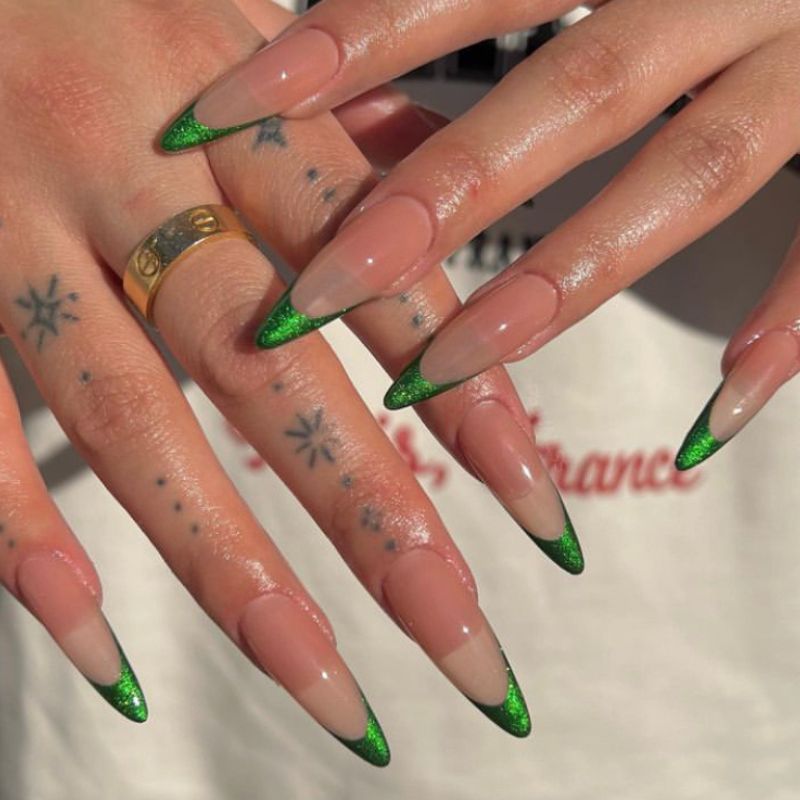 24. Creepy Skeleton Bones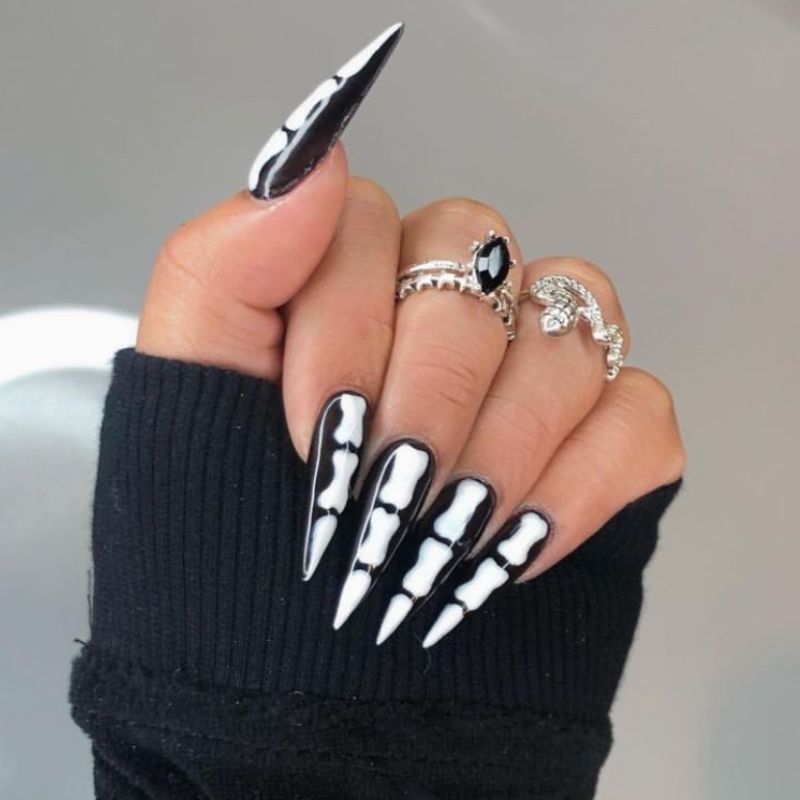 Omg. these creepy skeleton bones are soo fun and add the perfect amount of spunk to your fingernails. If you're looking for something unique and eye-catching, you have to get these!
25. Cute Pumpkin Abstracts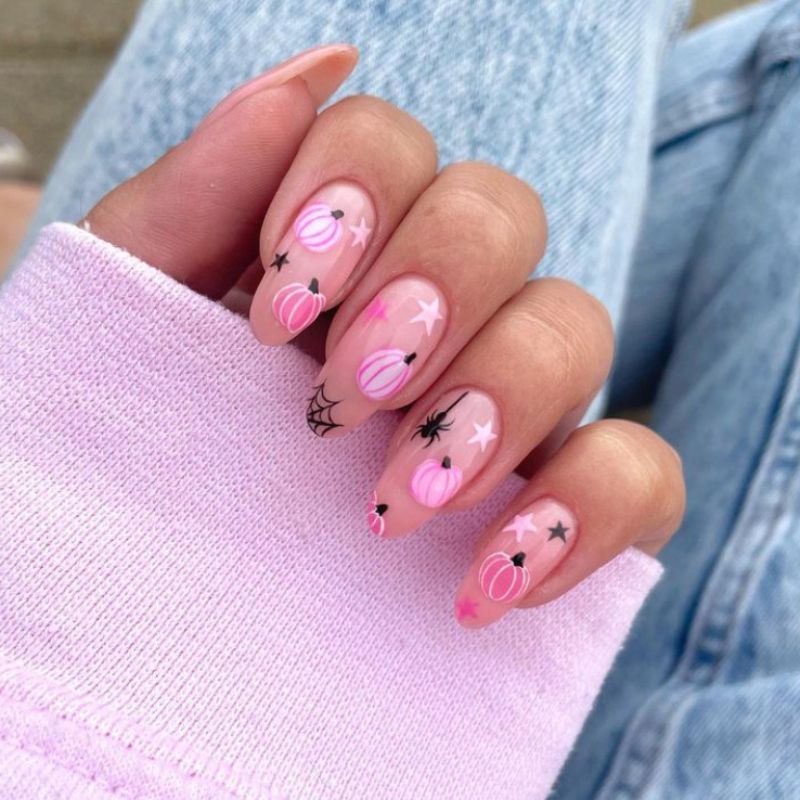 26. Bloody Drip Nails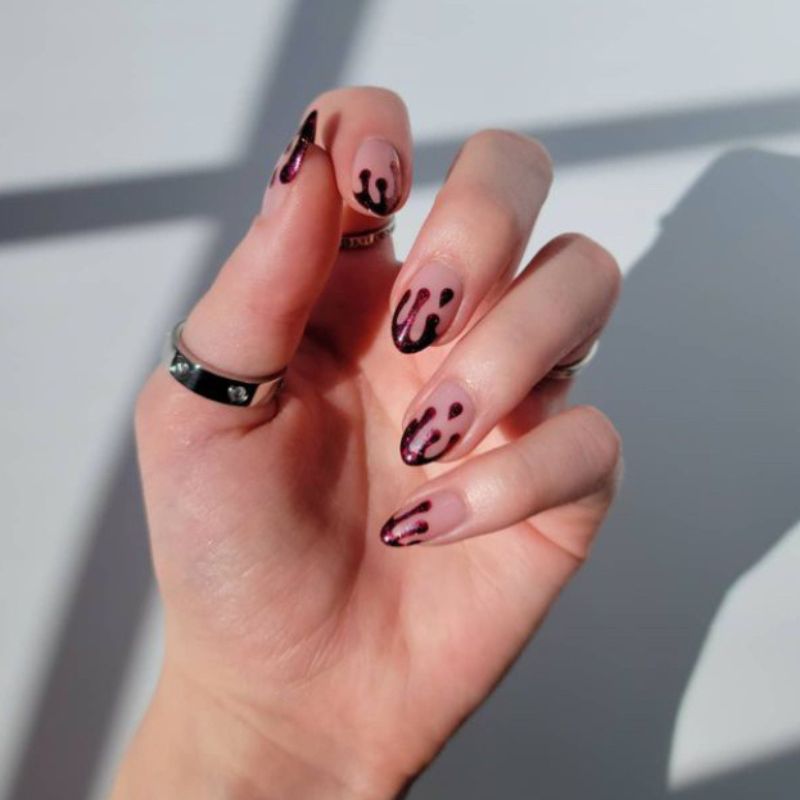 27. Cute Spooky Nails
---
These are the easy and cute Halloween nails you'll want to recreate.
---