If you are looking for smoothie recipes that taste good AND help you lose weight, then look no further.
Below are 7 healthy smoothie recipes that will do just that.
Related: 9 Healthy Snacks To Munch Guilt-Free
Healthy smoothies have various benefits and having them in your diet leads to a healthier lifestyle. They are easy to make, tastes just right, and fills you up for the rest of the day.
It is preferred to include them in your breakfast meal as they are packed with nutrients – which we need to kick start our day. Plus, they help boost your immune system.
Tip: When it comes to making smoothies with fruits, always go for unsweetened frozen fruits as they contain little to no sugar and gives that amazing texture of a perfect smoothie.
Which smoothies are considered healthy?
Smoothies that are low in sugar and high in protein, fiber, and healthy fats are ones considered healthy.
If not careful with the sugar levels then it can sabotage your healthy smoothie and stop you from losing weight.
As a result, instead of sweetened liquids like milk and juice, opt for coconut water, ice, or unsweetened almond or soy milk.
Secret tip for sweet tooth lovers: Instead of adding sweet ingredients like honey and sugar to your smoothie, opt for cinnamon powder as it is loaded with antioxidants and anti-inflammatory properties. Hence, a win-win! 😉
7 Best Smoothies That Help With Weight-Loss
1. Green Smoothie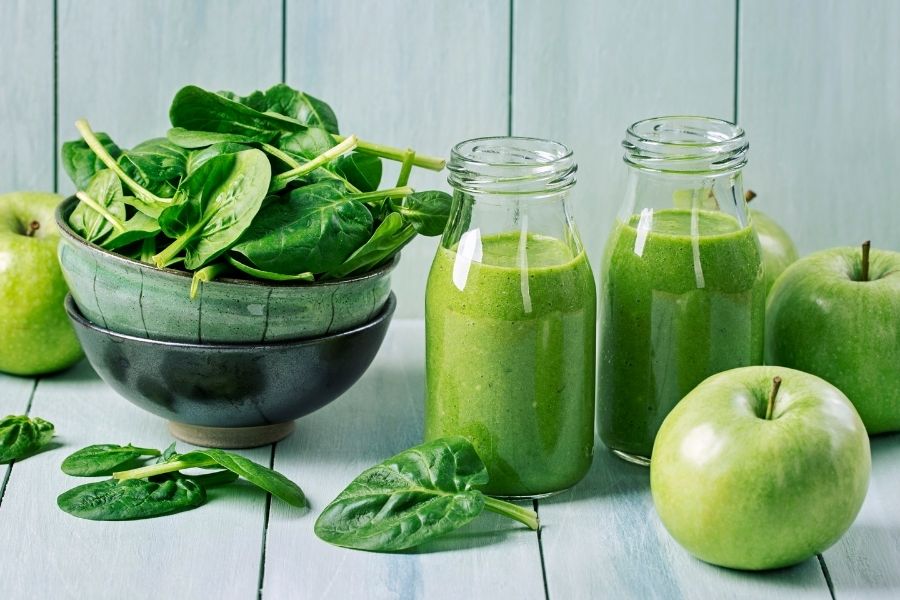 Green smoothies have various benefits and contribute majorly to weight loss. That is because they contain leafy greens which are high in fiber and a rich source of vitamins and minerals.
Perfect to have in the morning during your breakfast as they taste delicious and fills you up just right for the day. And this smoothie recipe is exactly all that!
Ingredients:
1 cup of unsweetened frozen fruit (banana or mixed berries)
1 cup of fresh greens (spinach or kale)
1 cup of coconut water or unsweetened almond/soy milk
1/2 tablespoon of organic ground seeds (flax, chia, etc.)
2. Blueberry Smoothie
Blueberries are low in calories and fat, and high in fiber. Moreover, they are good for the heart so having them in a smoothie along with other nutrients promotes a healthier lifestyle.
Ingredients
1 cup of frozen unsweetened blueberries
1 cup of unsweetened almond milk
1 tablespoon of organic flaxseeds
Ps. if you love healthy smoothies, you'll definitely enjoy healthy breakfasts. Check out my post on 13 Yummy & Healthy Breakfast Ideas Anyone Can Make!
3. Peanut Butter Banana Smoothie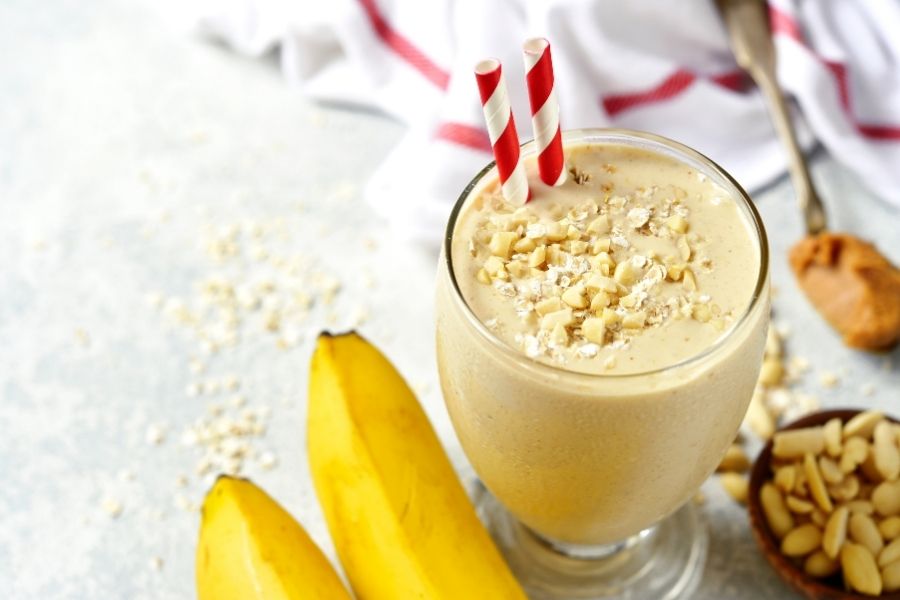 Bananas are nutritious fruit and can be incorporated into a healthy diet. Not only that, but they are also popularly added in smoothies to make them creamier.
Peanut butter is a good source of protein and helps you consume only a limited amount of calories.
A peanut butter banana smoothie like this is packed with nutrients that not only provide the necessary energy for the body but also helps with weight loss.
Ingredients:
1 frozen banana
1 tablespoon of peanut butter
1/2 teaspoon of cinnamon
1 cup of unsweetened almond milk
4. Strawberry Smoothie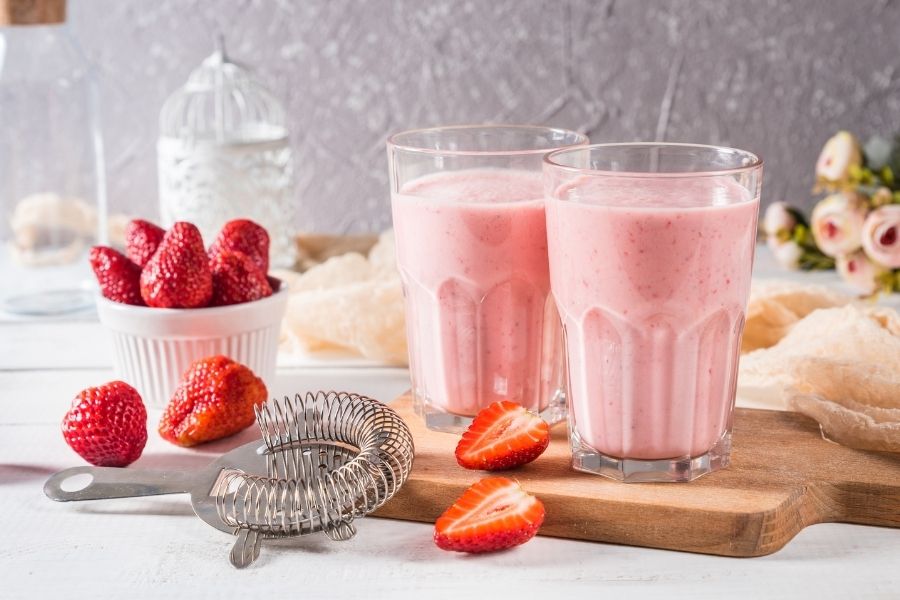 A healthy strawberry smoothie is the best way to start your day with. Strawberries are loved by many and that is because they are juicy and sweet.
Moreover, they are an excellent source of Vitamin C and contain many antioxidants which are good for heart health.
Ingredients:
1 cup frozen strawberries
1/2 cup Greek Yoghurt
1/2 cup unsweetened almond/oat milk
2 tbsp Chia seed (optional)
5. Avocado Smoothie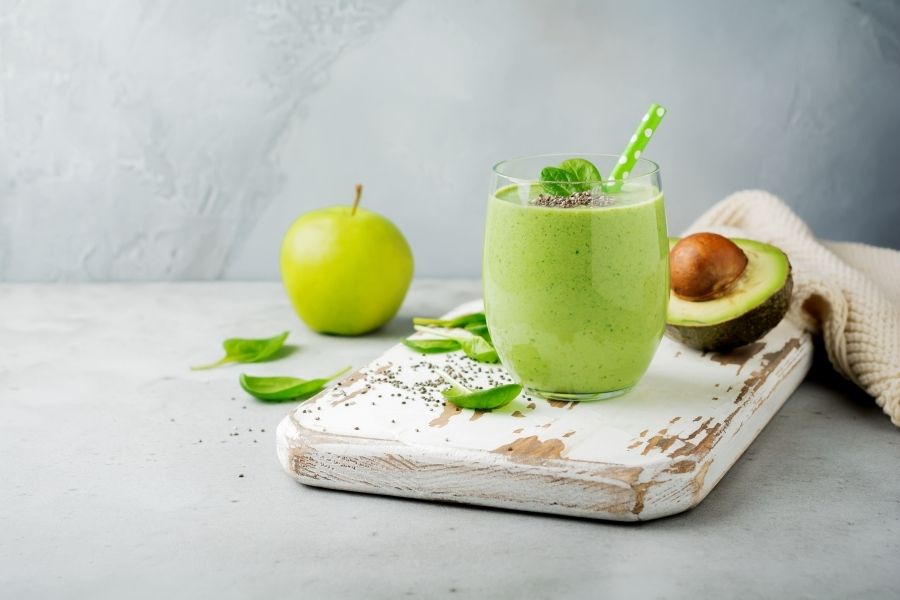 Avocado is rich in healthy fat and a good source of protein. This healthy smoothie is perfect to start your day with as it helps you stay full while also making sure about the calorie intake.
Ingredients:
1 avocado
1 frozen banana
1 1/2 cup of unsweetened almond milk
6. Banana Beet Smoothie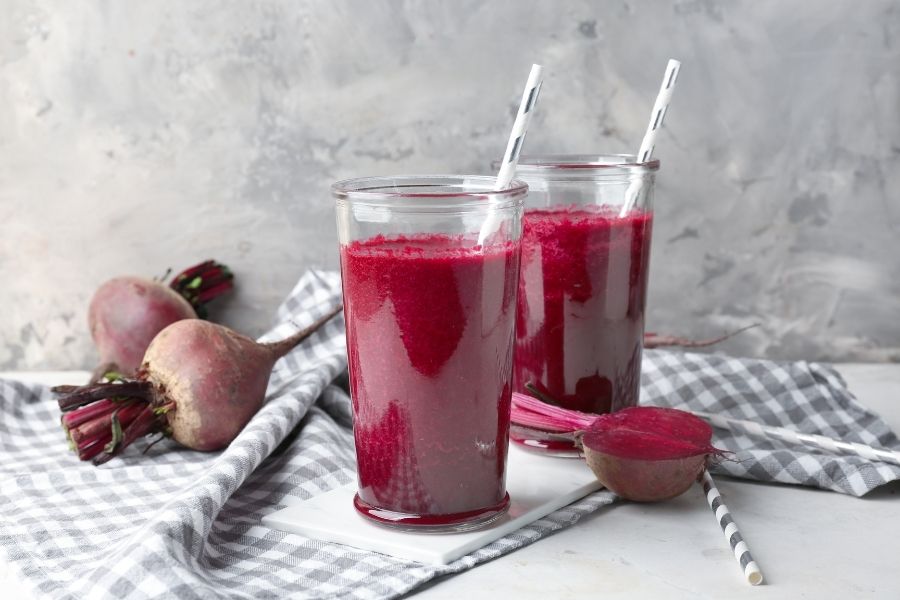 Beetroots have high water and low-calorie content properties which are best for weight loss. Plus, they help promote a healthy liver, lower blood pressure and improve blood flow.
Ingredients:
1/2 cup of beetroot
1 frozen banana
1 teaspoon of chia seeds
Pinch of cinnamon
7. Chocolate Smoothie
Yes, a healthy chocolate smoothie. You can enjoy this delicious smoothie as this recipe includes:
Banana – adds healthy carbs and make he smoothie sweet and creamy.
Avocado – contains healthy fats and fiber.
Raw cocoa powder – helps lower blood pressure, improve blood flow to the brain and heart, prevent blood clots and much more.
Ingredients:
1 banana
1/3 avocado
3 tsp of raw cocoa powder
Half cup of water
Conclusion: Can You Really Lose Weight With Smoothies?
In short, yes you can. As long as you keep track of all the ingredients in your smoothies, you can lose weight. In fact, they are the easiest option when it comes to shedding few pounds. And as said before, these are few healthy options you can try:
Add organic cinnamon powder for sweetness.
Use unsweetened frozen fruits as they contain little to no sugar.
Alternatives for sweetened liquids are unsweetened almond/soy milk and coconut water.
---
Enjoyed these delicious smoothies? Share them with others!